---
Recommended Link:
| More than 100 countries around the world are rolling out a system called "SWaB" that could have a bigger impact than the Internet in the days ahead. Here in the U.S., it's already being implemented in 38 states and counting. This year, massive investments are pouring into this innovation from some of the richest people in the world – like Elon Musk, Jeff Bezos, and Warren Buffett. Even the world's most powerful companies, like Apple, Microsoft, and Google, are spending billions to onboard it. That's because every single modern technology – 5G, artificial intelligence, blockchain technology, IoT, robotics, quantum computes, and EVs will have to switch over to SWaB to stay relevant. Get the details here. | |
| --- | --- |
---
1) I have been very critical of the SEC and Justice Department's investigation into short sellers, writing on February 17:
The ongoing regulatory investigation of activist short sellers got more publicity yesterday with this article in the Wall Street Journal, Justice Department Targets 'Spoofing' and 'Scalping' in Short Seller Investigation, and this one in Barron's, Regulators Intensify Probe of Short Sellers: Reports...

I am friendly with many of the people being investigated because I was an activist short seller myself for more than a decade, so I recently called and spoke with more than one of the victims of the latest witch hunt. To avoid compounding their legal and PR troubles, I'm not going to quote them directly, but want to share a few thoughts:

I am convinced that regulators are on a misguided, rudderless fishing expedition.
There's no new news that I'm aware of – rather, reporters are finally catching up to an old story. The targets were all served with search warrants in October (or earlier) and little appears to have happened since, so regulators aren't "intensify[ing]" their probe.
The idea that these guys (they're all men) are engaged in illegal "spoofing" is ludicrous. One of them said he didn't even know what it meant (neither did I). I learned that to spoof, you need "direct market access," which, to my knowledge, none of them have.
"'Scalping,' where activist short sellers cash out their positions without disclosing it" sounds nefarious, but it's not. Every report I've ever seen on a stock written by an investor, long or short, discloses their ownership stake, but warns that positions may change at any time, without notice. Duh...
How dumb do regulators think activist short sellers are? Any time we publish a report, we assume that the company will sue us, journalists will write nasty things, regulators will investigate us, etc., so we're always extra careful to be squeaky clean.
Regulators – not just in the U.S., but in Hong Kong, the U.K., France, Germany, and elsewhere – have investigated short sellers for more than two decades (I was one of the early ones, back in the days when Farmer Mac and MBIA (MBI) went crying to the SEC and the New York Attorney General's office under Eliot Spitzer). In nearly every case, regulators tried their best to nail what they thought were bad guys – and with almost no exceptions have never come up with anything.

Here's why: activist short sellers are the good guys!

Again and again, we've exposed frauds, malfeasance, extreme overvaluation, hype, and promotions. They should be giving us medals (seriously, the SEC should give awards every year to those who bring them the best tips) rather than engaging in another round of pointless, expensive, counterproductive harassment.
That said, there are occasional cases in which a short seller publishes incorrect information about a company, either inadvertently, because they did poor analysis (which happens all the time and isn't illegal), or intentionally, because they're trying to drive the stock down to profit from their short position (which is illegal).
2) Here's a recent Wall Street Journal article about an independent researcher who published a misguided attack on a company, which sued him and forced him to issue a retraction and disgorge his profits: Short Sellers Upended a Small Farm Real-Estate Company. This Is What It Looked Like. Excerpt:
Farmland settled with [Quinton] Mathews in June 2021. Mr. Mathews agreed to pay Farmland a sum equal to the profits he, a business partner and his father made by shorting the company's stock.

"Many of the key statements in that article were incorrect," Mr. Mathews said in his public statement. "I regret any harm the article and its inaccuracies caused to Farmland Partners."

He didn't admit to intentionally including any inaccuracies in his article.
Do I think this kind of thing is a big (or even a small) problem in our markets? Absolutely not! While Mathews got this one wrong, our markets would be much healthier if there were 1,000 people like him, looking for overvalued or fraudulent companies...
3) Speaking of which, I have heaped scorn on self-proclaimed "SPAC King" Chamath Palihapitiya (archive here), who has been revealed to be a carnival barker rivaled only by ARK Invest's Cathie Wood. Puck's William Cohan agrees: End of a SPAC Era. Excerpt:
Chamath, being Chamath, is trying to spin his latest SPAC debacle [see: 'SPAC King' Chamath Palihapitiya Closing Two SPACs After Failing to Find Deals] as a win. "Looking back, I am proud of the companies we helped bring public – Virgin Galactic, Opendoor, Clover Health, SoFi, ProKidney, and Akili," he wrote on the blog. "They are well positioned to bring innovation to each of their end markets over the next several years, and I am proud we were able to have played a role in each of their respective journeys."

But what Chamath doesn't say is how these companies have performed as public companies with him as a sponsor.

After reaching a high of nearly $56 a share in June 2021, Virgin Galactic, Richard Branson's space company, now trades at around $4.80 a share, down more than 91%. Opendoor Technologies, which buys and sells residential real estate, is down 85% in the past year. SoFi, the online bank run by former Goldman banker Anthony Noto, is down 69% in the last year. Akili Interactive, a maker of a prescription video game for children with learning disabilities, went public through a Chamath SPAC in August. It traded as high as $14 a share on August 19. But pity the people who bought it then, just one month ago. Akili is now trading at $2.50 a share, down 82% in five weeks. That's got to hurt, too.

How in the world can Chamath claim to be "proud" of the way these companies have performed under his reign? How can he even pretend to be a serious investor anymore? But, of course, he does. "Looking ahead," he wrote on his blog, "our focus remains on investing in big ideas at the early stage. Our view on SPACs remains consistent since our first deal – SPACs are just one of many tools in our toolkit to support companies as they enter subsequent stages of growth. Meanwhile, we are continuing to search for targets for the two remaining vehicles in our Bio 2.0 platform."

This is not investment advice, dear reader, but I would stay as far away from any investment related to Chamath Palihapitiya as you possibly can.
4) Speaking of SPACs whose share prices have collapsed, things continue to go from bad to worse at my least favorite stock, Digital World Acquisition (DWAC)...
On Wednesday, I warned that the $1 billion PIPE (private investment in public equity) that's key to the deal was on the rocks. Sure enough, the company disclosed in an SEC filing late on Friday – the time when sleazy companies often release bad news in the hopes investors won't see it, as my colleague Herb Greenberg wrote recently in Empire Financial Daily – that it wasn't able to renegotiate the PIPE and it had expired.
In the same filing, DWAC, without explanation, listed a new address: 3109 Grand Ave, #450, Miami, FL 33133. This address is... wait for it... a mailbox at a UPS Store! (Here's a CNBC article about it: Trump-linked SPAC changes address to UPS Store as investors pull more than $130 million.)
You just can't make this stuff up...
5) Following up on the two articles I shared last Monday about manufacturing moving back to the U.S., here's a New York Times article along the same lines: Factory Jobs Are Booming Like It's the 1970s. Excerpt:
Ever since American manufacturing entered a long stretch of automation and outsourcing in the late 1970s, every recession has led to the loss of factory jobs that never returned. But the recovery from the pandemic recession has been different: American manufacturers have now added enough jobs to regain all that they shed – and then some.

The resurgence has not been driven by companies bringing back factory jobs that had moved overseas, nor by the brawny industrial sectors and regions often evoked by President Biden, former President Donald J. Trump, and other champions of manufacturing.

Instead, the engines in this recovery include pharmaceutical plants, craft breweries and ice-cream makers. The newly created jobs are more likely to be located in the Mountain West and the Southeast than in the classic industrial strongholds of the Great Lakes.

American manufacturers cut roughly 1.36 million jobs from February to April of 2020, as COVID-19 shut down much of the economy. As of August this year, manufacturers had added back about 1.43 million jobs, a net gain of 67,000 workers above prepandemic levels.

Data suggest that the rebound is largely a product of the unique circumstances of the pandemic recession and recovery. COVID-19 crimped global supply chains, making domestic manufacturing more attractive to some companies. Federal stimulus spending helped to power a shift in Americans' buying habits away from services like travel and restaurants and toward goods like cars and sofas, helping domestic factory production – and with it, job growth – to bounce back much faster than it did in the previous two recessions.
6) Susan and I got back last night from a wonderful weekend in London. What a great city! We were only half-joking when we said we should spend one weekend a month there (especially with the dollar hitting a record high versus the pound yesterday)...
On Sunday we went to the Victoria & Albert Museum (better known as the V&A), which is mostly art, but we spent our time there at a fascinating exhibition on South Korea. The country has risen from the ashes of the brutal occupation by Japan from 1910 to 1945, followed by the even more brutal Korean War, in which 3 million Koreans died, to become a global economic and cultural powerhouse via K-pop music and series like Squid Game, one of the most-watched shows ever on Netflix (NFLX).
We also saw a big demonstration in front of the Iranian Embassy (I posted pictures on Facebook here), the floral tributes to Queen Elizabeth in Hyde Park, and Buckingham Palace. Then we walked to a nearby tea shop where I had hot chocolate and scones with clotted cream and strawberry jam – yum! – while we watched Frances Tiafoe win a dramatic match to clinch the Laver Cup for the World team for the first time (see my Facebook post about this here).
Here are some pictures: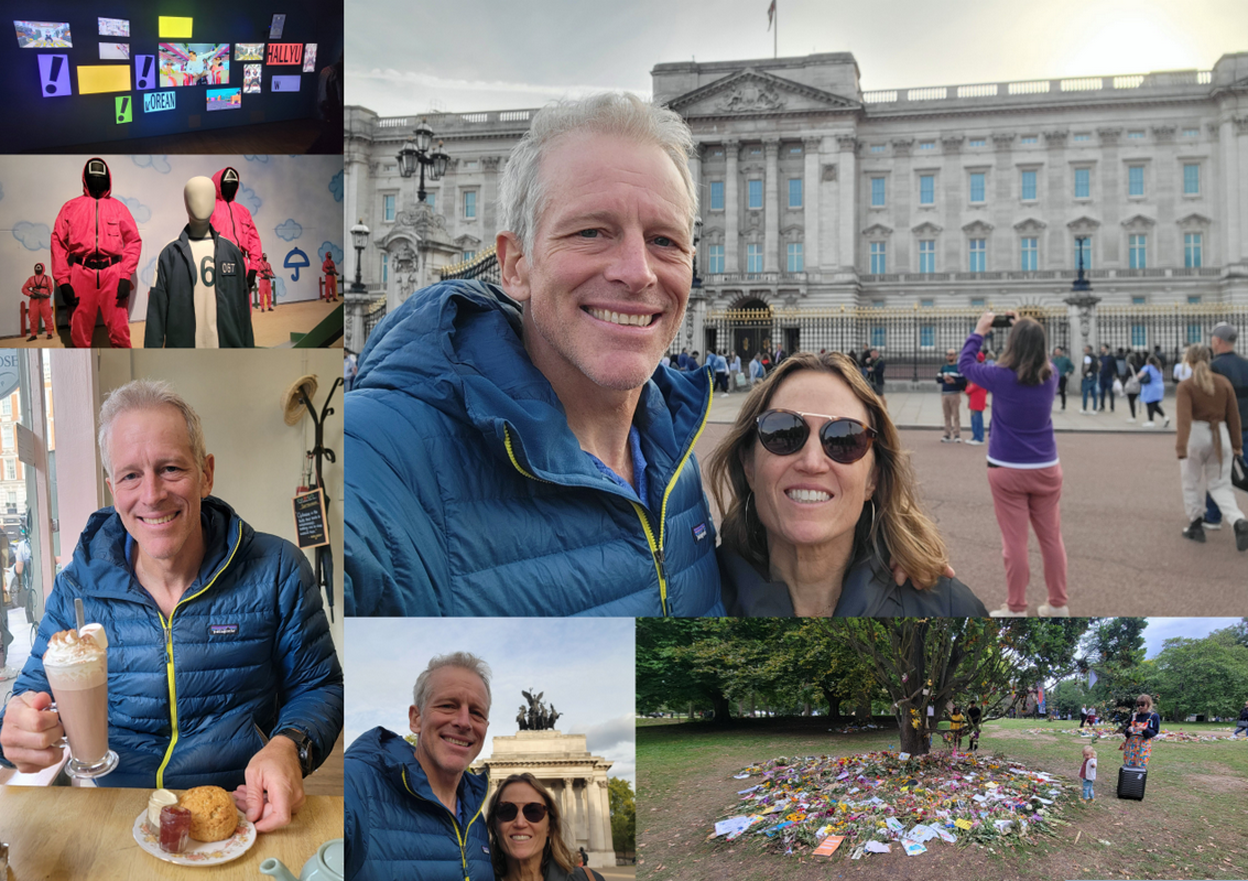 Best regards,
Whitney
P.S. I welcome your feedback at [email protected].