► Late last month, private holding company Inspire Brands announced it had reached a deal to purchase Dunkin' Brands (DNKN) for a whopping $11.3 billion…
Following about a week of rumors and speculation, Inspire Brands announced on October 30 that it would acquire Dunkin' for $106.50 per share, a 26% premium to its 20-day trading average and about 20% above where the stock was trading before rumors first surfaced.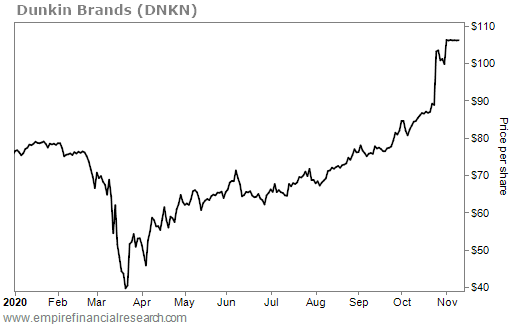 Inspire Brands is backed by Atlanta-based private-equity ("PE") firm Roark Capital, which specializes in acquiring and growing companies with a franchised, multi-location business model.
Roark originally purchased Arby's from Wendy's in 2011 for $430 million and executed a successful turnaround on the then-ailing chain. In late 2017, Roark took Buffalo Wild Wings private in a $2 billion buyout. In 2018, the PE firm combined the two chains to form Inspire Brands, a new entity that went on to purchase burger chain Sonic for $2.3 billion and sandwich chain Jimmy John's for an undisclosed amount.
With the purchase of Dunkin', Inspire will pick up 12,700 Dunkin' locations and 7,900 Baskin-Robbins locations, all franchised. Not only will this nearly double the systemwide (franchisee) revenues of Inspire, but it will also nearly triple the number of locations under the restaurant franchising conglomerate's umbrella.
This will be Dunkin's second time around as a private company… It was previously owned by PE giants Bain Capital, Carlyle Group, and Thomas H. Lee partners, who took the company public in 2011.

You may know the brand for donuts, but it's all about the coffee here…
Dunkin' sells more than 2 billion cups of coffee per year and derives more than 50% of revenue from beverages. In 2019, it dropped the word "Donuts" from its name in a clear signal that the company had its eyes set on Starbucks (SBUX) as a competitive target, as opposed to Krispy Kreme or Restaurant Brands International's (QSR) Tim Horton's.
In yesterday's Empire Financial Daily, I wrote about the "Battle for Breakfast"… and there's nothing more core to the competition for your dollar in the morning than coffee. In fact, at McDonald's (MCD) virtual investor day on Monday, when asked about menu innovation at breakfast outside of coffee, the company's President of International Ian Borden explained how crucial coffee is to the competitiveness of a restaurant in the morning…
And maybe just to build on that briefly, I mean I think I know you've asked separating coffee but just coffee is so important to that breakfast daypart because the coffee credentials and having that great quality of coffee is really the green suite to get customers into the restaurants or into the channels, the breakfast channel. And so, I think that's why to me coffee is such an important part of our core focus.

And we know when we get that coffee proposition right, we've got the suite of products around breakfast as Joe talked about that our customers love. And our [coffee] – we're famous for – and I think that attracts customers… the coffee opportunity is what we're really focused on internationally to really bring that breakfast daypart to life and to make sure we own that breakfast occasion with our consumers.
While Borden was talking from the international perspective, it likely holds true in the U.S. as well that you can't succeed at breakfast without succeeding with coffee.
The importance of coffee can't be understated… and it's one reason we're seeing the industry's secondary breakfast players mostly trade share amongst themselves as opposed to taking a real bite out of breakfast market share at industry leaders Starbucks, McDonald's, and Dunkin'.
Just yesterday, industry site Restaurant Business asserted that Wendy's push into breakfast wasn't taking share from McDonald's, but instead from other smaller players…
When Wendy's announced plans to start serving breakfast last year, the popular view was that it would be bad news for McDonald's, the market leader. Either that or McDonald's would destroy Wendy's breakfast with its marketing.

Neither has happened. In fact, Wendy's breakfast appears to have been a bigger problem for Taco Bell and Burger King. McDonald's apparently is doing just fine in the morning. Actually, it's doing better.
One reason the top three are sitting where they are is credibility in the coffee category. Diehard fans of Starbucks or Dunkin' will happily explain why one chain or the other has superior coffee, but I would challenge anyone to find me someone who will make the case for Taco Bell or Burger King coffee.
Coffee is so important to success at breakfast that Panera recently introduced a coffee subscription for unlimited hot, cold, and flavored coffees for just $8.99 per month… That's a great deal for the consumer, but potentially a loss leader for Panera. While coffee has a relatively low cost per cup, Panera isn't making any money on that offering with people using it regularly, unless they buy something to go with the coffee on at least one or two visits.

If you're reading this from east of the Mississippi, you probably think Dunkin' is a mature and penetrated brand…
While it's omnipresent up and down the Northeast to Mid-Atlantic corridor and common in Florida as well, the company, based just outside of Boston, is concentrated on the East Coast. As recently as three years ago, almost 95% of Dunkin' units were in the East, as CEO Dave Hoffman explained…
We've got 8,500 restaurants East of the Mississippi, 500 West of the Mississippi. … The key for us is making sure that we penetrate the western part of the United States.
The company sees plenty of growth opportunity ahead and has a goal of hitting 17,000 units, about 35% more than it has now. And those units will be in the West… The 70-year-old company only first entered California in 2015 and has a long way to go until it has penetrated the Golden State and other large Western markets.
Of course, growth in the West means taking on the Starbucks coffee juggernaut… and perhaps expanding its appeal beyond the New England Dunkin' faithful, who were brilliantly satirized in one of the most epic fake Saturday Night Live commercials of all-time, featuring a raucous turn by Casey Affleck as the chain's No. 1 fan.

Dunkin' has been outperforming the competition during the pandemic…
Normally, I'd say an exceptionally well-run incumbent market leader like Starbucks has nothing to worry about with a regional competitor expanding into some of its largest markets.
But Dunkin' was operating well before the pandemic… executing on breakfast sandwiches… introducing buy-one-get-one ("BOGO") promotions that drove traffic effectively… partnering for delivery… and being forward-thinking in plant-based offerings, especially for a democratically priced restaurant chain.
Dunkin' was the first chain outside of Starbucks to offer almond milk as a dairy substitute and now offers trendy oat milk as well. Additionally, it was first to market an egg sandwich featuring plant-based sausage from Beyond Meat (BYND), something Starbucks later emulated.
Like Starbucks, Dunkin' has grown engagement with its digital app… DD Perks has 5.4 million members, and 20% of purchases are now made digitally. As with Starbucks, the app-based loyalty program has prompted incremental visits and contributed to traffic.
The ability to order ahead on the app and minimize time in the store has served Dunkin' well since the pandemic hit.
The company also has drive-thrus in about 70% of its locations, a factor that has allowed it to bounce back sharply from the sales trough of the second quarter. While systemwide comps were down 19% in the second quarter, Dunkin' posted a positive 1% comp in the third quarter. This greatly outpaced the bounce back at Starbucks, which saw U.S. comps down 40% in the calendar second quarter (its third), and negative 9% in the calendar third quarter.
Even with the month-to-month sequential improvement that had September U.S. comps down just 4%, Starbucks still trails Dunkin's sales performance meaningfully, which is a little counterintuitive, given the latter's concentration in the hard-hit Boston and New York metro areas.
I have a few guesses why Dunkin' is outperforming Starbucks so dramatically… It's cheaper, and many people are watching their money closely right now… And it has 70% drive-thrus to Starbucks' 60%.
The company has cited a few sources of strength: drive-thrus, visits later in the day from people working at home who have been trading up to pricier specialty espresso drinks in the afternoon, and strength in Western markets.
That last bit caught my attention, because it makes me question whether Dunkin' could in fact eat into Starbucks' market share in Western markets.

You might not have expected to see a giant restaurant deal go down in the middle of a pandemic…
But few restaurant companies of this size and scale have the ample domestic expansion opportunities that Dunkin' has, which is why I suspect that Inspire, and its backer Roark, were interested in buying Dunkin'. Inspire/Roark will bring expertise with new franchisee recruitment and selection as well as familiarity with real estate and advertising markets in the Midwest and West.
Frankly, the deal seems like a lay-up given the private equity group's areas of expertise, despite its steep price. Inspire is paying about 9 times trailing 12-month revenue and more than 23 times trailing 12-month earnings before interest, taxes, depreciation, and amortization ("EBITDA") for Dunkin', which makes this a richly valued deal…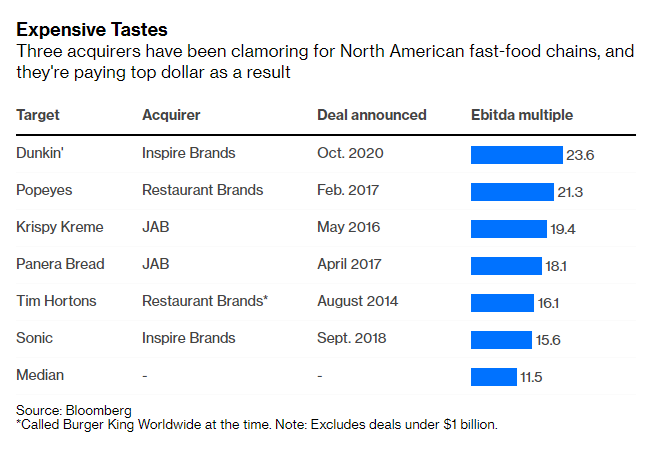 Of course, the pandemic depressed the trailing 12-month numbers. Plus, franchise businesses tend to have low fixed costs and capital requirements, which increase the multiple they trade for. Putting all that together, it seems Inspire is paying a fair price.

Coffee is a great business… so what's the best play?
Coffee houses sell an addictive, legal product, so repeat purchases are high. It's as close to recurring revenue as you can get in any non-subscription consumer business.
The fact that coffee is a great business is why you see so much deal activity in the space. In addition to this recent move by Inspire, European-based JAB has been active in the space, buying chains with high coffee exposure, including Panera, Krispy Kreme, Au Bon Pain, Pret a Manger, Peet's Coffee, Caribou Coffee, and several bagel chains.
Before selling it to Keurig Dr Pepper (KDP), JAB also owned home/office coffee giant Keurig/Green Mountain. Restaurant Brands has also been a consolidator in the space, with its purchase of Canadian coffee and donut chain Tim Horton's in 2014.
I love Starbucks as a company and think it consistently executes well in stores, has done a great job with menu innovation, and in the long term has the opportunity to raise Average Unit Volumes ("AUVs") – or sales per store – through market share gains from mom-and-pops, regional chains, and secondary national players. But it seems fully priced here, and its management was bullish on its recent fourth-quarter earnings call.
Since then, COVID cases have ticked up, and I think Starbucks may have to walk back expectations when it has its analyst day in December. I'm long-term bullish, but I think investors will probably get a better price later, so I am on the sidelines for now on SBUX shares.
Dunkin' has more domestic growth runway ahead and is "out-comping" Starbucks domestically right now. If it weren't being bought, it would be my pick.
Investors may still get another shot at owning a piece of Dunkin'… after the acquisition, Inspire will have $26 billion in systemwide sales from almost 32,000 franchised restaurants in 60-plus countries. With that kind of scale, an initial public offering ("IPO") may not be far away.

In the mailbag, readers react to the Battle for Breakfast…
Are you #TeamStarbucks, #TeamDunkin', or #TeamMcDonald's for your morning caffeine fix? For my West Coast readers, do you think Dunkin' will be able to edge itself into the already-crowded coffee market there? Let me know at [email protected].

"I have not fully returned to my pre-pandemic breakfast habits, partially because my current online work allows me to have earlier lunch. However, I have downloaded the McDonalds App and have already purchased deals involving breakfast. Keep on the great work!" – Kenzo C.

"Dear Whitney and Berna, I never stopped eating my favorite pre-pandemic breakfast. I continue to order a coffee and a plain ice cream sundae at my local McDonalds adding my own fresh berries every morning while dining with friends out in the parking lot. It's hilarious, everyone brings a beach chair, and we all sit in a circle. Unfortunately, it will soon be too cold to sit outside." – Luanne L.
Berna comment: Luanne, McDonald's made waves when it introduced all-day breakfast… perhaps it should be marketing all-day ice cream as well? Enjoy!

"Berna do you think the grocery retail business can get into breakfast trend too?" – Fredrik H.
Berna comment: Good question, Fredrik. Breakfast cereal had been in decline for several years, as consumers started looking to reduce their sugar intake and add more protein to their morning diet, and they also ate fewer breakfasts at home. The pandemic reduced these trends so far this year… Kellogg (K) and General Mills (GIS) have seen their cereal businesses perform better than they have in years. I think this may be a temporary bump that dies out when the pandemic does.

"What about Tim Hortons? Certainly, in Canada they do a brisk breakfast trade." – Tom S.
Berna comment: Tim's is definitely the breakfast juggernaut of Canada… When I worked in Canada during 2016, it's where I ate everyday… and I never flew home without bringing a box of Timbits for my daughter (the equivalent of Dunkin's Munchkins, for the uninitiated).
Regards,
Berna Barshay
November 11, 2020