1) This Thursday evening at 8 p.m. Eastern time, I'm hosting an event you won't want to miss…
Along with my friend Tom Carroll – who writes the Cannabis Capitalist newsletter for our sister company Stansberry Research – we're going to be discussing why at least some stocks in the sector he covers are screaming buys right now… plus Tom is going to share his favorite pick, for free, just for tuning in!
You might be surprised to hear that I share Tom's bullishness, given that I'm well known for being bearish on pot stocks because of my big call on Tilray (TLRY) in September 2018…
At the time, the sector was red-hot, and Tilray was the hottest stock in it. It had gone absolutely parabolic.
My cousin, a fireman out in eastern Washington near Yakima – who had almost no investing experience – confessed to me that he owned it.
I slapped my forehead. "What are you doing?!" I nearly shouted at him.
"But Whitney, I've made a lot of money," he said. "I bought it last month at $50, and now it's at $150."
At the time, I had never even heard of Tilray. But I did some research on it and saw that it was trading at 500 times revenues.
It was clearly a ridiculous bubble, and I said so in one of my daily e-mails.
A producer at Yahoo Finance saw it and invited me to come in for a TV interview. That very afternoon, as I was going down to Yahoo's studios, TLRY shares spiked to $300. It was trading at 1,000 times revenue and had a $30 billion market cap!
And here was a clincher… As I was walking from the subway into the studios, my then 19-year-old daughter, a sophomore in college, called me.
Despite years of attempts, I had never been able to interest her in the stock market. At one point, I even set up a $5,000 account for her so she could learn about investing by buying a few stocks of stores that she shopped at or services that she used. It was all to no avail…
So I had to chuckle when she said, "Daddy, I'm taking an investing class. We each have a model portfolio with $25,000 to invest. My friend told me to buy Tilray, so I did. And now it's up a lot. What should I do?"
At that point, I knew with certainty that the stock had to be at a top.
"Sell it immediately!" I said. And she did, banking a solid profit (on paper, of course).
I went on TV minutes later, shared this story, and concluded: "Folks, my daughter – truly the world's most clueless investor – just bought her first stock, Tilray, based on one of her friend's stock tips. I cannot think of a better sign that it's peaked."
I predicted that the stock would fall to less than $100 per share within a month and would be down 90% within a year. Sure enough, that's exactly what it did, as you can see in this chart (it ultimately ended up declining by more than 99%!)…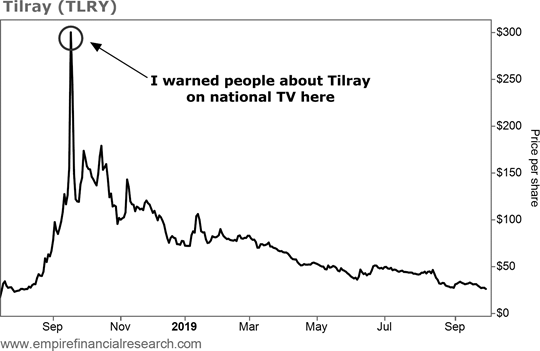 So why have my views changed?
Simple: There's a big difference between being bearish on certain cannabis stocks versus the entire industry.
I've actually always been clear that I think the industry is real and has enormous growth ahead of it.
But at the same time, I've avoided cannabis stocks for most of my career because investors at most times have been overly excited about the sector and thus most stocks have traded at absurd valuations.
But Tom makes an incredibly compelling case, which I agree with, that the sector is at an important inflection point… and he has identified five stocks that he thinks are poised to benefit the most – none of which are the hottest, most richly valued ones.
And Tom will be sharing the name of one of them just for tuning in on Thursday night. Again, it's free to attend… but you must register in advance, so please do so here.
2) Berkshire Hathaway (BRK-B) released its 2020 annual report on Saturday, which included CEO Warren Buffett's much-anticipated annual letter.
During a 12-minute interview with Yahoo Finance this morning, which you can watch here, I shared my thoughts on:
Share repurchases
Berkshire's intrinsic value
Whether Buffett should have been buying more aggressively last March and addressing why he didn't in his annual letter
How Buffett and Charlie Munger are right that we should be taking steps to make our markets less like casinos
Overall, it was a solid letter… and the company performed well in light of the pandemic's effect on many of its businesses. I was particularly pleased to read what Buffett had to say about share repurchases – and how he backed it up with aggressive action. For more on this, I'll turn to my friend and former partner, Glenn Tongue:
Waking up with a cup of coffee and reading Buffett's annual letter has been a tradition for his many followers for decades. This year's edition was a terrific read for all investors and, in fact, all Americans.

The big news at Berkshire over the past year was buybacks, which increased 409% from $4.9 billion in 2019 to $24.7 billion in 2020, reducing the share count by 5.2%. This chart shows the huge surge since buybacks began in the third quarter of 2018:

Whitney and I have been pounding the table for years, starting with my question at Berkshire's annual meeting in 2012, that Buffett should be allocating a meaningful portion of Berkshire's prodigious cash hoard and cash flow toward repurchases. It's good to see that Buffett is finally listening to us!

We expect substantial repurchases to continue, and that this will be a significant driver of value for Berkshire shareholders over time.

As for the rest of Buffett's letter, I recommend everyone takes the time to read it. After doing so, you will feel better about America, Berkshire, and the future. As Buffett says: "Our unwavering conclusion. Never bet against America."
Thank you, Glenn!
Here's what Buffett had to say in his letter on the subject of repurchases:
Last year we demonstrated our enthusiasm for Berkshire's spread of properties by repurchasing the equivalent of 80,998 "A" shares, spending $24.7 billion in the process. That action increased your ownership in all of Berkshire's businesses by 5.2% without requiring you to so much as touch your wallet.

Following criteria Charlie and I have long recommended, we made those purchases because we believed they would both enhance the intrinsic value per share for continuing shareholders and would leave Berkshire with more than ample funds for any opportunities or problems it might encounter.

In no way do we think that Berkshire shares should be repurchased at simply any price. I emphasize that point because American CEOs have an embarrassing record of devoting more company funds to repurchases when prices have risen than when they have tanked. Our approach is exactly the reverse.

Berkshire's investment in Apple vividly illustrates the power of repurchases. We began buying Apple stock late in 2016 and by early July 2018, owned slightly more than one billion Apple shares (split-adjusted). Saying that, I'm referencing the investment held in Berkshire's general account and am excluding a very small and separately-managed holding of Apple shares that was subsequently sold. When we finished our purchases in mid-2018, Berkshire's general account owned 5.2% of Apple.

Our cost for that stake was $36 billion. Since then, we have both enjoyed regular dividends, averaging about $775 million annually, and have also – in 2020 – pocketed an additional $11 billion by selling a small portion of our position.

Despite that sale – voila! – Berkshire now owns 5.4% of Apple. That increase was costless to us, coming about because Apple has continuously repurchased its shares, thereby substantially shrinking the number it now has outstanding.

But that's far from all of the good news. Because we also repurchased Berkshire shares during the two-and-a-half years, you now indirectly own a full 10% more of Apple's assets and future earnings than you did in July 2018.

This agreeable dynamic continues. Berkshire has repurchased more shares since yearend and is likely to further reduce its share count in the future. Apple has publicly stated an intention to repurchase its shares as well. As these reductions occur, Berkshire shareholders will not only own a greater interest in our insurance group and in BNSF and BHE, but will also find their indirect ownership of Apple increasing as well.

The math of repurchases grinds away slowly, but can be powerful over time. The process offers a simple way for investors to own an ever-expanding portion of exceptional businesses.

And as a sultry Mae West assured us: "Too much of a good thing can be… wonderful."
Tomorrow, I'll continue with additional thoughts on Buffett's letter and Berkshire's performance, as well as my updated estimate of the stock's intrinsic value.
3) Susan and I flew home from Salt Lake City late Saturday and then drove up to New Hampshire yesterday to spend five days with my parents, who have been there for almost a month after flying from Kenya to get vaccinated. They are getting their second shots on Friday and then flying home.
My buddy John took me snowmobiling and skinning backcountry on Wednesday (which I wrote about in Friday's e-mail), Susan and I skied Deer Valley on Thursday, and John and I drove an hour to ski Snowbird on Friday.
Snowbird is one of my favorite mountains, I hadn't been in three years, and it got six feet of snow a week earlier… so my expectations were high.
Unfortunately, it was crowded and, worse yet, high winds had turned most of the trails into "New England packed powder" (read: hard and crusty), so we called it a day at 2 p.m. Here's a picture of John and me at the base, with Cliff Lodge in the background, where I've always stayed during prior trips: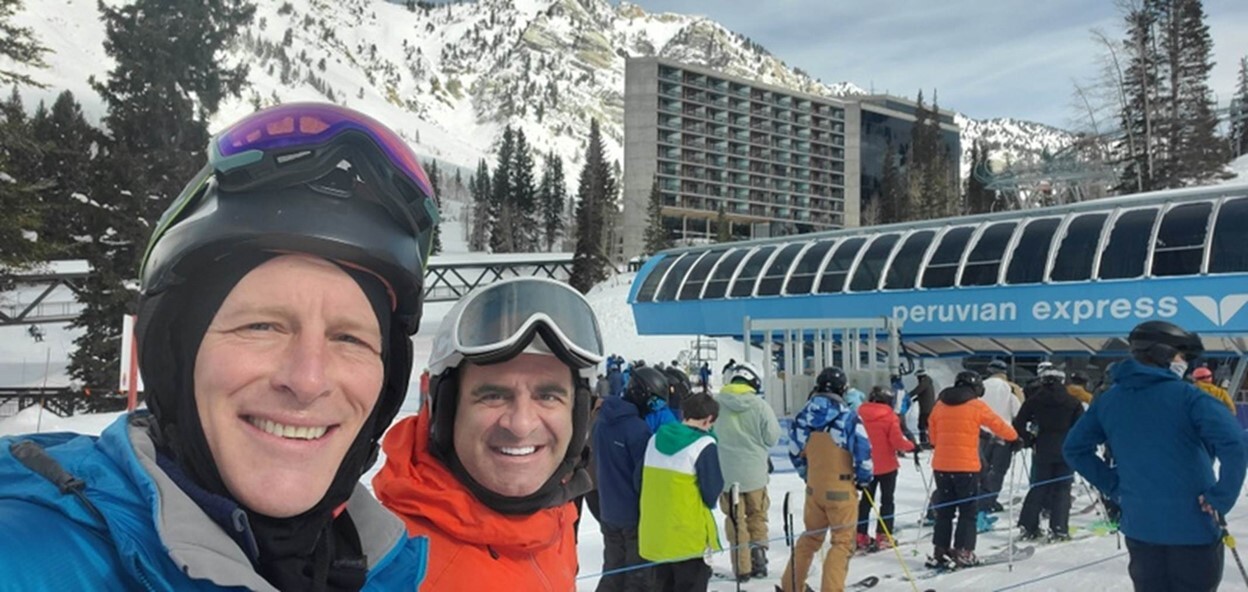 In contrast, the two hours I skied on Saturday morning at Deer Valley before we had to pack and rush to the airport was some of the best skiing I've ever done. The mountain got nearly a foot of powder overnight, so I skied fresh tracks in the trees almost every run!
Deer Valley is known for superbly groomed snow, so it attracts mostly skiers who stick to the groomers (like Susan). Hard-core skiers who love moguls and tree skiing wouldn't be caught dead there.
But, as John pointed out (and I experienced all week), Deer Valley has plenty of mogul runs and lots of great tree skiing – so those who want to do this (like me) have it mostly to themselves (plus there are no snowboarders to ruin the tracks; it's one of only three U.S. resorts that prohibits them – the other two are Alta and Mad River Glen). In summary, I think Deer Valley is hugely underrated by advanced skiers.
Alta, on the other hand, is totally overrated. I know I'm going to get flamed for saying this because it has a cult-like following, perhaps due to its old-school vibe, but we were really disappointed when we skied it on Tuesday.
It has 30% more acreage than Deer Valley, but a lot of it seems to be long, flat, boring run-outs. Also, it only has five "real" lifts, while Deer Valley has 14, so the lift lines can be awful (luckily we were there midweek and there was bad weather in the morning, so we didn't encounter crowds, but we've heard horror stories). Lastly, none of Alta's lifts have footrests, which really bugs me – my skis and boots are heavy, so I like to rest my legs on the ride up.
My final observation from the week: I saw a really scary collision on Thursday near the bottom of the Sultan lift at Deer Valley. It happened about 50 yards ahead of me, right where the person in the white jacket is in this picture, which I took later: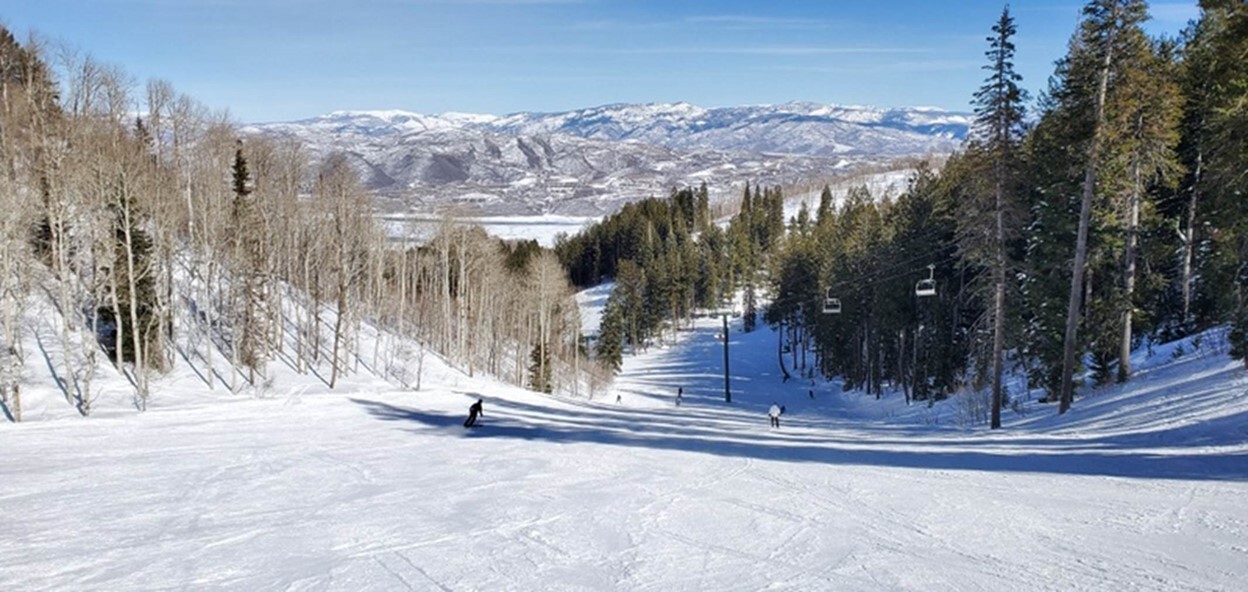 I didn't see what happened before the collision, but apparently a young guy was going super fast and went to pass a middle-aged guy, and at just the wrong moment, they both turned toward each other and – BOOM! It was like an explosion in front of me.
I skied up to the older guy and saw that one of his poles was 10 feet away and horribly bent, while his small backpack had been torn off and was 20 feet away, so I feared the worst: broken bones and/or a concussion. But he was wearing a helmet, so thankfully, he was only shaken up!
Other skiers were talking to the young guy, who was further down the slope. I didn't see him, but Susan (who was waiting for me at the bottom) said his nose had bled all over his jacket and pants, but he otherwise he seemed okay.
Lesson: If you're skiing without a helmet, you're making a big mistake!
Best regards,
Whitney