1) Last month, I was one of the judges at the 16th annual Pershing Square Challenge, which was established by my friend Bill Ackman of Pershing Square Capital Management.
Each year, dozens of three-person teams of first- and second-year Columbia Business School students develop stock pitches. The five finalists present to a panel of judges, which this year included Bill, investing legend Leon Cooperman, me, and five others. We awarded the winning team $100,000 and the second-place team $50,000.
This year's winners pitched an idea that I liked so much that I just wrote it up for the next issue of Empire Investment Report... so I can't share it here (paid-up Empire subscribers always get our best stock ideas first). If you'd like to be among the first to receive this research when it hits inboxes on Wednesday, click here.
On May 1, I shared the second-place idea, Airbnb (ABNB), and today I'd like to share another one of the ideas presented, gym franchisor Planet Fitness (PLNT). The students, Alan Leite, Renato Lee, and Martin Boruchowicz – did an outstanding job analyzing the company, which is reflected in this 58-slide presentation that you can see right here (shared with permission). Here are four overview slides: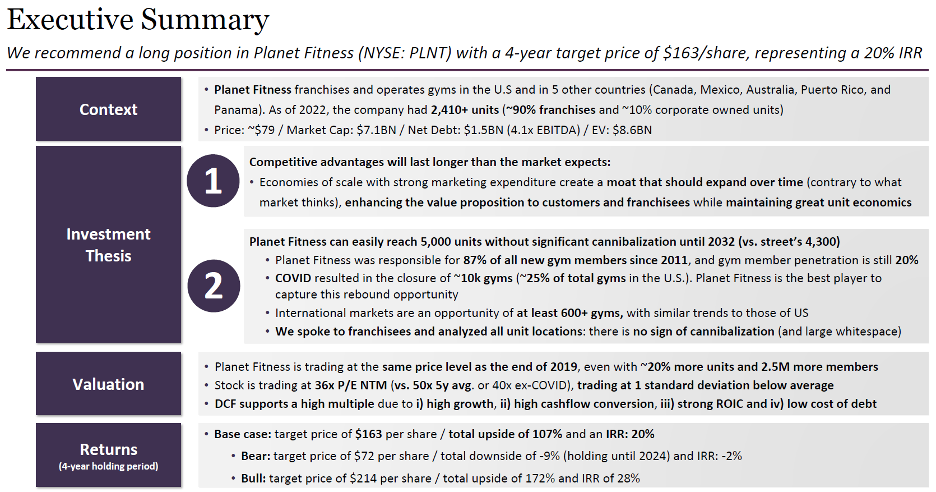 My colleague Enrique Abeyta loves Planet Fitness' long-term growth story, which is why it's an open recommendation in his Empire Elite Growth newsletter.
2) In yesterday's e-mail, I gave an update on the titanic battle between two of the best-known activist investors in the world, Carl Icahn of Icahn Enterprises (IEP) and Nate Anderson of Hindenburg Research, who issued a report last week critical of IEP that crashed the stock and triggered a federal investigation.
In it, I included links to IEP's first-quarter results and its response to Hindenburg's report, but neglected to add IEP's slide presentation and, more importantly, Hindenburg's response: Icahn's Latest Disclosures Raise Critical New Questions About Margin Loans, Continued Portfolio Losses. Excerpt:
Given that Carl Icahn has styled himself as a 50+ year warrior for corporate transparency, we expected he would provide clarity on the issues we highlighted....

In its response, Icahn Enterprises failed to address every key issue we raised. Instead, it rehashed its prior opaque and inadequate disclosures. Perhaps most importantly, the company failed to disclose basic details of Carl Icahn's margin loans, which we strongly suspect represent a near-term critical threat to IEP unitholders.

Perhaps The Most Pressing Question Raised in Our Report Concerned Carl Icahn's Pledging Of Over 181 Million IEP Units (60% Of His Personal Holdings) For Margin Loans

Despite Promising To "Respond At Length" To The Issues Raised In Our Report, Icahn Enterprises Offered No New Details

Instead, It Reported More Pledges By Icahn, Which Now Total 202 Million Units (~65% Of His Personal Holdings)...

Annual Reports Indicate That Icahn Added $3.4 Billion In Cash To His Investment Funds Since 2014

Where Did the Money Come From?

We Strongly Suspect Carl Icahn Pledged His IEP Units For Billions In Margin Loans And Reinvested Up to $3.4 Billion In Proceeds Into His Investment Funds, Which Generated Losses Of Roughly 53% From 2014 To 2022...

IEP Provided No Additional Color On Its Opaque Book Of Private Investments Or Their Respective Valuations

Evidence Continues to Suggest That IEP's Book Of Private And Less Liquid Assets Is Severely Overvalued

For Example, IEP Marked Its Real Estate Assets Modestly Up In The Quarter, From $455 Million To $457 Million. Almost Immediately After The Quarter End, A Key Tenant Defaulted On A Property Representing $218 Million in NAV...

Icahn Failed To Address Another Key Issue—That Dividends Have NOT Been Supported By Free Cash Flow

The Company's Own Tax Documents Make Clear That Dividends Have Largely Been a "Return of Capital"

In Other Words, Investors In IEP Are Simply Being Given Some Of Their Own Money Back As Dividends, As IEP Continues To Dump Units Via Its Open-Market Unit Sale Offerings
Then, Bloomberg reported yesterday that Icahn is resorting to the same trick he used to inflict huge losses on Bill Ackman: engineering a short squeeze by having the company buy back a lot of stock: Carl Icahn's Firm OKs Buybacks, Increases Shares Backing His Debt. Excerpt:
Carl Icahn's holding company authorized a buyback equaling almost 27% of its shares trading on the open market, potentially boosting the stock price as the financier feuds with a short seller.

Icahn Enterprises LP's board of directors approved a $500 million buyback on May 9, according to a regulatory filing. It marks the first time the company, which invests in a wide range of businesses, has adopted a formal share repurchase program since 1987, public documents show...

Based on Wednesday's closing price, the buyback would permit Icahn Enterprises to repurchase about 15.5 million shares, or almost 27% of the publicly traded float. Depending on how it's conducted, a buyback of that magnitude could jump-start Icahn Enterprises' stock price, potentially squeezing short sellers such as Hindenburg.
In the same filing however, the company disclosed an increase in a risk factor Hindenburg highlighted that could topple Icahn:
Icahn has pledged more than three times the publicly traded float to secure his margin loans, according to the filing, which revealed the increased number of pledged units under a new company risk factor. More than half of Icahn Enterprises' total outstanding shares are pledged to secure Icahn's personal debt.

As of Monday, Icahn had pledged 206 million shares currently worth about $6.2 billion, up from about 168 million shares in February.

Icahn owns his shares through intermediaries whose lenders include Morgan Stanley and Deutsche Bank AG, according to filings.
I don't recall ever seeing a situation in which company a company's controlling shareholder has pledged his ownership equal to more than half of its outstanding shares to secure his personal debt.
This is incredibly risky.
If the stock falls enough – it's already down nearly 40% in the aftermath of Hindenburg's report – the banks holding 206 million IEP shares, equal to 58% of the 354 million outstanding could issue Icahn a margin call and start dumping shares at any price. This would, of course, further depress the stock, triggering further margin calls, and the stock could rapidly spiral toward zero...
Even with the recent crash in IEP's stock, Bloomberg's Billionaires Index still says Icahn is worth $13.6 billion, making him the 134th richest person on Earth. Why he'd jeopardize his enormous fortune by borrowing so much money is beyond me...
It reminds me of what Warren Buffett once said about marrying for money: "[It's] probably not a very good idea in any circumstances, but if you are already rich, it's crazy."
Given Icahn's deep pockets and IEP's limited float, Icahn may be able to engineer a short squeeze at IEP, so it's not a good short here.
But the fact that the stock is still trading at double its net asset value and could collapse amidst a wave of margin calls makes it a bad long as well.
So I'm just going to pop a bowl of popcorn and watch this highly entertaining drama from the sidelines...
3) Yesterday, one of Empire's lifetime subscribers, Ed C., messaged me that he was coming into town and asked if I had time to meet. I told him to come by my apartment later in the afternoon.
(I checked out his Facebook page and he seemed pretty normal, but just to be on the safe side, I called Susan to let her know that if the police found my body somewhere, she should tell them to track down and arrest Ed... She laughed.)
We had a lovely chat for an hour, discovering lots of common interests. He's a financial advisor who lives outside Atlanta, where I ran two 24-hour World's Toughest Mudder races in 2018 and 2019 (see my write-ups and photos here) and has six daughters (I thought my three were a lot!). Here's a picture of us sipping smoothies at Joe & the Juice, where Susan gets her coffee every morning, while I pick up trash outside:

Best regards,
Whitney
P.S. I welcome your feedback at [email protected].