1) Picking up where I left off yesterday, where I reviewed all of my bearish picks this year, today I'd like to review my bullish picks...
Though it wasn't a stock pick, by far the most important advice I gave over and over again this year was to stay long the stock market, which had a strong year (I have to give credit to my colleague Enrique Abeyta for helping me with this!). For example, on September 2, I wrote:
Markets moved moderately higher in August, with the S&P 500 Index rising 3%. This was its seventh consecutive monthly rise, bringing its year-to-date return to a healthy 20.8%.

The S&P 500 has now more than doubled since its March 2020 low – the fastest such gain since World War II – which has added nearly $20 trillion to shareholders' wealth. The market hasn't suffered even a 5% pullback in almost a year and has closed at a record-high 53 times in 2021, the most by this point in the year since 1964.

How can this be happening in the face of such dreadful headlines: an ugly pullout from Afghanistan, the COVID-19 pandemic continuing to worsen (leading many businesses to shelve plans to return to the office), plunging consumer sentiment, continued political gridlock, staffing shortages, supply chain disruptions, rising inflation, etc.?

There are three answers...

The economy is booming, which is turbocharging corporate profits. In the recently completed second-quarter earnings season, nearly 90% of companies exceeded analyst forecasts – the highest such level of "beats" on record, going back to 1994. 
Investors believe that the U.S. Federal Reserve will keep interest rates at rock-bottom levels, possibly for years to come.
Investors also believe that the federal government will continue spending heavily to keep the recovery going.

As a result, while many famous investors and prognosticators are warning of an imminent market collapse, I – and my colleagues Enrique Abeyta and Berna Barshay – remain constructive in the short and intermediate term.

That said, the degree of investor enthusiasm – and the resulting foolish risk-taking – is building as the market marches steadily higher... so we are carefully monitoring dozens of indicators – and, more important, applying our team's collective 100-plus years of experience – to gauge when to get more defensive.
Our thinking today remains the same.
We're in a bull market and are going to keep riding it until we're sure it's over. We'll be sure to let you know when – once we've told our subscribers, of course!
2) Turning to individual stocks, I identified far more stocks to avoid than to buy in my free daily because we save our best long ideas for the subscribers to our various newsletters.
That said, many times throughout the year I repeated my bullishness on the four stocks that were the first picks in both of our flagship Empire Stock Investor and Empire Investment Report newsletters: Berkshire Hathaway (BRK-B), Amazon (AMZN), Alphabet (GOOGL), and Meta Platforms (FB), which rose 27%, 5%, 68%, and 23%, respectively (through last Thursday's close) – an average of 31% versus 26% for the S&P 500 Index.
My May 11 picks of psychedelic drug developer COMPASS Pathways (CMPS) and the AdvisorShares Pure U.S. Cannabis Fund (MSOS) haven't done so well, declining 33% and 39%, respectively.
On August 11, I highlighted California utility PG&E (PCG), which Enrique said "is a f**king no brainer" and also highlighted Twitter (TWTR). Since then, they're up 27% and down 32%, respectively.
3) MSOS is my favorite pick for 2022, for reasons my friend Doug Kass outlined last week. A second pick is another exchange-traded fund, the SPDR S&P Biotech Fund (XBI). Empire Stock Investor subscribers can read our report on the sector, "This Classic Growth Sector Just Became a Screaming Value," by clicking here. (If you're not a subscriber, you can become one for only $49 for the first year by clicking here.)
4) Given my long-term, highly public scorn for cryptocurrencies – I once called them a "techno-libertarian pump-and-dump scheme – I'm especially proud of my pivot in this area (again, a huge hat tip to Enrique!). On May 12, in an e-mail entitled "A Major Change to my Investing Philosophy," I wrote:
[M]y colleague Enrique Abeyta believes that at least some forms of digital assets will have real – and growing – value... And I think he's right.

In particular, you may be surprised to learn that my views on certain cryptocurrencies ("cryptos") have evolved since I called the previous top of bitcoin in late 2017.

It comes back to the Rembrandt analogy. While one of these works of art can't be valued based on any known valuation formula and is therefore definitionally a speculation (evaluated solely as an investment), it clearly has value because, over time, many people have been willing to pay ever-increasing prices for these artistic masterpieces.

In other words, if a large number of people believe something has value – and are willing to pay cold, hard cash for it – then it has value, regardless of whether it produces cash flow.

The question, therefore, is whether something is likely to have sustained, growing value over time, relative to today's price. In the case of a Rembrandt, the answer is likely yes. In the case of Dutch tulip bulbs, the answer was no.

So where do cryptos fall on this spectrum?

I don't know for sure... Most, no doubt, will end up worthless. But it's also become clear to me that some – bitcoin and a few others – have reached a critical mass where enough people believe in them that their values are more likely to go up than down.

As I often say, here at Empire Financial Research, we aren't value investors or growth investors. We're make-money investors.

That's why we recently recommended our favorite cryptocurrency in our flagship newsletter, Empire Stock Investor. As we noted, it's a speculation, but we thought it was a good speculation...
Our recommendation was ethereum (ETH-USD), which is up 104% since then.
I continue to have grave reservations about cryptos in general, but I think bitcoin and ethereum still have room to run...
5) My dad and I just tested positive for COVID. Here's what that looks like: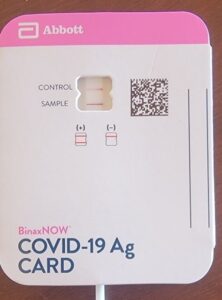 We're fine, thanks no doubt to the miraculous vaccines (he's Moderna, Moderna, Pfizer... and I'm Moderna x3). Here's a picture I just took of us. Coincidentally, we're both wearing our Tough Mudder T-shirts, which is appropriate because we are!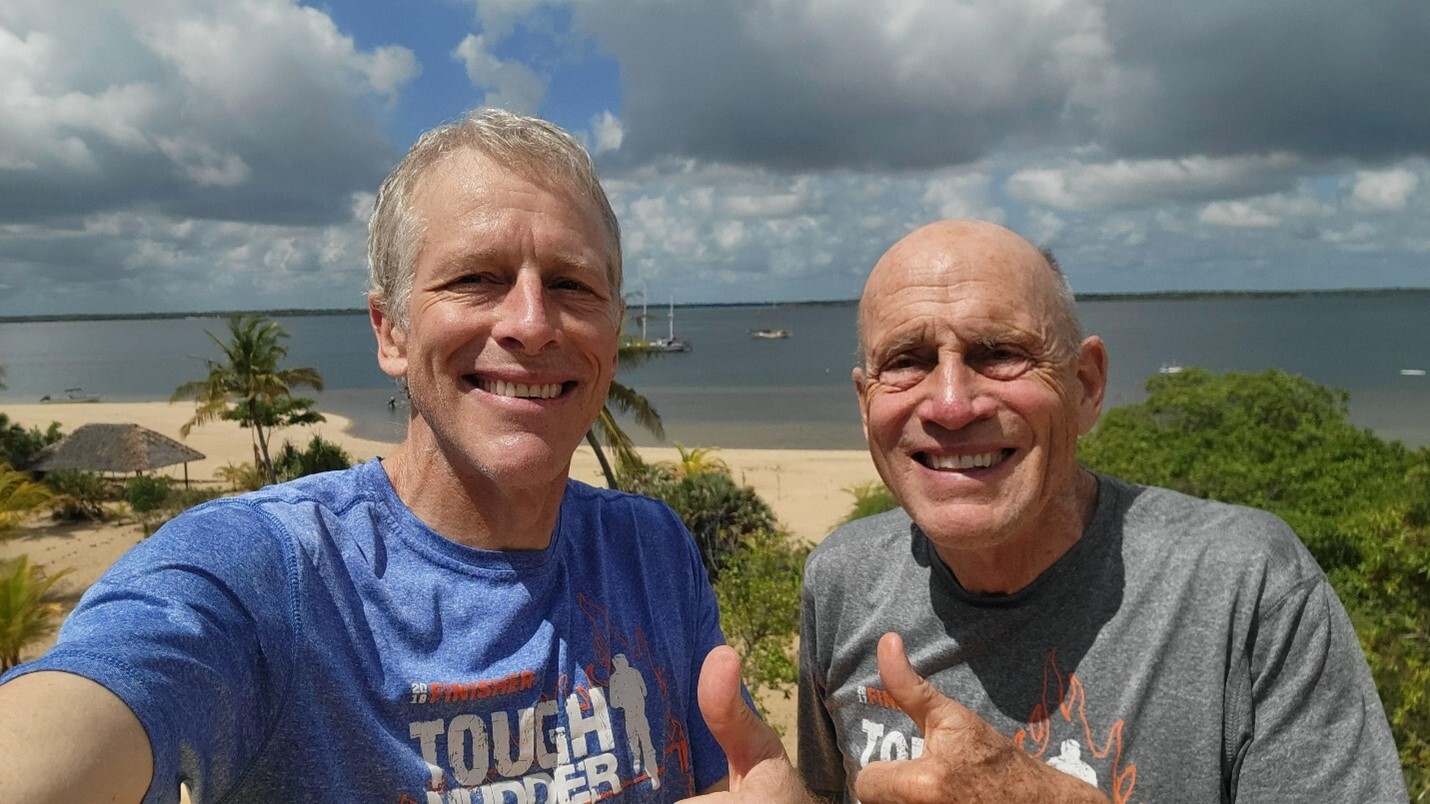 About three days ago, I started having mild cold symptoms: a runny nose, a tiny cough, and a little headache. I thought it was likely from kiteboarding, where gallons of seawater was flushed up my nose and down my throat from crashing again and again, so I just took Advil and Sudafed and went about my business, running four miles on the beach yesterday, water skiing the day before, etc. But the symptoms persisted...
Then my dad started feeling similarly yesterday and when it didn't go away this morning, we decided to use one of the two extra antigen tests we brought with us on him. While he's in excellent health, he's 79 so we need to be more cautious with him. When he tested positive, I used the other test.
We don't want to infect the rest of our family and, just in case one of us takes a turn for the worse, we want to be near a hospital... so we've already flown back to my parents' house outside Nairobi this afternoon in my dad's plane – here's a picture of us with it (we took our masks off for only two seconds for the picture!):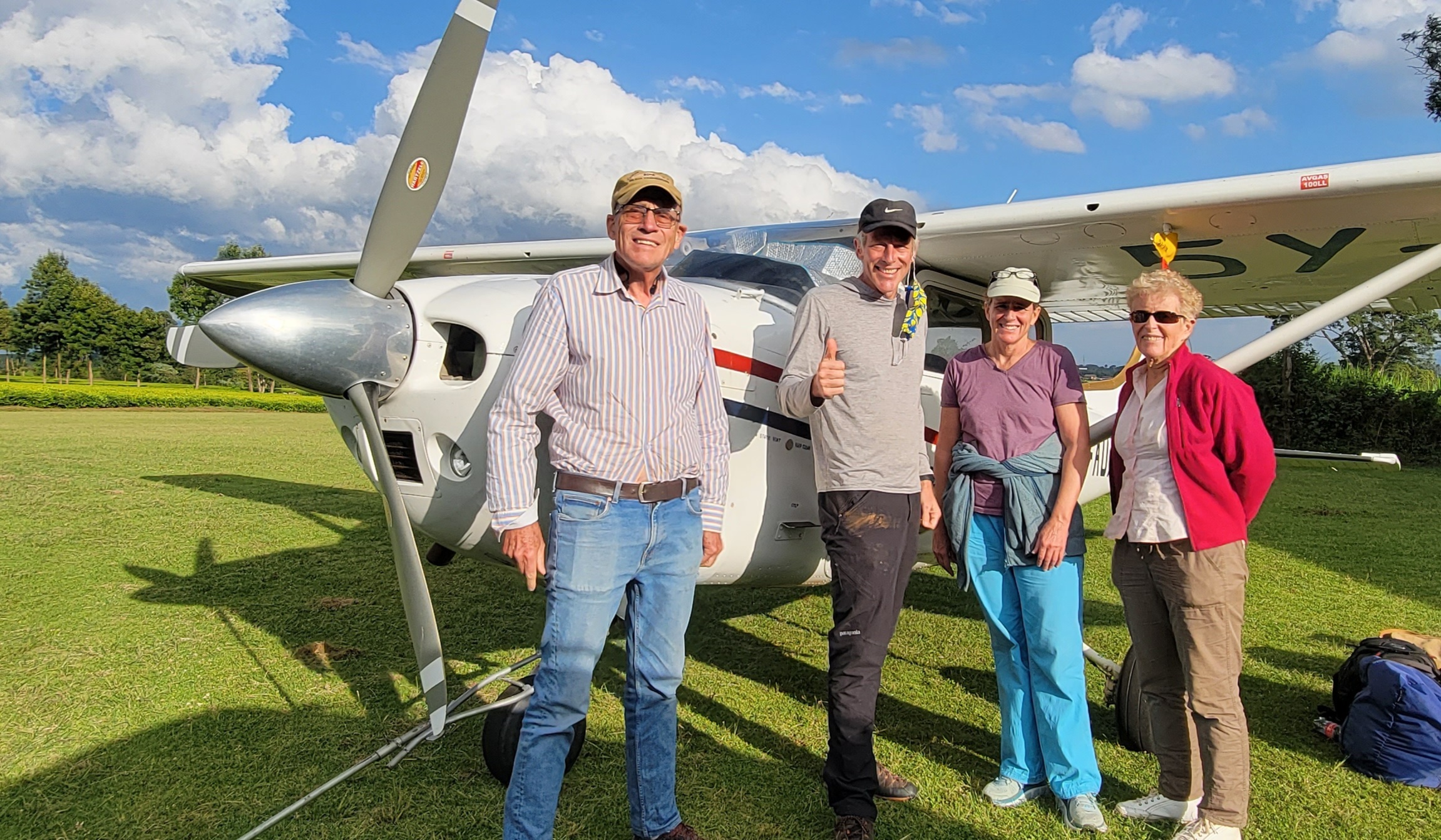 Rarely have we been so grateful to have our own plane!
My sister came because she's also a certified pilot, in case my dad got sick during the flight. And my mom insisted on coming so she can take care of my dad if necessary – she certainly doesn't trust me to! There was obviously no social distancing possible on such a small plane, but we all wore masks and hoped no one else was infected...
The latest data I've seen is that the virus lasts for 5.5 days in people who are triple vaxxed, so hopefully in a couple of days I will recover and test negative so I can fly home with my family on Monday night.
We have no regrets about deciding to go ahead with our family vacation in spite of the rampaging omicron variant. We long ago decided that, once we were fully (double, and then triple) vaxxed, we were going to live our lives pretty much the way we always do – to the fullest!
Don't worry about us. We'll be fine. We Tilsons are honey badgers!
Best regards,
Whitney
P.S. In a recent e-mail to my coronavirus e-mail list (which you can join by sending a blank e-mail to: [email protected]), I rebutted a friend who wrote:
Omicron is so contagious that everyone in the U.S. is likely to get some form of it over the next few weeks.
I responded:
I want to put a stop to this nonsense that omicron is so virulent that we're all going to get it and the vaccines do no good, even if you get a booster.
And I laid out the reasons why.
Some may be wondering, now that my dad and I caught it, whether I've changed my mind?
No. In fact, it's exactly in line with what I'd expect. As I wrote in my prior e-mail, "if you get an mRNA booster, this protection goes WAY up (roughly 75%)." Given that 10 of us have been traveling together in close quarters, in a country in which the positivity rate is north of 30% (!), all of us have no doubt been exposed multiple times in the past 11 days, so one would expect two to three of us to catch it.
This is also consistent with what we're seeing in New York City, London, and a handful of other places right now: if you have (very roughly speaking) 30% of people triple vaxxed (giving them roughly 75% protection versus infection), 30% double vaxxed (roughly 30% protection), 20% unvaxxed with prior infection (unknown protection), and 20% unvaxxed with no prior infection (no protection), and then you introduce the incredibly contagious omicron variant, you're going to see: a) a hockey stick in cases – but, critically, not in hospitalizations and deaths... and b) a fairly quick peak.
So, to repeat, if you aren't vaxxed, GET VAXXED... and if you aren't boosted, GET BOOSTED!
In summary, as I've discussed in multiple e-mails over the past three weeks (the last ones here, here, and here), I believe that the omicron variant, rather than being a global nightmare, may actually soon lead to the end of the pandemic, as it morphs into something akin to the seasonal flu in the next month or two.
That said, the huge omicron-driven surge of cases that's already happening in the Northeast, Puerto Rico, Ohio, Illinois, Hawaii, Wisconsin, and Florida is going to spread across the U.S. in the next few weeks – breaking all prior records – which is going to freak everyone out. But then cases will peak, likely in late January, and hospitalizations will remain under control, thus transforming the pandemic to an endemic.
P.P.S. I welcome your feedback at [email protected].