1) In the August 2020 issue of Empire Stock Investor, we recommended shares of social media giant Twitter (TWTR), which is up 72% since then versus 17% for the benchmark S&P 500 Index. Our thinking is very much aligned with NYU marketing professor Scott Galloway, who owns more than $10 million of the stock.
In a recent blog post, Overhauling Twitter, and an accompanying essay in New York magazine, The Capitalist Case for Overhauling Twitter, he sharply criticizes the company and makes a compelling argument for what should be done to fix it:
Every day, 187 million people open Twitter for news, entertainment, and a social connection. It is the real-time global communications network that sci-fi novelists envisioned. It is also a catalyst for conspiracy theories, a forum for hate speech, and a surprisingly lousy business.

In this week's issue of New York magazine (February 1, 2021), I make the case that Twitter's toxicity and subpar financial results are one and the same problem, amenable to one and the same solution. Fixing Twitter starts at the top – replacing an absentee CEO – and from there, changing the company's business model. The potential rewards are worth it, both economically and socially.

The Capitalist Case

Since its IPO in 2013, Twitter has underperformed the market, growing its share price at just two percent per year. For years, I've advocated for a change in Twitter's business model for both the good of the commonwealth and benefit to shareholders (Disclosure: shareholder). The need for this change is greater than ever...

Twitter needs to move from an ad model to a subscription model, with subscription fees for accounts of a certain size. The platform would still be free for the majority of users, but accounts over 200K followers (or even 50K followers) should pay for the audience that Twitter provides them with. This would lead to better financial results because recurring revenue is reliable, profitable, and earns a higher multiple than transaction revenue.

A subscription model would also orient Twitter around its users (rather than its advertisers) and incentivize the company to improve its product...

As it builds a business around its users, Twitter should acquire or create its own content. Both Spotify (SPOT) and Netflix's (NFLX) stocks accelerated once they began investing in their own programming. Twitter is already a destination for news and entertainment content, and if it added its own vertical – high-quality political journalism, for example – it could establish itself as the first truly hybrid social platform, blending user-generated and exclusive material.
2) Speaking of Scott Galloway, in this essay, Were the Airline Bailouts Really Needed?, Andrew Ross Sorkin of the New York Times echoed what Galloway said about the airlines when he was a guest on Real Time With Bill Maher (see my March 15 e-mail) (a hat tip to Ben Hunt of Epsilon Theory for nailing this a year ago). Excerpt:
A year later, as the stock market cruises to new heights, questions should be asked about the $50 billion in grants that were used to prop up the airline industry. Was it worth it? And was it necessary?

The good news is that the rescue money likely saved as many as 75,000 jobs, most remaining at full pay. And that money also kept the airlines from filing for bankruptcy, and in a position to ferry passengers all over the country to jump start economic growth as the health crisis subsides.

The bad news is that it is also likely that taxpayers massively overpaid: The original grant of $25 billion in April meant that each of the 75,000 jobs saved cost the equivalent of more than $300,000. And with each additional round of bailout money, that price has grown.

The truth is that shareholders of the airlines have been the biggest beneficiaries. That includes airline executives, many of whom have been paid in stock for years and stood to lose millions of dollars if their holdings were wiped out. Airline chiefs collected tens of millions per year in compensation before the pandemic, in part by boosting their companies' share prices by regularly buying back tens of billions in shares. That meant setting aside less money for a rainy day – or, in this case, a pandemic.

But here we are: Shares of United (UAL) traded below $20 in May; today they are above $60. The patterns are similar for the other major carriers.

Airline stocks – lifted by taxpayers – are up nearly 200 percent from their pandemic trough and have almost recovered their losses.

It is fair to say that we socialized the airline industry's losses and largely privatized the gains.

No other industry affected by the pandemic received more from the government. There was no special program for hotels or restaurants or travel agencies. Companies in those industries had to line up for the small business-focused Paycheck Protection Program and pray. The largest loan the program could make was $10 million.
I agree entirely with Andrew and Scott.
Yes, the government needed to keep the airlines flying... but it's outrageous that their shareholders were bailed out in this way. The government should have taken warrants for 80% of the equity, just as it did with American International Group (AIG) during the global financial crisis.
3) Relatedly, air travel in the U.S. is starting to boom. One of the first things people are doing after they get vaccinated is booking a vacation and/or a trip to see loved ones. On Friday, my American Airlines (AAL) flights from JFK to Phoenix and then on to Palm Springs were at 100% capacity.
Don't forget to use your credits! My daughter just booked a $298 round-trip ticket from New York to San Diego on Delta Airlines (DAL) and was able to pay for it using a credit she'd forgotten about... The Airline and Hotel Pandemic Vouchers That May Prove Worthless. Excerpt:
There's a big pandemic problem brewing for travelers – billions of dollars worth of vouchers and credits that will soon expire. And not all of it because travelers snoozed.

Consumers find themselves in a Catch-22 with soon-to-expire credits: Many don't feel comfortable traveling yet. And even if they do, many borders remain closed. Extensions on vouchers given to consumers for canceled trips instead of refunds are drying up, and complicated terms make them difficult to use.

Many airlines gave consumers a pandemic extension on voucher expirations to the end of this year. But lots of travelers doubt they will travel this year, particularly to Europe or Asia, where canceled trips produced vouchers worth thousands of dollars each and now no one knows if travel there later this year makes sense.

Some tickets expire long before Dec. 31, too...

American, United, Delta and Southwest, the four biggest U.S. airlines, had $10 billion in unused travel credits on their books at the end of 2020, according to company filings with the Securities and Exchange Commission.

United says it has $3.1 billion from COVID-19 cancellations, and "given the uncertainty of travel demand caused by COVID-19, a significant portion... may expire unused." Southwest says it's holding about $2 billion in customer travel funds. The airline had just $110 million on the books at the end of 2019.

Airlines haven't disclosed what percentage of their vouchers never get cashed in, like gift cards that get lost, beyond United's estimate that it could be significant. American says that as a result of the pandemic, "breakage" may "differ from historical experience."

TripActions, a corporate travel management firm, says 28% of the unused ticket credits in its system expired in the first quarter or will expire by the end of March. About half of the credits, which have an average value of $482, will expire sometime in 2021.

Some people are putting their credits to work: Bookings with unused ticket credits normally make up 1% to 2% of new bookings. Today, about 8% of all new flight bookings are made with ticket credits, the company says.

Earlier in March, American had so many calls from people trying to redeem vouchers–picture vaccinated seniors booking trips to see grandchildren–that phone lines were jammed and wait times reached about two hours.
4) In response to last Thursday's e-mail, one of my readers, Mark J., wrote:
Just read this morning's report and have to get something off my chest. I applaud you for your enthusiastic work and volunteerism during the pandemic. Having subscribed to you since Empire's inception, I have taken to heart your admonishments in risk management, particularly asymmetric risks.

As it relates to the COVID vaccine, I must ask the question, however. The vaccine is an experimental drug that did not exist even six months ago. How does anyone KNOW there are no long-term side effects to these vaccines? I am old enough to remember the Swine Flu vaccine of the late 70s and Thalidomide in the 50s and 60s. You present your case in a way that implies there is no tail risk here and at this stage of the game, one cannot assign a zero risk to a negative outcome.

Full disclosure: I am a 65-year-old Republican (although I'm not a fanatic about either of those) and a COVID survivor from South Dakota. I have spent the winter in Arizona and have not received the vaccine. I haven't rejected the idea; with multiple varieties soon to become available, I am adopting a 'wait and see' stance.

Keep up the good work. The Empire suite is my 'go to' source for investment advice.
Here was my reply:
Hi Mark,

Thanks for being a subscriber!

You're right: We can't know with 100% certainty that the vaccines are 100% safe. But my family and I nevertheless rushed to get vaccinated (as I discussed in my March 11 e-mail) for two reasons:

1) Every bit of evidence so far – both from clinical trials as well as the real-world experience based on more than 468 million doses being administered worldwide (over 128 million in the U.S.) – indicates that the vaccines are safe.

2) We do know for sure that we really don't want to catch COVID-19. Even for those who suffer few symptoms, long-term effects of "long COVID" are common and can be serious (for instance, see these two recent articles: Long COVID isn't as unique as we thought and First Covid, Then Psychosis: 'The Most Terrifying Thing I've Ever Experienced').

And getting sick is no fun: My sister, who lives in Kenya, was recently stricken with COVID-19 and was laid up in bed for a week.

And if my parents had gotten it, there's a greater than 1% chance they'd die! Even though they're in excellent health, the mortality rate is alarmingly high for people of their age (79 and 80). Thankfully, they're likely in the clear now, having just returned from a month in the U.S. to get vaccinated.
5) My guide and I are having a ball living out of his van and climbing every day in Joshua Tree. Here are some pictures (I've posted more on Facebook here and here):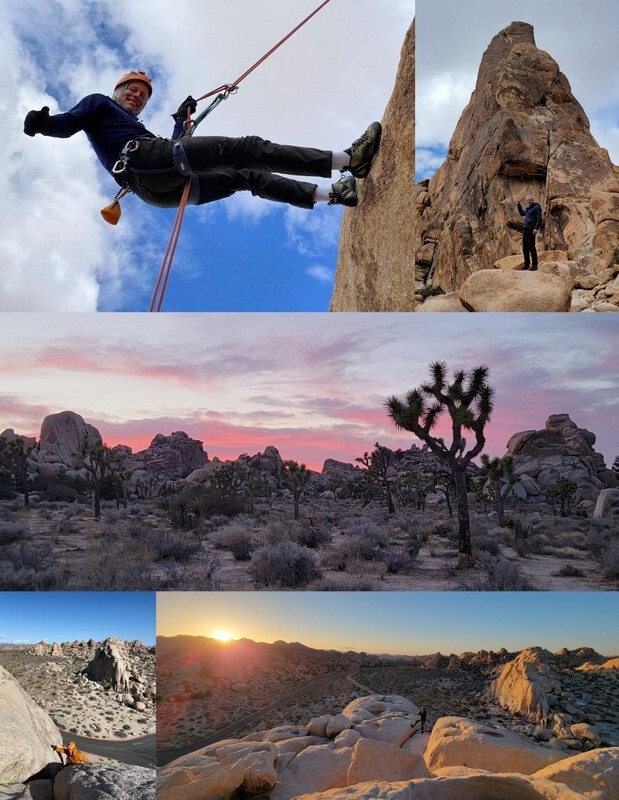 Best regards,
Whitney