On Saturday, I showed you how tracking insider buying – or what I call inside 'whispers' – can lead to massive gains in the stock market...
Today, I'm going to show you why that's the case.
Strictly speaking, an "insider" can mean one of a few things...
It can describe a senior officer or director of a publicly traded company. It can also describe any person or entity that owns more than 10% of a company's voting shares, like Warren Buffett's Berkshire Hathaway (BRK-B) owning 23.5% of energy company Occidental Petroleum (OXY).
Of course, senior executives of a company will almost always know more than an individual investor, which is true of board members as well. Even though they aren't day-to-day employees of the company, directors are intimately involved with its strategic outlook. They often vote on large business decisions, such as mergers and acquisitions, opening or closing new facilities, whether to enter or exit a line of business, and more.
The key thing to understand is that an insider is almost always someone who knows more than you do.

On Saturday, I quoted the great Peter Lynch, who famously said that 'insiders buy their stock for one reason – they think it's going up'...
Usually, the insiders are correct... and they profit big time.
In a recent academic study from the Journal of Business & Economic Policy, insiders were shown to outperform the market by 25% over a one-month period, by 31% over a six-month period, and by 36% over a one-year period.
In other words, insider outperformance increases as time passes.
And these aren't one-off findings. Widespread research has shown time and again that companies with heavy insider buying tend to dramatically outperform the overall stock market.
This is why I've always kept a close eye on this metric. It gives you an unfair – but completely legal – advantage in the stock market.
(Insider selling, in contrast, is rarely a useful metric. Insiders can sell their stock for any number of reasons: to send a kid to college, buy a vacation home, pay for a divorce, or any other number of reasons. Or maybe they just felt like they simply had too much of their personal net worth tied into their stock.)

But to get the most out of insider buying signals, you need to know which ones to look for...
It's important to recognize that not all insider buying is meaningful.
Sometimes, insiders need to buy a certain amount of their company's stock each year as part of their compensation package. In cases like these, the insider transaction tells us nothing about the stock's upside potential.
But insider buying by multiple individuals who purchase their stock around the same time – also called "cluster buying" – is a significant indicator that a stock is about to head higher.

Take small-cap health care company Quanterix (QTRX), for example...
Its products are used in the life sciences, neurology, and oncology research fields.
With a market cap of around $500 million, you've probably never heard of the stock. But insiders own a sizable 8% of the company.
Last August, after the stock had a sharp pullback, four members of the board of directors bought $4.1 million worth of stock, the CEO bought $1.1 million, and the CFO bought $103,000 over the course of five days.
After the insiders loaded up, the stock went on to rise almost 75% in less than six months...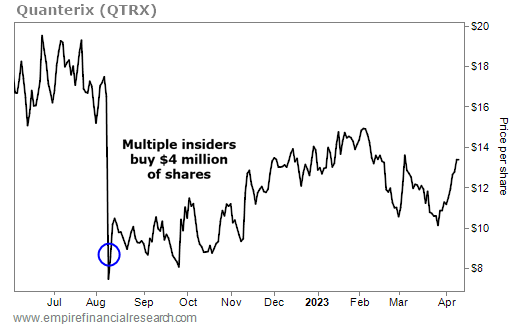 Of course, Quanterix wasn't the only example of how listening to the 'whispers' of insiders could have paid off...
I commissioned my research team to look for some of the biggest gaining plays that happened after a streak of inside buyers. What we found was incredible outliers of...
MiX Telematics (MIXT) – up 1,446%
Neuberger Berman High Yield Strategies Fund (NHS) – up 772%
DIRTT Environmental Solutions (DRTT) – up 212%
Rumble (RUM) – up 156%
Cadiz (CDZI) – up 136%
JAKKS Pacific (JAKK) – up 105%
Akumin (AKU) – up 96%
Preformed Line Products (PLPC) – up 93%
ViewRay (VRAY) – up 85%
International Seaways (INSW) – up 84%
Biodesix (BDSX) – up 74%
Tidewater (TDW) – up 69%
Mobileye Global (MBLY) – up 64%
Performant Financial (PFMT) – up 62%
PVH (PVH) – up 60%
Transocean (RIG) – up 60%
Community Health Systems (CYH) – up 59%
Donnelley Financial Solutions (DFIN) – up 58%
Dillard's (DDS) – up 58%
National Vision Holdings (EYE) – up 55%
Ivanhoe Electric (IE) – up 54%
Varonis Systems (VRNS) – up 52%
Chewy (CHWY) – up 50% 
All in, we found 86 back tested trades that made 20% or more. Twenty-three of these made 50% or more... And six made 100% or more!

That said, insider buying should be one of several factors you consider before you purchase a stock...
Here at Empire Financial Research, we also consider the long-term prospects, both for the company and its industry... any potential catalysts to act as a tailwind for the stock... and strong fundamentals (i.e., a reasonable valuation, healthy free cash flow, and a proven management team with plenty of "skin in the game").
When you combine other factors with strong insider buying, you're well on your way to outperforming the market.

That brings us to our big reveal on Thursday at 1 p.m. Eastern time...
That's when we're pulling back the curtain on what might prove to be the most reliable way for the average investor to make a fortune in 2023 and beyond.
We're going to reveal all the results from our back testing of this "whisper trade" project...
We're going to show you how, for the first time ever in Empire Financial Research history, we're going to bring these "whispers" right to you...
And we're even going to have a few special surprises that no one outside of our office has heard before – surprises that could help grow your wealth starting right away.
Mark your calendar...
Best regards,
Whitney Tilson
April 24, 2023