► From stocks and bonds… to cryptocurrencies and commodities… to suburban homes and used cars… it's been hard to find an asset class that hasn't done well over the past year.
The combination of ultra-low rates and abundant money supply growth courtesy of monetary stimulus – boosted by multiple rounds of fiscal stimulus – has provided a huge tide that has lifted nearly all boats.
Of course, every rule has an exception or two… And as financial and many hard assets soared, one area that has remained under assault is the key performance metrics at office towers: occupancy and rents. A quick news search on "office vacancies" yielded the following results from the last week…
"First quarter sees North Texas office vacancies rise, negative absorption continue" – Dallas Business Journal, April 15
"L.A. office vacancies hit all-time high" – L.A. Biz, April 9
"Silicon Valley's office vacancy rate reaches highest point since 2014" – Silicon Valley Business Journal, April 13
As workers await the "Great Return to Work" – some with excitement and others with regret – the future of work remains a big question mark. Most experts think "hybrid" and remote work options will be far more common in the post-COVID world.
I've previously shared predictions from remote work expert Chris Herd, who founded Firstbase – a startup that sells a tech platform to enable fully remote teams. This is one of Herd's predictions…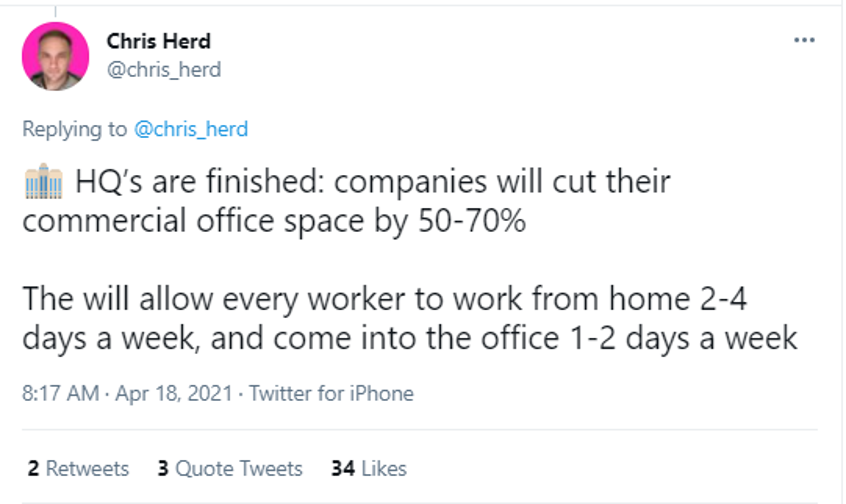 Source: Twitter/chris_herd
Of course, Herd is talking his book. He wins if more and more companies opt to allow full-remote work, or even hybrid work setups.
It makes sense that companies would kick the can on signing new leases with so many workers still at home by mandate. This "wait and see" approach to committing to new space is enough to drive up vacancies temporarily… But we won't really know how permanent the demand destruction is for another year or two.
Shockingly, commercial mortgage-backed securities ("CMBS") backed by offices are shrugging off all this uncertainty. As Bloomberg reported last week…
Investors are pouring money into bonds backed by U.S. offices, shrugging off concerns about whether workers will ever fill them up like they did before the pandemic.

About a third of all of this year's commercial mortgage-backed securities tied to single properties – nearly $4 billion in total – have helped finance prime office towers in large city centers…
Credit investors are buying office CMBS, despite analysts at Deutsche Bank (DB) last week predicting that office demand may fall between 10% and 31% permanently.
Bond investors' unexpected appetite for bond deals backed by the cash flows from city center office buildings may be as much a result of the quest for yield as a contrarian view on future demand and occupancy. According to Bloomberg, a $1.1 billion refinance of the mortgage of two midtown Manhattan office buildings owned by the Durst Organization went off without a hitch last week…
The AAA rated slice of Wednesday's Durst transaction priced at 98 basis points over a swap-spread benchmark for 10-year paper. That compares to a spread of only about 78 basis points over swaps for an average single A rated corporate bond with a seven- to nine-year duration, according to Deutsche Bank.
Anyone who lived through the residential mortgage-driven collateralized debt obligation ("CDO") collapse of 2008 should be taking these ratings with a grain of salt… We've learned that the ratings agencies are more than capable of making mistakes.
It's also possible that the AAA-tranches of these deals are overcollateralized to the point of providing protection even in a permanent down 10% to 30% demand scenario… But I would definitely do my own independent homework if playing in this corner of the CMBS market.
The equity market – which reflects securities junior in the priority for property cash flows – isn't showing as much office optimism as the CMBS market, when you take a look at the stock charts of office real estate investment trusts ("REITs") like Boston Properties (BXP)…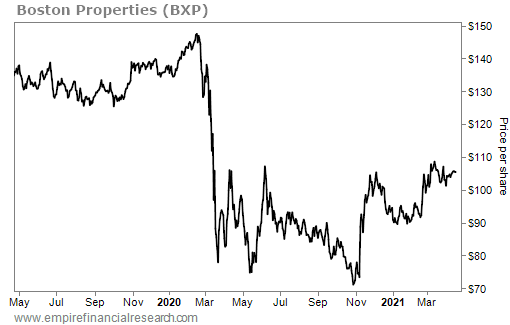 … or SL Green Realty (SLG)…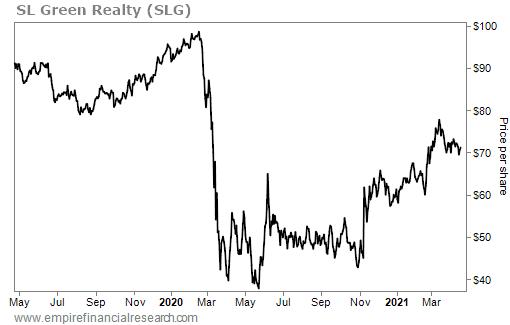 I typically find bond markets take a more sober view of companies than equity markets… So the tight credit spreads when office real estate equities still show skepticism is unusual.

Whenever I think about commercial real estate woes, my head naturally turns to Hudson Yards – the largest private real estate development in American history…
I first wrote about the troubles at Hudson Yards last June and followed up in October with a note about how taxpayers could end up on the hook to service some bonds issued by the development. I called it a classic "example of the privatization of profits alongside the socialization of risk."
So how are those profits materializing? In February, the New York Times published an article called "How the Pandemic Left the $25 Billion Hudson Yards Eerily Deserted" and observed…
Hundreds of condominiums remain unsold, and the mall is barren of customers. Its anchor tenant, Neiman Marcus, filed for bankruptcy and closed permanently, and at least four other stores, as well as several restaurants, have also gone out of business.

The development's centerpiece, the 150-foot-tall scalable structure known as the Vessel, closed to visitors in January after a third suicide in less than a year. The office buildings, whose workers sustained many of the shops and restaurants, have been largely empty since last spring.
In my October essay, I noted that all construction on Phase 2 of the project seemed to have stopped. The Times reported that Phase 2 – which was to include eight buildings – is on indefinite hold, and Hudson Yards' developer Related Companies is seeking federal financial backing for Phase 2.
Phase 2 requires a platform to be built over the rail yard that's there now. Related and Amtrak are in talks with the Department of Transportation for a low-interest $2 billion loan to fund building the platform, as well as a new tunnel to be used by Amtrak.

Despite the booming housing market, the source of Related's woes vis-à-vis Hudson Yards is the slow condo sales…
Hudson Yards is bit out of the way and has a shiny new aesthetic that left most New Yorkers with the impression that it was mainly built for wealthy foreign expats and second (or third) home seekers. Those same well-heeled residents would theoretically keep the luxury restaurants and shops dotting the mall full and lively.
While housing in general is hot, it's not at Hudson Yards… where just 30 condos sold in 2020, versus 157 in 2019. Price may have something to do with it – The cheapest unit currently listed is a 1,900 square foot, two-bedroom with an asking price of $4.25 million. Three-bedrooms start at $6.3 million and go up to just under $14 million.
These condos were built for an international jet set that has been grounded, at least for now. From the Times…
"Hudson Yards was built for a buyer that's no longer there and maybe partly a tenant that's no longer there, and that was someone who wanted to live in Manhattan but not live in the city per se," said Richard Florida, a professor at the University of Toronto's Rotman School of Management and School of Cities, referring to the development's homogeneity and somewhat isolated location.
A Brooklynite named JJ Appleton validated the professor's opinion with the following comment on the article…
Brooklyn is hopping and seems just fine to me. Of course there have been many businesses decimated – but actual New Yorkers live here. Hudson yards was not built for us.

Without the rich condo inhabitants, it's hard to get the buzz that attracts tourists, which are still in short supply…
Without rich neighbors wandering the mall, the place seems a little dead. Related recently announced that the space vacated by its one-time marquee tenant and mall anchor Neiman Marcus would now be converted into more offices.
The Times also reports on several store closures, as well as $1,500 daily fines that Related is charging tenants that don't stay open every day.
While Related touts the 93% leased status of its office towers, according to the Times…
Related made it clear before the outbreak that it intended to earn the bulk of its money at Hudson Yards through its condos and mall since [Related Chairman] Mr. Ross said it had been leasing office space at cost, without taking a profit.
Many retail tenants in the mall are paying a rent based on a percentage of monthly sales, which can't be great, since as the Times notes, "mall employees far outnumbered shoppers inside the cavernous building."
Related is pursuing $16 million in claims against Neiman Marcus for breaking its lease, and also trying to fend off demands for rent reductions or other concessions from retailers who had a co-tenancy clause in which the departure of Neiman Marcus would nullify or change the terms of their lease.
Related countered the Times' claim that it was suffering in the mall with the statement that the mall had opened with 79 stores, and now has 89. Of course, the million-dollar question is how many of these stores are paying rent?

Hudson Yards is a massive real estate development built in New York, but not for New Yorkers…
Like most New Yorkers, I scoffed at the development as built for tourists from China and Dubai when it opened.
Building a giant mall when the writing was already on the wall about malls losing general appeal was never a good idea. Nor was building 2500 square foot apartments that cost $10 million… If someone has $10 million to spend on a condo, why not opt for 2,500 square feet in a vibrant neighborhood with history, as opposed to one in the Epcot-version of fake New York City?
It was announced a couple of weeks ago that high-end restaurant Momofuku Kāwi, which closed for the pandemic, would never reopen. This spot from restauranteur David Chang was the critical dining star of the mall but has also become a COVID-19 casualty. Related announced it will convert that space to more offices as well.
Chang's fast-casual chicken sandwich concept, Fuku, will keep its location in the mall. This turn of events is like a microcosm for everything that went wrong at Hudson Yards… Developers imagined the crowds lapping up $100-per-person sit-down dinners, when the demand proved to be for $9 chicken sandwiches.
Now, the future of Hudson Yards may rest on the demand for offices. And while the bond market may be pointing to smooth sailing on the office front, the office REITs offer a much cloudier forward picture.
Related is putting all its eggs in the basket of filling office towers at the same time that major employers like Citigroup (C) have told workers to only expect to be in the office three days per week. Jamie Dimon, CEO of JPMorgan Chase (JPM) – the largest private office tenant in New York City – wrote in a recent letter to shareholders, "For every 100 employees, we may need seats for only 60 on average. This will significantly reduce our need for real estate."
Hudson Yards is remarkable because of the sheer scope of money spent on it as well as its ill-fated timing… The complex opened to the public March 15, 2019 – almost a year to the day before the beginning of the quarantine orders.
It's also notable that if this development fails, taxpayers will be on the hook for roughly $2.7 billion of the development's debt.
But the problems at Hudson Yards are just a blown-up version of what mall and office landlords around the country are battling, albeit with less scrutiny and schadenfreude.

In the mailbag, readers weigh in on the frenzy around cryptocurrencies and non-fungible tokens ("NFTs")…
Do you think the federal government should entertain a low-interest loan to Related and Amtrak? If office demand really settles at 70% to 90% of what it was pre-COVID-19, what should – or can – we do about the coming glut of center city office space? Share your thoughts in an e-mail to [email protected].

"Hi Berna, Thank you for covering these new and fast growing aspects of our economy.
"I started investing in cryptocurrencies in the fall of 2017. I stopped putting money in after the crash in January 2018, but also never pulled any out. I began investing in them again in the summer of 2020 and am now sitting on unrealized gains of roughly 400%. This has dwarfed even the solid unrealized gains I am sitting on in the stock market of 20-25% since I re-entered stock investing in 2019 (most of these positions I entered within the last 10 months).
"I realize it is a risky asset class, but I have risked much less capital with cryptos than I have with stocks. I don't plan on taking profits until I see the two major coins (BTC and ETH) at least double from here. I think blockchain technology and smart contracts will revolutionize finance. Although you're right, it is certainly hard to quantify what this means for the value of said coins." – Roland D.
Berna comment: Congratulations, Roland, for having the forward vision to invest in – and make great money on – bitcoin and ethereum!

"It [the New York Magazine cover] certainly got my attention, which I think was the point of the cover. The world of investing is changing and if you want to know how, you should buy our magazine.
"I also think it is a cover that is more targeted to the New York City area. I live in Kentucky and I don't think many folks in my 'neck of the woods' would give it a second look.
"To answer your question, yes I do consider magazine covers market indicators. I have not given stadium naming that much influence in my decisions. I really enjoyed being shocked by the Magazine Cover, thanks for sending it." – Jean G.

"Hey there, I see you've written about the madness of NFT's in Empire Financial Daily and thought you'd be amused by this one: https://etherrock.com.
"Pet rocks on the blockchain. Started in 2017 and during the NFT craze traded tens of thousands of dollars' worth of pictures of rocks :/" – Katie H.
Berna comment: Katie, that's a fun one! Thanks for bringing it to my attention. I think I should save up for an NFT mood ring to go with an NFT pet rock…
Regards,
Berna Barshay
April 19, 2021