► If you've struggled to keep your New Year's resolutions in the past, technology is here to help…
As the calendar turns to January, many of us inevitably come up with a list of self-improvement initiatives for the next year.
According to data and analytics firm YouGov – which maintains a panel of more than 9 million people around the globe – the most common resolutions involve getting in shape, losing weight, saving money, eating better, and refocusing on careers…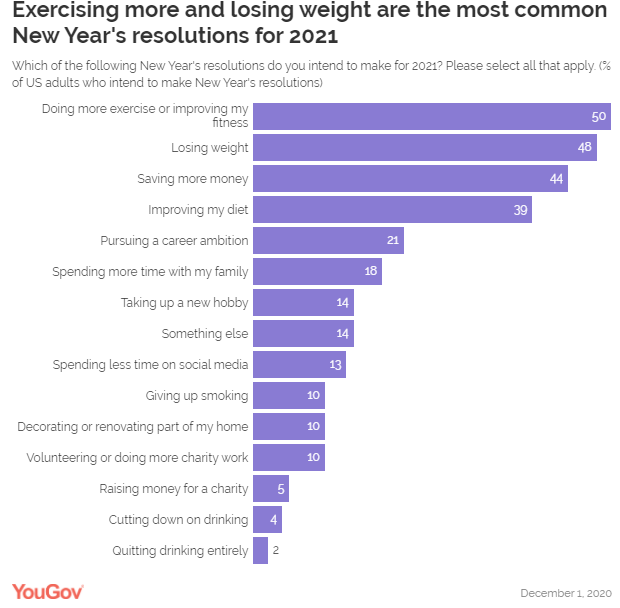 Source: YouGov
It has been an unusual year, but these resolutions aren't unlike the ones that have traditionally dominated… so there's no shortage of companies both small and large ready to help you achieve your goals. Entire industries have sprung up to support us in – and profit from – our annual efforts to improve ourselves.
If your goal is hitting the gym more, Planet Fitness (PLNT) and a plethora of privately held gyms stand at the ready. If losing weight or improving your diet is on the agenda, there are companies like WW International (WW) and Medifast (MED) ready to help. And if you want to save money, plenty of banks and financial advisors are looking to provide advice, along with websites and magazines offering savings hacks.
All these pursuits have been affected by technology… Even before the pandemic hit, WW (formerly Weight Watchers) had seen online subscribers to its weight loss app outnumber people who attend physical meetings for years. Peloton (PTON) and other fitness apps joined home equipment companies like Nautilus (NLS) to bring the gym home to you.
I, along with my colleagues Whitney Tilson and Alex Griese, have devoted a lot of ink in both of Empire Financial Research's daily newsletters to how Robinhood – for better or worse – is revolutionizing investing with its app. Additionally, financial apps from banks as well as digital native companies like Digit and Mint have programs and features to help you save money.
But while setting goals is easy, sticking to them is hard. A study from the University of Scranton found that only 40% of resolution-makers are sticking to them six months later… and frankly, that seems high to me!
Making lasting changes in any arena of life requires replacing old habits with new and improved ones. And here to help with that are a slew of habit-formation apps…

These apps go beyond measuring adherence to a narrowly defined goal, and instead aim to enable success building habits more broadly…
There are so many apps out there that let us count steps taken, calories consumed, calories burned, hours fasted, hours slept, ounces of water drunk, minutes on your phone, etc. But as news website Vox explains…
Habit-formation apps are a slightly different breed: They're aspirational. Habit-formation apps are less about distilling your life into a series of data points and more about becoming your ideal self: If you use their app, you too can become a person who practices good habits. You can become someone who exercises and meditates every day and always drinks eight glasses of water.
These allow you to track all sorts of habits… You can see how well you're doing making changes related to giving up a food, sleeping more, studying a new skill, drinking more water, or exercising – all in one place. They track streaks, show progress on calendars, and let you connect with friends, as you can see in these screenshots from app HabitShare…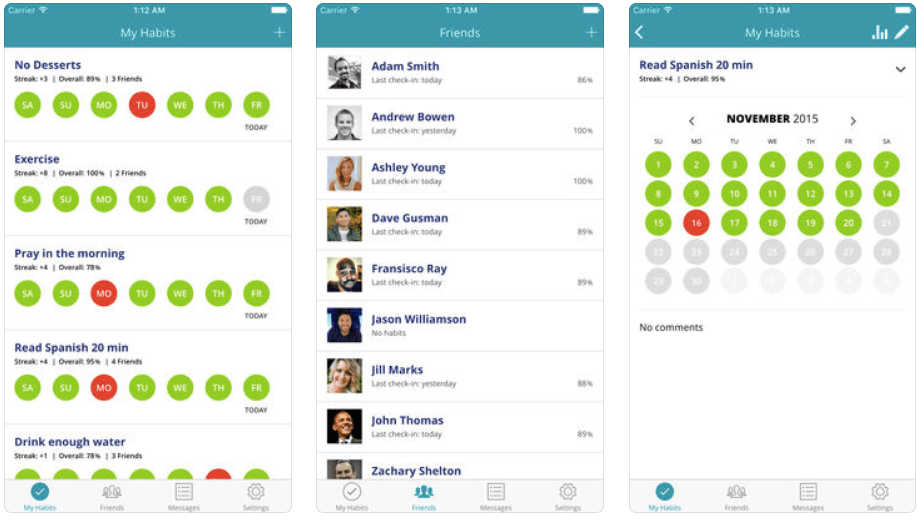 Source: Lifehack, HabitShare
Other apps, like Habitica, gamify tracking and maintaining good habits – allowing users to level up with consistency and earn enhancements to their avatars. With StickK, which was developed by behavioral economists at Yale, you can assign a friend or family member to monitor you and keep you accountable. Apps such as Streaks can be integrated into the Apple (AAPL) Health app, or allow for data downloads into Excel, like the Momentum Habit Tracker does. Some apps, like Coach.me, can even connect you to coaches who are ready to help you finally achieve that elusive resolution that you've made several years in a row without completing.
I was shocked and overwhelmed by the number of these out there. I'm flirting with trying one – there are plenty of habits I aspire to improve – but I'm curious if these apps are actually viable.

Vox spoke to several experts about whether these apps really work…
According to expert Gretchen Rubin, author of several books on habits, it depends on your personality type with regard to habit formation. As Vox explains…
In Rubin's book Better Than Before, she writes that most people fit one of four tendencies when it comes to habit formation: upholders, who are disciplined and respond to both internal and external expectations; obligers, who can't keep commitments to themselves but respond to expectations from others; questioners, who ask why and can keep a habit if they understand the logic and reasoning; and rebels, who hate being told what to do by others – so it has to be something they want to do…

But most people are not upholders. Rubin says that obligers are the most common tendency, and they struggle to follow through on a commitment to themselves. For obligers, habit formation apps can work as a tool to introduce outer accountability – sometimes.

"The question is, is this app giving you the outer accountability that you need? Because if it's not, then the app is not going to work for you," Rubin says. "If it is, then this app is going to be terrific. And that is a question for an individual obliger."
For rebels, the prompts from these apps may just be annoying. And questioners might want to look for an app that doesn't only prod but also gives logic or reasoning with each little push.
But for obligers – which comprise a lot of resolution-makers (myself included) – these apps might help… Although I'm still somewhat skeptical, given how bombarded we all are with alerts and notifications from our smartphones.
These apps play on our psychological push points. Some people will respond better to keeping up a streak, others need the accountability of a friend or the cheerleading of a coach, while still others will comply out of frugality with using an app if they paid enough money for it.

The rise of these habit formation apps conveniently coincides with a time in which our habits have been largely upended…
Working from home, closed gyms, schools on hybrid schedules, canceled conferences… all of these things have uprooted us from the daily and seasonal schedules we had become accustomed to. In a period when so many habits and schedules have been disrupted, it seems like both a really difficult time, but also an opportune time – because of greater schedule flexibility – to make long aspired-to changes.
Most of these apps have been bootstrapped by entrepreneurs (Coach.me is the exception with venture capital-backing). And in a tech market obsessed with Software-as-a-Service ("SaaS") business models, what could be more "sticky" of a SaaS offering than an app that successfully helps you build and maintain habits? Paying for the app would be yet another habit itself!
Right now, the space is highly fragmented – I found literally dozens of these habit-formation tools in the Apple App Store. But if one or two of these services can differentiate from the pack – by both proving efficacy and establishing a large user base – it seems like a no-brainer for Alphabet's (GOOGL) Google to buy such a service to integrate into fitness tracker Fitbit (FIT), which it has a deal to acquire (pending regulatory approval).
With its emphasis on subscription service bundling, as well as its substantial investment already into health monitoring, this also seems like an area that Apple might eventually go sniffing around in for a deal.
It's early days for these habit-formation apps – the market needs to consolidate around one or two clear winners – but it's a space to watch… and possibly test out if you made resolutions this year.

Many of you sent kind words and well wishes in the mailbag in reaction to my personal reflections closing out the year, and I thank you for these lovely notes…
Did you make any resolutions this year? What were they? If you've been successful in changing a habit before, can you pinpoint and share what helped you make the permanent change? Have you or would you try a habit-formation app? Share your thoughts in an e-mail to [email protected].

"Hi Berna, Thank you so much for your transparency in reflecting on your best and worst investment advice. I'm always reading about the winners when I know the person had losers too. Your honesty is greatly appreciated!
"Happy New Year" – Leigh A.

"Berna, Loved following your work this year. A big thank you is in store most of all for the Christmas present recommendation! The Revlon One Step Hair Dryer WAS a game changer. My wife absolutely loved it and it made me the hero of the gift giving season!
"Have a happy, healthy and prosperous 2021!" – David V.
Berna comment: That's great to hear, David! I think you're the second reader who gifted that hair dryer and had a hit with it… I'm happy to help!

"Never apologize for being personal. I was saddened by the passing of your mother. I purchased something you spoke well of, Tomra Systems (TMRAF). Some people buy for reasons other than rapid gain. It's been doing ok and still making this sphere on which we trod a better place.
"Another great advisor suggested William Hill, a sports gambling company as many states were legalizing it. I passed it up without thinking (how would I feel getting rich on someone's addiction). I'd wish you a fine January 1 except for your memory." – Jim J.
Berna comment: I love it when I can find a company like Norway's Tomra that can make you money while also doing good in the world. It's the perfect combination.
For those unfamiliar, Tomra makes equipment that collects bottles and cans, as well as big recycling center equipment. In countries that universally deploy reverse vending machines like the ones Tomra pioneered, which pay users to return drink containers, rates of plastic recycling are much higher than in countries that don't have them.
As for the gambling stocks… I've invested in this sector for more than a decade, and I'm also a bull on online sports betting. While companies in the betting industry certainly don't do charity work, I do believe it's better to have a regulated and taxed gambling industry. People are going to bet whether it's legal and commercialized or not… and at least these public companies are held to operating standards in how they interact with their customers.
I totally respect avoiding these and other "sin stocks" from an ethical standpoint, though. Another approach to them is making money off them when you can and donating a portion of your gains to charities that do help the world become a better place.

"You're the best Berna! Thank you for your coverage of a year that needs to be kicked out the door! Anywhere is up from here!
"Wishing you and your family the best in 2021!" – Scott W.

"Your mother, like so many mothers, have had a huge influence on the next generation. This is why we must protect women's rights. It's a futuristic concept.
"God bless her and all mothers who do such wonderful work so lovingly with their children. They are our heroes aren't they!" – Wane I.
Berna comment: Hear, hear… I agree!
Happy New Year!
Berna Barshay
January 4, 2021