During the boom, you would be lucky to get yourself on a wait list for a new home, even starting in the millions – let alone get one – here in Southern California...
They couldn't build them fast enough. But as the longtime sales manager for one SoCal developer told me the other day, using towns far east of Los Angeles as an example...
When you have homes in Palmdale or even Menifee that are going for $600,000, one has to scratch their head and say, "OK, well, those are markets where you could typically buy a home for $300,000 or low $400,000." Something had to give. There was no way to sustain at the pace we were moving.
In her view, based on a few decades in the business, things have returned to "normal." Or as she puts it...
It feels like a reset. I think that I'm feeling like we're picking up where we left off in 2018.

The interview, which I did for the expert network Stream, had some other interesting nuggets...
Among them...
As sales have slowed, the sales manager knows of at least one builder that cut prices on $1 million dollar homes by $150,000 – and this was a few months after the project opened. She said that "it hasn't moved the needle," and out of 91 units, only nine have sold.
Other builders have held back on price reductions... so far.
A recent soft opening by Toll Brothers (TOL) near Valencia had less than 100 visitors and only one sale. The grand opening a week later drew even fewer visitors and just one sale as well... which is a terrible conversion rate.
Buyers who fell out of escrow as prices soared are now getting a second crack at the same home.
Canceled orders are on par with the 14% figure that NVR (NVR) reported last week.
As prices have fallen, the sales manager is seeing a return of investor-buyers, possibly with an intention to buy and then rent.

One other interesting tidbit, and this one involves online real estate broker Opendoor (OPEN)...
About a year ago, when the market was sizzling, Lennar (LEN) stopped cooperating with brokers. There are rumblings now that it has struck a deal with Opendoor, which buys houses directly from sellers.
That would make sense since Lennar is an investor in Opendoor and Lennar's co-CEO sits on Opendoor's board.
No surprise then that the two have been doing this in select markets for a few years. But there has been little fanfare, and neither have mentioned the program in their filings or have discussed it on earnings calls.
Still, Lennar at one point likened it to a "trade in" program. Or as it says on its website...
You can trade in your car and phone for a new one, so isn't it about time you can do the same with your home? With Lennar's New Home Trade-in Program, you can do just that.
It makes sense, because this can instantaneously eliminate one of the biggest hurdles for many prospective buyers... having to first sell their own homes. During the boom, builders didn't need to accept contingent sales – and this kind of program certainly helped.
In a bust or merely a slowdown, if there is one, a contingent buyer is worth the risk.

There's just one catch, especially if something is too good to be true...
Opendoor has only been in business since 2014 – a booming time for home sales and home prices.
The company warns in its filings that its purchases of homes "are based in large part on our estimates of projected demand. If actual sales are materially less than our forecasts, we would experience an oversupply of inventory."
As it goes on to say...
An oversupply of home inventory will generally cause downward pressure on our sales prices and margins and increase our average days to sale. Our inventory of homes purchased has typically represented a significant portion of total assets.

Having such a large portion of our total assets in the form of non-income-producing home inventory for an extended period of time subjects us to significant holding costs, including financing expenses, maintenance and upkeep, insurance, property taxes, homeowners' association fees, and other expenses that accompany the ownership of residential real property and increased risk of depreciation of value.
In other words, it wouldn't be good for Opendoor.
Put another way, the company's model hasn't been stress tested yet. But as you can see in the chart below, its stock certainly has...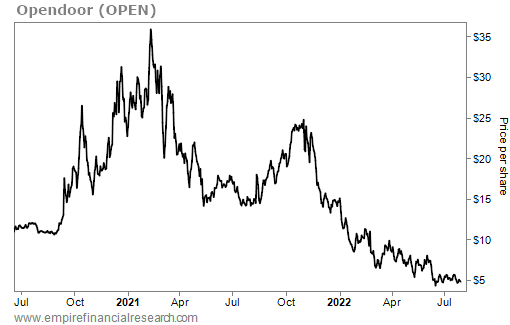 And based merely on fears of what might happen – with OPEN shares trading at less than a quarter of their old highs – the stock looks like it has failed that test.
As always, feel free to reach out via e-mail by clicking here. I look forward to hearing from you.
Regards,
Herb Greenberg
August 2, 2022