1) In yesterday's e-mail, I shared my friend and former partner Glenn Tongue's analysis of Berkshire Hathaway's (BRK-B) second-quarter earnings, which the company reported on Saturday.
Today, as I do every quarter, I'd like to update my estimate of the stock's intrinsic value. To do so, I apply a methodology I've used – and that I think CEO Warren Buffett himself uses – to value Berkshire for more than two decades.
I start by taking cash and investments (valued at market), which were valued as follows as of the end of the second quarter: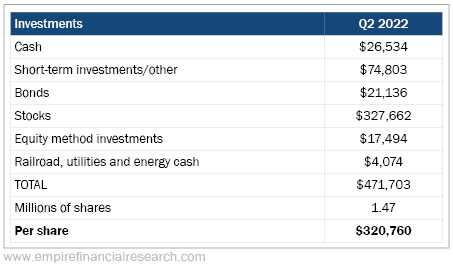 I then estimate the current value of the stock portfolio by assuming that it has tracked the 9.5% rise in the S&P 500 since the end of June. This increases it from $327.662 billion to $348.771 billion, bringing total cash and investments to $335,000 per A-share.
Then I value the wholly owned businesses, starting with their pre-tax earnings, which I calculate as follows: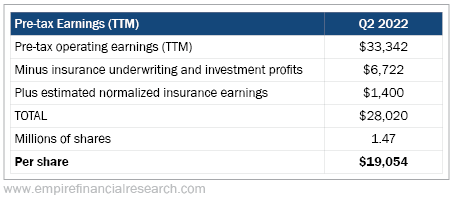 Note that I subtract all of the underwriting and investment profits from Berkshire's massive insurance operations but add back a rough estimate of the average insurance underwriting profits over the past decade ($1.4 billion annually).
This results in $19,054 in adjusted pre-tax earnings per share over the past 12 months, to which I apply a multiple of 11 times to arrive at a value for the operating businesses of $210,000 per A-share.
Now add the $335,000 in cash and investments per share to arrive at a total intrinsic value of $545,000 per A-share (or $363 per B-share).
With the A-shares closing yesterday at $439,167, that means the stock is trading 19% below my estimate of its intrinsic value.
You can see why I call Berkshire "America's No. 1 Retirement Stock"...
Many companies have excellent growth prospects, a strong balance sheet (though none as strong as Berkshire's), and exceptional management (though, again, none as exceptional as Berkshire's, I'd argue), but I can't think of a single one that has these three traits and a stock that's significantly undervalued.
In my opinion, Berkshire should be the foundation of any conservative portfolio.
2) Once you've established a strong foundation for your portfolio, it's OK to take a little risk in search of outsized returns... but you need to be smart about it. If you aren't, you'll just lose your money in whatever scam Wall Street is peddling like nearly all cryptocurrencies and meme stocks.
Instead, look for companies and sectors that have excellent long-term growth prospects but are experiencing temporary headwinds that have crushed their stocks.
The key word here is, of course, "temporary." If the headwinds persist and a company continues to decline into oblivion, then its stock is likely to be a value trap and should be avoided at pretty much any price, no matter how cheap it appears.
My favorite high-risk/high-potential-return bet continues to be the cannabis sector, which has gone from disliked and cheap when I first became bullish late last year to hated and ridiculously cheap today...
My friend Doug Kass of Seabreeze Partners agrees, tweeting this recently: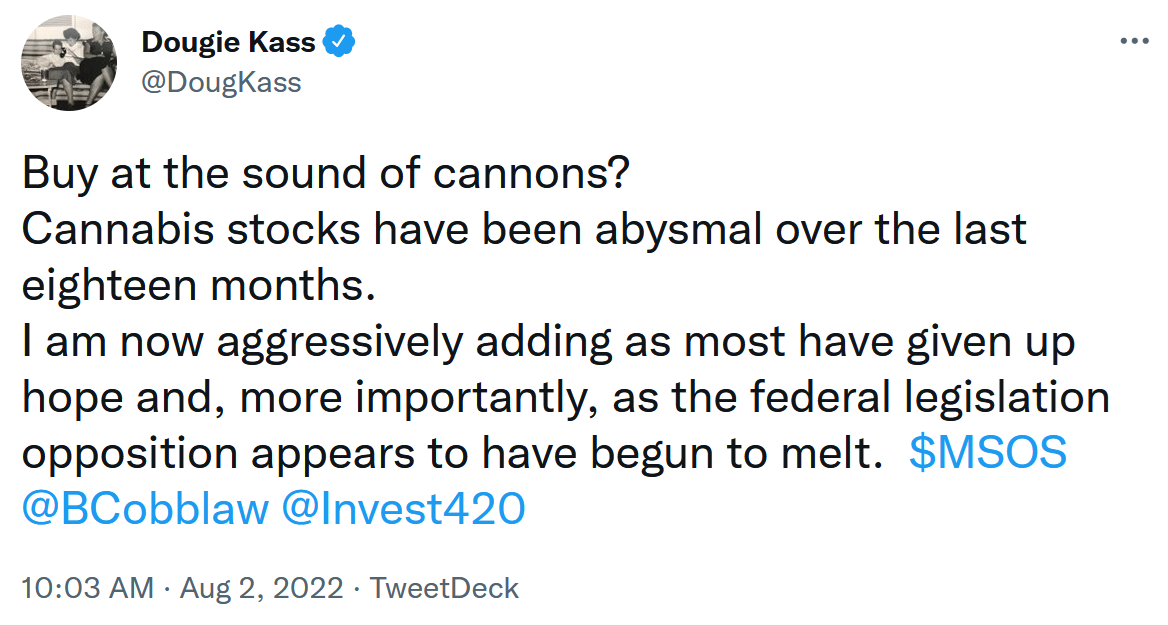 I believe we're truly at a point in history where cannabis will finally get the recognition it deserves. As such, I've got my sights on one stock in particular that could deliver a 300% gain in the next couple of years... even before federal legalization occurs. Learn more here.
3) Here's another contra-indicator for the markets, especially small caps: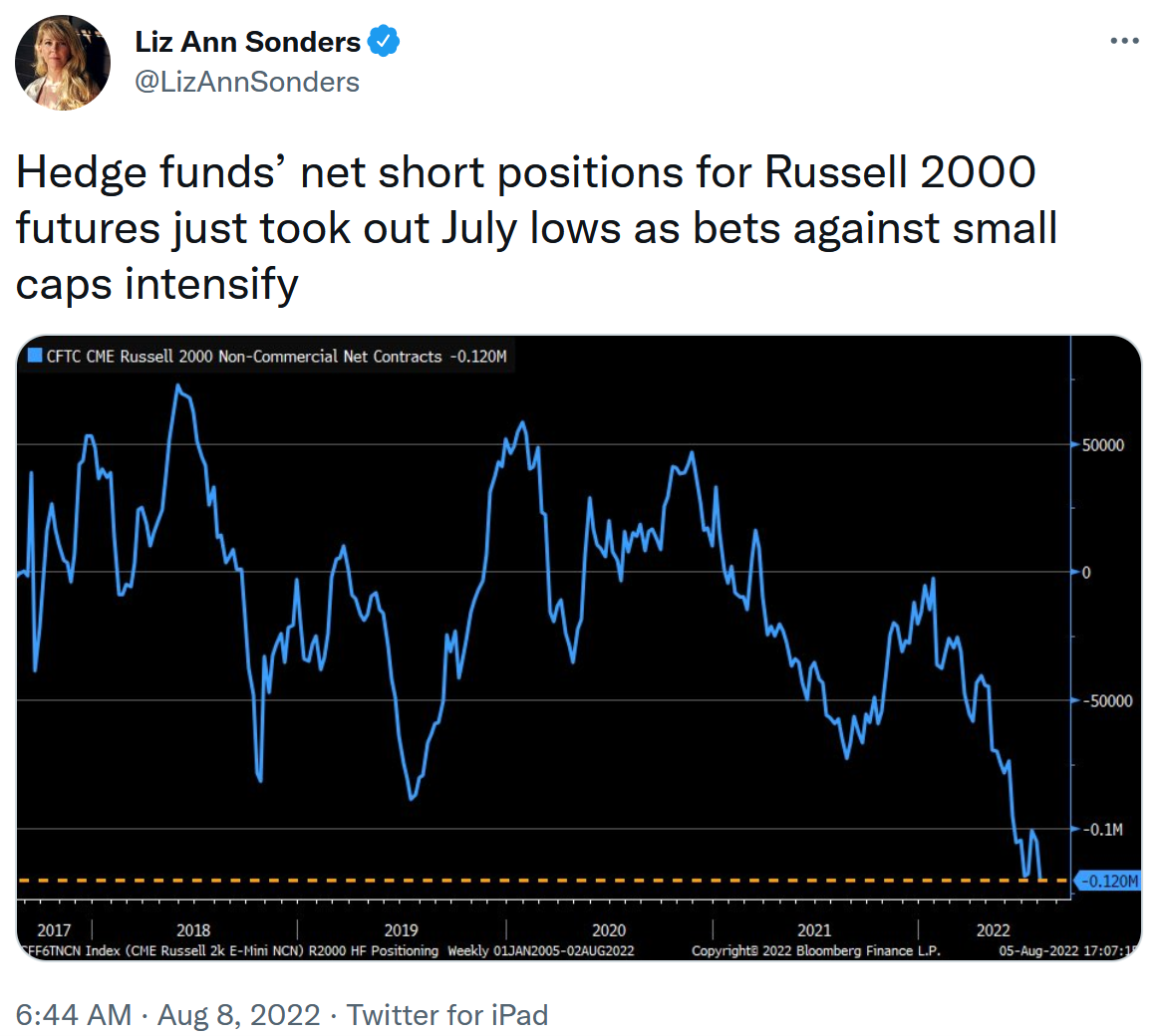 4) And this is another sign that inflation is quickly easing – the Baltic Exchange Dry Index, which tracks the "price of moving the major raw materials by sea," has crashed: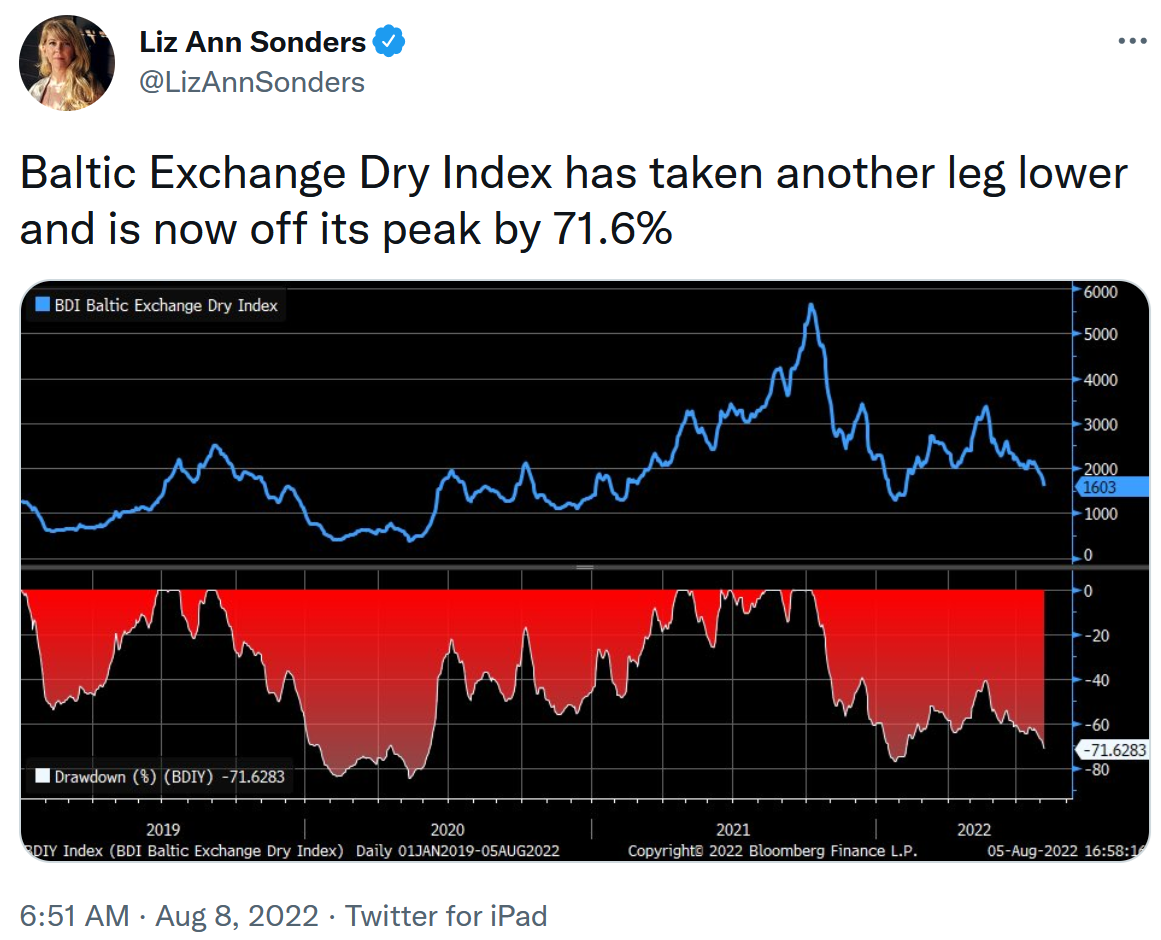 5) This article from four years ago is even more true today: Why No One Answers Their Phone Anymore. Excerpt:
Perhaps 80% or even 90% of the calls coming into my phone are spam of one kind or another. Now, if I hear my phone buzzing from across the room, at first I'm excited if I think it's a text, but when it keeps going, and I realize it's a call, I won't even bother to walk over. My phone only rings one or two times a day, which means that I can go a whole week without a single phone call coming in that I (or Apple's software) can even identify, let alone want to pick up.

There are unsolicited telemarketing calls. There are straight-up robocalls that merely deliver recorded messages. There are the cyborg telemarketers, who sit in call centers playing prerecorded bits of audio to simulate a conversation. There are the spam phone calls, whose sole purpose seems to be verifying that your phone number is real and working.
I would add to this list, as the midterm elections approach: unwanted calls from politicians seeking money.
It got so bad that we disconnected our home phone and I no longer pick up any call unless my caller ID tells me it's someone I know. I'd guess about 10% of the time it's a call I wish I'd picked up, but they can leave a message and I'll call them back...
Best regards,
Whitney
P.S. I welcome your feedback at [email protected].