1) A final reminder about two presentations I'm giving in New York City, one today and one a week from today.
I'm giving a talk on "The Art of Short Selling" at 6 p.m. this evening. If you'd like to attend, click here to register and use discount code "ValueInvesting" to save $15 off the regular non-member price of $55.
And next Monday, October 28, I'm speaking once again at the Robin Hood Investors Conference, a two-day event that brings together the brightest and most influential policy experts, investors, and innovators to share actionable, money-making insights. And 100% of ticket sales go directly to organizations helping New Yorkers in need.
This year's lineup includes a who's who of Wall Street titans, including: Paul Tudor Jones II (Tudor), Bill Ackman (Pershing Square), Ben Horowitz (Andreessen Horowitz), Robert Lighthizer (U.S. Trade Representative), Steven A. Cohen (Point72), Larry Robbins (Glenview), Lee Ainslie (Maverick), John Griffin (Blue Ridge), Anthony Bozza (Lakewood), David Solomon (Goldman Sachs), and more.
Click here for more information and to register.
2) Short-sellers have long targeted German payment-processor Wirecard AG (XETRA: WDI), with little to show for it but unending pain as the stock rose more than 300% from early 2017 through August 2018… But they may have the last laugh, as evidence of fraud continues to mount and the stock tumbles. Kudos to Dan McCrum of the Financial Times for some excellent investigative journalism: Wirecard's suspect accounting practices revealed. Excerpt:
FT Investigation: internal documents from the payments company point to a concerted effort to fraudulently inflate sales and profits…

Today, the Financial Times is publishing documents which cast further doubt on Wirecard's accounting practices. Internal company spreadsheets, along with related correspondence between senior members of Wirecard's finance team, appear to indicate a concerted effort to fraudulently inflate sales and profits at Wirecard businesses in Dubai and Ireland, as well as to potentially mislead EY, Wirecard's tier-one auditor.

The decision to publish these documents follows repeated charges by Wirecard that the FT is relying on fake material and that its own journalism is corrupt and suspect. The documents, provided by whistleblowers, give the clearest picture to date of Wirecard's questionable accounting practices and business model…

The FT has consistently raised questions about Wirecard's accounting and practices since 2015, while the company has repeatedly cast such criticism of its business as the work of market manipulators. Germany's financial regulator appears to have been sympathetic, imposing an unprecedented ban on short selling bets against Wirecard for two months this year.

Investors and regulators are left to consider a question of credibility. Are the internal documents published today by the FT really fake, or should that description be applied to much of the profits at one of Germany's largest and most popular companies?
This company has a market cap of around $15 billion and could blow sky-high…
3) This headline in today's Wall Street Journal, Four Drug Companies Reach Last-Minute Settlement in Opioid Litigation, reminds me of this good opinion piece on: The real scandal of the opioid crisis: Crony capitalism. Excerpt:
Justice Department Inspector General Michael E. Horowitz issued a grim account this week of the Drug Enforcement Administration's slow response to the opioid crisis and failure to use all the tools at its disposal to address the overdose epidemic.

His tale is an important acknowledgement of troubling problems at the agency, including bureaucratic infighting and stunning incompetency. But there's an essential element of self-examination missing from this report: The opioid scandal was not just a failure of an agency; it is the consequence of an industry clawing its way into our political system and hijacking the policymaking process.

The word "scandal" here is important, as it conveys the disgraceful entanglement between regulators and the drug companies they oversee. Horowitz makes no mention of the revolving door between the agency and the industry in his report, but it spins so fast that its absence begs for a rejoinder…

The real emergency here is an agency that has been commandeered by the industry it's supposed to regulate. This is a story we keep hearing over and over in Washington. If voters really want an end to crony capitalism, the DEA and the opioid industry would be a good place to start.
4) Yesterday, my wife and I participated in a huge bike ride (with more than 15,000 others) to benefit the National Multiple Sclerosis Society (#BikeMS). Over a leisurely 35 miles, we did a fun and beautiful ride around the periphery of Manhattan! Here are some pics…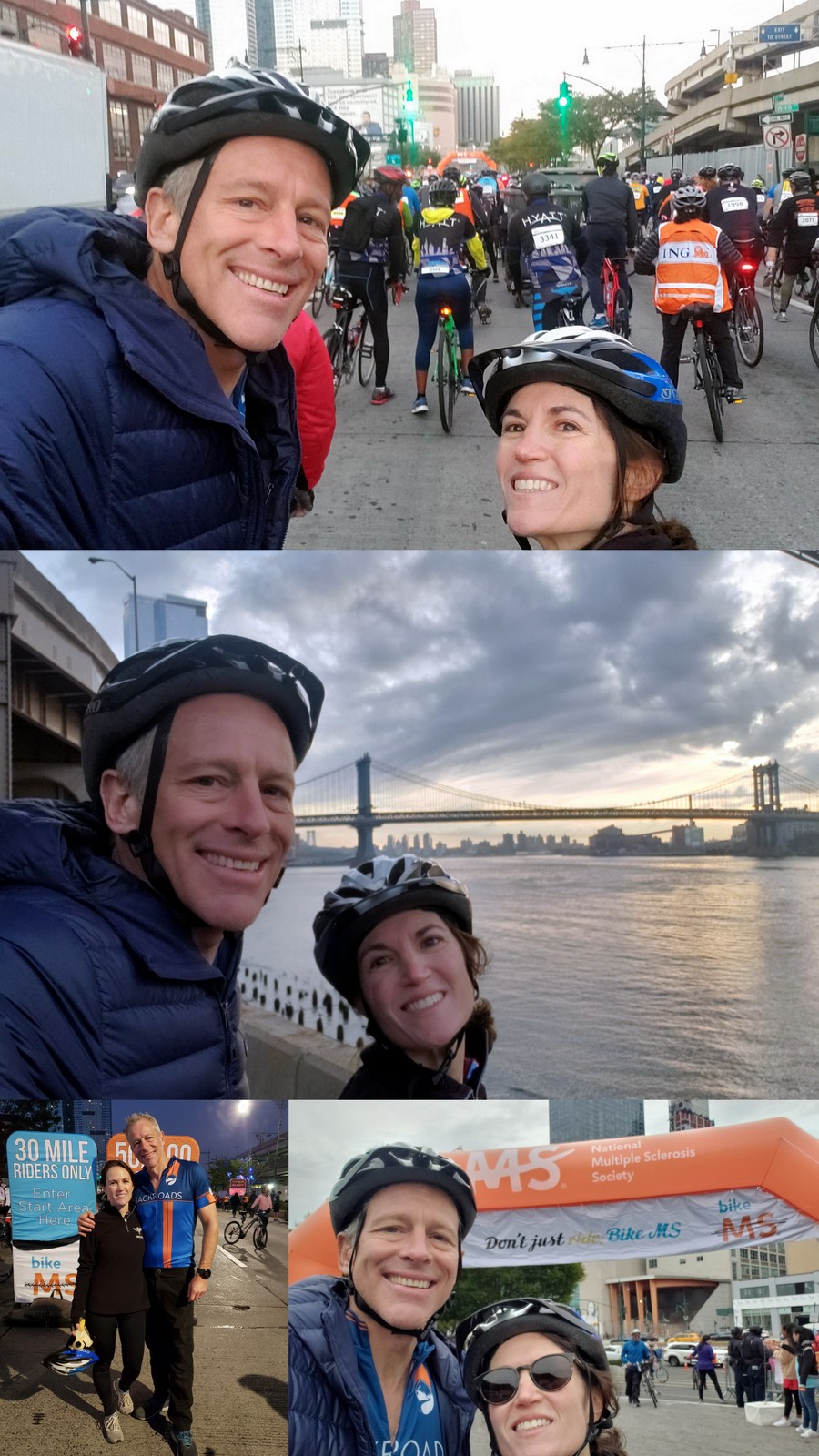 Best regards,
Whitney