1) Picking up on where I left off in Friday's e-mail, below are the next slides I presented recently to two groups of high-net-worth investors. After outlining my investment philosophy, I shared five big lessons. Here are the first two:

The last slide is a busy one, so allow me to explain...
Internet networking giant Cisco (CSCO) was a market darling during the dot-com bubble, rising to nearly $80 per share in early 2000. At that point, it was trading at 159 times expected earnings over the next year, and its market cap exceeded $500 billion – briefly making it the most valuable company in the world.
So what has happened in the 22-plus years since then? Cisco has performed well, with annual operating income rising from roughly $4 billion to more than $14 billion.
Yet the stock has been a bust, trading today for barely half of what it did more than two decades ago, because the forward P/E multiple has collapsed from its ridiculous bubble peak of 159 to 13 today.
I suspect that 10 or 20 years from now, we will be able to write a similar story about some of the tech darlings that reached absurd valuations last year – Netflix (NFLX) comes to mind, for example...
That said, down 68% from its peak 11 months ago, I think Netflix is a buy today. For more on why, see our writeup in Empire Stock Investor – subscribers can read it right here.
(If you aren't a subscriber, you can become one and access all past issues – and the September issue with our brand-new recommendation when it publishes today after the market close – for only $49 for the first year by clicking here.)
In summary, as I shared on Friday in my first slides, business quality and future performance are what matter most – say, 75% – when it comes to long-term investment returns.
But valuation still matters!
2) To find other examples of stocks that were so overvalued that, even if their businesses perform well over the next decade, their stocks might not surpass last year's highs, take a look at what has happened to the shares of these 47 Internet-related companies since just before the pandemic in February 2020 and year to date: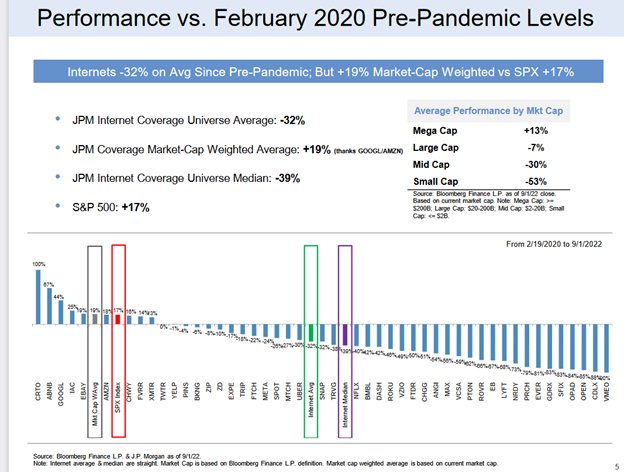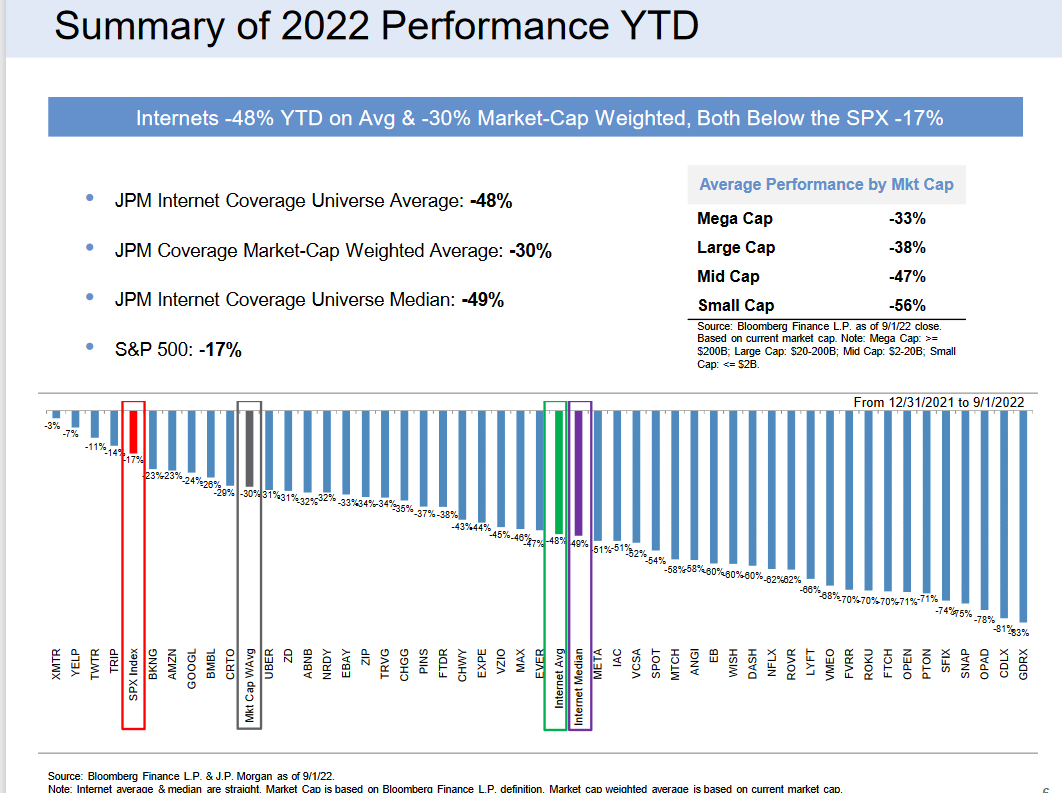 3) There was an important hearing yesterday in the case of Twitter (TWTR) versus Elon Musk, as the company sues to compel him to acquire the company, per the contract he signed earlier this year: Elon Musk and Twitter Trade Barbs at Wide-Ranging Hearing. Excerpt:
Lawyers for Elon Musk and Twitter ended a wide-ranging hearing over their stalled $44 billion deal debating the issue that may further complicate and extend their legal fight: whether Mr. Musk can incorporate a whistleblower's allegations into his countersuit.

Chancellor Kathaleen McCormick didn't rule on that or any of the other questions raised during the roughly three-and-a-half-hour oral arguments Tuesday, which included the pace and substance of the discovery process, Mr. Musk's motivations for seeking to exit from the deal and the timing of the trial, among other factors. She concluded the hearing only by saying both parties earned a good night's rest.

When it came to the question of amending Mr. Musk's countersuit, the discussion centered on the relevance of the claims by the whistleblower, Peiter Zatko, Twitter's former head of security, to the legal matter at hand.
This was the key revelation in my opinion, as it shows that Musk's real reason for wanting to terminate the deal was a worsening macro environment:
Twitter's lawyers point[ed] to a text exchange dated May 8 between the Tesla CEO and a Morgan Stanley banker. After noting that Russian President Vladimir Putin was expected to make a speech the following day, amid his country's invasion of Ukraine, Mr. Musk wrote that it wouldn't make sense to buy Twitter if World War III were to break out, according to a copy of the message read aloud by Mr. Savitt.
My take: Nothing has changed my opinion that Chancellor McCormick is going to give Musk a legal beatdown that he won't soon forget and force him to honor the contract he signed.
4) Following up on yesterday's e-mail about the Digital World Acquisition (DWAC) SPAC: While shareholders are too stupid to vote in their own self-interest, DWAC's sponsors aren't about to let a big payday slip away. As Bloomberg columnist Matt Levine explains:
If they don't get enough shareholder votes to extend the deadline on Thursday, then they will have two choices:

Return money to shareholders and eat the $11 million loss, or
Pay another $2,875,000 for a three-month extension until December, with the possibility of paying another $2,875,000 in December for another three-month extension until March 2023.

If they pay for the extension(s), then they can either close the merger in the next three (or six) months, or they can try again to get enough shareholder votes for a longer extension. But then they've got more money committed: Instead of the $11 million they put up originally, they'll have $14 million or $17 million committed to this thing. If the merger closes, they get that money back or can convert it into shares, which makes this an even better deal for them. But if the merger does not close, that money goes to the public shareholders; the sponsors don't get it back.

Obviously if they close the merger and get $165 million worth of stock then the extra $3 million they have to put in now is pocket change. You're betting $3 million to win $165 million, come on. On the other hand if they think that the odds of closing the deal are really really really really really low, then that's throwing good money after bad.
Not surprisingly, therefore, after the close yesterday, DWAC's sponsors said they will pay to extend the SPAC's timeline by three months: Trump Media SPAC Deal Faces New Challenge: Its Own Investors. Excerpt:
The SPAC on Tuesday quickly adjourned a shareholder meeting to give investors more time to vote. It then said in a filing after the market closed that if investors don't approve the full-year extension by Thursday, it would spend $3 million to give itself three more months. It could pursue another three-month extension for a similar price down the road.
My take: While DWAC won't get its deal done, it will continue to pollute our markets for another three to six months before returning cash of $10.20 per share to shareholders – less than half of today's price...
Best regards,
Whitney
P.S. I welcome your feedback at [email protected].