1) To make it easier for my readers to e-mail me, I've set up this special address: [email protected]. While I can't promise to reply to every e-mail, I welcome any and all feedback!
2) The big, breaking news this morning is that Bill Ackman's special purpose acquisition company ("SPAC"), Pershing Square Tontine Holdings (PSTH), has called off its highly complex deal regarding Universal Music Group, which I covered in my June 7 e-mail. You can read Bill's letter about it here. Excerpt:
Our decision to seek an alternative initial business combination ("IBC") was driven by issues raised by the SEC [U.S. Securities and Exchange Commission] with several elements of the proposed transaction – in particular, whether the structure of our IBC qualified under the NYSE rules.

We and our counsel had multiple discussions with the SEC attempting to change its position on the issues that it had identified. Ultimately, our board concluded that it was in the best interest of shareholders to assign the UMG stock purchase agreement to Pershing Square (which is specifically permitted under the terms of the agreement with Vivendi) as it did not believe PSTH would be able to consummate the transaction in light of the SEC's position. Management and the board believe that greater shareholder value can be created by working expeditiously to identify a new merger partner.

PSTH has 18 months remaining to close a new transaction unless extended by the vote of our shareholders. In light of our recent experience, our next business combination will be structured as a conventional SPAC merger.

While we are disappointed with this outcome, we continue to believe that the unique scale and favorable structure of PSTH will enable us to find a transaction that meets our standards for business quality, durable growth, and a fair price. We are highly economically and reputationally motivated to consummate a successful transaction. We will, however, only complete a deal that meets our high standards.
My colleague Enrique Abeyta will be sending an update today to Empire SPAC Investor subscribers, sharing his thoughts on the implications for PSTH's stock and warrants (PSTH-WT). To learn more about Empire SPAC Investor – and find out how to gain access to his research on PSTH – click here.
3) I was surprised to see that, during a time when individual investors appear to be trading banshees, active fund managers (i.e., professional stock pickers) are actually doing less churning of their portfolios and haven't changed their holdings much over the past 16 months, both of which are likely good things... Fund Managers Ride Out Pandemic by Sticking With Old Playbooks. Excerpt:
Active fund managers still favor stable growth stocks over cheap ones and are avoiding economically sensitive shares like banks and energy, just as they did during the market's tumble in March 2020. Except for a growing aversion to industrial firms, managers' preferences across sectors are almost identical to what they were almost 16 months ago, data compiled by Bank of America (BAC) show. In fact, almost three-quarters of the same beloved stocks remain in their portfolios.

"It's mystifying how much the world has changed in the year, but how little the average portfolio has changed," Savita Subramanian, Bank of America's head of U.S. equity and quantitative strategy, said by phone...

Theoretically, this should be a good time for stock picking, with the pandemic revealing strong and weak companies. Yet fund managers largely stood still. Their median turnover, or the proportion of shares bought and sold as a percentage of their assets, last year fell to a decade low and has stayed below 40%. For context, turnover peaked at 56% in 2012, according to Bank of America data.
This is what I've been doing in my personal account: almost no trading whatsoever. I was fortunate to be sitting on 80% cash when the pandemic hit early last year. I put nearly all of it to work when the market crashed in March and haven't really done much since then other than harvest some gains. Today, I'm about 25% cash, ready to pounce on any great opportunities that emerge.
4) I finally got home on Friday night after 31 hours of travel from Tashkent to Istanbul to Zurich to Newark.
I had a seven-hour layover in Switzerland's most populous city, which – when I booked my flights – I had planned to spend with my friend Guy Spier of Aquamarine Capital. But he was in New York City... so I was on my own.
I had a great adventure running four miles up and down a nearby mountain that overlooks the city. I also saw up close the devastation from the recent storms that have killed hundreds across Europe (take a look at this video of a German town underwater), went shopping to replace my wet clothes, visited the FIFA World Football [Soccer] Museum, took a trip to Guy's office so that I could troll him with a funny picture of me putting my feet up on his desk, and walked around the lakefront before heading back to the airport. Here are a few of my favorite pictures: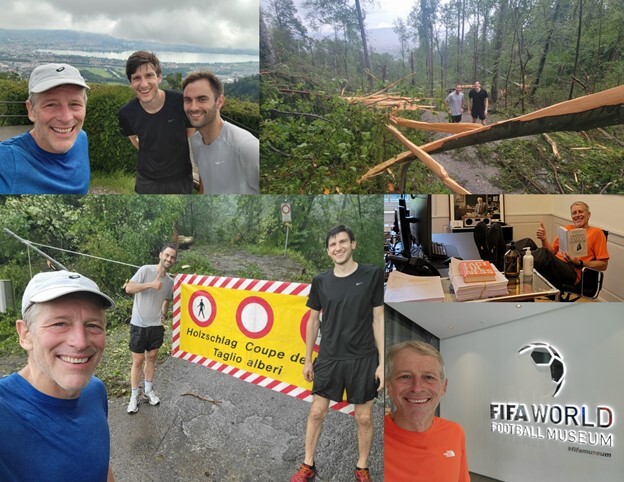 I posted more details and pictures on Facebook here.
P.S. In case you missed any of my e-mails about my trip last week to Uzbekistan (via Istanbul, where my guide got beat up!), here are links to my Facebook posts:
Best regards,
Whitney