1) I was on Yahoo Finance's The Final Round yesterday, and over the course of three segments I discussed:
a) Why I'm recommending Lumber Liquidators (LL). Here's Julia La Roche's story on it, which includes a link to the six-minute video: Whitney Tilson goes long on Lumber Liquidators, a stock he once famously shorted. Excerpt:
Now, Tilson — who now runs Empire Financial Research — pitched Lumber Liquidators as his first long idea.

"A few months ago, they announced they had finally settled all of the class action lawsuits, the regulatory issues that had plagued the company," he said.

"And, the fact that the company survived this onslaught of lawsuits and had, in fact, poisoned their customers shows it's actually pretty good business. Yet, the stock is sitting here today at basically an all time low," Tilson said...

"It's a really cheap beaten down stock, and there aren't many of those that have a good business in today's market."
I'm so confident that Lumber Liquidators flooring is safe that I had it installed in my home last month. As you can see in this picture of me with the installer, it's beautiful!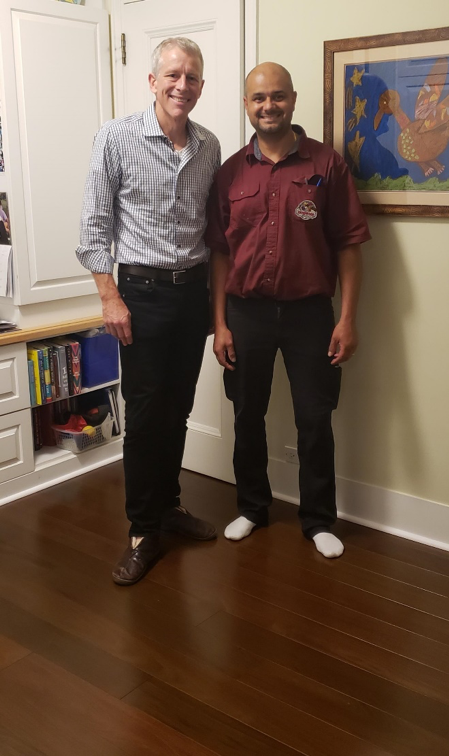 b) We also discussed my big call on Tilray (TLRY) the last time I was on the show in September. The stock was at $300 then and I said it was certain to decline by 90% over the next year. My prediction is right on track, as it's down 86% in the 10 months since then.
c) Lastly, we talked about why so many hedge-fund managers play poker, the similarities between being successful at poker and investing, and the 10th annual Take 'Em to School charity poker tournament that I'm co-hosting tomorrow night (if you'd like to join me, we still have a few seats left for poker and plenty of cocktail tickets, so click here to register).
Here's Julia's story on it (with video embedded): Some of the biggest hedge fund titans will face off at the poker table this week. Excerpt:
Poker and hedge funds go hand-in-hand. The world of high-flying financiers is drenched in references on Showtime's hit series "Billions", and big-name fund managers often play in the World Series of Poker (WSOP). Also, former players have transitioned from the poker table to the buy-side of Wall Street.

A recent study found that hedge fund managers who do well in poker tournaments also tend to deliver better performance.

"This effect is stronger for tournaments with more entrants, larger buy-ins, larger cash prizes and for managers who win multiple tournaments, suggesting poker skills are correlated with fund management skills," researchers from the University of Central Florida and the University of Alabama wrote in a paper called "Hedge Fund Hold'em."

The researchers added that "investors appear cognizant of this as after a manager wins a poker tournament, net flows to the manager's fund increase significantly."

The poker tournament's co-chair, former hedge fund manager Whitney Tilson, sees some similar skill-sets between successful poker players and successful fund managers.

"Investing is similar where being super patient and waiting and waiting and waiting until you find a fat pitch where the odds are heavily in your favor and then bet big. That's the core of almost any successful program," Tilson, who now runs Empire Financial Research, told Yahoo Finance.
2) As expected, Boris Johnson won the contest to succeed Theresa May as prime minister of the United Kingdom. As one of the architects of the misguided Brexit plan, which has turned into a three-year nightmare for both the U.K. and the European Union, he is now responsible for making it happen... or not...
Johnson swears he will take the U.K. out of the EU by the October 31 deadline, "do or die," even if that requires a potentially chaotic "hard Brexit," but I think this is likely bluster. He's trying to scare the EU into extending better terms to Britain. I think this is unlikely as well.
As I've written many times in the past, there are only three possible outcomes: the U.K. leaves the EU with a deal, without a deal, or doesn't leave. The cognoscenti continue to believe that Brexit is a done deal – the only question is how. But given a) the likely disastrous consequences of a no-deal exit, and b) that I see no deal that both the EU and the British parliament would accept, that leaves only option three... I think the U.K. will eventually revote and abandon this terrible idea.
3) A spot-on editorial in the Washington Post: We should increase the minimum wage. Just not to $15 everywhere. Excerpt:
The federal minimum wage is, indeed, overdue for an update, having lost about 18 percent of its real value since its last increase in 2009. The smart way to do that, however, is by pegging it to local conditions and then having it automatically grow with inflation going forward — no politics needed. The Third Way think tank has a plan that would set the national minimum wage at "one-half of the hourly wage for nonsupervisory workers" — that figure in 2019 would be $11.72 — and then allow local levels to vary above or below that depending on living costs.
4) Following up on yesterday's e-mail, in which I discussed this article, Cutting 300 Calories a Day Shows Health Benefits, my most impactful experience in this area was when I cut my candy consumption by about 90% a few years ago.
For more than 30 years, I used to munch on huge amounts of Twizzlers, Smarties, gummy bears, and jelly beans. I would buy them in five-pound bags and then put a handful of each in a small sandwich bag that was always with me. I shudder to think of the steady stream of sugar I was ingesting...
I quit when I went on an 18-day trip to Europe a few years ago. I had packed a big bag of candy, but my wife said, "Why don't you just leave it behind?" So I did – and I found that I really didn't miss it that much. So when I got home, I dumped all of my candy in the trash and never looked back... (When I need an oral fix, I chew sugar-free gum.)
I quickly dropped 10 pounds and could feel the difference.
I'll bet most folks have some aspect of their diet that they know is really unhealthy and could quit without too much difficulty. Give it a try!
Best regards,
Whitney