---
Recommended Link:
| More than 100 countries around the world are rolling out a system called "SWaB" that could have a bigger impact than the Internet in the days ahead. Here in the U.S., it's already being implemented in 38 states and counting. This year, massive investments are pouring into this innovation from some of the richest people in the world – like Elon Musk, Jeff Bezos, and Warren Buffett. Even the world's most powerful companies, like Apple, Microsoft, and Google, are spending billions to onboard it. That's because every single modern technology – 5G, artificial intelligence, blockchain technology, IoT, robotics, quantum computes, and EVs will have to switch over to SWaB to stay relevant. Get the details here. | |
| --- | --- |
---
Following up on topics I discussed in yesterday's e-mail...
1) Elon Musk's text messages regarding Twitter (TWTR) were released yesterday, which were covered by Twitter user The Chancery Daily – you can read the thread here.
Here's a Wall Street Journal article about them: Twitter Co-Founder Dorsey Tried to Smooth the Way for Musk, Agrawal, Messages Show. Excerpt:
Twitter co-founder Jack Dorsey tried to facilitate Elon Musk's relationship with Twitter's chief executive officer a day after the social-media platform accepted the billionaire's $44 billion takeover bid, according to text messages made public Thursday.

The messages, disclosed as part of a lawsuit in Delaware Chancery Court over Mr. Musk's stalled deal to take the social-media company private, show Mr. Dorsey praising CEO Parag Agrawal ahead of a proposed meeting at the end of April.
Commenting on this, one friend wrote:
On April 9 at 3 a.m. Musk was super excited to join the Twitter board, sending the CEO long lists of ideas he had in mind. 

Then, by 10 p.m., he suddenly said something along the lines of "Nah, you're a waste of time, I'll just buy the company instead."

To me, Musk's texts answer the big question: What was the impulse that caused him to suddenly and recklessly, with no due diligence, sign a deal to acquire Twitter? 

As best I can tell, as Musk texted back and forth during the day with CEO Parag Agrawal, he became increasingly annoyed and went from loving the idea of joining Twitter's board to hating Agrawal. As a result, it appears that Musk simply said, "I can't stand this guy so I'm just going to buy Twitter so I can fire this hugely annoying loser."

We may just have solved this great mystery, thanks to the totality of these text exchanges. Wow, that's all it took. But you have to read all of them, in sequence. Only then does the total picture make sense. It's a view into Musk's mind. 
2) Retailer Bed Bath & Beyond (BBBY) reported dismal second-quarter earnings yesterday and the stock fell 4%. Sales crashed 28%, losses ballooned to $366 million, and the company burned $321 million in cash (operating cash flow plus capital expenditures).
The headline of this WSJ column is exactly right: Bed Bath & Beyond Needs a Miracle.
When it comes to investing, I like to bet on sure things, not miracles, so continue to avoid this stock like the plague...
3) If you were as puzzled as I was about how U.K. pension funds got margin calls because interest rates spiked – after all, aren't pension funds supposed to be the ultimate long-term investors? – Bloomberg's Matt Levine provided the answer in yesterday's missive: U.K. Pensions Got Margin Calls. Excerpt:
This all makes total sense, in its way. But notice that you now have borrowed short-term money to buy volatile financial assets. The thing that was so good about pension funds – their structural long-termism, the fact that you can't have a run on a pension fund: You've ruined that! Now, if interest rates go up (gilts go down), your bank will call you up and say, "you used our money to buy assets, and the assets went down, so you need to give us some money back." And then you have to sell a bunch of your assets – the gilts and stocks that you own – to pay off those margin calls. Through the magic of derivatives you have transformed your safe boring long-term pension fund into a risky leveraged vehicle that could get blown up by market moves.

I know this is bad but I find something aesthetically beautiful about it. If you have a pot of money that is immune to bank runs, over time, modern finance will find a way to make it vulnerable to bank runs. That is an emergent property of modern finance. No one sits down and says, "let's make pension funds vulnerable to bank runs!" Finance, as an abstract entity, just sort of does that on its own.

Anyway, as I said above, 30-year U.K. gilt rates were about 2.5% this summer. They got to nearly 5% this week and were at about 3.9% at 9 a.m. New York time today. You can fill in the rest...

FT Alphaville has two very good explainers of the LDI problem, one by Toby Nangle and another by Alex Scaggs and Louis Ashworth, which I have drawn on here. And here is Nangle's prescient LDI explainer from July. Modern finance made U.K. pensions vulnerable to runs, and then there was a run on those pensions, and the Bank of England had to step in to buy gilts to save them, because that's what happens in a bank run.
4) Picking up where I left off yesterday, in which I highlighted the sharp rise in interest rates in the U.S. – of course this is affecting mortgage rates...
The average rate on a 30-year fixed-rate mortgage hit 6.7% yesterday, the highest level in 15 years. And the speed of the increase is nearly unprecedented: up 0.4% in the past week, more than a full percentage point in the past month, and more than double the level of a year ago.
The math behind how this affects what homebuyers can afford is sobering... Here's one way of looking at it: A buyer with a 20% down payment who can afford a $2,500 monthly payment can now only buy a house worth $476,000, a 37% decline this year, as this Bloomberg article notes: Here's How Much Less House You Can Buy Thanks to the Mortgage Spike. Here's the key chart (and it's even worse today, with the mortgage rate up from 6.29% to 6.7% in the past week):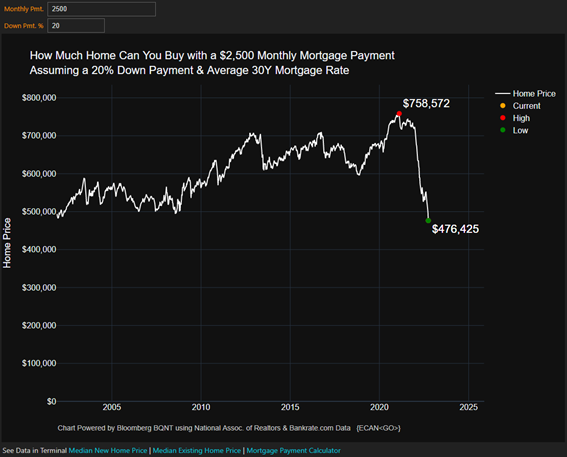 Or as this tweet from Charlie Bilello shows, here's another way of looking at it, factoring in the steep rise in home prices: Relative to two years ago, to buy the average new home in America today, a buyer needs to come up with 29% ($23,400) more for a 20% down payment and pay double the monthly payment for the next 30 years: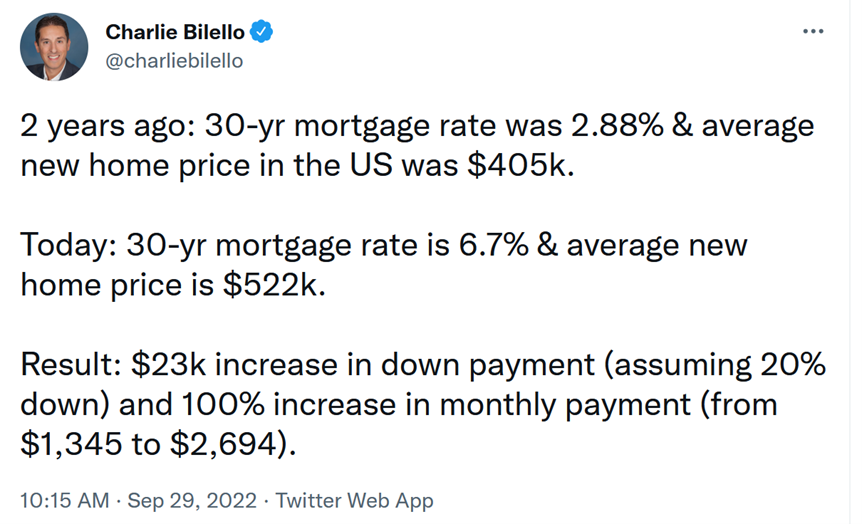 It's no wonder that the housing market is rapidly weakening...
As this chart from Bloomberg shows, the mortgage applications index has plunged to the lowest level since 1999:

The National Association of Realtors' index of contract signings to purchase previously owned homes decreased 2% last month to 88.4 – the lowest since 2011, excluding the immediate aftermath of the pandemic. Take a look at the chart from Bloomberg: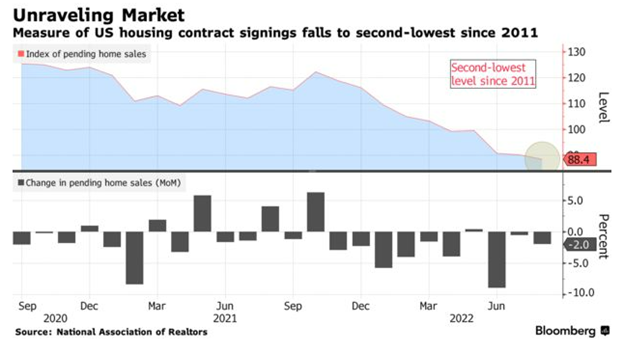 The chart in this tweet shows that pending home sales dropped 22.5% year over year in July: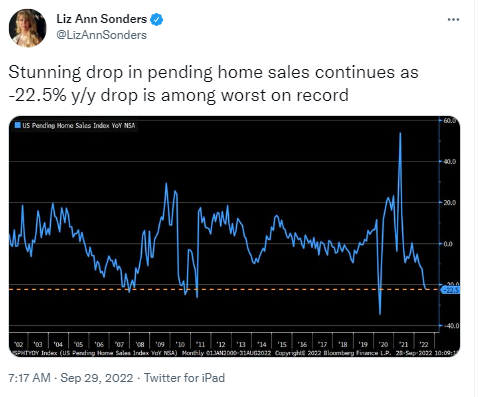 Here are some additional points:
Lastly, here's Nobel Prize-winning economist Robert Shiller with a bearish op-ed in Wednesday's New York Times: FOMO Helped Drive Up Housing Prices in the Pandemic. What Can We Expect Next? Excerpt:
Existing home prices in the United States soared 45% from December 2019 to June 2022, when COVID emerged and then gripped the nation. That rate of increase over such a short interval had never happened in the history of the U.S. national home price index, dating back to 1987, which the economist Karl Case and I first developed.

Now that growth in the index has started falling on a month-to-month basis, with the annual growth rate down from 18.1% in the year ending in June 2022 to 15.8% in the year ending [in] July. This may seem a small drop, but it is important to note because it's the largest deceleration in the history of the index and comes in the face of strong momentum in home prices. It leads one to consider whether the forces behind that 45% increase are going to continue...

I think that real (inflation adjusted) home prices will likely be a lot lower in a few years, but this is not certain. After real home prices peaked in December 2005, they fell 36% by February 2012. But it took over six years to drop that much, and real prices then shot up 77% from February 2012 to June 2022.

If you think you are in love today with a house, one could well argue that acquiring it right now makes sense. But this is clear only if in your heart you are really in love with it.
So, with all of this grim news, am I expecting a massive housing bust like the one I called so presciently in 2008?
Absolutely not!
Yes, home prices, even adjusted for inflation, have risen strongly in the past decade, especially the past two years, thanks to a strong economy, a supply shortage (not enough homes being built), and ultra-low interest rates (a big mistake by the Fed), as this chart shows: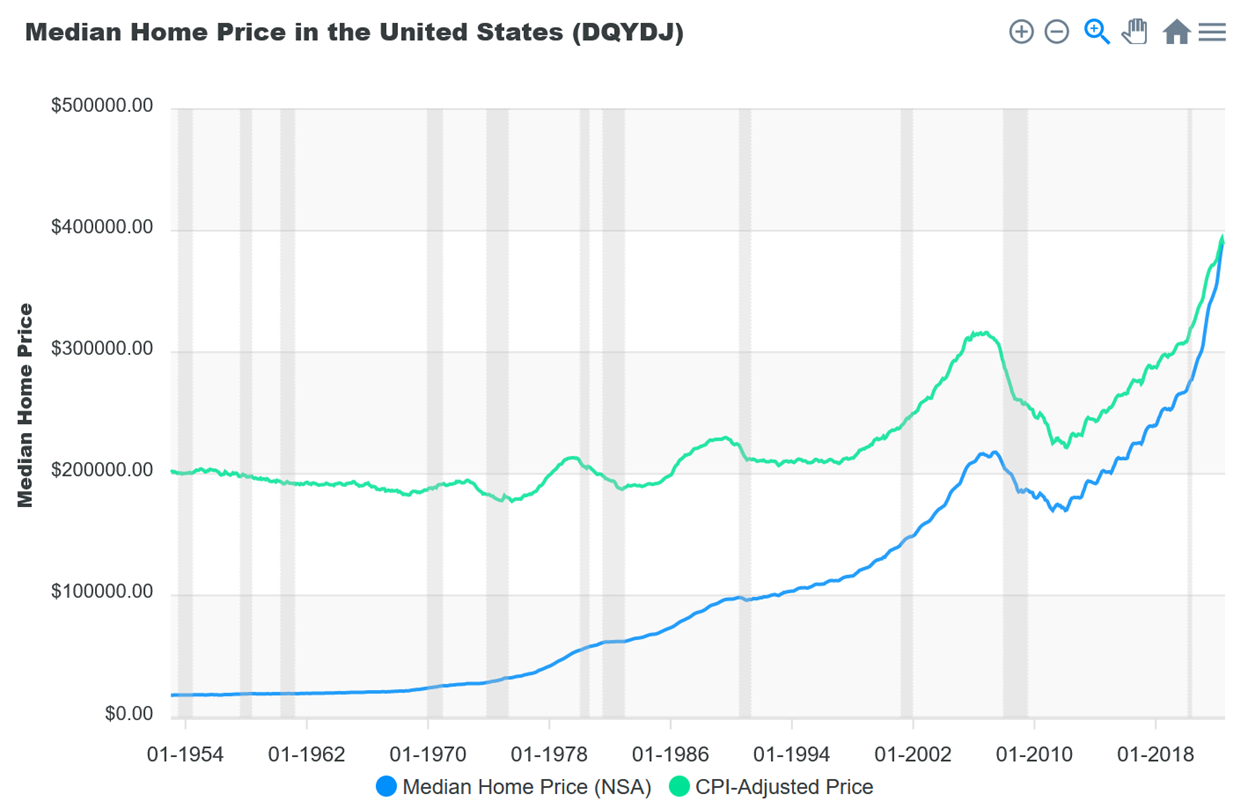 That said, the degree of speculation, fraud, and leverage that has built up in the system over the past decade isn't even a tiny fraction of what occurred in the lead-up to the 2008 housing bust.
So I wouldn't be surprised to see, say, a 5% to 10% pullback in housing prices nationally, but I think whatever decline occurs will happen slowly. And it won't trigger a crisis because homeowners (nearly all of whom who put 20% down) will keep paying their mortgages, plus there's almost no fraud or toxic mortgages like option ARMs.
5) This New York Times article takes an insightful look at another reason home prices keep rising: Whatever Happened to the Starter Home? Excerpt:
The affordable end of the market has been squeezed from every side. Land costs have risen steeply in booming parts of the country. Construction materials and government fees have become more expensive. And communities nationwide are far more prescriptive today than decades ago about what housing should look like and how big it must be. Some ban vinyl siding. Others require two-car garages. Nearly all make it difficult to build the kind of home that could sell for $200,000 today.

"It's just become where you can't get to that number anymore," said Mr. Nageli, now the operations manager for the Utah builder Holmes Homes.

Nationwide, the small, detached house has all but vanished from new construction. Only about 8% of new single-family homes today are 1,400 square feet or less. In the 1940s, according to CoreLogic, nearly 70% of new houses were that small.
6) Having just returned from London on Monday and Florida last night, I wanted to recommend that if you fly even once or twice a year domestically, get TSA PreCheck!
It's the best $85 you'll ever spend, and it's good for five years (plus many credit cards cover this fee – see the list here). It only takes five minutes to submit an online application and then, once it's approved, you just need to schedule a brief in-person appointment at an enrollment center (most major airports have one) for fingerprinting.
Here's an even better idea: If you travel overseas at all, apply instead for Global Entry, which only costs $15 more ($100 for five years). In addition to giving you PreCheck for domestic travel, Global Entry lets you skip the lines at customs (which can be very long) at more than 75 airports when returning to the U.S. from travel abroad. You just go up to a kiosk, it recognizes your face and spits out a piece of paper, and you can go straight to baggage claim.
Here's the website to apply for either one.
Trust me, this is the biggest no-brainer of all time!
Best regards,
Whitney
P.S. I welcome your feedback at [email protected].