1) This still from an eight-second video is funny, but the caption captures a very real dynamic that contributes to my moderate bullishness on stocks the rest of this year...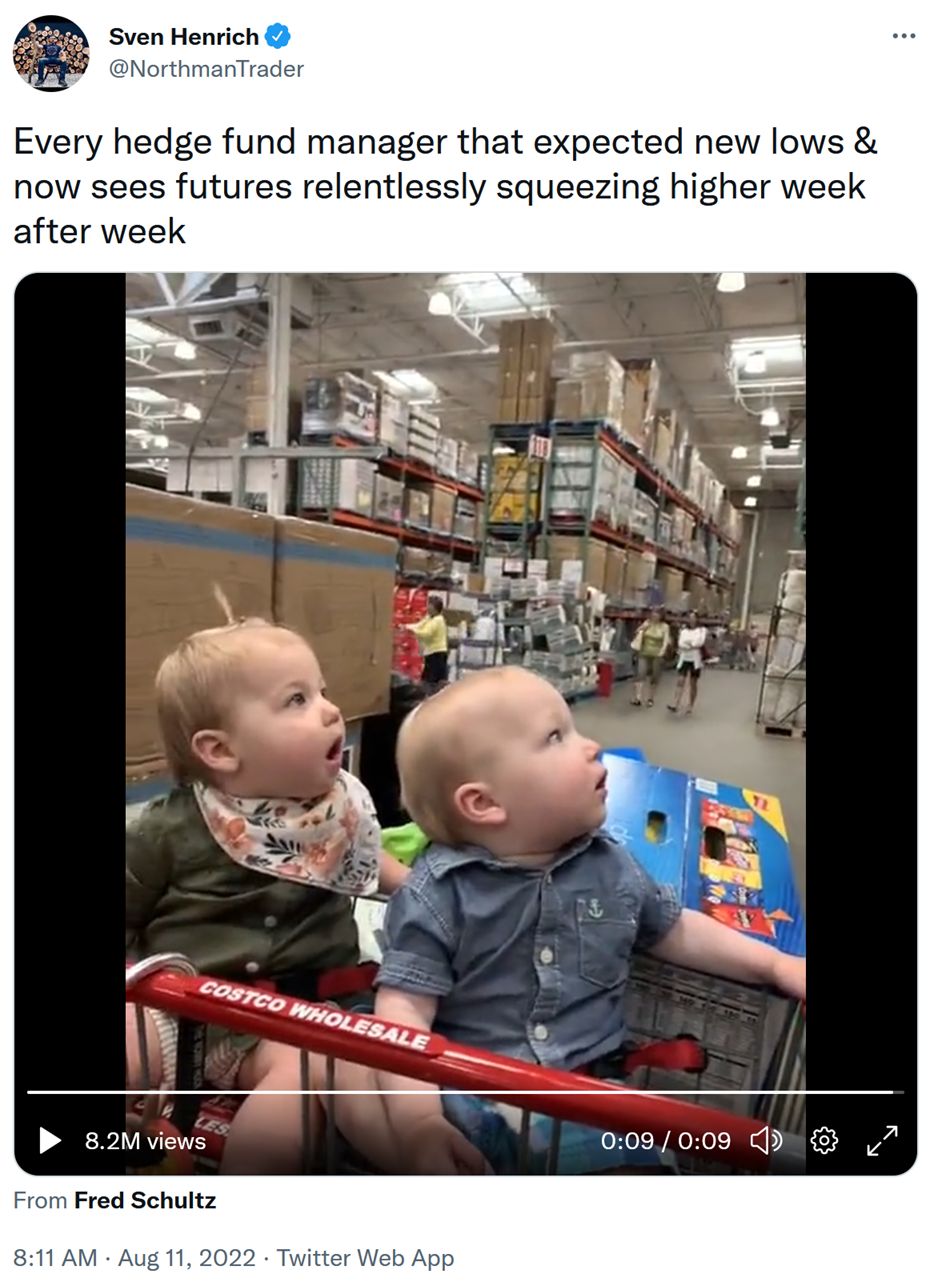 After one of the worst first halves of the year, many money managers de-risked – meaning they had sold a lot of stocks, especially growth names, and were sitting on a ton of cash. Therefore, they missed much of the big rally that has taken place since then, which has been led by the most beaten-down stocks and sectors. For example, since their mid-June lows, the tech-heavy Nasdaq is up 23.5%, bitcoin is up 37%, and Cathie Wood's ARK Innovation Fund (ARKK) is up 48.2%.
As a result, money managers are now scrambling to put risk back on, which of course fuels further gains. In my July 28 e-mail, I quoted my friend Harris Kupperman's tweets about what's going on:
Look at 2022, many large hedge funds are down 25%+. Year-end redemption notices start Nov 1. These guys have 3 months to turn it around or get redeemed. Everyone gets redemptions from time to time. Losing half your AUM [because] you were long Ponzi is existential to your career...

Guys will fight like mad to make it back. This isn't about performance for performance's sake, this is about survival. You have to get to flat or your business goes poof. Down 25% and it's poof anyway, so you take a shot. If you guess wrong and end down 40% you were dead anyway.

Therefore, guys are forced to take shots on goal. Fix it by Nov 1 or lose the AUM. How do you fix it?? Certainly not in cash. You can bet big on the short side, maybe use options, but [it's] hard to put up big numbers that way. Instead, they're forced to play long-sided...

Every datapoint shows that funds are massively underweight on long exposure. Huge cash positions, low gross, lower net exposure. These guys will all be forced to pivot long...

Think we get a sizable rally into the fall and sort it out from then. Guys just have to be long... As for me, I'm pretty damn long. Have highest exposure since the bottom in March 2020. Laid into GDP sensitive assets in late June. Felt so confident that I'm on vacation...

Anyway, we all like to talk about stuff that makes us look smart (macro/fx/single stocks/etc.). That's fine and good. We don't talk enough about who's screwed and has 100 days to save his career. Cornered animals do crazy things...
2) The market rally has lured inexperienced individual investors back into the market. They are, sadly, speculating in the same stupid garbage that incinerated them from last November through mid-June, but at least not to the same degree, as this Wall Street Journal article notes: Meme-Stock Investors Are Back! Sort of, Anyway. Excerpt:
Individual investors have waded back into the stock market after laying low through the worst of this year's sell-off. But don't call it a comeback yet.

So-called retail investors in the last two weeks have ramped up purchases of stocks and bullish call options, helping send meme stocks, such as Bed Bath & Beyond (BBBY) and AMC Entertainment (AMC) skyrocketing...

The clamor is reminiscent of the speculative fervor that cascaded over markets in 2020 and 2021, when millions of Americans got hooked on trading stocks, options, and cryptocurrencies. Stuck at home during the COVID-19 pandemic and flush with stimulus checks, newbie traders banded together on online forums, pushing up shares of favorite stocks. Some made small fortunes. Others lost big.

This month is different. For one thing, individual investors' activity is still well off the record highs notched last year. Fears about decades-high inflation and a possible future recession continue to loom, confounding professionals and rookies alike on where the stock market might go from here...

Another change from 2020 and 2021: Despite the recent rally, markets are still down for the year, preventing many investors from pouring in money in the same way they did last year. The average retail investor is sitting on a paper loss of 21% in their brokerage accounts this year, according to Vanda Research estimates as of Thursday. The S&P 500 is down 10% so far this year.

What's more, some of the recent rallies in speculative investments have already fizzled. American depositary receipts of AMTD Digital (HKD), a little-known Asian fintech company that became a sensation among individual investors, finished Friday at roughly $192 after soaring to a closing peak of $1,679 less than two weeks earlier.
My take: The market may well continue to reward this reckless behavior for a while, but it always ultimately punishes foolishness... so don't fall for the speculative garbage!
3) This Bloomberg article, Fear of Rampant Crime Is Derailing New York City's Recovery, basically argues that because "incidents of violent crime remain at historic lows in New York City," fears about rising crime are hysteria fueled by the media and Mayor Adams, and that the "three-quarters of New Yorkers [who] said crime was a 'very serious' problem in a February Quinnipiac University poll," the highest level since the question was first asked in 1999, are just a bunch of nervous nellies.
This is mostly nonsense.
Yes, every type of crime is down massively (70.7% on average) from 29 years ago (see the last column in the latest CompStat data table below), which should be celebrated, but that isn't what people care about.
As you can see from the statistics in the presentation I put together in January, most major crimes rose sharply in 2020 and 2021: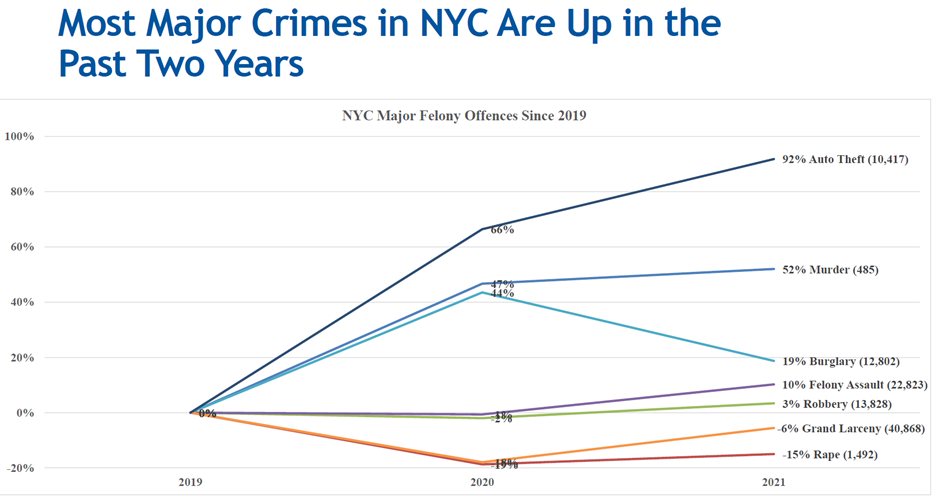 And it has only gotten much worse this year...
While shootings and murders are down 7% to 10%, every other crime is up by double digits year over year, led by grand larceny (theft over $1,000, which is a felony) (up 48.3%), petit larceny (petty theft, which is a misdemeanor) (42.6%), auto theft (42%), robbery (39.8%), burglary (32.3%), misdemeanor assault (23.3%), and felony assault (19.5%).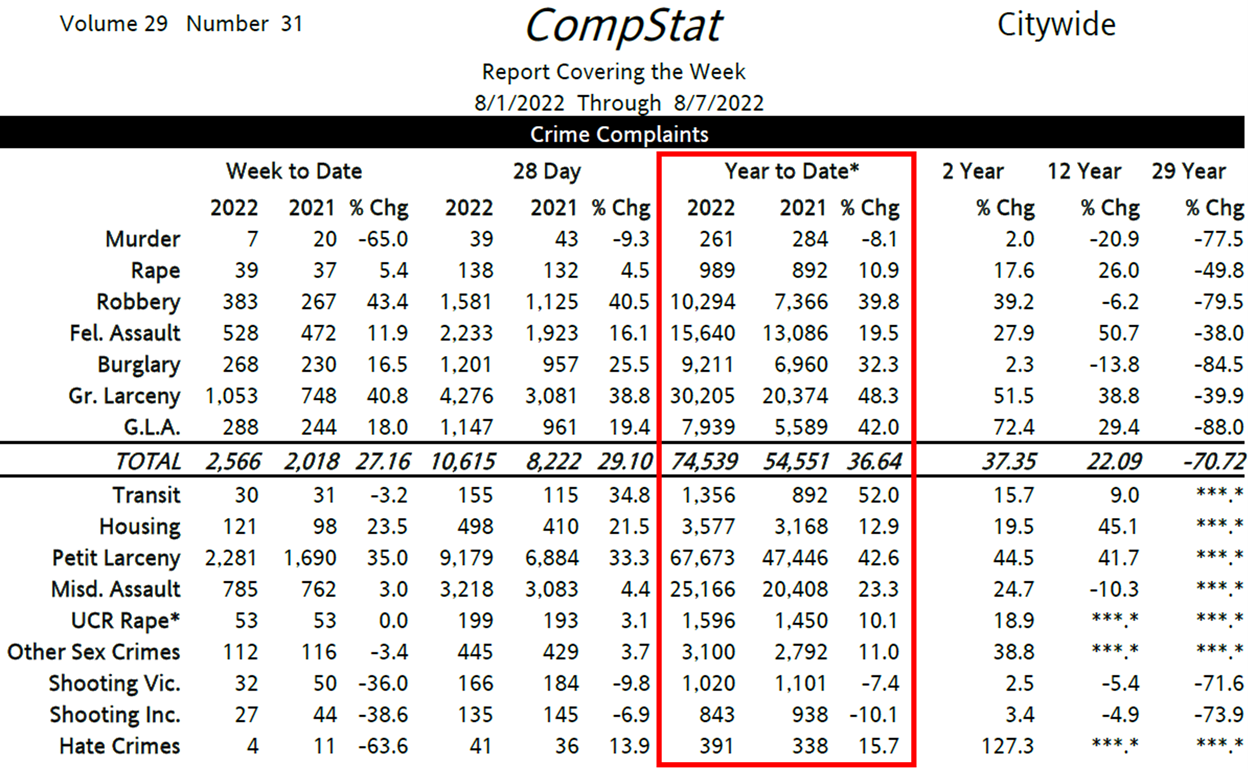 These are terrible numbers that reflect the fact – not just a bunch of high-profile anecdotes – that crime in New York City is much worse than it was when it reached generational lows just before the pandemic.
So don't tell me "oh, quit worrying, you should have seen how bad it was in the late 1980s and early 1990s" or "it's much worse in Baltimore, Chicago, or Philadelphia."
I don't care – and neither does any other New Yorker! We are all anchoring our expectations in how it was in 2019 and demanding a return to that feeling (and reality) of safety.
Criminal justice reformers need to be acutely aware of this data/reality (not just the all-too-frequent highly publicized tragedies) and how people are feeling about it and show how their proposals are going to help address this problem (or at least not make it worse), or they can kiss their agenda goodbye...
Lastly, the argument that this spike in crime is the inevitable consequence of the pandemic doesn't hold water.
I'm not aware that other countries hit as hard as we were by COVID have seen a similar spike in crime (Google "crime in London" for example), and it's certainly not the economy, in which there are currently 1.8 job openings for every job seeker. (Incidentally, crime went down during and after the global financial crisis and, overall, there is very thin evidence linking economic conditions to the crime rate.)
Best regards,
Whitney
P.S. I welcome your feedback at [email protected].