1) My friend Michael Kao of Akanthos Capital Management gave me permission to share his latest macro thoughts…
As of 10/29/19, a little over half of the S&P 500 have reported third-quarter results.

I found it interesting that out of 10 major industry sectors represented, all 10 sectors had positive earnings surprises, six had positive sales surprises, and of the four that had sales disappointments, only one group (Utilities) had a negative surprise that exceeded 1%!

The second-worst sales disappointment came from the Materials sector with a -0.90% sales surprise, but the earnings beat was a whopping 7.8%. This seems to corroborate my thesis that the economy has strong bones despite the constant "wall of worry" that this economic expansion is "long in the tooth."

In fact, the "wall of worry" is more than just nervous rhetoric; as I mentioned in some past Musings, this economy has seen a number of bursting mini-bubbles that, in my opinion, keep the overall market in check.

Here are a couple of recent examples of carnage on my own "Bubblicious Watchlist":

WeWork, one of the private equity "unicorns," appears to be really just a donkey – spectacularly crashing from a peak valuation of $47 billion to a "rescue" valuation of ~$7 billion.
Beyond Meat (BYND), having hit a mid-year peak of ~$240/share, lost 22% in one day to end at $81.99 on 10/29/19 as its lockup expired, proving that its valuation was "Beyond Believable."
Grubhub (GRUB) caused some hubbub also on 10/29/19 as it plunged 43% in one day to $33 – a far cry from the $149 peak reached a little over a year ago.

In my view, despite the pain this has caused a relatively narrow slice of market participants (like SoftBank), these bursting "bubblets" remove a lot of speculative froth in the market and greatly reduce the chances of a market-wide rout a la 1999-2000.

As a "value" guy, I am optimistic that this may herald a shift out of the high-multiple/high-growth "go-go" names and into the low-multiple, "boring" names that have been left by the wayside.
I think Michael is right that a rotation into more traditional value stocks is far more likely than a general market meltdown.
2) Speaking of SoftBank, here's Linette Lopez of Business Insider – who has done outstanding work on Tesla (TSLA) – on why SoftBank is getting exactly what it deserves, and it's thanks to something way bigger than WeWork. Excerpt:
SoftBank took a $6.5 billion loss on investments in Uber and WeWork this quarter, and it deserves to lose more.
It deserves it not because these are simply bad investments, but because SoftBank approaches investing from a bad thesis. Its aim is to create monopolies.
SoftBank's strategy is to pour so much money into a company that it leaves competitors in the dust and consumers with no choice. Then the company has all the power.
This is bad for investors, bad for consumers, and bad for capitalism.
And check out this SoftBank chart Lopez found: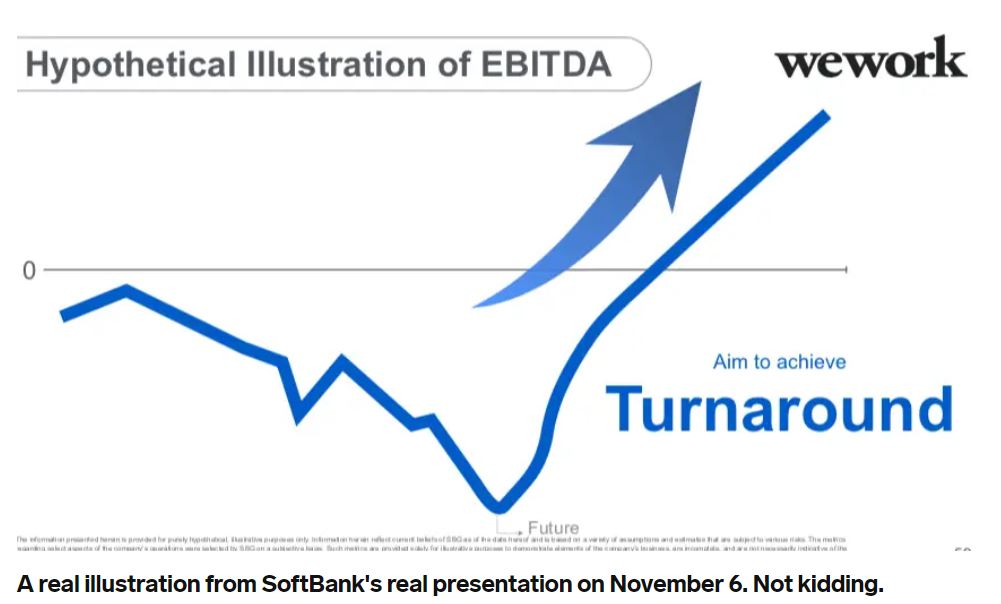 3) This Forbes article reminds me of one of my pet peeves: Unlimited First Class Flights for Life – How American Airlines Made the Most Expensive Mistake in Aviation History.
Here's why…
Of the hundreds of case studies I read at Harvard Business School ("HBS") from 1992 to 1994, I can't recall even one about a boneheaded business decision like the one American Airlines (AAL) made. Rather, pretty much all of them had heroic protagonists who, after careful analysis (like that taught at HBS – surprise!), arrived at the right decision and everything worked out beautifully.
And it's not just HBS… I suspect every business school (most of which use HBS cases) does the same.
In fact, it's how most humans go through life: Studying successful people and organizations and trying to learn from them.
But this isn't enough.
Why?
Because getting ahead is a function of two things: doing smart things and avoiding mistakes.
To get ahead, you first must not fall behind. To finish first, you first must finish.
Yet the way nearly every school teaches and the way most humans try to learn only focuses on the first part of the equation: studying and celebrating success. But it's equally critical to study failure.
I learned this from Charlie Munger, who likes to say "invert, always invert" and lecture his followers on things like The Psychology of Human Misjudgment, which you can read here and listen to here. (I was the first person to transcribe this famous speech two decades ago, which was included in the magnificent book about Munger, Poor Charlie's Almanack.)
I feel so strongly about this that I'm writing a book about it, tentatively entitled: All I Want to Know Is Where I'm Going to Die: The Five Calamities That Can Destroy Your Life and How to Avoid Them.
4) I'm hobbling around after running 70 official (and 77 total) miles – not to mention nearly 300 obstacles – at the World's Toughest Mudder this weekend, so I have to keep reminding myself that "pain is temporary, but glory is everlasting" – LOL!
I posted a short write-up on Facebook with 17 pictures here and a link to a three-minute video of five clips from the race, as well as my recovery regimen, here.
Best regards,
Whitney