► Twitter's recent announcement prompted me to revisit the work-from-home ('WFH') winners…
As I noted in yesterday's Empire Financial Daily, the social media giant announced earlier this week that employees could work from home ("WFH") forever.
It's further evidence that this trend is here to stay… and not merely the kind of theoretical big idea that populates futurist think pieces in a fit of pandemic-driven navel gazing.
One of the market-anointed winners of WFH so far has been Slack Technologies (WORK), the cloud-based collaborative software firm that enables and stores workplace chats. Slack organizes chat streams into channels, which can center on a topic or team.
Slack made its public market debut last summer, and immediately attracted its share of skeptics. While its users widely adore the product, the market was worried about competition from tech giant Microsoft's (MSFT) Teams software.
The concern was logical…
Recent technology history is littered with examples of companies creating an innovative product and gaining a substantial "first mover" advantage, only to see market share slip into the hands of a fast follower.
Snap (SNAP) popularized the self-generated micro-video genre with Snapchat, only to see a huge portion of its user base migrate over to Instagram's copycat product, Stories. Years before that, MySpace was once the largest social network in the world… until Facebook (FB) swooped in.
But it's not limited to social media.
► Microsoft has successfully knocked off a competitor before…
In the early 1980s, the most popular spreadsheet program was Lotus 1-2-3. Four years later, Microsoft debuted Excel, relegating Lotus to nothing more than an esoteric trivia answer.
Heavy Slack users seem to love the program, but even some of the Slack evangelists I know have wondered whether they'd eventually switch to Microsoft Teams.
While Slack was the first business out of the gate with a feature-rich product for intracompany chats and collaboration, it offers little that can't be copied. Slack also has a disadvantage in acquiring enterprise customers, since Microsoft has existing relationships with nearly all corporations and most small- and medium-sized enterprises via its Office Suite and other products. Microsoft can simply include Teams for free into enterprise deals.
I've long believed that Slack has no "defensible moat" around its business… and without one, it's hard to survive when a blue-chip tech giant with $135 billion in cash has set its sights on your market.
I've used Slack on and off for two years. It's a great product. But that alone isn't enough to make it a sustainable company (or a good investment). As it turns out, I wasn't alone in my skepticism. Slack's stock didn't receive much love in the months following its June 2019 public markets debut…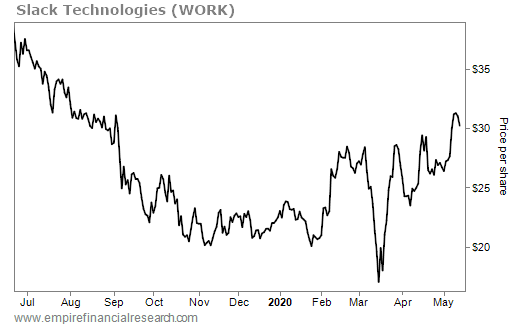 ► One tweet took Slack from software-as-a-service ('SaaS') loser to WFH hero…
In late March, Slack co-founder and CEO Stewart Butterfield embarked on a long tweetstorm describing what it was like to be running his company in the initial chaos following shelter-in-place orders. Buried in the thread was one notable data point…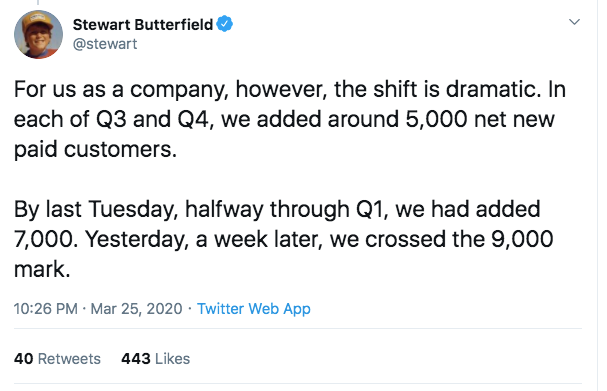 Source: Twitter.com/Stewart
Not even a week into most shelter-in-place orders, Slack was pacing up 180% in paid customers. A week later, the company was running at 5 times its pre-coronavirus level in weekly net paid customer acquisitions. Slack shares climbed 10% the day after that tweet. And as of yesterday's close, shares are up more than 75% off their mid-March low.
While the Microsoft wall of worry is still alive and well, Slack nevertheless trades at around 19 times enterprise value to sales and boasts a $17 billion market cap… despite no expectation of profits until 2023.
Since I can't wrap my head around why anyone would want to invest in a stock that's so richly valued and doesn't turn a profit, I turned to my colleague Enrique Abeyta for a second opinion.
► Like me, Enrique has been skeptical for months…
He laid out his bearish case in a private e-mail this week…
Late last year, I published some skeptical commentary about Slack. I spoke about how it's a really cool product, but I wasn't sure that the product alone could really justify it as a company… especially one that was trading at more than 20 times sales!
Enrique has two big concerns with Slack. As he explained…
The first was that Slack went public via a "direct listing." Instead of a traditional IPO, Slack simply took all of the shares and made them available to the public. The net result of this is that a lot of shares are available to trade.

With Slack's stock coming out of the gates trading at close to 30 times sales and losing money, I expected to see more sellers than buyers. This is exactly what happened… and within six months, the stock had gotten cut in half.

With the entire world forced to work from home with the COVID-19 lockdowns, though, Slack has seen a big uptake in usage and shares have rallied hard. The increased usage in conjunction with the rising share price allowed the company to raise $750 million in convertible notes in April.

But despite the uptick in business, Slack is still losing money and won't be profitable until 2023, when it makes a total of $23 million of earnings before interest, taxes, depreciation, and amortization ("EBITDA"). Remember, this is a company with a $17 billion market cap!
His second major concern is a familiar one: Microsoft. As he continued…
Several years ago, Microsoft attempted to buy Slack. After being rebuffed, it went forward and created its own similar software, Microsoft Teams.

While Slack trumpeted its 12.5 million daily users in March, Teams reported more than 75 million users. This is despite coming to the market much later than Slack. A big part of this is that Teams is free for the 258 million paid Office 365 subscribers.

We made a full switch back in February at one of my other companies. I was initially concerned about my employees' reactions, considering how long we had used Slack. To my surprise, the transition was completely seamless and I didn't receive a single complaint. We save thousands of dollars per year by using Teams.

Slack is a great service… but at 20 times revenues, no profitability, and in a shooting match with Microsoft, investors can find much better places to invest.
► In Enrique's Empire Elite Growth service, he's focusing on stocks that meet extremely specific criteria…
He says the easiest way to find stocks with 500% or 1,000% upside is to invest in companies with huge economic upside, pass the "common-sense test," continually beat Wall Street expectations, and are in a strong long-term uptrend.
His current Empire Elite Growth portfolio has seven open recommendations, all of which are trading under their maximum buy prices. But Enrique doesn't expect that to be the case for long. As he explained in this video…
While I was super excited back in February, it's no joke I'm 10 times more excited by what we see today. I hate to say something like this, like I couldn't have planned it better because obviously I wish none of this was happening.

But from a stock and investment perspective… I think this is the single-best opportunity I have seen in my 25 years of actively investing in the markets to take investment positions in these kinds of big opportunities.
For the next few days, you can still claim a charter membership to Empire Elite Growth for more than half off the regular retail price. But don't delay… this offer expires soon. Get started here.
► In today's mailbag, readers write in about cruise lines, and another shares an interesting thought on travel…
Is your employer letting you work from home? Are you using Slack or Microsoft Teams? Let me know by sending an e-mail to [email protected].
► "Hi, I agree that the steep discounting at these industries may not enable them to cover variable costs, let alone chip away at their substantial fixed costs. However, while not being rosy and saying that all is back to normal profitability, the overarching picture is getting people back into these establishments and overcome fears and concerns in doing so. Naturally, these service providers need to have their act together in ensuring that safety standards are met and no anecdotes of sickness permeates. As the small sample of South Dakota's recent casino opening demonstrates, the demand is there and even abnormally strong temporarily." – Renato L.
► "I don't agree with this. Few people want to get on those ships that grow nasty bacteria and viruses. YUK!" – Kenneth B.
► "Dear Empire Readers, I'm a young senior and live in a very active senior community near Palm Springs. While the majority here loves cruising, there isn't a one of us who would consider it now – not if they put us on the ships for nothing. And you realize, of course, the majority of cruise-goers are seniors. Who else do you think can take two and three weeks off at a time? Couldn't agree with you more. Don't fall for that headline." – Gerry C.
► "Berna, think for a minute and a quick minute cruise lines are operating just like financial newsletters. Get them in the door and others will follow by word of mouth or good results… prices will go up consistent with capacity. Common sense." – Russell W.
► "Hi Berna, I think your Carnival numbers are wrong. There will be taxes and port fees added to the final price. So passenger pays $64 for interior per night per person (assuming sharing the room)." – Min L.
Berna comment: Yes, I was quoting the advertised price before taxes and fees. If you've ever booked a cruise, you know how many of those there are.
That said, I was comparing pricing on an apples-to-apples basis (i.e., what the cruises would cost on a pre-tax and fee basis normally to what they cost on that basis now, which is 50% to 75% below normal). You're right that the total effective price would be a bit higher than those advertised prices.
► "I think this is more of a variation on freemium. At least for the next several months, if not longer, they just want people to overcome reluctance to start cruising again. If enough people get back on the ships (and don't get sick) they'll quickly fall back into their cruise habit and start paying what they normally do to continue cruising. This is just to get them back onboard, if even at a loss initially." – David H.
► "Now might be an interesting time to look at the RV/Mobile Home business. I'm thinking a lot of people (my wife, e.g.) would be more comfortable traveling in their own bedroom/kitchen, etc. I know nothing about this business but I bet you could find out about it." – Andy S.
Berna comment: Andy, you're reading my mind. I agree that RVs could be in demand for summer vacations, and their popularity could continue into 2021. I haven't had time to look closely at these businesses yet, but two stocks that would theoretically benefit are RV maker Winnebago Industries (WGO) and RV retailer Camping World (CWH).
Regards,
Berna Barshay
May 14, 2020