---
Recommended Link:
| More than 100 countries around the world are rolling out a system called "SWaB" that could have a bigger impact than the Internet in the days ahead. Here in the U.S., it's already being implemented in 38 states and counting. This year, massive investments are pouring into this innovation from some of the richest people in the world – like Elon Musk, Jeff Bezos, and Warren Buffett. Even the world's most powerful companies, like Apple, Microsoft, and Google, are spending billions to onboard it. That's because every single modern technology – 5G, artificial intelligence, blockchain technology, IoT, robotics, quantum computes, and EVs will have to switch over to SWaB to stay relevant. Get the details here. | |
| --- | --- |
---
1) The stock of Meta Platforms (META), the parent company of Facebook, Instagram, and WhatsApp, is soaring this morning after reporting strong earnings yesterday...
I was pounding the table on this stock as it crashed last fall, writing a five-part series in November and another e-mail on December 6, in which I concluded:
In the month since I pounded the table on Meta, the stock has soared. On November 7, the stock closed at $96.72 per share... and earlier this morning it was around $115, up nearly 20% versus only 4% for the S&P 500.

My long experience is that when beaten-down stocks of exceptional businesses turn around, they don't just pop 20% – rather, it's usually 50% to 100% in a matter of months...

In conclusion, I think Meta remains a strong buy.
At this morning's price of above $180 per share, the stock has now more than doubled over the past three months...
Brad Freeman, who publishes on a Substack site called Stock Market Nerd, has an excellent summary of the quarter here: Meta Platforms Q4 2022 Earnings Review. He concludes:
I view this quarter as the beginning of Meta's comeback. It's showing clear signs of beating its most pressing competitive threat (TikTok) while it juices advertiser ROAS and rationalizes its operations. Macro headwinds will only ease from here and I expect this cream of the crop social media player to be the best positioned to take advantage.

The Family of Apps engagement and margin trends have both turned positive once more, and that makes me far more comfortable with aggressive Metaverse spend. This firm can generate $5 billion in free cash, compound multi-year sales at a 15% clip, invest aggressively and return $7 billion to shareholders all at the same time. Not bad for a dinosaur.
2) While Meta was my favorite stock among the tech giants, I was bullish on all of them near the end of last year. Here's what I wrote to Empire's Lifetime Partners in our monthly letter on November 7:
We're particularly bullish on tech giants, which have, on average, been cut in half and collectively lost nearly $5 trillion in market capitalization from their peaks, as this table shows:

These are seven of the greatest businesses of all time, which you can now buy for far less than investors were enthusiastically paying roughly a year ago. As a group, we think they will far outperform the S&P 500 going forward.
It has been a great call in the three months since then, as you can see in this chart: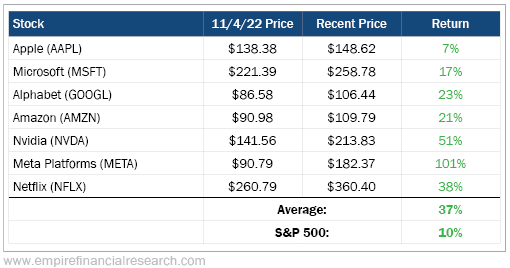 The Empire Financial Research Partnership is the absolute best way to access all of our research. Every paid publication... every model portfolio... every research report... every event we host... You'll get all of it – and you'll never have to worry about buying an individual product or service from us again.
Over time, the savings are substantial – more than $18,000 in the first year of your Partnership alone. You can learn more about the Partnership right here.
---
Recommended Link:
The Elon Musk Story No One's Telling

While Elon deals with Twitter, satellite internet, SpaceX, Tesla and everything else you've likely heard about lately… Another Elon story has been playing out behind the scenes… That Elon has been quietly leveraging a brand new "secret currency…" A secret currency that the International Monetary Fund predicts could rise as high as 24,900%. Click here for all the details.
---
3) It was a great first day yesterday at Guy Spier's VALUEx conference in Klosters, Switzerland!
In addition to mingling and socializing with interesting people from all over the world – I met folks from Australia, Singapore, Hong Kong, India, and a dozen European countries – I saw lots of great stock pitches.
Each day revolves around rapid-fire sessions in which each attendee presents their favorite stock idea for five minutes and then takes one or two questions. It's all off the record, but I got permission to share two presentations that I found particularly interesting...
The first was a pitch of China's Luckin Coffee (LKNCY) by John Zolidis of Quo Vadis Capital. He pitched it at this conference last year (slides here) and the stock is up 115% since then, but he thinks it has "50% upside potential over next two years using base case earnings and cash flow forecasts."
You can see his entire 11-slide presentation here, and below are four of the key slides: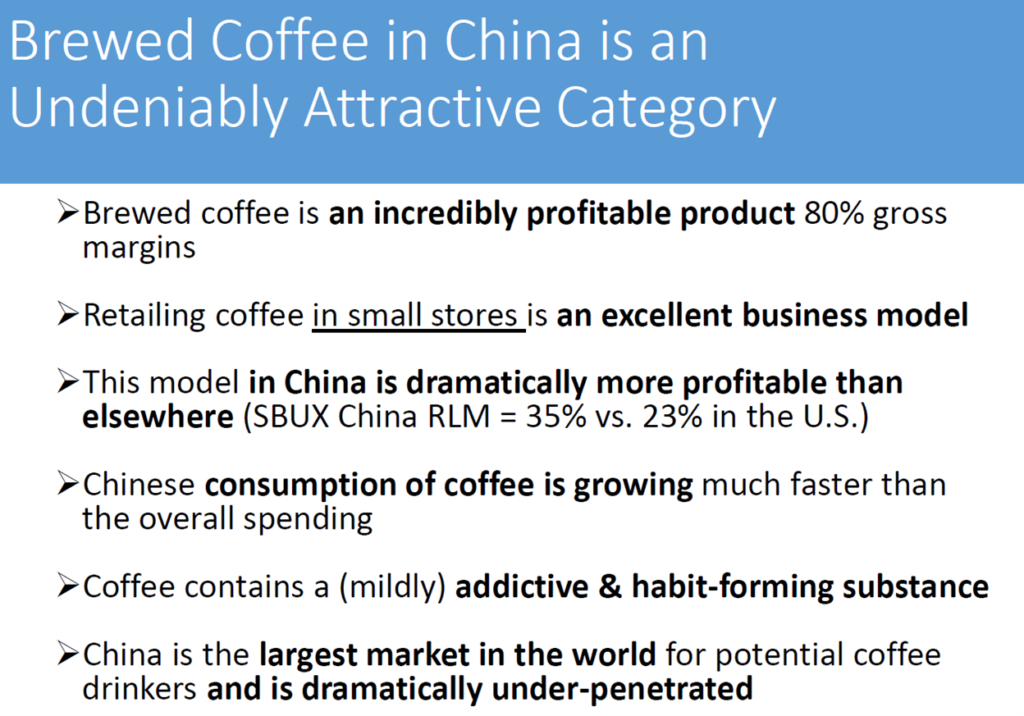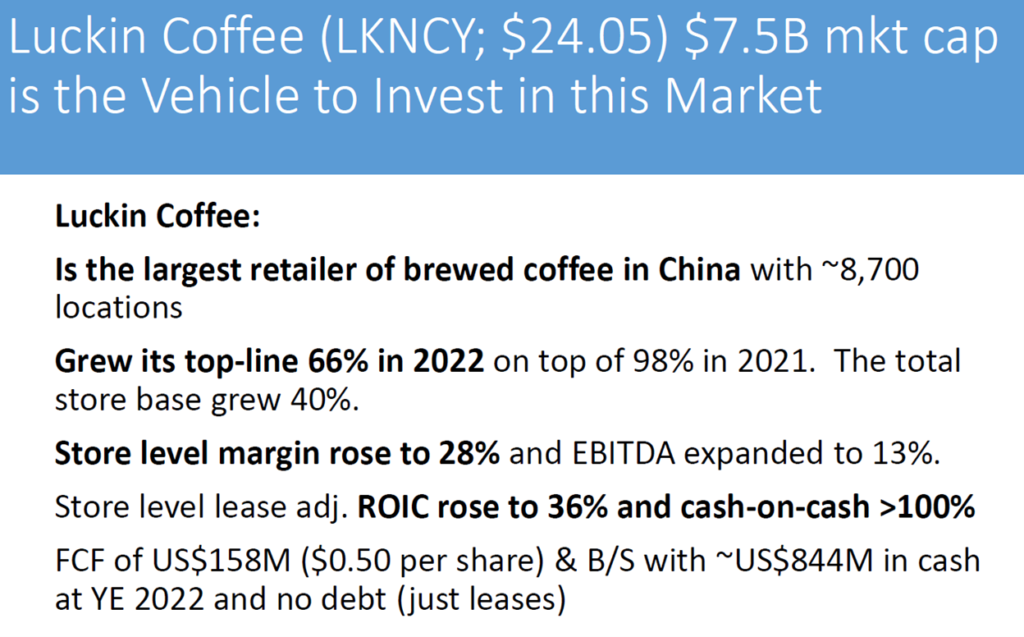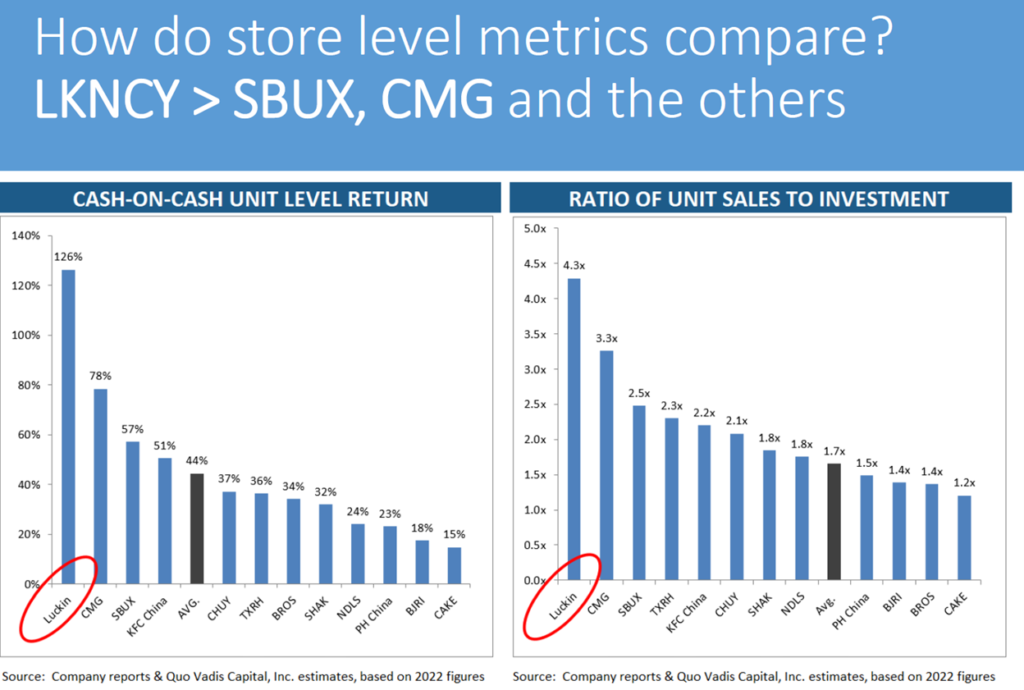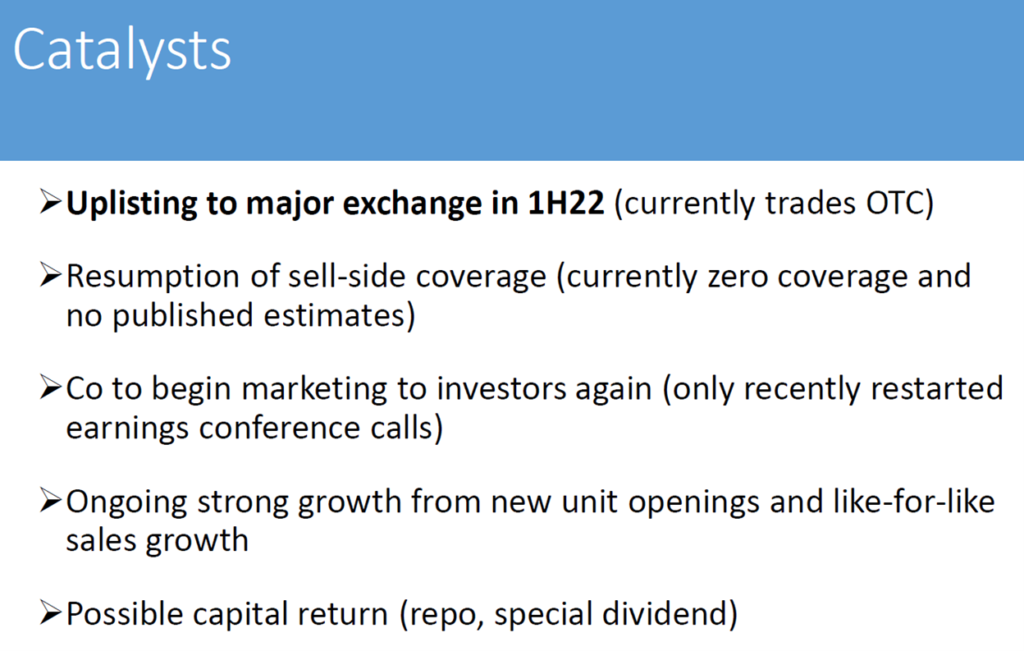 4) The second presentation I found particularly interesting was "Investing in Aviation" by Albert Muntane Casanova, a longtime executive and banker in the sector.
He argued that investing directly in airlines is unwise, as they are very weak credits, and instead recommended that investors look at the stocks of leasing companies as well as debt instruments like Aircraft Back Securitizations and Equipment Enhanced Trust Certificates.
He concluded: "The best investment opportunities I have seen in aviation were distressed secured debt structures."
His six-slide presentation is here, and below are three key slides: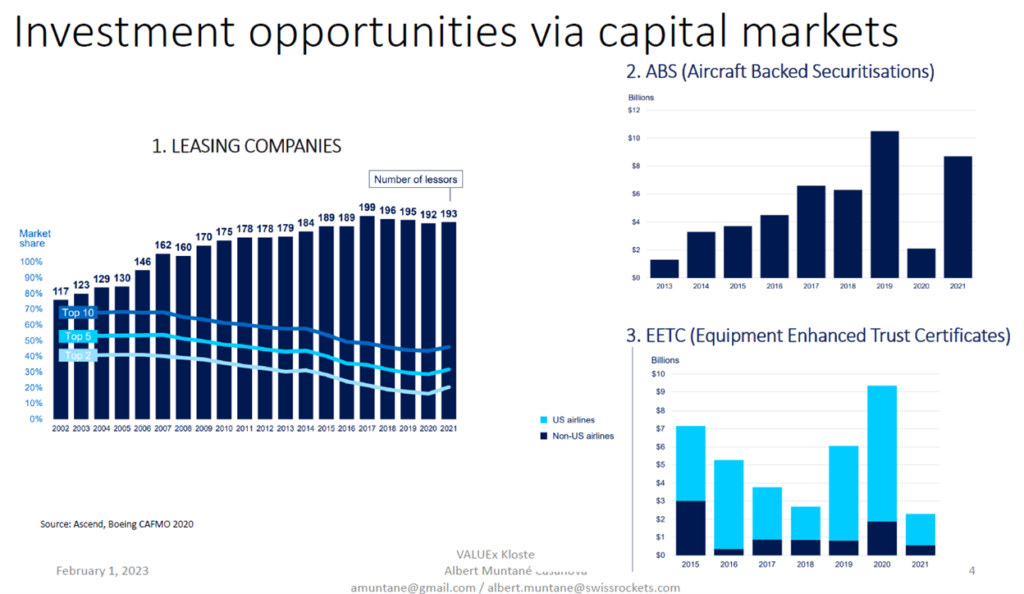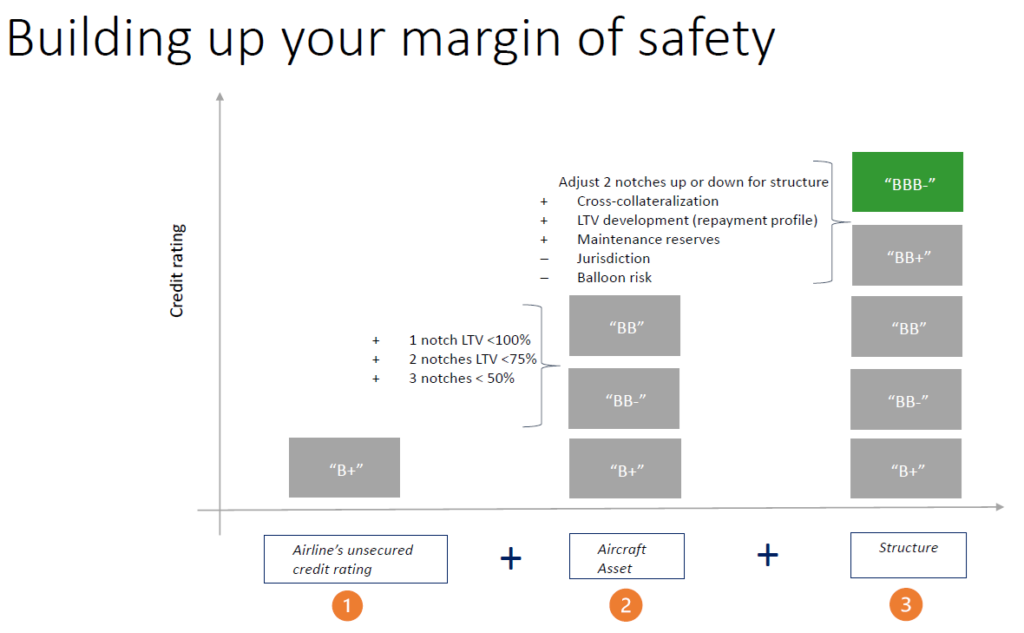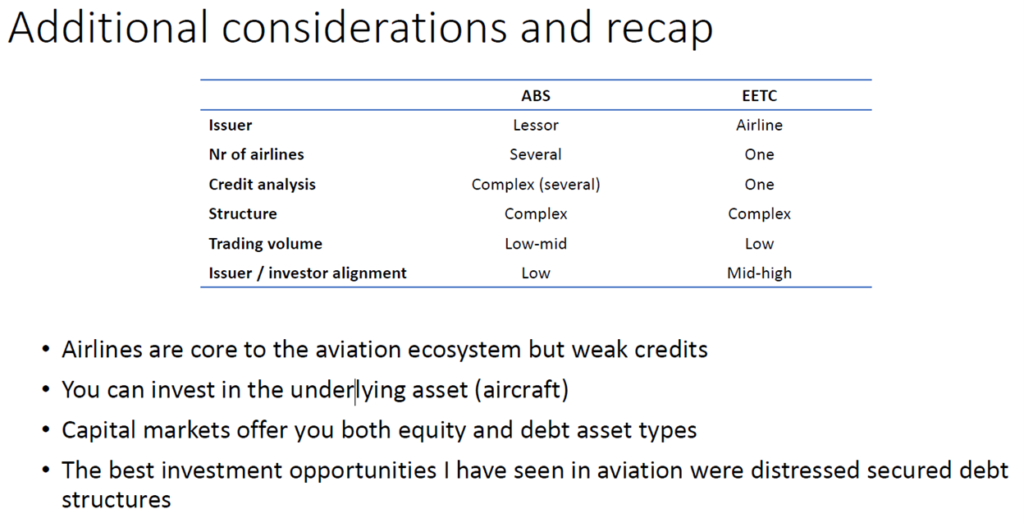 5) This story in the Wall Street Journal after the markets closed yesterday highlights that retailer Bed Bath & Beyond (BBBY) is within days of filing for bankruptcy: Bed Bath & Beyond Misses Interest Payments as It Weighs Chapter 11. Excerpt:
Bed Bath & Beyond missed interest payments on its bonds, a week after its bank lenders sent the company a default notice because it was overdrawn on its credit lines.

The home-goods retailer failed to pay more than $28 million on three tranches of notes totaling roughly $1.2 billion due on Feb. 1, a spokeswoman for the company confirmed Wednesday...

The coupon miss comes nearly a month after the company raised the possibility of filing for bankruptcy and said it was running low on funds. Bed Bath & Beyond is expected to enter chapter 11 soon, the Wall Street Journal has reported, citing people familiar with the matter.

The company has been making preparations for a chapter 11 process for weeks, including trying to raise a loan to fund its bankruptcy and lining up a buyer for its stronger business, the Buybuy Baby chain, the Journal has reported.
It would be hard to find a better sign of the rank speculation that's returned to our markets than the fact that this stock, which will soon be worthless, is still trading for around $3 rather than 3 cents!
6) I'm experiencing a version of this, as I haven't been able to do my usual workouts, especially running, because I've been traveling so much: How Long Does It Take to Get Fit Again? Excerpt:
After just a few days of inactivity, the volume of blood plasma circulating in your body decreases, Dr. [Edward] Coyle said, leading to a series of other cardiovascular changes. After 12 days, studies show that the total amount of blood the heart pumps every minute decreases, along with the amount of oxygenated blood available to muscles and other cells – measured as the VO2 max.

If you return to the gym at this point, you will only notice slight differences in performance, Dr. Coyle said. Your heart rate may be a little faster and your breathing may be heavier as your body works harder to pump blood and oxygen to where they're needed.

Scientists have found that it is around the three-week mark that people experience the biggest changes in their ability to get through a workout, as energy produced by mitochondria for muscle cells drops off significantly. "That means that exercise will be more fatiguing," Dr. Coyle said.
Best regards,
Whitney
P.S. I welcome your feedback at [email protected].