1) There are two big events happening on Wednesday… Both are free and open to the public, and will be hosted by two of the smartest investors I know: Stansberry Research's Dr. Steve Sjuggerud and Berkshire Hathaway (BRK-B) Vice Chairman Charlie Munger.
Steve has absolutely nailed this bull market from the start, and thinks there are more gains to come. As he wrote in his DailyWealth e-letter on Friday:
You probably know by now that I think a stock market Melt Up is just around the corner – where stocks make one final, dramatic push higher before a furious peak.

But the folks I have talked to are either trying to time it… or planning to sit on the sidelines.

My friend, trying to time when the Melt Up takes off could cause you to miss out on triple-digit gains.

You don't want to wait until stocks start soaring… and THEN decide to get in.

Melt Ups are big and fast… The tech-heavy Nasdaq index alone delivered triple-digit gains in the final 12 months of the last great Melt Up.

Sitting on the sidelines and missing out on even a few big days during that time could've been deadly to your returns.

I'm telling you, don't try to outsmart the Melt Up! 
To hear Steve's latest thoughts, I strongly encourage you to tune in to the 2020 Melt Up Event that he's hosting at 8 p.m. Eastern time on Wednesday. Steve will share an important update on his Melt Up thesis… including the No. 1 sector he expects to soar this year.
Plus, as a bonus for attending, he'll tell you the name of a stock in this sector that he believes could jump by as much as 500% as the market moves higher.
This event is free to attend, but you must reserve a spot in advance. You can do so by clicking here.
2) Meanwhile, earlier on Wednesday, investing legend Charlie Munger (who's still going strong at age 96!) will take questions from the 1,000-plus people in the audience at the Daily Journal (DJCO) annual meeting, which will take place at The Center at Cathedral Plaza, 555 W. Temple St. in downtown Los Angeles.
It starts at 10 a.m. with brief formalities, and then Munger will take any and all questions for a couple of hours.
He's brilliant – always full of incredible insight and wisdom – so it's well worth the trip. Don't put this off, as Munger isn't getting any younger!
It's open to the public… You don't have to be a Berkshire or Daily Journal shareholder to attend. To repeat: you can just show up (but if you want a good seat, show up early)!
If you come, please join me for a casual get-together immediately afterward. It'll be outdoors near the Starbucks in Grand Park's Olive Court (between Grand and Hill) – only a five-minute walk away. You'll be able to order food and drinks at the Starbucks and three food trucks.
You can make this a day trip (with no red-eye flight) from New York City. I'll be on the 5:40 a.m. JetBlue flight from JFK that lands at LAX just after 9 a.m., and there are a number of afternoon flights back.
Lastly, for a nice summary of Munger's greatest hits, see this compilation by the Wall Street Journal's Jason Zweig: On Charlie Munger.
3) My friend and long-time Berkshire shareholder Andy Kilpatrick is out with a new edition of his magnificent and regularly updated tome about the company, which you can order here: Of Permanent Value: The Story of Warren Buffett, 2020 Elephant Edition.
4) I just landed back in the U.S. this morning from a week visiting my family in Kenya. Usually a week isn't enough time to warrant traveling so far, but with the new nonstop flight from JFK to Nairobi, it's doable (though I'd suggest two weeks if you can swing it). After two days at my parents' house outside Nairobi and two days in Zanzibar (see pictures in my e-mails last week here and here), we flew up in my father's and sister's planes to spend the last two days at the magnificent Ol Pejeta wildlife conservancy seeing lions, elephants, rhinos, chimpanzees, baboons, zebras, and more. Here are a few pictures (that's us straddling the equator):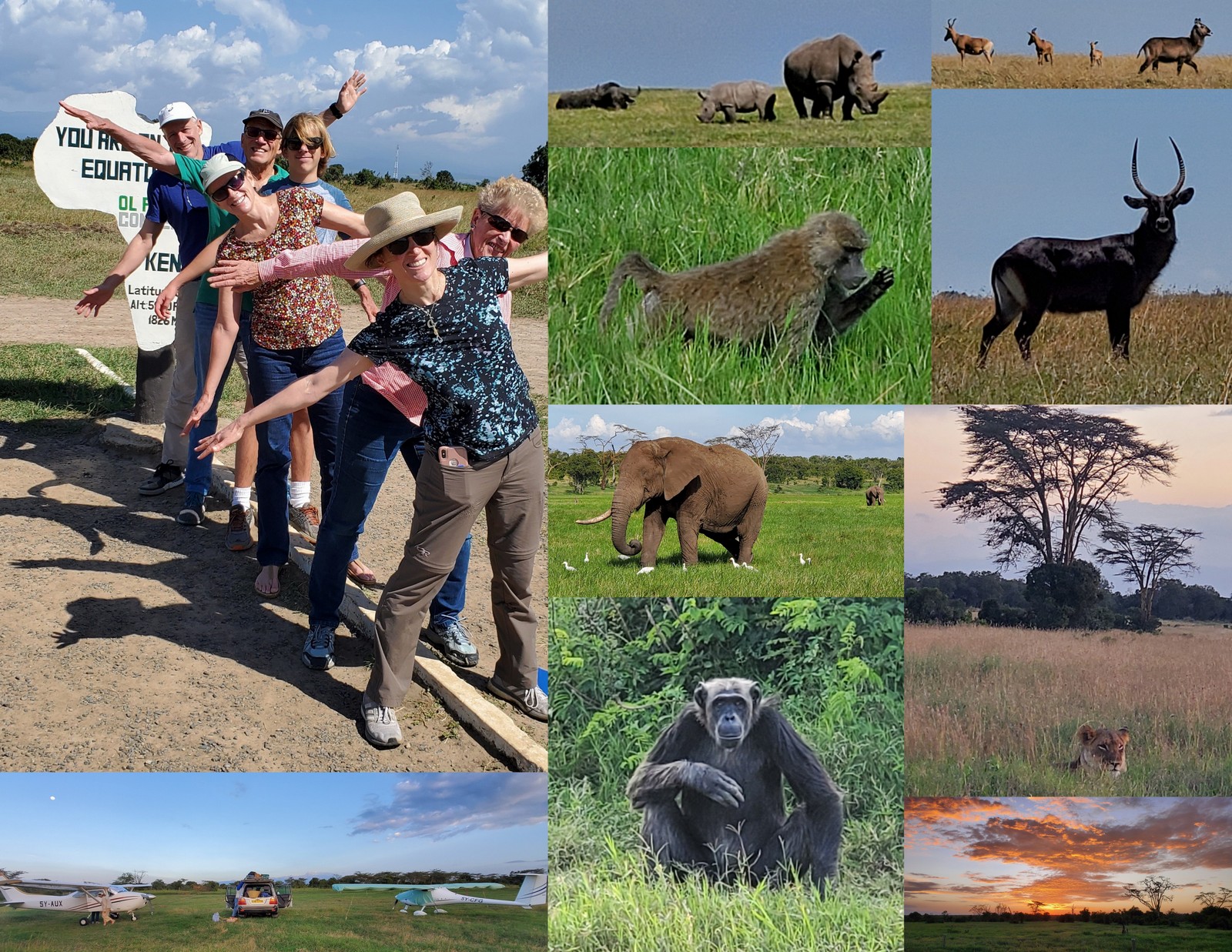 Best regards,
Whitney