► Earlier this month, the New York Times interviewed fast-food titan McDonald's (MCD) CEO Chris Kempczinski...
The interview was part of the Times' "Corner Office" series, where it prints abridged transcripts of discussions with CEOs, founders, and other prominent corporate leaders. The series is almost always interesting, and I recommend it for students of business and fundamental investing.
Responding to the near obligatory question of how the COVID-19 pandemic will change the business in an enduring way, Kempczinski responded with ideas I've touched on before in Empire Financial Daily. Expect drive-thrus and mobile ordering apps to remain key to success at quick-service restaurants ("QSRs") – otherwise known as fast food. Also expect new restaurant builds to reflect the changing way that consumers order and receive their food. As Kempczinski said...
We had to pivot to basically being an entirely drive-through, delivery, and curbside pickup business, and I think that's going to still be an enduring part of this. The app is going to now be the center of that relationship with the customer...

We build about a thousand restaurants a year. Should the dining room be as big? Probably not. Should we have a separate pickup area for delivery drivers versus regular customers? Probably a good idea. Should we have an area where loyal customers can go and get a different type of service? Worth considering.
Of course, changing the setup of restaurants that are already built is a cost that largely accrues not to McDonald's but to its network of franchisees, who own the vast majority of the chain's 39,000 locations.
Kempczinski said that after three consecutive years of setting cash flow records on the franchisee level, third-party store operators are in a good financial position to make those investments, and they're motivated to do so in the pursuit of higher returns.

Unsurprisingly, the minimum wage came up as a discussion topic...
With almost 2 million employees in the McDonald's system, the company is the second-largest private employer in the world, after retailer Walmart (WMT). McDonald's made headlines in May when it said it would raise wages on average by 10%, putting entry-level crews on track to make between $11 and $17 an hour and creating a path for all workers to ultimately earn $15 per hour or more.
QSRs have traditionally been one of the biggest corporate lobbying blocks against state-level efforts to raise the minimum wage, so it was notable that Kempczinski commented, "Twenty-eight states now have gone to some pathway to $15 an hour, and we're not opposing that in any place."
But it's worth mentioning that the recent pay raise only applies to company-owned stores, which made up just 7% of the chain at the end of 2019. Franchisees can adopt whatever wages they want, within the context of state and federal regulations.
So, for the bulk of McDonald's employees in the U.S., their fate rests with the franchisee that employs them... not McDonald's corporate headquarters in Chicago.
But Kempczinski hopes that franchisees will follow corporate's lead...
We made a commitment around raising all the wages for our company restaurant employees by 10%, on a pathway to $15 an hour. We need to lead the way.

If you're a franchisee who believes that the people working in your restaurant are a cost, and that you want to minimize that cost, we're out to prove that investing in higher wages can grow your business, because you're going to drive better customer satisfaction and actually make more money. It's a mind-set shift.
This will require a "mind-set shift" for corporate as well as franchisees, I think, after years of fighting any legislative attempts to lift the minimum wage.

Another somewhat treacherous topic covered was the unhealthy nature of much of the McDonald's menu...
The fact that a journalist would press a McDonalds CEO about the company's responsibility for people's eating decisions isn't too surprising... But I was surprised when Kempczinski said that he eats McDonald's food five times per week!
That's an eye-raiser for anyone who remembers 2004's documentary film Super Size Me, which followed the filmmaker Morgan Spurlock as he subsisted only on McDonald's food for 30 days. Over that period, Spurlock gained 24 pounds, saw his cholesterol spike, and experienced a host of other physical and psychological issues. It took him 14 months to lose the weight he gained in 30 days.
But Kempczinski is faring better and is an accomplished marathon runner who reportedly runs at least 50 miles per week (presumably powered by Big Macs). He also makes no apologies for the number of unhealthy items on the menu...
Our menu is very Darwinian. We will put on the menu what our customers are looking to buy. We do have healthier choice options on the menu. And we have more indulgent choices on the menu. Ultimately, we leave it to the customer to make those choices.
He also recounted what he learned during his time at snack and beverage giant PepsiCo (PEP): If you offer people only healthy options, they will just consume less from you and presumably get their fill of low-nutrition items elsewhere...
At Pepsi, we would try to go into schools and parks and put in only a healthy vending machine with only water or juice. And what we discovered was we didn't sell as much as we did when we had carbonated soft drinks.

What was almost as interesting as Kempczinski's answers were the topics that the Times chose to ask about...
Many of these topics wouldn't have been raised even five years ago...
The Times asked quite directly about former CEO Steve Easterbrook's departure in the wake of a sex scandal and the corporate governance issues raised by his dismissal and compensation. Easterbrook left after admitting to a consensual sexual relationship with a subordinate, but the board let him keep his $44 million severance package, allegedly with little investigation. But when two more employees came forward with allegations of sexual misconduct, the board sued to get some of that money back.
In the past, executives have left many C-suites in disgrace over inappropriate relationships. But rarely has a Board attempted to claw back compensation... nor has a successor talked about the situation as much as Kempczinski has been forced to.
But the sex scandal wasn't the only formerly taboo topic covered in the Times interview...
The Times asked about voting rights – which Kempczinski took a pass on – and McDonald's relationship with and responsibility to the Black community, which Kempczinski was ready to engage on.

The line of questioning here is equally important as the answers offered...
It's obvious that corporations are walking a tightrope as they navigate an increasingly polarized political environment – not only here in the U.S., but internationally as well. For consumer companies, the imperative to get it right around communications is especially urgent, as consumers – particularly younger ones – increasingly want to spend their money with companies that they believe share their values.
Addressing hot-button topics and taking a position can both win and lose customers, and Kempczinski appears to be picking and choosing his spots where he will stick his neck out in a way that makes sense...
Any of the topics that are going on today from a social standpoint – inequality issues, education issues, opioids, etc. – we are asked to opine on all of them. One of the things that I've had to think about is, where do we speak up on an issue, and where do we not speak up?

The way we've looked at it is: Is it either directly in our industry – which is an obvious one that we would comment on – or does it go specifically to the pillars that we've said are going to matter to us? So we've talked about jobs and opportunity. We've talked about helping communities in crisis. We've talked about planet. And we've talked about supporting local farmers and ranchers.

Those are the areas that we've said are specific to our business where we feel like we've got a role to play. If it's outside of that, then there has to be a really good reason that us saying something can also be part of the solution. And in the case of voting rights, it wasn't our business... And we didn't feel like our voice was going to be particularly helpful to addressing the issues.

I came away from reading the article with the impression that Kempczinski was thoughtful and forward-thinking...
When I looked up his bio, I was surprised to see that Kempczinski was in my class at Harvard Business School. I didn't know him there, but the interview made me think the company is in good hands with him, having gone through a period of turmoil in fall 2019 after the sudden departure of Easterbrook followed so quickly by the onset of the pandemic.
I first wrote about McDonald's in July 2020 and said the company was well-positioned due to its high penetration of units with drive-thrus and its excellent app for digital ordering. Since then, MCD shares are up 27%...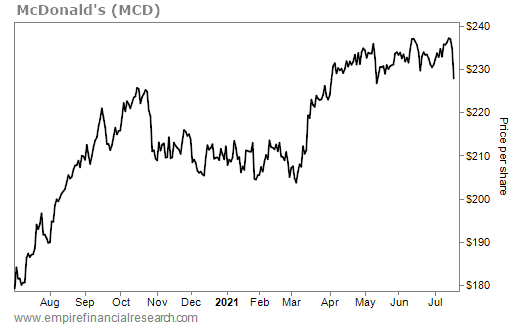 I still like MCD shares for long-term investors.
The company reports second-quarter earnings next week, and expectations are for low double digit U.S. same-store sales growth due to stimulus checks, a new chicken sandwich, and a promotion with K-pop boy band sensation BTS, which may turn out to have an even bigger effect than the successful campaign with hip-hop artist Travis Scott last year. Strong sales should contribute to operating margin expansion, especially compared to last year's second quarter, which was affected by shutdowns.
Recent strength is well-known in the market... so none of this should surprise investors, who may be more focused on the tougher comparisons ahead and the likely effect of the COVID-19 Delta variant on business across the globe. Inflation will also likely be a hot topic.
So far this earnings season, there has been a good bit of "sell the news" on strong earnings reports. MCD shares are "on sale" today, down around 3% with the broader market. That's a big move for this stock. I like the shares here today, but would also save a little dry powder for a possible "sell the news" reaction next week when earnings are reported. I would get more aggressive with accumulating shares if nitpicking the quarter takes MCD shares under $220.

In the mailbag, several readers share their thoughts on food delivery, in the wake of my essay about how elusive profits are for the sector...
Do you think it's fair game asking corporations questions about governmental policies that directly affect their business, like McDonald's and the minimum wage? What about ones that indirectly touch their business, like race relations? How about ones that aren't related to their business at all, as Kempczinski explained was the case with voting rights? And is a restaurant offering healthy options enough... or should it be expected to market and promote those options too? Share your thoughts in an e-mail to [email protected].

"They could make delivery free, and I would still never use a delivery app. My pressure point on food is freshness, and that is lost with delivery. When I walk through my apartment and see McDonalds or other food sitting outside a door, I just shake my head." – Kenneth L.

"Thank you Berna for a great article, as always! My thoughts on the food delivery companies are that when driverless deliveries take off, which I think it will, then the margins will allow for healthy profits. Would be interesting to hear your thoughts on the matter.
"Have a great one!" – David B.
Berna comment: David, if autonomous driving is a condition of DoorDash (DASH) and the competition getting profitable... They need to make money before driverless cars are commonplace! People are going to lose patience with them before that.
That said, the future of autonomous vehicles ("AVs") is coming... and along with electric vehicles ("EVs"), this trend has the potential to transform our lives in ways that are almost unimaginable right now. My colleague Whitney Tilson has been following this shift extensively, and he's calling it "TaaS" (or "Transportation as a Service"). He put together a presentation with all the details – you can watch it right here.

"Cold food sucks." – Chris C.

"DoorDash and Uber Eats will lose lots of money trying to make it up on volume." – R.P.

"As a relatively affluent, but not rich, retiree, we've never used a food delivery service (not even for pizza in over 15 years) but have gone down to a local restaurant to pick-up a meal to go. Can't see the value and prefer that all my money goes to the local restaurant. Why would people order a McDonald's Big Mac to be delivered?" – Hugh P.

"Regarding your email discussion of food delivery profitability.
"You should look at Waitr Holdings (WTRH). They are a low-cost delivery service focused on secondary and tertiary markets.
"With over $200 million a year in revenue they are profitable:
Profit Margin 6.74%
Trailing twelve-month Operating Margin 13.72%
Trailing P/E 12.07
"Obviously, there is a risk they will get squeezed by better capitalized competitors. However, their results suggest it should be possible to generate profits if the ultimate survivors end up acting rationally. I realize that is a big if." – Kerry C.
Berna comment: Thanks for the tip, Kerry. I had heard of Waitr but didn't realize the company had already turned profitable.
Waitr operates in smaller markets where Uber and DoorDash don't focus very much (e.g., Alabama and Mississippi). Labor is obviously cheaper in those markets. Guessing that, and being No. 1 or No. 2 share in smaller ponds, may be helping the company. I'll take a closer look at Waitr when I have time.
Best regards,
Berna Barshay
July 19, 2021