1) Markets moved moderately higher in August, with the S&P 500 Index rising 3%. This was its seventh consecutive monthly rise, bringing its year-to-date return to a healthy 20.8%.
The S&P 500 has now more than doubled since its March 2020 low – the fastest such gain since World War II – which has added nearly $20 trillion to shareholders' wealth. The market hasn't suffered even a 5% pullback in almost a year and has closed at a record-high 53 times in 2021, the most by this point in the year since 1964.
How can this be happening in the face of such dreadful headlines: an ugly pullout from Afghanistan, the COVID-19 pandemic continuing to worsen (leading many businesses to shelve plans to return to the office), plunging consumer sentiment, continued political gridlock, staffing shortages, supply chain disruptions, rising inflation, etc.?
There are three answers...
The economy is booming, which is turbocharging corporate profits. In the recently completed second-quarter earnings season, nearly 90% of companies exceeded analyst forecasts – the highest such level of "beats" on record, going back to 1994.
Investors believe that the U.S. Federal Reserve will keep interest rates at rock-bottom levels, possibly for years to come.
Investors also believe that the federal government will continue spending heavily to keep the recovery going.
As a result, while many famous investors and prognosticators are warning of an imminent market collapse, I – and my colleagues Enrique Abeyta and Berna Barshay – remain constructive in the short and intermediate term.
That said, the degree of investor enthusiasm – and the resulting foolish risk-taking – is building as the market marches steadily higher... so we are carefully monitoring dozens of indicators – and, more important, applying our team's collective 100-plus years of experience – to gauge when to get more defensive.
2) I called the top of the meme stock bubble on the day it peaked in my January 27 e-mail and named 25 stocks that, I wrote:
... are highly likely to underperform going forward. In fact, I'll stick my neck out even further and say that I think today will be the top. They remind me of the eight "bankruptcy bubble" stocks I named in my June 9, 2020 e-mail, which collapsed by an average of 74% in the subsequent five weeks (see the performance table in my July 17 e-mail).
Since then, 21 of my "Short Squeeze Bubble Basket" stocks (84%) are down, and even with Hertz (HTZZ) and AMC Entertainment (AMC) up 192% (until I closed it out) and 120%, respectively, the average decline is 28% versus a 21% gain for the S&P 500 Index – 49 points of underperformance.
At one point, the basket was down more than 50%, but then rallied, which gave me another bite at this rancid apple. Thus, exactly three months ago in my June 2 e-mail, I wrote:
I never would have believed it, but the recklessness of a segment of retail investors appears to have no bounds in this market...

After falling by more than 50%, the 25 stocks in the "Short Squeeze Bubble Basket" that I identified in my January 27 e-mail have rallied and are now "only" down 28% on average (versus a 12% gain for the S&P 500 Index).

This type of short-term rally is to be expected, and for stocks like these, this is an opportunity to add to a short or put position because it's clearly a dead-cat bounce.

Thus, I'm officially calling another short-term top – but since I don't have time to re-do my work on all 25 stocks, this time I'm only going to name the 10 most obvious turds in the basket:

| Company | 6/1 Price |
| --- | --- |
| GameStop (GME) | $249.02 |
| AMC Entertainment (AMC) | $32.04 |
| BlackBerry (BB) | $11.56 |
| Bed Bath & Beyond (BBBY) | $27.26 |
| Koss (KOSS) | $24.15 |
| Nikola (NKLA) | $15.44 |
| Workhorse (WKHS) | $9.63 |
| Nano-X Imaging (NNOX) | $26.71 |
| GSX Techedu (GOTU) | $18.08 |
| Plug Power (PLUG) | $30.89 |

Mark my words: these stocks will fall 25% within a month (probably much sooner), 50% within three months, and 75% within a year. I will be tracking them and will report back to you periodically.
As promised, I am reporting back to you...
As you can see in the table below, while these stocks have underperformed badly, declining 14% on average versus an 8% gain for the S&P 500, they haven't fallen the 30% I predicted. But give them time... I continue to believe that these stocks are all turds...
| Company | 6/1 Price | 9/1 Price | Change |
| --- | --- | --- | --- |
| GameStop (GME) | $249.02 | $212.97 | -14% |
| AMC Entertainment (AMC) | $32.04 | $43.69 | 36% |
| BlackBerry (BB) | $11.56 | $11.68 | 1% |
| Bed Bath & Beyond (BBBY) | $27.26 | $27.74 | 2% |
| Koss (KOSS) | $24.15 | $18.18 | -25% |
| Nikola (NKLA) | $15.44 | $10.76 | -30% |
| Workhorse (WKHS) | $9.63 | $9.14 | -5% |
| Nano-X Imaging (NNOX) | $26.71 | $25.18 | -6% |
| Gaotu Techedu (GOTU) | $18.08 | $3.15 | -83% |
| Plug Power (PLUG) | $30.89 | $26.93 | -13% |
|   |   | Average | -14% |
|   |   | S&P 500 | 8% |
3) I'm delighted to report that my middle daughter, 22-year-old Emily, moved back home yesterday!
You may recall that she graduated from Wake Forest earlier this year and soon afterward started a job as a Retail Sales Representative for food and beverage giant Nestlé in Arlington, Virginia. It's a great company, but the job wasn't a good fit for her... so she started looking and quickly got an offer from Madison Square Garden Sports (MSGS) (coincidentally, one of Enrique's favorite stocks), where she'll be working with Knicks and Rangers season ticket holders. She starts on Tuesday!
She found someone last week to take over the lease on her apartment and yesterday morning rented a van, packed it up, and drove to New York City, where she'll be living at home for a while. Here's a picture of us unloading: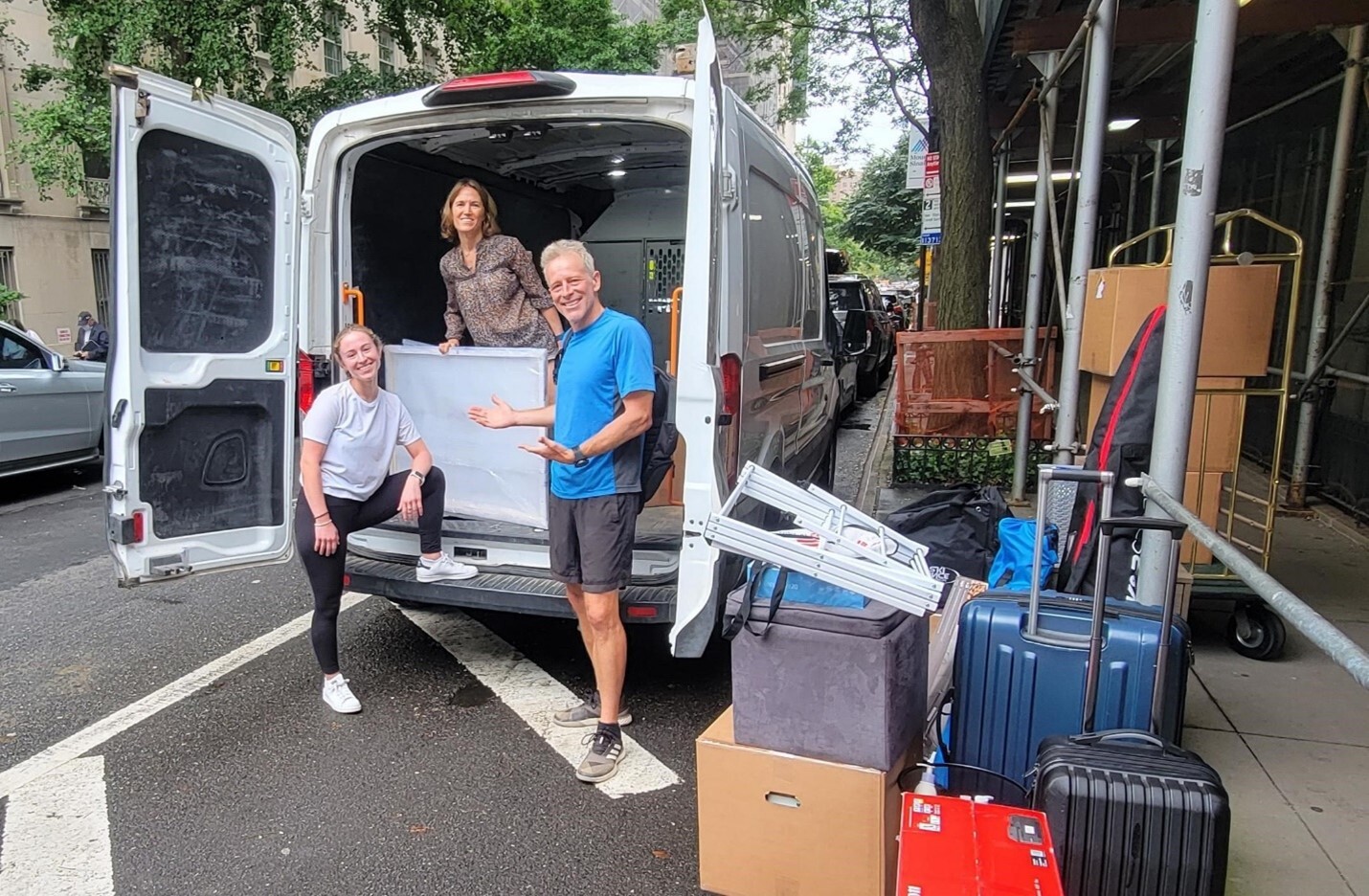 We have a full house, as our oldest daughter, 25-year-old Alison, has been living with us since she graduated from Carleton a little over three years ago, and we don't take 19-year-old Katharine to start at Carleton until Tuesday evening, when Susan and I fly with her to Minneapolis.
I'm now surrounded by a record six ladies (counting Rosie the Wonder Dog and Phoebe the Wonder Pup)!
4) Yesterday evening, what was left of Hurricane Ida hit New York and dumped record amounts of rain...
The prior record for rain in one hour (in the 150 years that such things have been tracked) was set less than two weeks ago on August 21, during Hurricane Henri: 1.94 inches from 11 p.m. to midnight.
That record was shattered last night when 3.15 inches fell from 9 p.m. to 10 p.m. – and I was right in the middle of it!
I had played tennis from 7:30 to 9:30 just over the George Washington Bridge in Fort Lee, New Jersey. As I started driving home, it was raining so hard I could barely see 10 feet in front of me, so I went slowly.
Once I crossed the bridge, the exit to the Harlem River Drive was blocked by an accident, so I continued on the Cross Bronx Expressway, driving through two feet of water at one point. It wasn't quite as deep as in this picture, but it was close – I saw plenty of stalled cars and I was grateful that my Volvo XC60 kept running!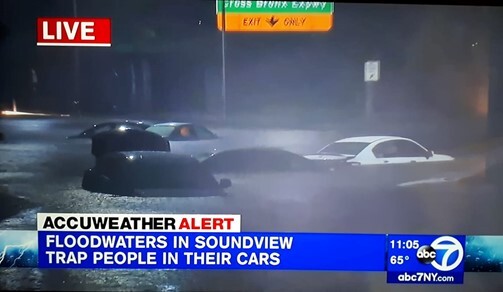 I could barely see and soon got totally disoriented and lost. The main roads along the river were parking lots – I assume due to flooding – so I realized I needed to get onto city streets to make my way home.
To do so, I eventually followed two other cars up a one-way on-ramp (i.e., we were going against traffic – thankfully, there was none) and was able to get off onto 180th and Amsterdam, where I had to drive through three feet of water, passing stalled cars as a wave created by a car going in the other direction crashed over my windshield.
I've never seen anything like it – it was crazy!
I thought about calling my cousin who lives in upper Manhattan and crashing on her sofa, but realized that if I stayed on city streets in the center of the island, the flooding wouldn't be too bad, so I followed Amsterdam south, cut across 125th Street, and took Fifth Avenue home...
Phew!
Best regards,
Whitney
P.S. I welcome your feedback at [email protected].