► You'd think a global recession wouldn't be the ideal time to hike up already pricey discretionary items…
But that's exactly what the European luxury goods industry did earlier this year: raise the prices of handbags that already cost $2,000 or more.
While luxury companies aren't always forthcoming in regards to these price increases, one analyst monitoring the market found that luxury giant Kering's (KER.PA) Gucci took price increases as high as 9% during the May-to-June time period. As industry website Business of Fashion reported…
Jefferies luxury goods analyst Flavio Cereda compared prices in various countries of two Gucci handbags – the $2,290 Dionysus and the $2,980 Zumi – in May and June and found price increases for both in Italy, Britain and China of between 5% and 9%.
Similar market studies by Reuters found that leading French luxury conglomerate LVMH (MC.PA) took price increases on bags and small leather goods in its namesake Louis Vuitton brand in Europe and the U.S. in the spring. Vogue also reported on two price hikes to Louis Vuitton totes in China, occurring in March and May. Together, the two hikes led to a sizable 17% price increase in China on the brand's signature Alma bag.
While the company never formally comments on price increases, LVMH's Dior label is also reported to have taken price increases in handbags in the same time period… as did privately held Chanel in May, when it announced the price of it most iconic bags would increase by between 5% and 17%. As a pricing study from handbag blog Pursebop shows, the hikes were concentrated on the higher end of that range…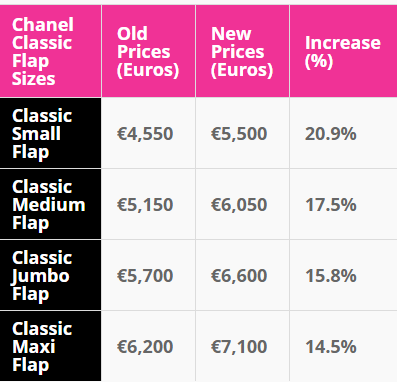 Source: Pursebop
At the time, Chanel noted that COVID-19 interruptions to the supply chain had caused an increase in raw material costs as well as manufacturing and logistics expenses.
Not mentioned as justification for the price increases were the costs of paying rent and other expenses on a fleet of shuttered stores in some of the most prestigious – and expensive – zip codes in the world, nor the heavy burden that the interruption to cross-border tourism has placed on the global store network, even after reopening. No doubt these pressures also played into the decision to increase prices in an attempt to reduce profit drops.
► The seemingly limitless ability of top luxury goods companies to increase prices is what makes them some of the best businesses in the entire world…
This endless ability to "take price" is also one of the things that made LVMH Chairman Bernard Arnault one of the richest men in the world, behind only Amazon's (AMZN) Jeff Bezos and Microsoft's (MSFT) Bill Gates.
While only the very top brands can totally get away with it – traditionally Louis Vuitton, Chanel, Hermès (RMS.PA), and the last few years, Gucci – the price increases in handbags have been eye-popping. Using the Classic Chanel 2.55 handbag as a benchmark, luxury bag prices have increased on average over 8% per year since 2009. Apparently, as this chart from Vogue Business shows, handbag price increases are one thing that the pandemic can't interrupt…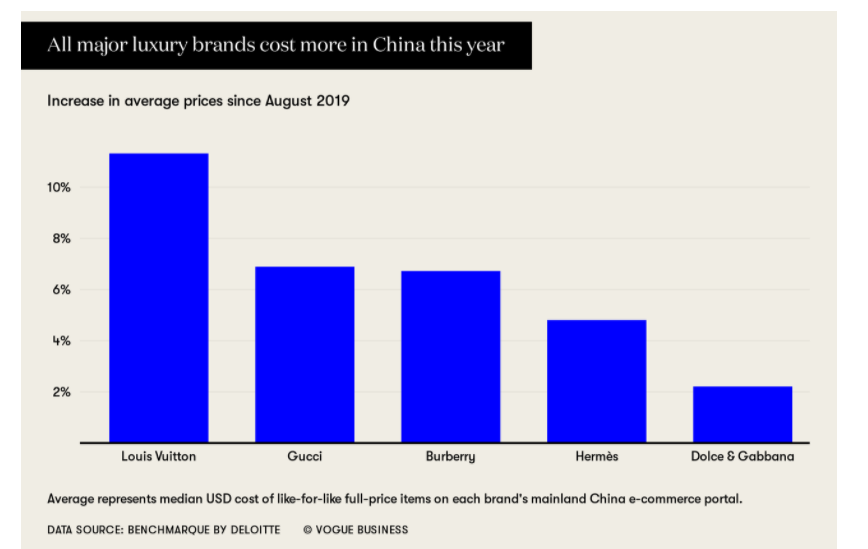 Source: Vogue Business
It's always easiest for the top tier to take pricing, since the prestige and air of exclusivity seemingly leads to the lack of a ceiling on what certain people will pay for the company's products. But secondary and tertiary luxury brands are usually fast followers on price increases and take price in the wake of the market leaders doing so, so as to maintain their relative position of exclusivity. Unsurprisingly, July saw handbag price hikes from secondary luxury brands Prada (1913.HK) and Ferragamo (SFER.MI).
Some industry observers think we could see even more price increases before the pandemic ends – the companies have been most aggressive so far with Chinese price hikes, as that country has bounced back from the virus much more dramatically than nations in the West. With luxury boutiques closed yet again in major European shopping destinations, such as Paris – as we head into the holiday shopping season– it wouldn't be shocking for the brands to take all the price increases they can get.
► Prices for luxury bags have always differed across regions…
Anyone who has ever seen the crush of Asian tourists packing the luxury flagship boutiques dotting Rue du Faubourg Saint-Honoré knows that luxury boutiques do a big business selling to Chinese, Japanese, and other Asian tourists visiting Paris. But there's a good reason for Asian tourists to save their shopping for a European vacation… and it is not just about currency arbitrage. Bags and other luxury items really do cost much less in Europe…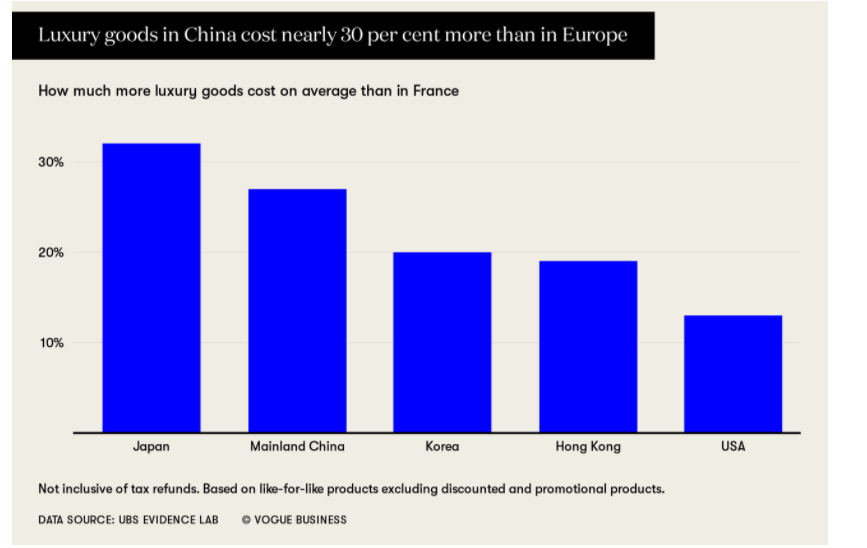 Source: Vogue Business
For the past several years, luxury companies had been consciously compressing the price differential between Europe and local Asian markets. At its peak, it had gotten as high as 50%… but in order to spur domestic demand within China, that differential had reduced to around 25%. This left a lot of room to take prices up in China, especially with European vacations temporarily off the table. As luxury analyst Cereda explained to Vogue…
If your brand price differential between Europe and China is around 20% or 25%, raising prices is perfectly acceptable. If the price differential is already around 40% or 50% then it's more problematic, especially when China, as a geographical region, accounts for one-third of the luxury sector.
Deutsche Bank (DB) analyst Francesca Di Pasquantonio concurred…
There is a possibility this year of getting away with it a little bit more. This year, Chinese consumers don't travel to Japan or to France and therefore they don't benchmark. Next year, they might be able to.
Once COVID-19 vaccines are available in 2021 and international leisure travel is back on the menu, the game may be over for pushing through further price increases outside Europe.
► Despite the price increases, the luxury business has bounced back incredibly quickly in China…
Although hit hardest by the virus in January and February, by late in the second quarter, China had largely reopened its consumer economy. And business came ripping back at the top handbag companies… LVMH saw 65% growth at its leather goods division within China during the second quarter, while Kering saw its overall China business up 40% in the same period. Things just got better in the third quarter, with Kering's mainland China business up over 80%.
Canceled trips and the need to shop at home clearly fueled strength in the mainland China luxury market… but ironically, the price increases themselves may have spurred demand as consumers rushed to get ahead of them. As Vogue explained in September…
Chinese consumers usually hear of price hikes from luxury daigous, or "surrogate shoppers", who alert their clients via social media like WeChat and Xiaohongshu. Spurred by price increase rumours, last week consumers were seen lining up outside Louis Vuitton, Chanel, Gucci and Hermès boutiques at Plaza 66, a high-end mall in Shanghai. Queues were reported in other cities too, including Beijing and Nanjing.
The anecdote speaks well to the dedication of the Chinese consumer to the luxury goods segment.
► Wasn't the pandemic supposed to be bad for consumer discretionary stocks?
Apparently, only some of them. Not only has luxury weathered the global shutdown well, many large retailers that sell more affordably priced goods are doing just fine. Ironically, the pandemic seems to have put the so-called "retail apocalypse" on hold for many well-positioned – or well-prepared – players.
I've written several times about the renaissance at Target (TGT) and Walmart (WMT), which have both greatly benefited from prior investments in e-commerce capabilities and the expansion of their grocery departments. Both stocks have recently hit all-time highs, and, after posting a stellar quarter this morning, Target is trading at one today.
Also putting in new all-time highs during the pandemic are many home-related brick-and mortar-retailers, such as Home Depot (HD), Lowe's (LOW), and Williams-Sonoma (WSM). And the strong keep getting stronger, with pre-pandemic favorites like athletic apparel chain Lululemon Athletica (LULU) and tween/teen dollar store Five Below (FIVE) also hitting all-time highs.
Perhaps most surprising of all, given their reliance on global travel and the big price tags of their products, Kering shares hit a new all-time high today and LVMH is less than 1% off the all-time high it made last week.
A primary factor driving strength at all these very disparate retail winners is that this has been a very uneven recession. It has been catastrophic for those who lost their jobs and have limited prospects for new work, but many people with desk jockey jobs have seen their income unaffected… and even are doing better than before, with stock indexes posting strong gains this year.
On top of that, with so much travel and so many celebratory events canceled, money that might have been spent on plane tickets, catering halls, tickets to sporting events or concerts, and so many other things has been saved… and is clearly being used to buy stuff. This has been a tailwind to both the European firms offering $3,000 handbags around the world, as well as Home Depot when it wants to sell you a new appliance. Even at Target and Walmart, basket size has been on the rise… partially reflecting a consolidation in trips as people avoid public spaces, but there is also an element of people just buying more stuff as they stay home.
Before COVID-19, one of the biggest themes in consumer investing was the ascendancy of "experiences over things." Spending on travel, dining, and events was greatly outpacing the growth in most material items. And it had been this way for years. The experiences-over-things trend was particularly strong among Gen X and millennials… which indicated it was likely to be a force for some time.
The pandemic has turned that trend on its head… with "things over experiences" ruling the day in 2020. When experiences become a choice again, it will be interesting to see if the trend reverses… and if luxury handbag makers can keep jacking up prices by 5 times the rate of inflation.
► I received so many reactions to the discussion of the drop in sports ratings… I'll share a few more from that ample collection today and will then move on to other topics tomorrow…
If you've ever bought a European luxury good – a handbag, wallet, tie, watch, etc. – have you noticed the big annual price increases? When the pandemic is over, will you shift to spending more on experiences over things? Let me know by sending an e-mail to [email protected].
► "Hello Berna, When sports just stopped, I thought I would go crazy (mainly because my team Leeds United was on the verge of being promoted to the Premiership (English footy) after 16 years). Things were so desperate I even watched a chess match on DAZN!!
"However, once everything came back, there was a palpable drop in emotion and intensity in all the sports that I followed… living in Toronto I merely shrugged when the Blue Jays flopped in the playoffs, then even the Champion Raptors went out and there again was little excitement… last year the whole country went berserk for the Raptors.
"Never in all North American sport history did a team have the amount of support that the Raptors had… every win of the final round resulted in impromptu street parties and rallies! There is only one reason for this… the players need the adrenaline of live fans screaming them on, and this lack of electricity makes most games boring." – Shaun C.
► "I am a Direct TV subscriber and continue to get the sports packages advertised by Direct TV. However, my nephew in North Carolina has DISH and does not get offered the RSNs. The reason: No contract between Disney and DISH or their affiliates in the area. He also does not receive the local ABC station for the same reasons. He is an avid fan and would watch if he got what he thought he was paying for. Another reason for not getting games are archaic blackout rules. This year, all baseball games were in Texas. Yet 'home' Braves games were blacked out. You figure! His residence is 250 miles from Atlanta." – Michael M.
► "Berna, I've been reading your recent articles on themes of cord cutting and sports media. On disrupting trends, need to add e-sports, its pre-recorded videos (on YouTube, twitch, etc.), along with live-streaming – collectively, the new media. Putting aside spotting these trends for investment, we should seriously be mindful of the long-term social/ family bonding implications.
"As typical in many families while growing up, we used to gravitate around the single screen (called TV) in the living room as a family or extended one (at times, 3 generations). Watching sports was normal, as was watching other programs. Ultimately, looking back, it wasn't the content per se that really meant much. It was the important bonding times and the subtle rubbing off of values and teachable moments.
"I look at kids now, including mine. They seem numbingly absorbed in their own screens with these new media. While still socializing online (alas, sometimes with complete strangers), we seemed to have lost, or at least diluted, the precious closeness of family bonding." – Michael C.
Berna comment: Michael, I agree and empathize!
► "My sports watching habits have not changed but I've drawn a line between my politics and the rest of my life. I have my local team (Houston), my hometown team (Detroit), and sometimes an adopted team (for example, Tampa Bay in pro football). When my teams are good, I follow closely, but when my teams are bad I ignore them; I will probably be ignoring my Detroit and Houston NFL teams for the rest of the year, though I'll keep track of draft position (the highlight for the Detroit Lions every year).
"While my habits haven't changed, those I associate with have changed their habits materially. As one person told me '_____ games used to be an event, now they are an option'. Several are flat out boycotting and no longer have interest. I'm not saying I agree or disagree with the politicization of sports, but sports have entered the political realm (like masks and COVID) and there has been a price." – KHL
► "I don't watch sports to hear and see political views. If the pro and college sports want to make political statements during broadcasts or otherwise, most of us are not going to watch – it is that simple." – David J.
Regards,
Berna Barshay
November 18, 2020