1) After Lumber Liquidators (LL) founder and former chairman and CEO Tom Sullivan bought $10.6 million of the stock in August – increasing his stake to 6% and making him the company's fourth-largest shareholder – I wrote in my August 21 e-mail that this is "clearly good news for long-suffering shareholders. The company is struggling right now, so who better to help fix it than the guy who built what was once a highly profitable growth machine?"
Since then, the stock has risen more than 10%, and now here's the latest news: Lumber Liquidators Soars as Founder Plans Take-Private Bid. Excerpt:
Lumber Liquidators Holdings Inc.'s founder is working on a bid to take the company private as he urges management to consider options for the chain, including a potential sale.

Thomas D. Sullivan – who owns about 6% of the company's shares through his F9 Investments LLC – said he's already in talks with private equity and banks about a possible bid for the retailer. If he were successful, he'd be interested in merging the chain with his current company Cabinets To Go, he said in an interview.
The stock is up 15% as of midday trading. One way or another, Sullivan's involvement is going to trigger big gains from here...
2) In my July 23 e-mail, I wrote:
[British Prime Minister Boris] Johnson swears he will take the U.K. out of the EU by the October 31 deadline, "do or die," even if that requires a potentially chaotic "hard Brexit," but I think this is likely bluster. He's trying to scare the EU into extending better terms to Britain. I think this is unlikely as well.

As I've written many times in the past, there are only three possible outcomes: the U.K. leaves the EU with a deal, without a deal, or doesn't leave. The cognoscenti continue to believe that Brexit is a done deal – the only question is how. But given a) the likely disastrous consequences of a no-deal exit, and b) that I see no deal that both the EU and the British parliament would accept, that leaves only option three... I think the U.K. will eventually revote and abandon this terrible idea.
My prediction is looking more likely after yesterday's tumultuous developments, covered in this New York Times article: Brexit Vote Goes Against Boris Johnson, and He Calls for an Election. Excerpt:
British lawmakers on Tuesday rose up against Prime Minister Boris Johnson, moving to prevent him from taking the country out of the European Union without a formal agreement. The epic showdown pushed Britain to the verge of a new election.

After losing his first-ever vote as prime minister, Mr. Johnson stood up in Parliament and said he intended to present a formal request for a snap general election to lawmakers, who would have to approve it.

A little over a month ago, Mr. Johnson, a brash, blustery politician often compared to President Trump, swept into office with a vow to finally wrest Britain from the European Union by whatever means necessary, even if it meant a disorderly, no-deal departure.

Now, Parliament has pulled the rug out from under him, and Mr. Johnson is at risk of falling into the same Brexit quagmire that dragged down his predecessor as prime minister, Theresa May.
I still don't believe Brexit will happen, though I may be wrong on the nature of the revote. I anticipated another referendum, but instead it appears that British voters will throw Johnson and his radical cronies out of office!
3) If one good thing has come from this sordid college admissions scandal, it's that it has shone a spotlight on the many legal but unseemly ways in which the wealthy can greatly increase their child's chance of admission to top colleges: 'Father Is Surgeon,' '1 Mil Pledge': The Role of Money in USC Admissions. Excerpt:
Emails among athletics, admissions and fundraising officials at the University of Southern California show the school explicitly weighed how much money applicants' families could donate when determining whether to admit students.

The messages were filed Tuesday in a Boston federal court by a lawyer for two parents accused in the nationwide college-admissions cheating scandal. He claims USC wasn't a victim of any scheme, but rather based admission decisions in part on expectations of donations from well-heeled families.

There is a long-held assumption that money influences college admissions, but the 18 previously undisclosed documents, obtained during the discovery process in the case, appear to make the direct connection in stark terms.

They include intricate spreadsheets color-coded by university officials to track "special-interest applicants" – applicants flagged for their connections to USC officials, trustees, donors or other VIPs – with direct references to past and prospective dollar amounts of gifts from their families.

Also included are email exchanges about specific candidates whose qualifications were portrayed as questionable by admissions and other officials but whose family ties and bank funds won out.

"VIP" students were described in spreadsheets with references like "given 2 million already," "1 mil pledge," "Previously donated $25k to Heritage Hall" and "father is surgeon," the filings show.
4) College admissions is on my mind these days because our youngest daughter Katharine just started her senior year of high school this morning.
My wife and I dropped her off so we could take a picture that mirrors the one we took 12 years ago, on her first day of kindergarten. How time flies!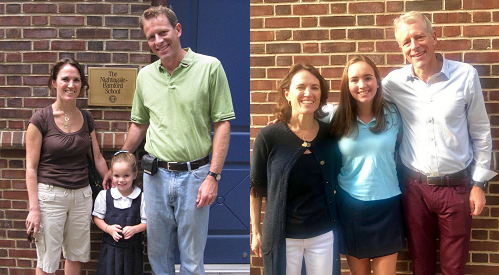 Best regards,
Whitney