► People are dating like crazy during the pandemic…
The COVID-19 era has been particularly lonely for single people living alone. While it might have been feasible to self-isolate in the early days of the crisis, the drive for human intimacy is strong, and eventually overwhelming.
Enter the dating apps. Dating had already been going increasingly digital for more than a decade, and with bars closed and parties canceled, dating is just one more corner of the world that has seen an acceleration in the digital migration.
Shelter-in-place orders were only a couple of weeks old when, on March 29, Match Group's (MTCH) dating app Tinder saw more than 3 billion swipes… the most ever recorded in the platform's history. Earlier this month, dating app Bumble – known for requiring women to make the first move in heterosexual matches – hit 100 million global users, nearly double its tally of 55 million in May of last year.
► 'Quarandating' isn't business as usual…
While the initial digital connection may start with a swipe to the right as it always did, what happens after has been radically changed by the virus. Before, after the initial online match, people move to messaging and ultimately meeting up… but these stages of the courting process look very different these days.
With everyone trying to social distance and minimize their number of contacts, people may end up messaging for a more extended period. This can be a time suck… but also lead to disappointment down the line.
Based on my own experience, I always cautioned daters against engaging in weeks of messaging or e-mailing before meeting up in person. (Confession: I met my husband online 11 years ago, before the rise of the apps.)
Engaging writers can gain a false sense of intimacy through pen pal-type relationships, and then find themselves crestfallen when the chemistry doesn't exist during a long-anticipated real-world meet up. Many pandemic daters are waiting weeks or even months to meet in person, and they report experiencing this kind of let down.
To speed up the meeting process while still observing social distancing, daters – like the rest of the world – are leaning hard into Zoom Video Communications (ZM). But the video-conferencing app is notoriously awkward, even in a business context. Jokes fall flat… and body language is ignored. These problems are amplified in the dating context.
As a 34-year-old dater named Julia recently complained to news site Vox…
I tried two Zoom dates and I've refused to go on anymore. I just feel a friend vibe, and I can't tell if it's the guy or the medium. I really felt like I couldn't be myself – like, my sense of humor is a little sarcastic and teasing-based, and over videoconference that just comes off as cold or mean. The fun part of dating is having one cocktail too many and touching someone's arm. If you can't do that, what's the point?
Eventually after a few Zoom dates, daters schedule in-person meetups. These are overwhelmingly happening outdoors – the New York Times asked 20 people what they were doing for first dates, and going for a walk was the top choice. Picnics, backyard barbecues, and outdoor dining also made the cut. Based on this list, first dates are more likely to now happen during daylight than before, and they probably involve less alcohol.
► The pandemic also seems to have been a time machine sending some daters back to situations they hadn't experienced since high school…
Many adult children are leaving urban COVID-19 hot spots to shelter with their parents in childhood homes. The Times spoke to Jessie Sholl, a 51-year-old writer who fled Brooklyn in March and moved back in with her parents in Minneapolis.
After several weeks of self-quarantine, she wanted to meet up with a guy she hooked up with over Christmas and had kept in touch with. This led to some awkward moments, which she relayed to the Times…
"I had to tell them he wasn't some guy I just met – that we had spent the night together," she said. For the couple's first in-person date, a socially distanced walk in April, Ms. Sholl's father and stepmother stood in the doorway waving.

"It was like being back in high school," Ms. Sholl said. "And then I heard my dad yell, 'Stay six feet apart.'"
To mask or not to mask is another issue for first dates. "Please wear your mask" has become the new "did you bring a condom?"
The pandemic has generally pulled forward awkward conversations about intimacy… and these were already difficult during normal times. Back in simpler days, when people were primarily worried about catching STDs, many would initiate the always-awkward conversation about exclusivity before engaging in physical intimacy.
Not all daters equate sex with exclusivity, and bringing up exclusivity was always a pain point – one that might make or break a budding relationship. Now, merely kissing often prompts the dreaded exclusivity conversation, introducing a potential deal-killer way earlier in the courtship process.
► The more things change, the more they stay the same…
Unsurprisingly, the pandemic has not fixed the No. 1 problem of digital dating. As a friend of a friend commented on Facebook, "It's just funny that even a global pandemic won't stop a dude from ghosting you."
Investing time in texting, chatting, zooming, or even in-person meeting with people only to have them disappear without explanation is not a new problem. While some people are serial "ghosters" because of sadistic tendencies, I suspect most ghosting happens when people have a misalignment – or the perception of misalignment – of dating goals.
Some are looking for a long-term relationship or spouse when they digitally date, while others are looking for Mr. or Ms. Right Now. With people embracing such radically divergent approaches to personal health and safety, the potential for differing attitudes toward physical intimacy explodes.
Just the other day, a friend quipped on Facebook that "trying to date during a global pandemic is basically an exercise in frustration." The post prompted almost 100 empathetic comments in record time. 
One childhood friend commented that she's just giving up for now…
I gave up as well. Sigh. I've found that it reveals a person's true nature really quickly. If he isn't concerned about my level of comfort with social distancing, etc., then it shines a light on how he'd be in a million other scenarios. If he's overly pushy here, consent and/or my pleasure will never be a focus for him.
► All this sounds awful, but let's face it – dating was never easy to start with…
Dating has always included its share of lying and bad behavior. The crazy times can't be expected to change the fact that bad actors will always be out there… nor the fact that courtship is a process inherently defined by its many disappointments.
But maybe there's a silver lining to all this. Could the pandemic actually make the dating process better? Maybe all the complications posed by the pandemic will help people eliminate inappropriate suitors more quickly and engage in more meaningful conversations with potential partners upfront, since physical intimacy for many is pushed out and dating is essentially slowed down.
Tinder reports that on-app messaging is up 20%, and the average conversation lasts 25% longer since the pandemic hit. As Ken Page, a therapist and co-founder of DeeperDating.com explained to the Times…
It [pandemic dating] takes people out of that swipe circuity, the hookup circuity, and it makes people rethink what they're looking for… This is the time to build new muscles and skills of intimacy that so many of us desperately needed but didn't have time for.
And Lydia, a 27-year-old who found a new relationship during COVID-19, told Vox…
I'm happy that quarantine – not coronavirus – happened because I don't think this relationship would otherwise. I would have dated other people. I was very much in a cycle of dating where I wasn't really giving anyone a shot. When you're on dating apps in a big city, there's a million options and it's hard to really get to know someone. It's much easier to have in-depth conversations when you're forced to hang out for hours at a time in a room with minimal distractions. You jump into what life is like together 10 years down the road.
Dominic Gallello, chief marketing officer of the Europe-based dating app Badoo – which has more than 400 million members and a freemium model – told Vox he thinks the pandemic is changing dating for the better…
This crisis is ushering in a new period of modern courtship. Longer, richer conversations taking place, taking the time to get to know people before meeting face to face. 
► Let's talk about sex…
Not everyone is looking for a soulmate. And even those that are will want to test physical compatibility at some point.
For others, the COVID-19 era is like a cold shower.
In the same article, Justin Lehmiller, a research fellow at the Kinsey Institute, explained why the pandemic has such a wide range of effects on libido…
Our research on how this pandemic is affecting people's intimate lives reveals that some people are less sexually active than usual right now, others are reporting no changes in behavior, and some are actually more active than they were before and are pursuing new partners.

There are a lot of reasons for this variability in sexual behavior, but it does seem to stem, at least in part, from the fact that not everyone has the same level of concern about contracting COVID-19.

What this means for the future is that we're going to see a wide range of reactions as we come out of lockdown. For those with low levels of concern, we're likely to see them going about their intimate lives as usual… with some perhaps even becoming more sexually active for a while to make up for lost time.
Public health officials know that the heart wants what the heart wants, and most states are putting out information educating citizens on how to pursue safer sex. This makes sense, as a survey from at-home health test company Everlywell reported that 25% of Americans ages 20 to 31 broke quarantine to have sex during April – the peak for shelter-in-place orders.
States have taken a variety of approaches to their communications, from the straightforward and prudish to New York's boring, single-spaced but extremely explicit document to Oregon's widely circulated, emoji-filled, R-rated cartoon…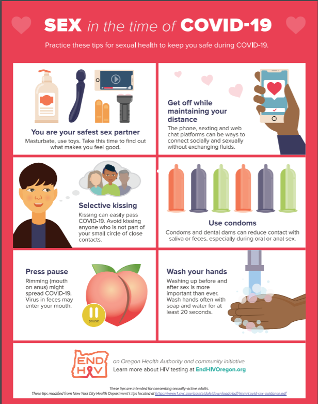 Source: Oregon Health Authority
► Even a pandemic can't stop the universal hunt for love and sex, which makes one stock a secular growth winner…
In prior Empire Financial Daily issues, I've discussed how the pandemic has accelerated the migration of behavior online when it comes to shopping, media consumption, business meetings, collaborative working, and house hunting, among other activities.
COVID-19 has hastened the digital migration of dating, and I think the trend is here to stay. While there are limits to how much of the courtship process can happen virtually, there's no question that dating apps add tons of efficiency to the process of identifying and screening potential partners.
To participate in the growing segment of online dating, look to industry leader Match Group (MTCH). It's the owner of the No. 1 most downloaded dating app, Tinder, and boasts 45 dating app sites operating in 40 languages across the globe. Having many products allows the company to service customers not only in different geographies, but also in different demographics and with different dating goals.
Match-owned apps like Tinder, OkCupid, and PlentyofFish have driven paid users to more than double since Match was first partially spun out from former parent IAC (IAC) back in 2015. Since then, the stock has been a fantastic performer, dramatically outperforming the S&P 500 Index.
► But the growth isn't over yet…
Two-thirds of singles globally and half of singles in the U.S. have never tried a dating app.
As the number of daters turning to the Internet grows, so will Match's profits. While the stock isn't cheap at an enterprise value to earnings before interest, taxes, depreciation, and amortization ("EV/EBITDA") ratio of 34 times, the company has the potential to grow into its valuation as its end markets grow.
Despite its market leadership, Match isn't sitting on its laurels. The company is constantly innovating to meet changing consumer needs. Tinder, for example, responded to the pandemic by adding a video call feature as well as a Global Mode, which allows users to match with people regardless of location. (When no one is traveling at all… who cares how far away someone is?)
With a long runway of user growth ahead – and prospects only enhanced by the pandemic-driven leap forward for virtual dating – long-term investors looking to add a growth stock to their portfolio should take a look at MTCH shares.
► On a more wholesome note, today's mailbag features readers writing in about children's toys…
Are you "quarandating"? What have been the best and worst parts of it? If you met your spouse or partner online or on an app, I would love to hear which one. I'm happy to make any comments anonymous if you prefer. Send an e-mail to [email protected].
► "A lot of our family have always been big on board games. They bought some new ones with the 'shut down' in effect here in Canada.
"Most of our family does not have small children now, my one nephew is 12. Most of us have probably not spent much on toys. The exception being the holidays and now the youngest is 12 so toys are not as much of an interest to him." – Steve V.
► "Berna, Thank you for your commentary on the major toy companies. Do you think the pandemic just advanced toy sales at the expense of the upcoming holiday season, especially if consumer confidence falters going into the holiday season?" – Richard K.
Berna comment: I don't think that strong toy sales so far this year will steal from demand during the holiday season, as new products will launch in the late fall ahead of the holidays… and the toy companies as well as retailers will be advertising them to children who are largely ignorant of the economy and will already be bored of their new goodies from the spring and summer.
Also, a lot of what sold in the first half of the year – like kits full of Legos or art supplies – will be completed or used up by the fall. Much of the first-half spending also went to outdoor and sports toys, which aren't the biggest categories during the winter holidays.
Yet overall household budgets will be reduced for the holiday season, with higher unemployment and underemployment. Usually gifts for kids are the last things to be cut when people slash their holiday budgets, but the economy will nevertheless be a headwind for the toy companies… and any business fighting for a share of consumer spend this holiday season.
► "Hi Berna, my name is Callum Newman and I work for Agora in Australia. I enjoy reading your daily. Do you have a paid product yet?" – Callum N.
Berna comment: Callum, I don't have one yet… but I look forward to launching one next year! Until then, I do contribute ideas to our Empire Investment Report and Empire Stock Investor newsletters.
Regards,
Berna Barshay
July 29, 2020