Look at some of the top-performing stocks of the past decade...
I'm talking about companies like Amazon (AMZN), Netflix (NFLX), Google's parent company Alphabet (GOOGL), and Facebook's Meta Platforms (META).
These tech giants share a few important traits that led to windfall profits for investors.

For one, they all rode the wave of accelerating growth...
By that I mean that their revenues didn't just grow, but they grew at an increasing rate.
It's simple to figure out... Look for a company's quarterly revenue on its income statement. Then, compare the current revenue with the same quarter in the previous year to calculate its annual percentage growth rate.
Many of the companies that performed the best in recent years were growing at 10% annually. Not bad. But then, their growth rates accelerated up to 20% or more – and stayed at this level for years.
In the case of Alphabet, its annual growth rate has been at least 20% for the past several years. And the real moonshots – like Amazon and Netflix – soared to 40%-plus growth for an extended period.
These stocks go against the traditional mindset of value investors. Normally, we look for stocks that trade at a low multiple to either the company's trailing earnings or book value.
However, it's important to set aside a part of your portfolio for growth stocks like these, too. They look expensive on traditional value metrics, but their growth is so rapid that if it can be sustained – a big "if" – then current-year valuation numbers almost don't matter. The accelerating growth swamps the premium price you're paying.
Back in 2012, I bought a lot of Netflix's stock when its revenue growth slowed to around 10% for three quarters, causing its stock to ultimately fall more than 80% to hit a multiyear low below $8 per share. Then growth accelerated and the stock took off, rising sevenfold over the next two years.
Part of that success was due to Netflix's business model. As I explained last week...
Netflix's streaming platform was already built... and now it was enjoying the network effect as more and more people were using it.

Because Netflix paid a fixed amount for its content, it cost the company virtually nothing to add a new subscriber. Each new subscription was almost pure profit.
Netflix became so popular that its name became a verb.

To find great long-term investments, sometimes all you need to do is open up the latest Merriam-Webster dictionary...
The above examples – Amazon, Netflix, Google, and Facebook – are what are sometimes called "verb stocks." Think about it...
You don't look something up in an encyclopedia... you Google it
You don't look in your old yearbook... you Facebook someone
You don't drive to the store to buy dog food... you Amazon Prime it
And these days, you don't go to the movies... you Netflix it

In 2020, a new verb stock burst onto the scene with incredible velocity...
During the height of the COVID-19 pandemic, video-conferencing platform Zoom Video Communications (ZM) came out of nowhere to become an irreplaceable part of our everyday lives.
It was one of the greatest growth stories of all time. In December 2019, Zoom had 10 million daily meeting participants. By March 2020, that number had ballooned to 200 million... and a month after that, Zoom had 300 million daily users.
The company's service quickly became an integral part of Americans' lives, so much so that people "verbified" it practically overnight.
Instead of saying, "Let's set up a virtual meeting," people now say, "Let's set up a Zoom."
Later that fall, Merriam-Webster made it official, announcing that "Zoom" was added to the dictionary as a brand-new verb.
As you might imagine, the company's revenues soared. Revenues skyrocketed from $331 million in 2019 to nearly $2.7 billion by 2021. Last year, they rose to $4.1 billion...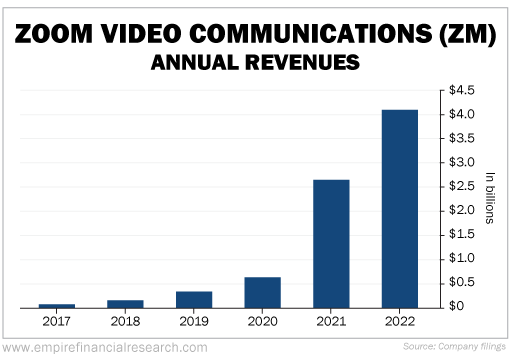 The stock followed suit. During the first 10 months of 2021, ZM shares soared more than 750%. Take a look...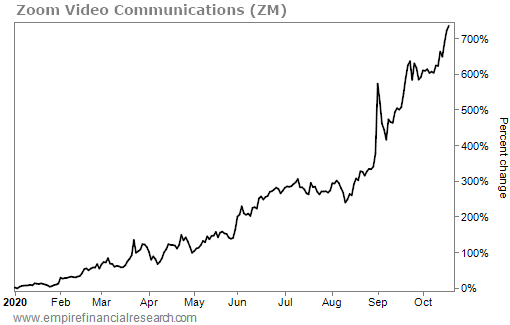 Zoom's business model, like many other verb stocks, is hyperscalable.

Another hyperscalable verb stock went 'on sale' recently...
Through the first half of this year, we've seen dozens of high-quality growth businesses whose stocks have been decimated thanks to panicky retail investors and hedge funds being forced to liquidate. (I think it's likely we'll soon be hearing a lot about the latter.)
For example, look at digital payments giant PayPal (PYPL), which in addition to its eponymous service also owns Venmo.
While I've been critical of the company's disclosures about the fees it charges, it's a great business that generates a lot of free cash flow thanks to a market-leading position in a rapidly growing industry.
Personally speaking, as recently as a year ago I used Venmo maybe once a week. But now I use it almost every day, mostly for two purposes: to pay certain service providers (my personal trainer, tennis instructor, masseuse, etc.), and for my wife and I to transfer money to and from our daughters.
Earlier this month, the company reported first-quarter earnings that beat Wall Street estimates for earnings per share, revenues, and payment volumes. It's also on pace to generate nearly $6 billion of free cash flow this year.
Unfortunately, investors focused on the number of active accounts (which fell from 435 million to 433 million over the past quarter) and management's slightly lower operating margin estimates.
Still, PYPL shares fell almost 13% on the news. They're down about 80% over the past 10 months, from an all-time high above $300 to today's price near $60.
The stock is now trading around 12 times earnings. That's a significant discount to the S&P 500 and it's the cheapest the stock has ever been.

PayPal and Zoom are two examples of high-growth stocks that got thrown out with the bathwater...
That has created an incredible buying opportunity... but you have to separate the winners from the low-quality losers that deservedly got crushed last year.
If you think back to March 23, 2020 – the day the market bottomed during the COVID-19 crash – many experts thought the world was coming to an end. But in fact, the S&P 500 went on to have its greatest 50-day rally ever. The bull market was back on... and certain stocks began the first step toward astronomical new highs.
And now, thanks to last year's chaos in the market, I predict that a historic event will set in motion one of the biggest investment opportunities we've seen in decades. To get all of the details on this breaking story, click here.
Regards,
Whitney Tilson
May 26, 2023