► One thing that always baffled me over my 20-plus years on Wall Street was its obsession with youth…
The careers of many hedge-fund investors mirror the trajectory of professional athletes. Promising young recruits are plucked right after graduation from colleges with strong academic programs, similar to how athletes are drafted into the professional leagues as their college careers end.
Young analysts are taught, nurtured, and mentored… and the ones perceived to be the most talented tend to attract the most investment, as is the case with promising young athletes.
Careers progress, and analysts become more critical to their organizations as they move through their 20s. Many will peak in terms of earning power and desirability in their early 30s when the benefit of experience compounds innate gifts (i.e., smarts and work ethic) to create a productive stock-picker.

Elite athletes follow a similar trajectory…
While physical endurance, strength, or speed may have degraded a bit from peak performance, the emotional control and good instincts that come with experience help to offset that.
Like Wall Street analysts, many athletes learn to approach adversity or high-pressure situations better as they age. Experience breeds confidence in the face of market adversity too, and an ability to make calculated bets in tough times and maintain emotional control are keys to success in both fields.
With athletes, time eventually catches up, and as their bodies wear down, they hang it up.
Humans also will suffer mental decline eventually – but not until much, much later. This is why I've always found it curious that many funds avoid analysts with too much experience.
I know some portfolio managers worry about ingrained bad habits or that people get lazier or "less hungry" as they get older, but I've found that the skills that come with experience outweigh the potential downsides.
People who truly love the markets – who want to win the game (and make money) – can hold on to their hunger and competitive spirit for decades. Thus, experience is an often-underrated asset on Wall Street, where I spent 20-plus years.

One way that experience can help you is that your contacts grow up with you, and you can borrow their experience in your investing…
One thing that distinguishes us at Empire Financial Research is that my colleagues Whitney Tilson, Enrique Abeyta, and I all spent decades on Wall Street working in the markets. This experience helps us sniff out good ideas, spot scams, and figure out where the markets are headed.
Beyond that, it gives us a great Rolodex of former colleagues and business associates who can point us to great investing ideas.

But just as valuable – or perhaps even more valuable – have been the contacts who don't work on Wall Street…
I'm talking about the people I worked with on Wall Street early in my career who left to work in tech, media, or some other industry.
Or the entrepreneurs and venture capitalists I met when working at a fintech startup and as an outsourced CFO at several early-stage companies.
And last but certainly not least, the many people from my college and business school years who never set foot on Wall Street but went on to become titans of industry in nonfinancial sectors.
Because of the big qualitative factor in consumer industries, having Main Street contacts is just as important as having Wall Street ones.
Differentiating between fads and sustainable growth is an art, not a science. And value traps are plentiful in the consumer space, as are promotional management teams who are gifted at telling a story to Wall Street but often less adept at running their companies.

One way to parse through the hype has been to run ideas by people who actually work in the field…
One such example occurred when retailer J.C. Penney came under new management that decided to embark on an untested strategy of removing all promotional discounting.
The vision that new CEO Ron Johnson laid out when he took over in late 2011 struck me as something that could work at a luxury retailer but made no sense at a lower-end one. My instincts, developed over more than 15 years of investing in retailers, told me the corporate strategy was bananas.
I was ready to short the shares, which were trading for more than $30 at the time. But Wall Street was infatuated with Johnson, who had come over from tech giant Apple (AAPL), where the retail stores had been a huge hit.
I called a few friends who worked at retailers and asked them what they thought about J.C. Penney pulling the promos. I got responses ranging from the visceral ("He's on crack!") to the quantitative ("I think their comps will be down more than 10%"). The comments were all peppered with real-world examples of why the strategy would fall flat – or worse.
One C-level executive told me that when management experimented with pulling promos in select regions, it saw same-store sales plummet – more than offsetting any gains from higher selling prices.
I shorted the stock in the $30s after hearing about the real-world disasters others experienced when they merely tried testing the strategy that J.C. Penney management was embracing full throttle.
I wasn't surprised when J.C. Penney's same-store sales fell more than 30% – an almost unprecedented number (at least until last spring's lockdown). Within two years, the stock was down almost 80%…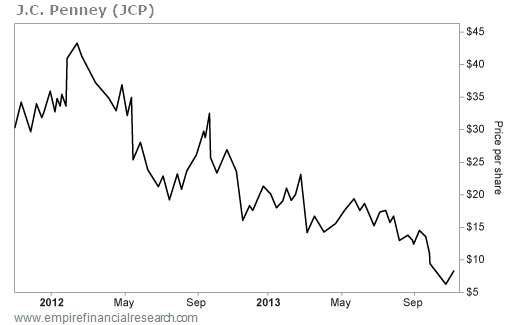 Another time my 'BS detector' went off was when apparel company Vince (VNCE) went public…
The apparel maker had convinced Wall Street that it was the next great "lifestyle brand," in the tradition of Ralph Lauren (RL) or Capri Holdings' (CPRI) Michael Kors.
Management planned to sell everything from clothes to pricey handbags to premium shoes, even though the vast majority of the existing business came from selling pants and cashmere sweaters. It seemed like an odd bet that the brand could extend into these other categories. It had no expertise, experience, or authentic heritage in accessories.
To confirm my hunch, I asked friends who sold apparel, footwear, and/or bags to department stores – or were buyers at such chains – if they thought consumers would be clamoring for Vince handbags or high heels.
The answer came back a definitive no. I shorted the stock shortly after it went public, and things worked out pretty much how I expected: I minted money on the short, as VNCE shares were down more than 90% in two years.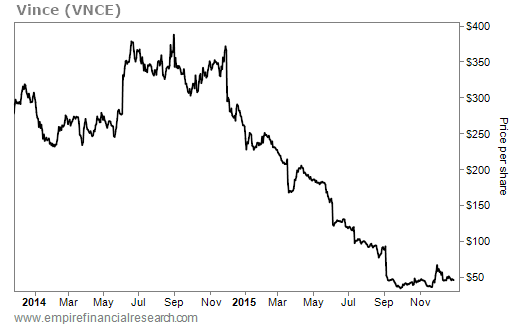 One thing that has been helpful in cultivating key industry sources is that more women than men tend to go into industries like retail, apparel, footwear, beauty, and even media… so a lot of my professional sources have been developed by meeting people through school, activities, and motherhood.
While anyone can hire consultants or pay for information from professional expert networks, the uncensored and candid feedback you get from genuine, personal, unpaid relationships can't be duplicated and is almost always better than the information you can buy.

Sometimes, a throwaway comment can lead you down the path of investment success…
Last year, subscribers to our Empire Investment Report newsletter benefited from this kind of idea sourcing when we recommended shares of footwear company Crocs (CROX).
My close contacts at two retailers made off-the-cuff, unsolicited comments about strong Crocs sales at their stores.
After those comments, I dug into Crocs myself and saw the company was benefiting from a great PR cycle, with lots of celebrities wearing the shoes. Green shoots were apparent in the migration from stores to e-commerce as well. Having covered footwear for decades, I also knew who the best sell-side analysts in the space were – and saw that my two most trusted Wall Street footwear analysts were bullish.
CROX shares were a no-brainer buy last July when I was tipped off to them by comments that were quick, unspecific, and could have easily been missed had I not been listening closely.
Since then, CROX shares are up around 190%. My only mistake was taking profits too soon…
While I regret that I pulled the trigger too early here, Empire Investment Report subscribers who followed the advice still enjoyed a 49% return in less than four months. That's an annualized return of nearly 150%.
Most of us know people who are experts in their field. Ask them questions – because you can learn more from them than any book can teach you. And keep your ears open for the little tidbits. They don't always sound like much, but they might just lead you to your next great investment idea.

Speaking of great investment ideas…
In case you missed it earlier this afternoon, you still have time to watch Empire Financial Research's first-ever Wealth Accelerator event.
In this presentation, my colleague Whitney Tilson and I explain why a specific combination of factors has given you the chance to pull in what could very well be the biggest gains you'll ever make. Thanks to what we've found in a "hidden" corner of the stock market, you could earn a consistent stream of potential triple-digit gains… Learn more here.

In the mailbag, readers ask about dual share class structures, and two questions about electronic vehicles ('EVs')…
Do any readers have go-to sources for insight on a particular industry or sector? Are there sectors that you tend to gravitate to or others that you prefer to avoid? Are there some sectors that are just too hard without having access to experts to help you out? (I feel this way about biotech.) Send an e-mail to [email protected].

"Hello, I enjoy reading your newsletters.
"Can you explain the differences between the A and B shares and how one decides which category is best for investors? For example: Alphabet (GOOGL), ViacomCBS (VIAC), Lennar (LEN), Discovery (DISCA), Volkswagen (VWAGY)?" – Heather T.
Berna comment: Good question, Heather. Usually, when there are two classes of stock like that, it's because one has more voting rights than the other. For example, each Class B share may have the right to one vote, whereas the Class A shares each get 10 votes. Unsurprisingly, in this situation, most of the Class A shares would likely be held by an insider, like a founder-CEO type (or group of insiders). The vote counts can vary by company.
In the case of Alphabet, for example, there are Class A shares that carry one vote per share and Class C shares that have no voting rights associated with them. There's also a third share class – Class B – that doesn't trade publicly and carries 10 votes apiece. These Class B shares are held by insiders such as co-founders Sergey Brin and Larry Page.

"Hi Berna, Do you have any thoughts about Ford's (F) future with the launch of this new electric truck. The initial response seems very positive, and the way it can provide emergency power to a house is very appealing. Many thanks for all you do for us." – Rodger D.

"Dear Berna, I am and have been a Lucid EV fan and even have a Lucid Air reserved on order for next year. Anyhow, I waited until special purpose acquisition company ("SPAC") Churchill Capital IV (CCIV) made a deal with Lucid for funding. I was cautious for a while because I had read some of your cautions about SPACs. I jumped in for 200 shares after it had peaked, but then it kept going down, and I bought 100 more, etc., finally buying a hundred shares around $17. Even with the cost averaging, I am still a few thousand in the hole. The last few days have been really encouraging as the stock has been rising as there has been more publicity about that beautiful car and its innovative technology.
"Having been burned on that one, I did a similar move with Hyliion Holdings (HYLN), but it too seems to be having a slight rise.
"What are your thoughts about EVs and some of the associated SPACs as there are a number being mentioned? Do you have any favorites for us subscribers?" – Mitch F.
Berna comment: Regarding both Mitch and Rodger's questions, I have spent limited time on EVs… It's a fascinating area, but there are just so many hours in the day. However, my colleagues Whitney Tilson and Enrique Abeyta have spent tons of time in the EV space. With so many stocks in the market, sometimes it's best to divide and conquer!
While I can't comment about Ford, Lucid, or Hyliion specifically, I will say that for a long time I have thought the 800-pound gorilla and the first mover in the EV space, Tesla (TSLA), would see increasing competition over time and not "own the market" in the intermediate- or long-term. With so many companies popping up, products will keep getting better, and competition will keep intensifying.
We are bullish on EVs overall… And while I can't comment on these specific stocks, I recommend you check out Whitney and Enrique's most recent Transportation as a Service ("TaaS") presentation, which covers many issues related to EVs. You can find that presentation right here.
Regards,
Berna Barshay
June 10, 2021