1) Sentiment is terrible among business leaders.
I highlighted this point in yesterday's e-mail, and it's captured well in this front-page story in today's New York Times: 'Less Optimistic' and 'More Cautious': Top CEOs Fret as Virus Cases Rise. Excerpt:
With coronavirus cases around the country on the rise and states rolling back their reopening plans, many of the nation's top business leaders are steeling themselves for a period of prolonged economic disruption and the prospect of a slow, halting recovery.

"I'm less optimistic today than I was 30 days ago," said Arne Sorenson, chief executive of Marriott International. "The virus is in so many different markets of the United States."

Mr. Sorenson's outlook, like those of many chief executives, has worsened in recent weeks as virus cases have spiked in the South and the West, leading some states to close businesses that had previously been allowed to open.

He said that after bookings at Marriott's hotels rose in early July, they had recently fallen again. "The last week was weaker than the week before," Mr. Sorenson said.

While retail sales have mostly rebounded to pre-crisis levels and the stock markets remain buoyant, business leaders and economists still see serious cause for concern. Tens of millions of Americans are out of work. Important parts of the economy – including live sports, movie theaters and many tourist attractions – remain largely shuttered. Business districts are still primarily empty as people continue working from home. And as the virus spreads, new lockdowns could cause further economic disruptions.

Already, there are signs the recovery is losing momentum.
2) To understand how badly we've failed in our response to the coronavirus, look no further than the graphic below from this Washington Post article: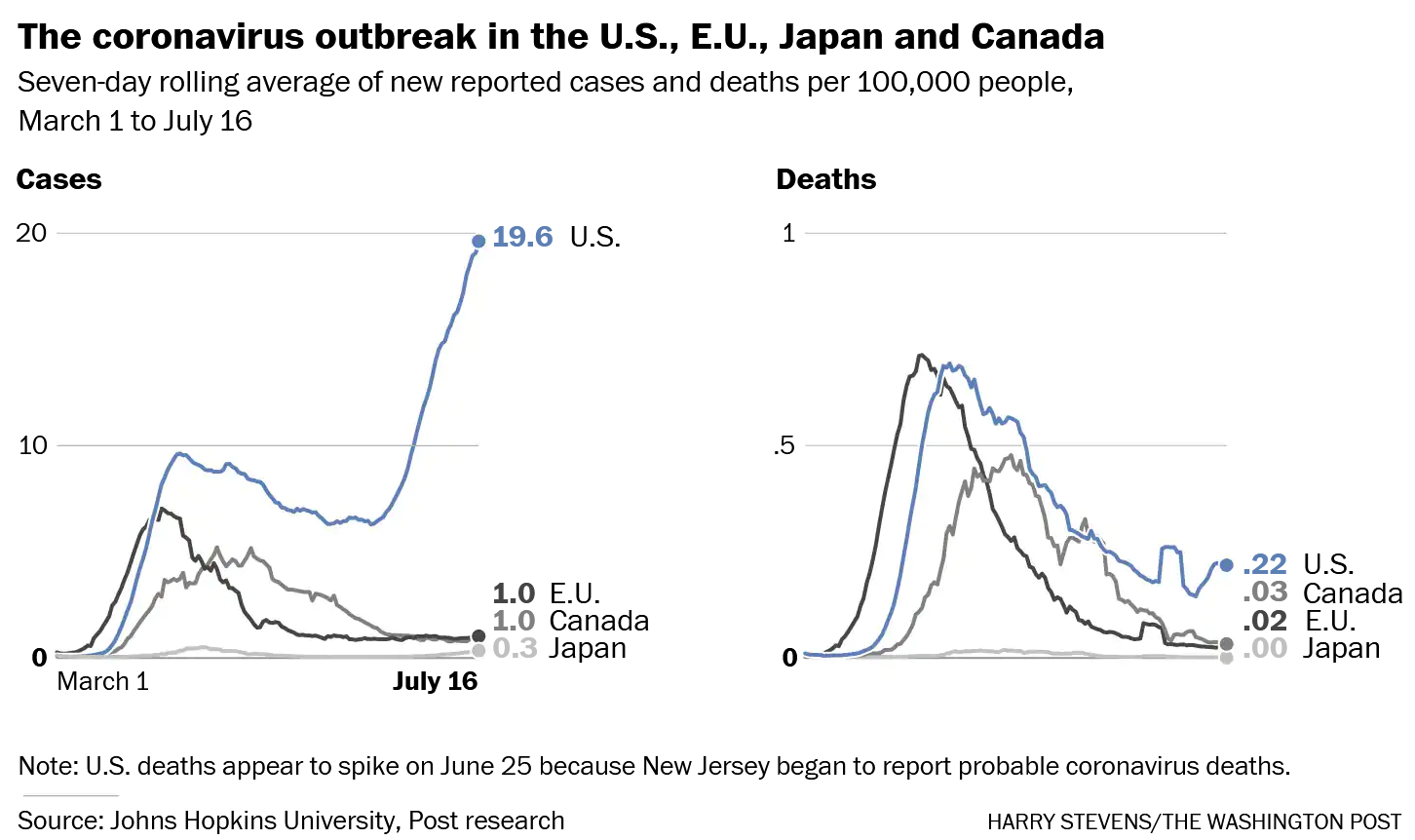 3) I, however, am more optimistic…
While we have indeed completely bungled just about everything related to the pandemic – and, as a result, paid a fearsome and unnecessary price – I think we will soon see a sharp drop in both cases and deaths, for reasons Adam Patinkin of David Capital Partners outlined in my e-mail last Wednesday.
Since then, there has been quite a bit of evidence that his thesis is playing out, which I shared with my coronavirus e-mail list yesterday (here's a PDF of what I sent out – if you wish to join this list, simply send a blank e-mail to: [email protected]).
In short, it appears that the hard-hit "FACT" states (Florida, Arizona, California, and Texas) may be past their peaks in cases, hospitalizations, and deaths.
If so, this is extremely good news for our country – and very bullish for stocks.
4) Continuing my series on how to cultivate mentors, here are my thoughts on the second step: pre-contact preparation.
People really like it when others show a genuine interest in them. So if you want someone to become a mentor (or just make a new friend), you must show genuine interest in and appreciation for them.
To do so, in the case of a mentor, you need to know as much as possible about them. So before contacting them, start with a Google search so you can demonstrate that you do your homework, show that you're interested in them, and learn about connections (college, kids, pets, sports, travel, language, culture, etc.) that, over time, can lead to good feelings, bonding, and mentorship. Ditto if you've just met someone you think you'd like to be friends with.
Then look for other ways to gain insight. For example, in preparation for Anderson Cooper interviewing me on 60 Minutes for the story on Lumber Liquidators (LL), I read his autobiography and discovered many connections: he was a Yale '89 political science major who traveled around Africa after graduating, while I'm a Harvard '89 political science major who's lived and traveled extensively in Africa.
Knowing a lot about someone will allow you to find multiple ways to engage with them and build a relationship.
Best regards,
Whitney