1) Last Tuesday, my colleague Enrique Abeyta and I hosted a free webinar on the coronavirus crisis and its implications for investors. We did a deep dive and took many questions from attendees for more than two hours.
Replays of events like this are usually only available to our paid subscribers… But in light of the current crisis and the importance of our message, we decided to make it available publicly for a week here – meaning today is the last day to watch it.
During the webinar, Enrique and I explained why we're cautiously optimistic that the measures we've ramped up over the past few weeks are having their desired effect – sharply reducing the replication rate of the coronavirus and, therefore, the growth in the number of newly infected Americans. We're even more confident of our conclusion today.
As it becomes clear that we've controlled the spread of the virus and know exactly where the outbreaks are – which could happen as soon as a couple of weeks from now – we can start bringing our economy back to life… and stocks will go nuts!
I've said it before… this is the absolute best time to be an investor in more than a decade. To borrow a phrase from a friend of mine, Enrique and I are "trembling with greed" right now.
Again, you can watch the replay of the event right here.
2) Reader Steve L. sent this profound and beautiful e-mail yesterday that I wanted to share:
I have never responded to the writers of subscriptions. However, your data on the virus has actually calmed my wife and our family since it suggests a better outcome and less deaths assuming everyone that should stay in place, stays in place. I shared your data with some family and friends that were becoming hyper stressed as they watch every media talking head forecast the extreme "possible" outcomes. I forwarded your data supported logic and helped them understand the extremes were highly unlikely. This helped them calm down and I presume become less stressed out. I even suggested they turn off what I call the "case ticker tape" of the news media and just understand the math will get ugly these next few weeks and then, hopefully tapper off.

Of course, this is not to suggest the data isn't painful since real human life and suffering is occurring and the importance to stay at home is not lost on us. We have family in the front line from emergency responders, health care professionals, to educators. Listening to them and understanding the stress they have is what the wife and I can offer.

The point is we remain calm and have the ability to reason things out and let everyone know we will be OK. We are creating new ways to speaking openly about how we feel and we are adding new ways to socially connect, albeit not in person for awhile.

As to wealth, we all took a big hit and the wife and I are recently retired (fastest hit I have ever had in past 5 decades). And yet, we will survive since we have always advocated the near term as 3 years without reliance on the stock market. It will come back. If anything, our children have come to embrace what I have preached in terms of rainy day liquidity and how you invest long term in the market.

Our current focus is to stay safe and help others who may be in need to the extent we can.

Thank you for your informed thoughts on the virus and the market. De-stressing is life saving.

God Bless.
Thank you, Steve!
(You can join the 3,600-plus people on my coronavirus e-mail list by simply sending a blank e-mail to: [email protected].)
3) Every day, I become more optimistic because of new medical discoveries like this: a new study shows that a century-old tuberculosis vaccine, bacillus Calmette-Guerin ("BCG") – which is given to 130 million newborns worldwide each year – may offer protection against the coronavirus. This is critically important for two reasons: first, it might explain why the U.S., Italy, and Iran have gotten walloped, but not Japan or Brazil. And second, it might be effective if injected right now to protect people! TB Vaccine Could Be a Valuable Weapon in COVID-19 Fight. Excerpt:
According to the study, made widely available by MedRXiv, a combination of reduced morbidity and mortality could make the BCG vaccination a game-changer in the fight against COVID-19. As one of the most widely used vaccines in the world, the BCG vaccine has existed for nearly a century and has been shown to be an effective tool in preventing meningitis and disseminated TB in children. The inoculation is also believed to offer broad-ranging protection against respiratory infections, which present similar symptoms to COVID-19. In fact, Australian researchers have just announced plans to fast track large-scale testing to see if the BCG vaccination can protect health workers from the coronavirus…

For example Iran, which has a current universal BCG vaccination policy that only started in 1984, has an elevated mortality rate with 19.7 deaths per million inhabitants. In contrast, Japan, which started its universal BCG policy in 1947, has approximately 100 times fewer deaths per million people, with 0.28 deaths. Furthermore, Brazil started universal vaccination in 1920 and has an even lower mortality rate of 0.0573 deaths per million inhabitants.

So why do some nations vaccinate while others do not? As TB cases fell in the late 20th century, several higher-income countries in Europe dropped their universal BCG policies between 1963 and 2010. In the United States, the CDC currently recommends the BCG vaccine only for very select persons who meet specific criteria and in consultation with a TB expert.

Among the 180 countries with BCG data available today, 157 countries currently recommend universal BCG vaccination. The remaining 23 countries have either stopped BCG vaccination due to a reduction in TB incidence or have traditionally favored selective vaccination of "at-risk" groups.
4) New research also make me bullish. These are incredibly important and innovative data because, in the (disgraceful) absence of widespread testing, they give us critical information we've been missing – namely, where are the outbreaks and what measures halt them: Restrictions Are Slowing Coronavirus Infections, New Data Suggest. Excerpt:
Harsh measures, including stay-at-home orders and restaurant closures, are contributing to rapid drops in the numbers of fevers – a signal symptom of most coronavirus infections – recorded in states across the country, according to intriguing new data produced by a medical technology firm.

At least 248 million Americans in at least 29 states have been told to stay at home. It had seemed nearly impossible for public health officials to know how effective this measure and others have been in slowing the coronavirus.

But the new data offer evidence, in real time, that tight social-distancing restrictions may be working, potentially reducing hospital overcrowding and lowering death rates, experts said.

The company, Kinsa Health, which produces internet-connected thermometers, first created a national map of fever levels on March 22 and was able to spot the trend within a day. Since then, data from the health departments of New York State and Washington State have buttressed the finding, making it clear that social distancing is saving lives.
5) New York City is ground zero of the worldwide coronavirus epidemic. As of yesterday afternoon, there have been 38,087 cases, 7,741 hospitalizations, and 914 deaths among my fellow New Yorkers – these figures are frightening, horrifying, and heartbreaking.
I follow these numbers closely because it's very personal to me – but also because, as one of the earliest and hardest-hit areas (along with Seattle), New York is on the front lines of the battle to contain and then defeat this terrible scourge. This will, in turn, give us insight into what measures the rest of the country needs to take (and not take), and what we can expect in other cities earlier on the curve such as San Francisco, New Orleans, and Detroit.
There may be good news to report from my hometown: new cases (the earliest leading indicator, in the absence of widespread, random testing) has bounced around in a range for the last six days:
Hospitalizations have been in a range (albeit a very wide one) for 12 days – and plunged yesterday. This is remarkably great news, of course, if we can sustain this. We should all hope it reflects new, effective treatments like hydroxychloroquine and azithromycin…
Deaths, however, are on an upward trajectory, which is to be expected, as it's a lagging indicator by a couple of weeks…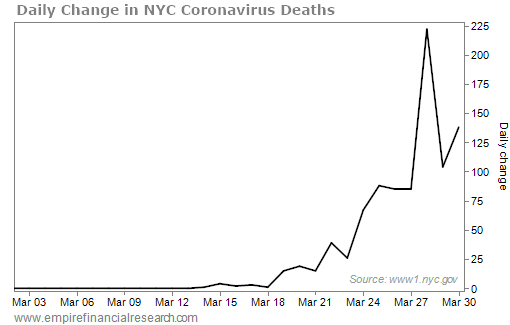 6) Speaking of hospitalizations, I spent another 13 hours yesterday helping build an emergency field hospital – that happened to be directly across the street from my apartment building – to handle possible overflow of coronavirus patients from Mt. Sinai Hospital.
It was one of the most exhausting (which is saying something for a guy who's run four 24-hour World's Toughest Mudders!) but rewarding days of my life…
My buddy Alistair duPont and I started by assembing a kit to make two empty boxes to hold supplies (note the masks and good distancing!):
Alistair and I took off our gloves briefly for the picture above, but as you can see here (along with three friends: Nick, Tony, and Nathaniel), we were wearing gloves the whole day (check out the bright colors):
We set up a couple of tents (there are 14 on the site), like this:
Here's one of the tents with some beds set up:
Then we carried heavy metal barriers to set up a perimeter that looks like this:
Then it was lunchtime, where my friend Charles Devigne, who owns Lexington Pizza Parlour (a few blocks away) was a true hero. He brought over 15 pizzas to feed all of us! And he's not done – he's bringing pastas, salads, and cannolis for lunch today. (During these tough times, please support your local reataurants!). Charles is on the right here:
Here's everybody enjoying the pizza:
In the afternoon, a truck dumped two huge piles of mulch, which we used to create walkways for the staff and patients all over the compound, since it was getting muddy and slippery. It was backbreaking work over many hours, but I had a brilliant idea that cut the time in half…
We only had a few shovels, which couldn't carry much mulch, so I walked a block back to my building to see if they had any shovels to spare. When I went with the handyman to the basement, I found four shovels – but, even better, I noticed "saucers" that my daughters and other kids in the building used for sledding on the hill across the street (right where the field hospital now sat!).
It occurred to me that a saucer was perfect for carrying mulch, so Alistair and I grabbed a dozen of them – and they turned out to be perfect! Here's a picture of us with our saucers full of mulch (behind us, you can see others using them as well, the path we're making, and guys raking it):
I'm really proud to say that two of my three daughers (one is in North Carolina) came out to haul and rake mulch as well – they were troopers (17-year-old Katharine on the left and 24-year-old Alison on the right)!
My buddy Tony Eisenberg (in the picture above) brought his brother Aaron Mazor, who distinguished himself with his scary mask and plumbing skills!
Katharine and I went back at night to bring flashlights and headlamps (my World's Toughest Mudder gear came in handy!), since the hospital didn't have electricity yet (which is okay because there were no patients yet – it opens tomorrow). I took this spooky photo of one of the critical care tents.
Lastly, the New York Post article I linked to in yesterday's e-mail, Massive field hospital for coronavirus patients going up in Central Park, was on the front page:
And on the inside, there was a picture I was in (in the orange jacket):
It's truly amazing that Samaritan's Purse put together a world-class hospital, able to treat the most serious cases, in only two days! If you want to support their work with this specific hospital, click here.
I'm back here today!
Best regards,
Whitney