Iconic rocker Neil Young has some harsh words for popular podcast host Joe Rogan...
In a post on his website – which has since been deleted – Young instructed his record label and managers to pull his music from the leading streaming service Spotify (SPOT) in protest over the company's role in "spreading fake information about vaccines – potentially causing death to those who believe this disinformation."
At the heart of Young's complaint is the wildly popular podcast The Joe Rogan Experience. Back in 2020, Spotify paid a reported $100 million to make the podcast exclusive to its app. With an estimated 11 million listeners, the podcast regularly sits on the top of the Spotify podcast chart and typically ranks as the first or second most listened to podcast in the U.S.
Earlier this month, 270 doctors, professors, and scientists published a letter alleging that Rogan was spreading misinformation about the COVID-19 pandemic and vaccines, and they called on Spotify to "take action against mass-misinformation events."
Specifically at issue was the December 31 episode where Rogan hosted Dr. Robert Malone as a guest. Dr. Malone was recently banned from Twitter (TWTR) because of statements regarding unproven vaccine-related deaths as well as false claims that hospitals are financially incentivized to label non-COVID deaths as COVID-related deaths. Alphabet's (GOOGL) YouTube immediately removed clips from the December 31 podcast, citing a violation of community guidelines.
Dr. Malone's theories have been discredited by fact-checking outlet PolitiFact, the AP, and other sources, but Spotify has repeatedly committed to a censorship-free environment and has declined to put limits on Rogan's content.
In the wake of the recent letter, Young's frustration boiled over and he issued the ultimatum to Spotify...
I want you to let Spotify know immediately TODAY that I want all my music off their platform. They can have Rogan or Young. Not both.
As legendary as Neil Young's work was with Buffalo Springfield and then Crosby, Stills, Nash, & Young and then later as a solo artist, in an isolated throwdown, Rogan is far more financially important to Spotify. He is the marquee property sitting at the top of Spotify's fast-growing podcast business, one which it is anchoring a lot of its future on.
But there's a risk that other artists join in on Young's activism. If that happened, Spotify would have a real problem on its hands.

Spotify is currently winning the battle for streaming music subscribers but has big aspirations beyond music...
As you can see in the graphic below from Chartr, Spotify continues to build on its lead in the music streaming space...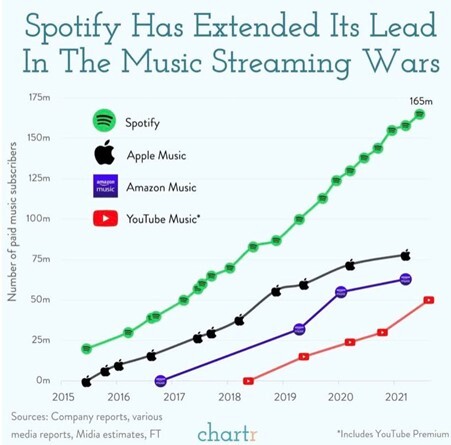 Source: Chartr
Spotify is more than holding its own despite competing in the music streaming space with three tech giants: Apple (AAPL), Amazon (AMZN), and Alphabet.
Despite this market share success, Spotify has yet to sustainably turn profitable. It has been profitable during a couple of isolated quarters and analysts are looking for it to turn into the black this year. But slow progress on improving operating margins has been a source of frustration for SPOT bulls. It has been yet another version of what I call "profitless prosperity," as Spotify has been killing it on subscriber and revenue growth but continues to bleed losses on the bottom line.
Spotify has always been a story about the big total addressable market ("TAM"). Virtually everyone in the world listens to music. But with just 172 million paid subscribers and only 381 million total users, which include the ones using its free ad-supported service, Spotify bulls point to the fact that this company has a lot of growth to go.
But the music streaming business is tough in that the cost of goods sold is high, which has limited operating leverage at Spotify... even as its user count has exploded. Spotify gives up about 70% of revenues to the music publishers that own the rights to the songs that users stream. That reliance on third-party owners for content has made achieving operating leverage hard. Spotify has less than 30 cents of every dollar it collects to cover marketing, technology, and other costs.
Its video streaming peer Netflix (NFLX) realized this problem early on and moved into making its own original content, believing it could achieve better operating margins this way.
Spotify originally tried to reduce its reliance on third-party content by trying to get artists to post music directly to the app. In the age of YouTube and TikTok music stars, the hope was that Spotify might disintermediate the record labels and become the platform of choice for new artists.
But it turned out that disintermediating the music publishers wasn't so easy... It's hard to create a global music superstar. A lot of marketing and promotion go into it, and it's hard to replicate the reach and knowledge of the big three music companies. Also, a substantial percentage of music streams are deep catalog and will always have to be paid for... there's a reason Bob Dylan, Bruce Springsteen, and David Bowie's estate get such big bucks for these music catalogs.
In the quest to have more control over its destiny, Spotify took a page out of the Netflix playbook and took aim at original content for the growing podcast market.

The podcast market has exploded in listeners over the past few years...
As you can see from the Bloomberg chart below, 25% of Americans listen to at least one podcast per month...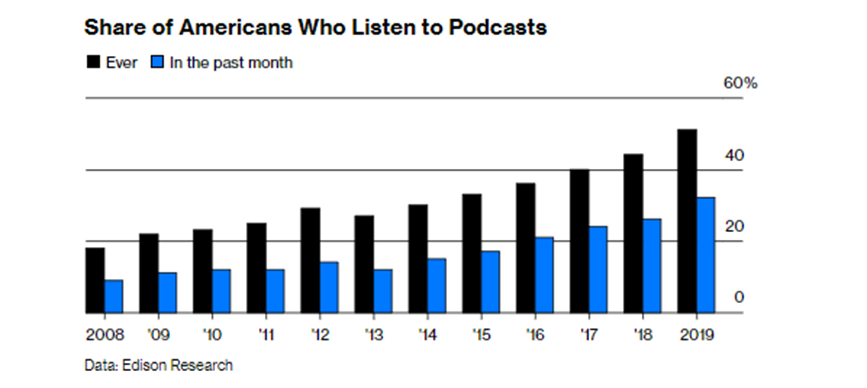 Source: Bloomberg
The number of Americans listening to podcasts has more than doubled over the past decade.
With all this growth, Spotify set its sights on winning in all of audio, not just in music.
Having exclusive access to a hot podcast is one way to get a consumer to choose Spotify over Apple Music. So Spotify ran out and inked a ton of deals – signing up not just Rogan to an exclusive deal, but also other personalities like former first lady Michelle Obama, Prince Harry and Meghan Markle, Dax Shephard, and Kim Kardashian. The company also went on an acquisition binge – buying podcast studios like Gimlet and Parcast.
But trying to win a hotly contested market share war by paying for exclusive content is very expensive, especially when competing against deep-pocketed players like Apple and Amazon. As Bloomberg commented...
Spotify's outsize investment in podcasting almost guarantees that it will supplant Apple as the world's No. 1 distributor. But is the company creating a business or a bubble? It's spent millions of dollars buying shows it gives away for free and will continue to lose money on podcasts for at least a few years. It's had little success reducing payments to the record labels.
Spotify's more recent acquisitions point to it trying to pivot from being the "Netflix of Audio" to being more like the "YouTube of Audio." It has bought a company that provides tools that make uploading user-generated content easier, indicating that it wants to go for breadth of content and allow lots of niche creators to participate in its podcast platform. It has also made acquisitions in audiobooks and live audio (a Clubhouse/Twitter Spaces competitor), indicating it wants to be a player in all things audio.
Spotify also bought an ad tech company, which should improve its ability to insert advertisements into podcasts and target users based on the data it collects. One advertiser complaint about podcasts is that most data tracks downloads, not listens. So if an advertiser buys based on downloads, it could be overpaying for ads that sit unheard on phones. Technology that inserts the ad while the podcast is being actively listened to would go a long way to growing the podcast advertising market, which currently sits at a pretty small $1 billion.

All these acquisitions put together point to Spotify's aspirations to become a platform for all things audio – and with that, a much bigger player in the global advertising market...
Spotify co-founder and CEO Daniel Ek has said that ads are an $18 billion opportunity for Spotify. Right now Spotify gets 90% of its revenues from subscription fees, and just 10% from advertising, primarily from ads inserted into music streams, but to a lesser extent from podcasts as well. But as Spotify looks to grow as a platform for not just music but also podcasts, books, live chats, and possible live performances... there will be more chances to put in ads.
The more success Spotify has in becoming a true platform for all things audio, the better margins should become because the cost of user-generated content is low, especially when compared to what it has to pay to the music companies now, or to superstars like Joe Rogan or Michelle Obama.

But even if it is successful in its business evolution, this is probably not the last time Spotify has a content controversy like the current one between Young and Rogan...
In past Rogan controversies, Spotify has ended up pulling the episode in question. It did this with episodes in which Rogan hosted conspiracy theorist Alex Jones and Proud Boys founder Gavin McInnes, who has been banned from Twitter, Facebook (FB), and Instagram for promoting hate speech. In fact, Spotify has pulled 42 episodes from the Rogan archives. I wouldn't be surprised if that number goes to 43.
That might put this controversy to rest, but there is sure to be a next one.
The tricky thing with content – news content in particular, but increasingly fictional content as well – is that we are living in an extremely polarized country. And all content gets consumed within this polarized lens.
Once upon a time, this polarized war was fought between Fox News and MSNBC. Now you can't stream "Rockin' in the Free World" in peace without getting pulled into politics. This is a problem that isn't going away – not for Spotify... not for Google and YouTube... not for Facebook... not for Disney (DIS)... not for Netflix... and not for anybody else.
Whether operating as a content production house, a content distribution platform, or a little bit of both... the push-pull between censorship and freedom of speech – especially when it comes to hate speech or deliberate misinformation – is going to rage on.

In the mailbag, readers react to recent essays on nuclear power and emotional investing, plus last night's big event...
Are you a big podcast listener? Which ones do you listen to? Does having exclusive podcasts make you more inclined to choose a particular music streaming service? Do you think we are heading in the direction of having "left media companies" and "right media companies" the same way we do for cable news channels? Share your thoughts in an e-mail by clicking here.

"Thank you, On nuclear energy: I certified on the pressurized water nuke plants S7G in NY and as Chief Reactor Watch on what's used aboard the USS Abe Lincoln (CCVN-72); I was what they called a 'nuke' in those military circles, and as part of those who understood the acronym 'NRA' differently than most Americans, I still say that 1), it's pronounced 'nucular' because Bush 43 said so, and 2), there is no single best energy source in the advanced economy of a complex society, and we must continuously consider the costs, benefits, and flexible adaptability of our required energy mix.
"On advice for non-emotional investing: As someone whose Finance class broke his 4.0 GPA at university, my willingness to provide any financial advice is inversely proportional to how much someone is willing to pay me for it; offer to compensate me handsomely for my words of investment wisdom, and I know well enough to be as silent and ignorant as possible; if you wouldn't give 2 cents for my take on this year's hot tech stonks, for you I'll be a run-on sentence of priceless information.
"p.s. BB, speaking against the detriment of emotion, your comforting and assuring words against panic do not fall on deaf ears and, as they say in pop culture, 'you feel me.' As I've referred to above--consider the source; your sympathetic words carry more weight because they are from a trustworthy professional. Well received and much appreciated." – Ricky M.
Berna comment: Ricky, I'm glad the "don't panic" essay from Monday was helpful. I know these are trying times in the markets for many folks. We were spoiled for a long time by a lack of downside volatility.

"All: Overall, I greatly appreciated the webinar remarks, but have two unanswered questions; the first on something that completely confused me in the overall predictions, and the second on a topic we rarely hear about amidst Empire's growth stock-oriented message:
"1. I thought the '7th/8th inning' metaphor used in the webinar was used by Enrique and others as a prediction of where we stood in the current stock market DROP---that the DROP is in the 7th/8th inning--but that performance of equities is predicted to rebound, returning to a Bull/growth market stage. However, at the very end of the webinar, I became CONFUSED, as the ever-articulate Whitney remarked that the markets' bull run is in 7th/8th inning. Did I hear that incorrectly? Please, which is the message, the market drop is in 7th/8th, or the overall bull run in the market is in the 7th/8th? Or are both true??
"2. What, if any, suggestions/investment picks does Empire have for those of us approaching retirement and also trying to build an income portfolio based on interest investing? Any ideas/strategies for devoting part of our investment management into income investing?" – John M.
Berna comment: John, I'm sorry if the message was confusing. Part of that comes from the fact that each of us have our own individual opinions about the market. There is no single "Empire view." Enrique most definitely was expressing a strong belief that we are getting near the end of the sell-off, particularly in growth stocks.
I can't remember specifically what Whitney said at the end, but 13 years into a bull market... it wouldn't surprise me if he thought we were in the seventh or eighth inning of the bull market that began in 2009 and was violently – but also very briefly – interrupted by the onset of the pandemic.
I'm not sure I agree that Empire is all about growth stocks. Our Empire Elite Growth newsletter is obviously about growth stocks and Enrique is definitely a growth investor. But I don't think Whitney or Herb would self-identify as growth investors, and I know I don't.
In most of our services, outside of Empire Elite Growth, we have some names that generate income/pay dividends as well as traditional value names. I have also shared a number of more value-oriented stocks for free right here in Empire Financial Daily. Most recently, Foot Locker (FL) would fit the bill.
For those folks that missed the webinar, we covered a lot of ground! Make sure you check out the replay, while it's still available... You can watch it right here.
Regards,
Berna Barshay
January 26, 2022