1) Following up on yesterday's e-mail about satellite company Intelsat (I)…
I want to give a huge shout-out to Jillian McIntyre – who is now a partner at Appian Way Asset Management (she formerly worked for 221B Capital, TCI, and White Elm Capital). She nailed Intelsat at my shorting conference on May 3, 2018, when the stock was at $11.62 with a price target of $6.35.
You can watch the 15-minute video of her presentation here. She was early – but her analysis has been proven 100% correct. If you have any questions or wish to receive a copy of the presentation, you can e-mail her at [email protected].
2) Speaking of great calls, in my e-mail on September 5, I quoted my colleague Enrique Abeyta calling pet food e-commerce company Chewy (CHWY) "the new Pets.com."
In the 11 weeks since then, the stock has crashed more than 30% while the S&P 500 has risen about 5%, as you can see in this chart…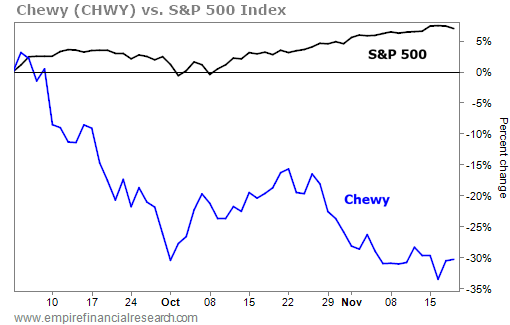 I asked Enrique for his latest thoughts, and he replied…
I've done some more work on Chewy and have to say that it's an impressive story. It makes a lot more sense than some of the other new age Internet companies that have gotten a lot of press like Uber or WeWork.

That said, I'm still not constructive on the stock, which hit a new 52-week low earlier this week and broke its $22 IPO price for the first time.

Chewy seems like an excellent company from a customer service perspective and product proposition… but given that it's still trading north of 2 times revenue, remains unprofitable, and faces ongoing negative market sentiment, I think the stock continues to drift lower.

When the company reports earnings on December 9, it will need to show a better handle on its business after the disappointment of last quarter's report. If not, look out below…
3) Unlike ride-hailing service Uber (UBER), for example, I don't think Chewy is destined for the trash heap of history. In fact, this excellent Wall Street Journal article highlighted many business and investing lessons about the company and PetSmart's brilliant acquisition of it: How PetSmart Swallowed Chewy – and Proved the Doubters Wrong. Excerpt:
BC Partners quickly realized it would never be able to beat the online star. Instead, the buyout firm settled on a high-stakes strategy for a debt-laden retailer: It bought the very e-commerce upstart that was undermining its business.

In April 2017, PetSmart paid $3.35 billion for Chewy in what was then the largest e-commerce deal ever. The purchase was criticized by PetSmart's lenders and the wider market as a bet-the-company move that would force PetSmart to add $2 billion in debt to the $6 billion it already had, all to buy an unprofitable rival. Some likened Chewy to Pets.com, a notorious failure of the dot-com era, and predicted it would ultimately fall victim to competition from Amazon.

For months, sales at PetSmart, which is profitable, continued to sag, and losses at Chewy mounted, even though its revenue skyrocketed.

PetSmart bonds began to fall, eventually going below 50 cents on the dollar. Lenders were signaling that PetSmart could be the next old-line retailer heading for bankruptcy.

These days, Chewy is worth about $11 billion, and PetSmart is shaping up to be one of the most successful private-equity turnarounds in history.
4) I just finished Dan Ariely's excellent book, The (Honest) Truth About Dishonesty: How We Lie to Everyone – Especially Ourselves. This is classic Charlie Munger stuff… Here's a blurb about it:
Dan Ariely, behavioral economist and the New York Times bestselling author of The Upside of Irrationality and Predictably Irrational, examines the contradictory forces that drive us to cheat and keep us honest, in this groundbreaking look at the way we behave: The (Honest) Truth About Dishonesty.

From ticket-fixing in our police departments to test-score scandals in our schools, from our elected leaders' extra-marital affairs to the Ponzi schemes undermining our economy, cheating and dishonesty are ubiquitous parts of our national news cycle—and inescapable parts of the human condition.

Drawing on original experiments and research, in the vein of Freakonomics, The Tipping Point, and Survival of the Sickest, Ariely reveals – honestly – what motivates these irrational, but entirely human, behaviors.
I think this chart about the forces that shape dishonesty is especially fascinating. Who would have thought that the amount of money to be gained and the chance of getting caught would have no effect on the amount of dishonesty?
Best regards,
Whitney