---
Recommended Link:
GM's next big release has no engine and no wheels

In a shocking move, auto giant General Motors is venturing into a whole new space (hint: NOT electric vehicles). While industry analysts see this as a way of catching up with Tesla, the bigger reason could be because this new space is getting the full backing of the current administration and could mean huge tax credits in the future. Or it could just be that this fledgling industry has more scope than the declining auto industry. Whatever it may be, this move could put GM into the same bracket as Apple, Google, Microsoft, and Amazon. Get the details of this massive trend here.
---

Last week saw one of the greatest fiascos to hit the land of cryptocurrencies...
On Friday, crypto exchange FTX filed for bankruptcy. It could be another example of the "Stadium Curse"... The blowup comes less than two years after FTX shelled out $135 million to replace American Airlines' (AAL) naming rights for the home of the NBA's Miami Heat – changing the venue name from American Airlines Arena to FTX Arena.
Now, the tables have turned... Miami-Dade County and the Heat are taking action to end their business relationships with FTX and instead find a new partner for naming rights to the arena.
Not that any of this should have been a surprise...
As I said in Empire Financial Daily last November, almost a year ago today, the companies that put their names on stadiums and arenas have an outsized tendency of running into trouble – and not just bankruptcy, but fraud and corruption.
Among the most famous stadium-naming blowups: Enron, Conseco, PSINet, Chesapeake Energy, Adelphia, and CMGI. As I said back then...
If you've been around since stadium naming rights were a thing, you knew exactly what I was thinking: That this is yet another sign of bubble-bubble-toil-and-trouble.

Since they often reflect the egos of those involved, naming rights have a history of picking the tops of some stocks... and even being a precursor of trouble for the company whose name is up in neon.

When I wrote that, Crypto.com, another crypto exchange, had just agreed to replace Staples as the namesake for the home of the NBA's Los Angeles Lakers...
As it turns out, the deal was announced two weeks after bitcoin peaked. Since then, the crypto has plunged by more than 70%.
You could see that one coming...
And it's not alone. Among recent examples: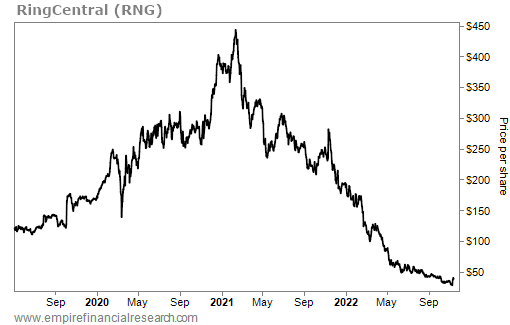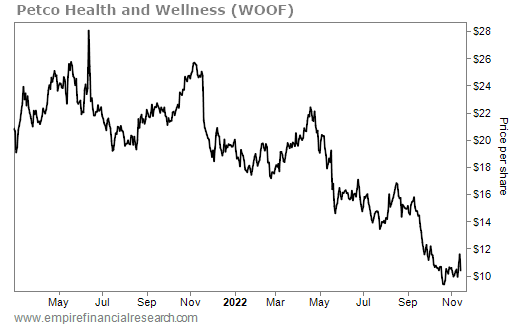 In August 2019, travel and hospitality company Allegiant Travel (ALGT) paid $25 million per year for the stadium naming rights for the NFL's Las Vegas Raiders...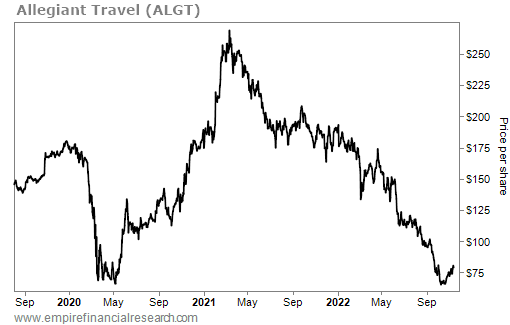 In July 2021, gaming giant Caesars Entertainment (CZR) signed a 20-year, $138 million deal with the NFL's New Orleans Saints for naming rights to the city's Superdome...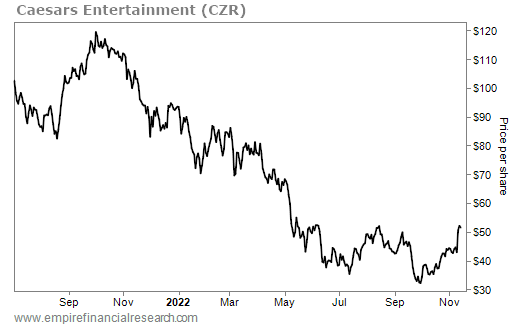 All of them are pikers compared with online personal finance company SoFi Technologies (SOFI). In September 2019, it agreed to pay $625 million over 20 years for naming rights to the home of the NFL's LA Rams and LA Chargers. SoFi's stock has fallen by nearly half since the June 2021 initial public offering ("IPO")...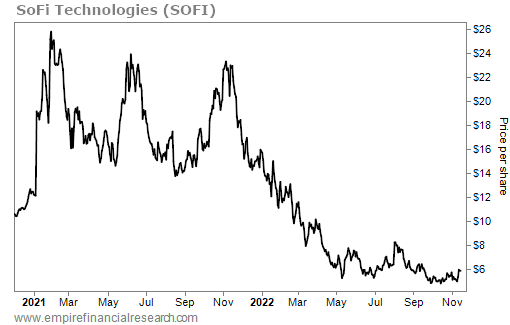 Or consider what happened after the NBA's Cleveland Cavaliers owner Dan Gilbert changed the name of Quicken Loans Arena in 2019 to Rocket Mortgage FieldHouse. Since its August 2020 IPO date, mortgage loan provider Rocket Companies (RKT) has seen its stock cut in half...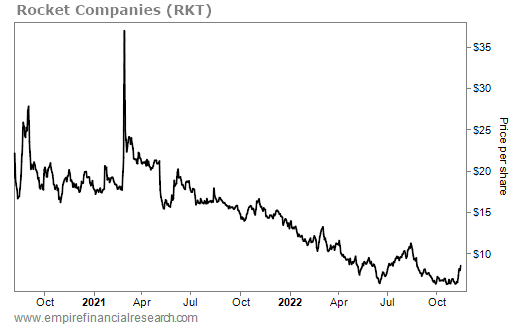 But to be fair, not every company that slaps its name on a stadium or arena blows up...
In June, John Rekenthaler, vice president of research for Morningstar, did an admittedly quick study of the performance of the stocks of stadium and arena sponsors.
His starting point was 2002, and he stuck with just football, basketball, and baseball. He found 36 sponsors. Of those, 16 are still around... and are still sponsors.
Of those whose stocks no longer trade... some went bankrupt, but most others were acquired.
For technical reasons, he could only calculate returns on 12. As the chart below shows, in general they've done pretty well...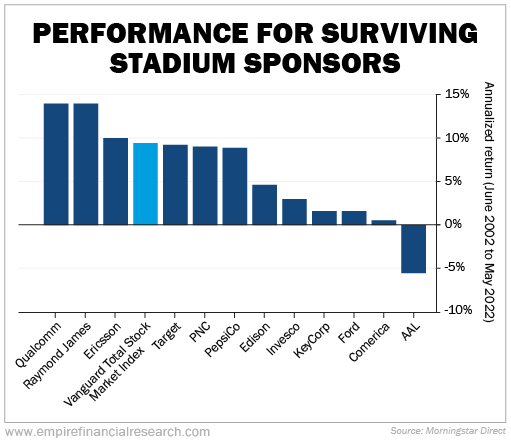 Or as Rekenthaler put it...
As with the apparent outcome for the defunct stocks, the performance of the listed stocks has been better than advertised, but not great. Although stadium sponsorship was not a glaring contrarian signal, nor was it a positive sign. Too many sponsors have either occupied eroding industries, such as banks and airlines, or been on the bleeding edge of technology. Consequently, most of the stadium sponsors trailed the stock-market index...

While I would hesitate to call stadium-sponsor stocks successful, given their high dropout rates and the fact that they required an unrealistically frequent rebalancing schedule to thrive, they have not been outright failures. The curse is a myth.
If you look at that chart, most sponsor deals date from years earlier... and these companies paid nothing like the companies today are paying.
In the end, the question you need to ask is this... Is paying hundreds of millions of dollars to name a stadium really the best use of company money? Is the free cash flow really that good? Is the balance sheet really that clean? Heck, is the business profitable?
If the answers to any of those questions are "no," then maybe there's one more question you need to ask – especially if the company in question is newly public, is trying to reinvent themselves, or is run by a CEO who believes their own press clippings and confuses their stock with the company...
Is this all little more than a ruse to use cash to create an illusion of credibility?
History shows, it often is.

Before we go, with the recent collapse of FTX, crypto, special purpose acquisition companies ('SPACs'), and the overall market, here's something to think about...
Who will be advertising on the Super Bowl this go-around? As my colleague Enrique Abeyta recently tweeted, referring to last year's event...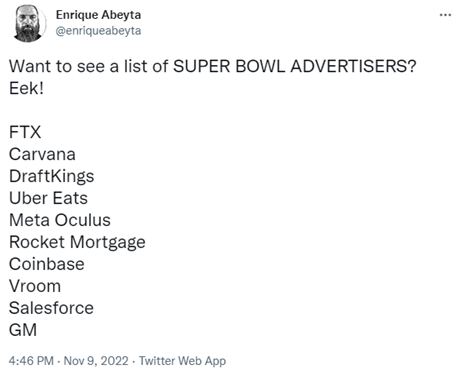 Source: Twitter/@enriqueabeyta
Easy come, easy go.
As always, feel free to reach out via e-mail by clicking here. I look forward to hearing from you.
Regards,
Herb Greenberg
November 15, 2022