1) In our second issue of Empire Stock Investor on December 31, 2019, we recommended buying shares of investment bank Goldman Sachs (GS), writing:
Best-of-breed companies that control their industries tend to outperform the second- and third-tier players over time.

The problem is that everybody already knows this... Thus, the stocks of top companies are typically bid up to extreme prices.

But occasionally, the market makes a mistake...

In the case of Goldman, it's overly focused on short-term issues and ignoring the firm's incredible franchise. Consequently, as you can see in the following chart, it's being valued at the lowest levels among its peers on a price-to-earnings (P/E) basis...

That won't last.
Since then, Goldman's stock is up 47% (not including dividends... when you include the dividends we've collected along the way, our position in Empire Stock Investor is up 58%) – outperforming the S&P 500's 39% return as well as all of its peers except for Morgan Stanley (MS), as you can see in this chart: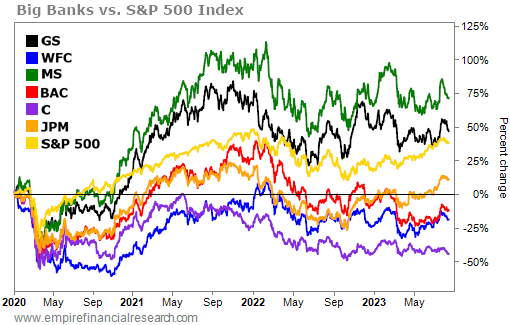 The reason I share this is because I just read this devastating article in New York Magazine about Goldman's CEO: Is David Solomon Too Big a Jerk to Run Goldman Sachs? These excerpts capture how unlikeable he is – a crude bully and jerk:
Even people fond of David Solomon acknowledge that his equilibrium state is what most of us would consider tense. The voice of the Goldman Sachs CEO is perpetually hoarse, as if he has permanently worn it out from screaming.

"He sort of talks in a yelling voice," says one colleague. "He's not really yelling, but he sort of talks at you." "When he talks, he shouts," another banker agrees. "He always sounds like he's shouting – always." It's a tendency he can't even suppress in text: Solomon likes to MAKE NOTES ON DOCUMENTS IN ALL CAPS. The word a lot of people use about him is bully...

The single most harmful report came in November when it leaked that Solomon, who is divorced, had once boasted to a group of colleagues, "I bet I was the only one who got a blowjob last night." Behind his back, snickering executives gave him a mortifying new nickname: BJ D-Sol. More damage came in April, when Insider reported that Solomon had flown Goldman's planes at least 21 times to his retreat in the Bahamas...

Goldman veterans say that in some ways, the situation is more toxic than what the bank faced in the post-financial-crisis vampire-squid days. "This is considerably uglier for Solomon," says a former insider. "It's worse because it's much more personal, and it's all directed at him"...

...when Goldman's board promoted Solomon – making him the first CEO to enter the bank mid-career – he had a mandate to run the firm more transparently and more like a modern corporation. What's baffling is that the board would give such a delicate task to a person almost universally regarded as a jerk.

"David's not likable," says a longtime colleague – one of the more diplomatic comments I heard in talking to more than 30 of the CEO's current and former executives, most of them partners. "He's a prick," says another. "Everybody thinks and says he's a dick," adds a third. "He's a tough guy with a very short fuse"; "He dehumanizes you when he talks to you."
As a result, morale at the firm is terrible:
Morale has sunk to the lowest level in recent memory, in tandem with a sense that the bank inspires less envy among its rivals and less esteem among its fee-paying clients and governments around the world.

"I don't feel like the place is really Goldman Sachs," says one of the former partners, whose ex-colleagues now call him daily to complain. "Goldman had that sort of magical cachet of being the smartest guys in the room, and it doesn't feel that way anymore."
That said, if Solomon were making good decisions, his personality and behavior might be forgiven – but he's not:
If Solomon were always right, no one in finance would care whether he blew up at underlings or rejected every opinion but his own. When you run the most powerful investment bank in the world, you're supposed to be decisive. Yours is the only ego that matters, and it helps if everyone recognizes that.

The problem for Solomon is that lately he has been wrong in consequential ways, opening the floodgates for criticism of his style of management by intimidation.
Most alarmingly, at a firm that pride itself on ruthless risk management, the article highlights how Goldman's new consumer banking initiative, Marcus, was a debacle, but nobody dared tell Solomon:
Solomon's insistence on ambitious goals and his intolerance for disappointment were a dangerous combination.

A managing director who left recently told me about hearing a division head's troubling confession: They had realized that targets for the checking-account product were "never going to fly with senior leadership, so I just doubled everything." Some observers were reminded of Dick Fuld, the legendary misanthrope CEO of Lehman Brothers, whose deafness to dissent helped doom that bank in 2008...

"At that point, the boat was on fire. We were hemorrhaging cash, we were operationally insolvent, and we'd made some bizarre deals," says the former managing director. "A lot of people said Marcus had proved Goldman can be something different, and that is very much what I was sold. And then people were like, 'No, this is still totally the vampire squid.' We all just sort of got fooled."

Some critics have suggested that perhaps Solomon was too distracted between DJ-ing and taking private planes to the Bahamas to kitesurf to see that Marcus had veered off course. But I think that narrative misses the point. Solomon is a workaholic, a CEO who never takes longer than three hours to respond to emails. It's not that he wasn't paying attention; it's more likely that no one told him.
Goldman can survive Marcus' failure, but what happened here raises the question: what other bombs are lurking on the balance sheet, building up, unchecked, because the CEO is such a bully that no-one dares bring him any bad news?
Mark my words: Solomon's days as CEO are numbered...
As for the stock, you might be surprised to hear that this article makes me like it even more.
The fact this it has done well despite Solomon's dreadful leadership reminds me of one of Warren Buffett's favorite sayings: "I try to invest in businesses that are so wonderful that an idiot can run them. Because sooner or later, one will."
So now there's another likely catalyst for the stock: a new CEO...
(If you're an Empire Stock Investor subscriber, you can click here to read our report on Goldman... If you aren't, you can find out how to gain immediate access to our entire archive – and the full portfolio of open recommendations – by clicking here.)
2) Speaking of devastating reports about notorious jerks, the Wall Street Journal just profiled 87-year-old Carl Icahn and the struggles he's facing in the twilight of his career in the aftermath of the attack on Icahn Enterprises (IEP) by activist short seller Hindenburg Research: Carl Icahn Should Be Sailing Into the Sunset. Instead, He's Scrambling to Save His Empire. Excerpt:
In 2020, Carl Icahn tapped his son, Brett, to eventually take over his eponymous investment empire, whose value had surged after years of successfully waging war with corporate America.

Now, instead of preparing to hand over the reins with his legacy secure, the 87-year-old billionaire is fighting for the company's survival after a short-seller attack nearly halved its value, lurching the famed investor into one of the most trying periods of his six-decade career.

Shares in Icahn Enterprises, known by its ticker, IEP, got crushed after Hindenburg Research in May argued that it was overvalued and held assets at inflated prices. IEP, which houses Icahn's stock investments and owns companies including an oil refiner and an automotive group, had a market value of close to $10 billion as of Friday, down from $18 billion before Hindenburg sounded the alarms.

That has erased roughly half of Icahn's personal fortune, bringing it to around $8.5 billion, Forbes estimates, based on his ownership of roughly 85% of IEP's shares, and damaged his reputation as one of the most feared activists.
I continue to recommend avoiding IEP at all costs.
3) Speaking of stocks to avoid, I've been warning my readers about movie theater operator AMC Entertainment (AMC) for years, ever since it became a silly meme stock and (temporarily) avoided bankruptcy by selling gullible, speculating retail investors roughly $2 billion of stock in 2020 and 2021.
It's down 73% (even counting the value of its preferred stock, which trades under the ticker APE) since I included it among my "Short Squeeze Bubble Basket" on January 27, 2021 and 79% since I added it to my "Dirty Dozen" stocks to avoid on January 4, 2022.
AMC shares fell 36% yesterday (only partially offset by APE's 16% rise) on this news: AMC Can Sell Nearly 400 Million New Shares Following Court Approval. Excerpt:
AMC Entertainment will soon gain access to nearly 400 million new shares it can sell, a tool Chief Executive Adam Aron says is critical to the company's efforts to stave off bankruptcy.

A Delaware judge on Friday approved a set of transactions that AMC plans to complete this month, concluding a more-than-two-year campaign by the company to free up more shares to sell after reaching its maximum limit in 2021 following a meme-driven frenzy surrounding its stock.

The transactions will convert AMC's preferred "Ape" units into common stock and effectuate a 10-for-1 reverse split, opening up a substantial basket of new shares it can sell as it tries to shore up its balance sheet amid ongoing cinema industry headwinds.
In the short run, APE shares may catch a bit of an updraft because they still trade well below AMC's price... but over the long term, AMC is a zero.
The business looks structurally unprofitable, so there will be massive dilution over time as the company issues stock to fund its losses. Eventually, shareholders will be wiped out entirely when AMC files for bankruptcy so it can do the restructuring that's needed.
4) Here's a quick follow-up to my August 4 daily that I sent to my Ukraine e-mail list over the weekend (if you wish to be added to it, simply send a blank e-mail to: [email protected]):
As I predicted, the continuous pressure from Ukrainian forces and hitting Russian supply lines is starting to pay off, which even the usually gloom-and-doom New York Times acknowledges in this article: Ukraine Makes 'Tactically Significant' Progress in Its Counteroffensive. Excerpt:

After months of inching through minefields, villages, and open steppes in grueling combat, Ukrainian forces are making somewhat bigger advances along two major lines of attack, according to analysts, Ukrainian officials, and Russian military bloggers.

Although Ukraine has not advanced more than 10 to 12 miles on either vector of attack, its gains are important in that it is compelling Moscow to divert forces from other parts of the front line, military analysts say.

The Institute for the Study of War, a Washington-based think tank, called the advances "tactically significant," saying Moscow's redeployment would most "likely further weaken Russian defensive lines in aggregate," creating "opportunities for any Ukrainian breakthrough to be potentially decisive."
Best regards,
Whitney
P.S. I welcome your feedback at [email protected].