---
Recommended Link:
| More than 100 countries around the world are rolling out a system called "SWaB" that could have a bigger impact than the Internet in the days ahead. Here in the U.S., it's already being implemented in 38 states and counting. This year, massive investments are pouring into this innovation from some of the richest people in the world – like Elon Musk, Jeff Bezos, and Warren Buffett. Even the world's most powerful companies, like Apple, Microsoft, and Google, are spending billions to onboard it. That's because every single modern technology – 5G, artificial intelligence, blockchain technology, IoT, robotics, quantum computes, and EVs will have to switch over to SWaB to stay relevant. Get the details here. | |
| --- | --- |
---
1) I didn't foresee the big market pullback in the first half of the year, but ever since, I've been nailing its every move...
First, I turned super bullish, especially on tech stocks and other risk assets, in mid-June.
Then, after stocks rallied strongly, I shifted to "moderately bullish" on August 2.
And finally, after a further rally, this is what I wrote on August 17:
I'm shifting my overall outlook for the market over the rest of this year from "moderately bullish" (as outlined in my August 2 e-mail) to "neutral,"
I think it's a good time to bank some profits in growth names that have rallied strongly over the past two months, and
Today's spike in Bed Bath and Beyond (BBBY) smells like a blow-off top to me, and I expect the stock will be back under $10 per share very soon.
Since then, as of yesterday's close, BBBY is down 71% to $6.67, the Nasdaq is down 16%, and the S&P 500 is down 14%, nearly to its mid-June lows, as you can see in this chart from the New York Times: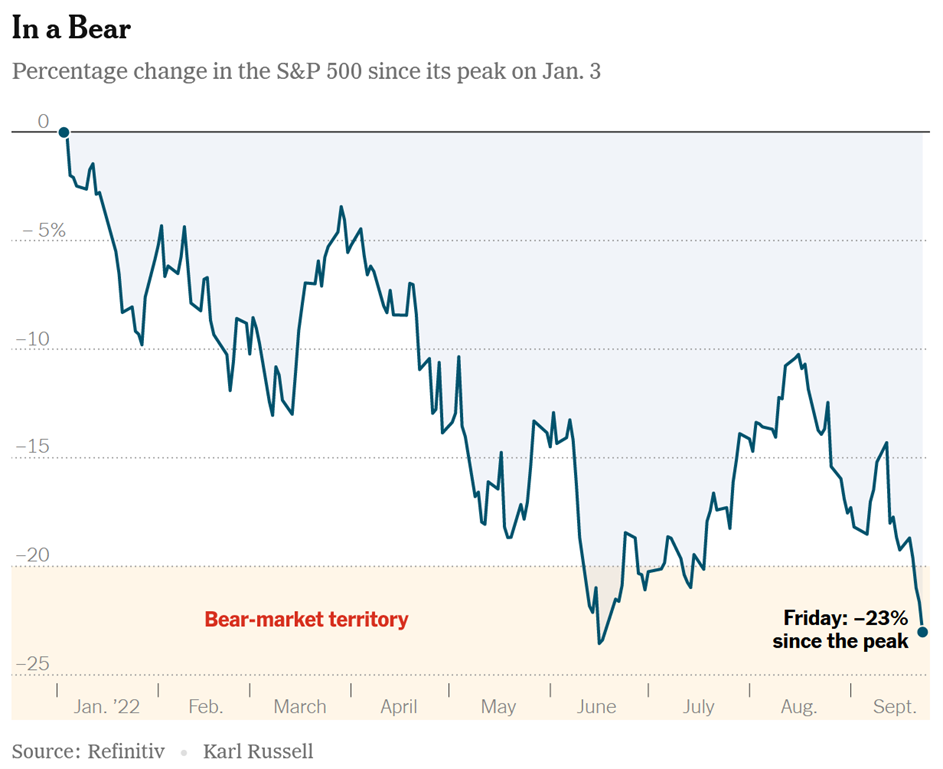 That's the kind of chart that gets my contrarian, be-fearful-when-others-are-greedy-and-greedy-when-others-are-fearful heart beating rapidly!
Even more so, sentiment is dreadful. The American Association of Individual Investors ("AAII") weekly survey showed a spike in bearishness to more than double its historical average:

In fact, this is one of the few times in the 35-year history of the survey that bears have exceeded 60%, which has been a powerful bullish signal, as this tweet notes: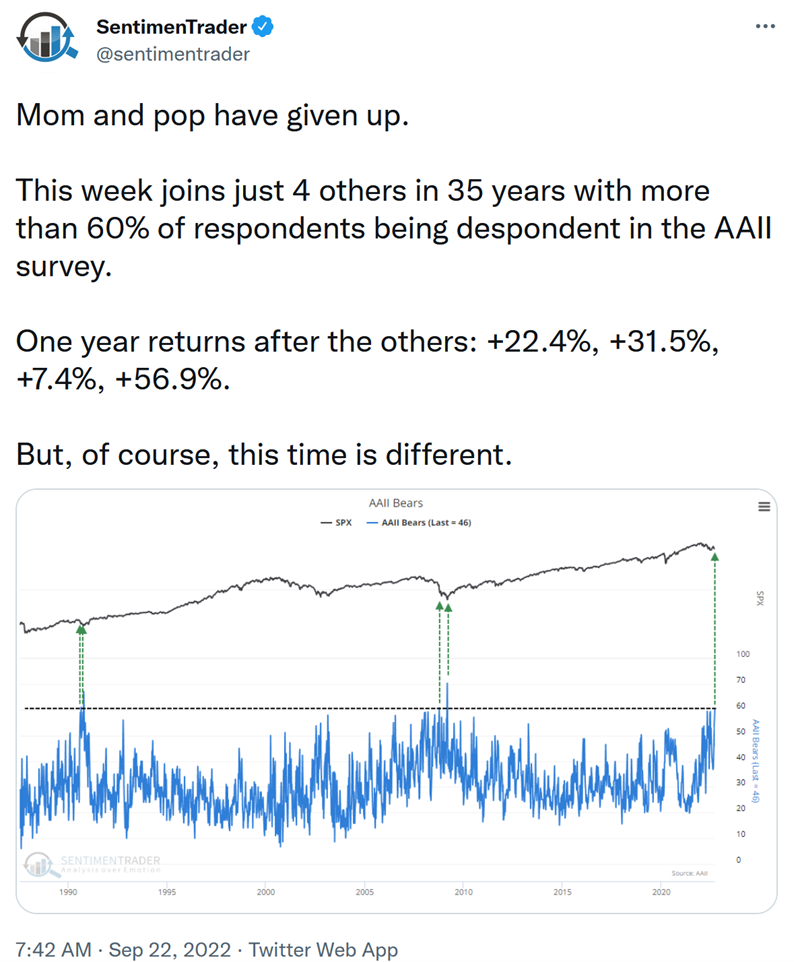 As a result of their bearishness, individual investors are buying protection at record levels, as this tweet shows: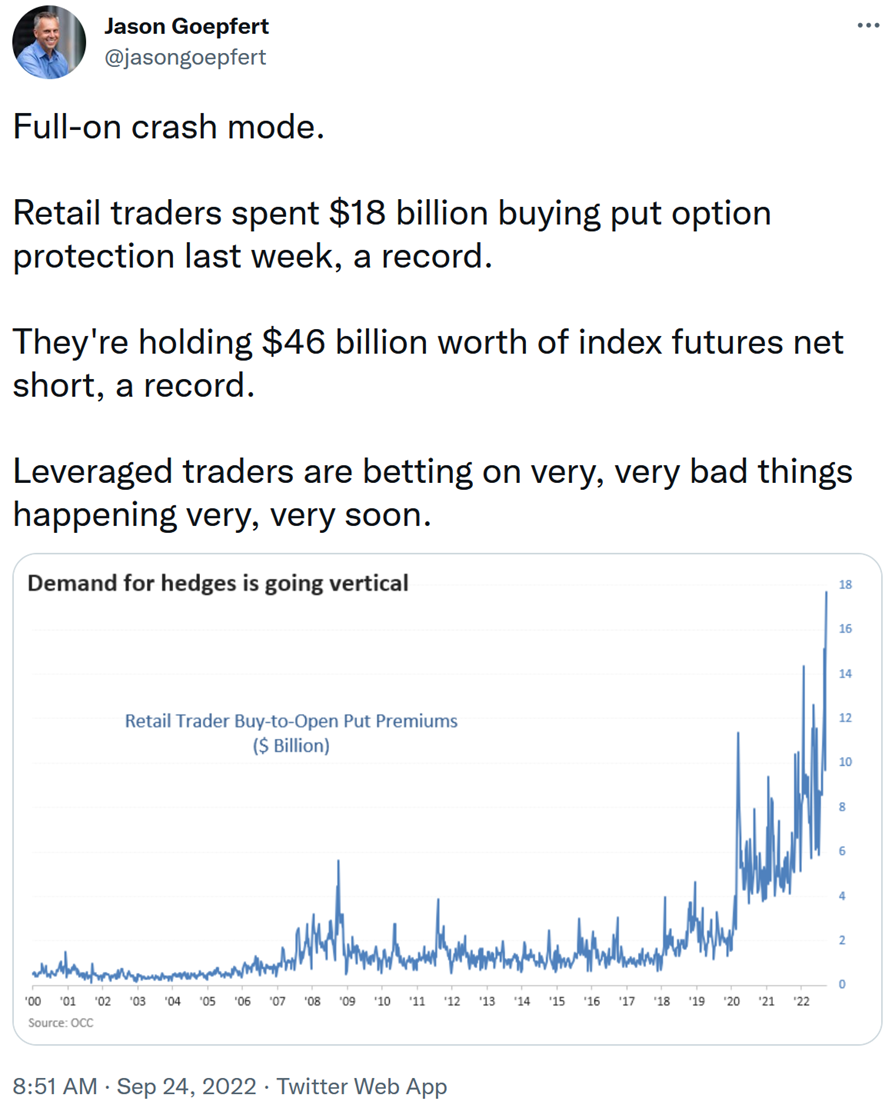 And it's not just individual investors who are buying protection... Institutional ones are as well, as this chart shows: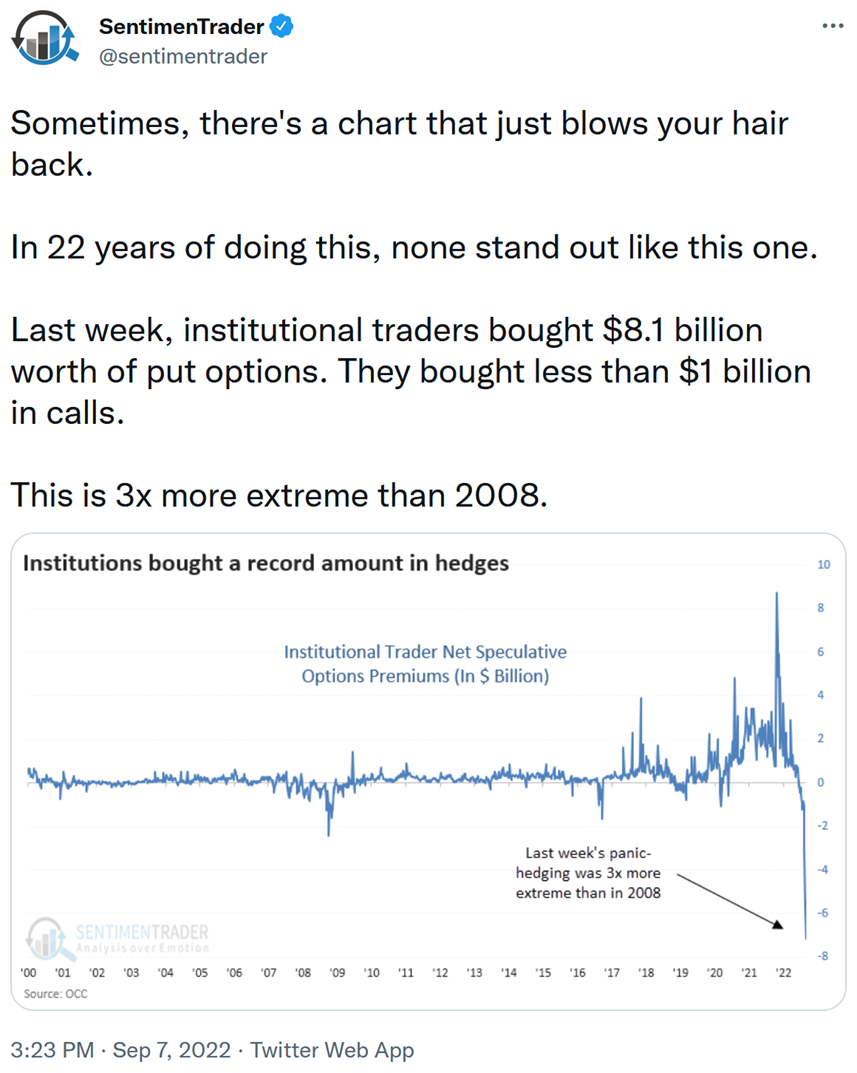 2) In light of all this, you're probably thinking that my "spidey sense" is tingling, telling me that it's time to back up the truck and buy like crazy...
But it's not.
In part, perhaps it's because "buying the dip" hasn't been working too well this year, as this Wall Street Journal article notes: Buying the Stock-Market Dip Is Backfiring. Investors Keep Piling In Anyway. Excerpt:
It is the worst year for buying the stock-market dip since the 1930s.

Instead of rebounding after a tumble, stocks have continued to fall, burning investors who stepped in to buy shares on sale. The S&P 500 has dropped 1.2% on average this year in the week after a one-day loss of at least 1%, according to Dow Jones Market Data. That is the biggest such decline since 1931.

The extended downturn is putting a dent in the popular buy-the-dip trade, a strategy in which many investors found great success after the last financial crisis and particularly during the lightning-fast pandemic recovery.
Here's a funny 11-second video that makes the point more vividly!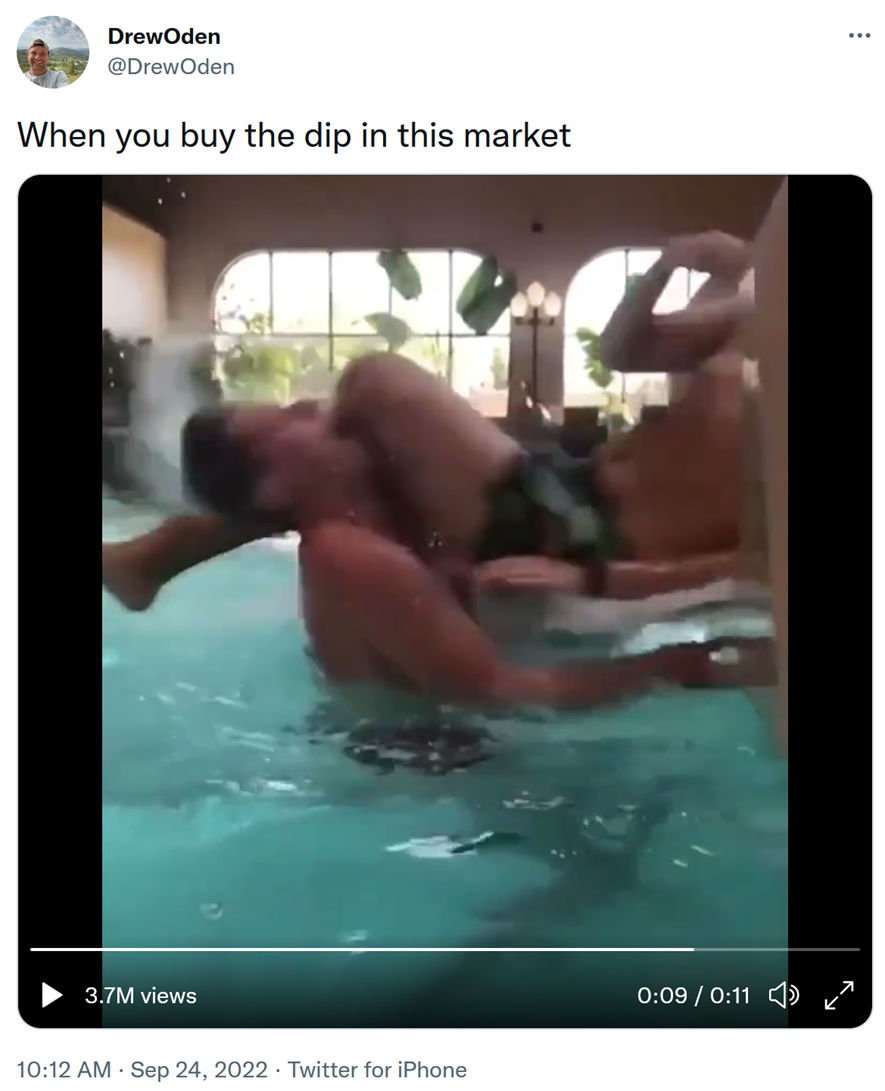 However, my caution is mostly rooted in the fundamentals being worse today than they were in mid-June...
Back then, I thought inflation was falling rapidly and would be around 4% by year end, which would lead the Fed to stop raising interest rates soon.
Instead, the latest inflation report, which I covered in my September 13 e-mail, was worse than expected, which makes me think we won't get to 4% inflation until the first few months of next year.
This, in turn, will likely cause the Fed and other central banks around the world to hike rates more than I anticipated, as this New York Times article highlights: Central Banks Accept Pain Now, Fearing Worse Later. Excerpt:
A day after the Federal Reserve lifted interest rates sharply and signaled more to come, central banks across Asia and Europe followed suit on Thursday, waging their own campaigns to crush an outbreak of inflation that is bedeviling consumers and worrying policymakers around the globe.

Central bankers typically move slowly. That's because their policy tools are blunt and work with a lag. The interest rate increases taking place from Washington to Jakarta will need months to filter out across the global economy and take full effect. Jerome H. Powell, the Fed chair, once likened policymaking to walking through a furnished room with the lights off: You go slowly to avoid a painful outcome.

Yet officials, learning from a history that has illustrated the perils of taking too long to stamp out price increases, have decided that they no longer have the luxury of patience.

Inflation has been relentlessly rapid for a year and a half now. The longer that remains the case, the greater the risk that it is going to become a permanent feature of the economy. Employment contracts might begin to factor in cost-of-living increases, companies might begin to routinely raise prices and inflation might become part of the fabric of society. Many economists think that happened in the 1970s, when the Fed tolerated out-of-control price increases for years – allowing an "inflationary psychology" to take hold that later proved excruciating to crush.

But the aggressiveness of the monetary policy action now underway also pushes central banks into new and risky territory. By tightening quickly and simultaneously when growth in China and Europe is already slowing and supply chain pressures are easing, global central banks risk overdoing it, some economists warn. They may plunge economies into recessions that are deeper than necessary to curb inflation, sending unemployment significantly higher.

"The margin of error now is very thin," said Robin Brooks, chief economist at the Institute of International Finance. "A lot of this comes down to judgment, and how much emphasis to put on the 1970s scenario."
Lastly, in mid-June I thought there was a chance, however small, that Putin might see the folly of his invasion of Ukraine and start looking to strike a peace deal... but instead, he has doubled down, even threatening the use of nuclear weapons.
To summarize, stocks are back to their mid-June lows, but the macro environment is quite a bit worse, so I'm waiting for another 5% to 10% pullback before I call the bottom.
It reminds me of one of Ronald Reagan's favorite jokes:
Two Russians are walking down the street, and one says, "Comrade, have we reached the highest state of Communism?" "Oh, no," the other replies. "I think things are going to get a lot worse."
To be clear: I don't think things are going to get a lot worse, so I'm certainly not selling anything. It just feels to me like mid-May, when stocks were beaten up – but still had one more leg down before bottoming...
3) Based on all these fundamentals, it's no wonder most economists think we'll tip into a recession next year – if we aren't already in one.
And yet, this all just hints at the bigger picture...
A coming "exodus" could hit on November 15 and disrupt more than $37 trillion in retirement funds... And at the center of it all is a commodity that the Brookings Institution calls "the lifeblood of the modern economy."
I recently released a special presentation detailing the full story... but your window to take action to prepare for this "exodus" is closing fast. You can watch this presentation for free right here.
4) In Friday's e-mail, I questioned investors' excitement about a report that the SEC had cleared Cassava Sciences (SAVA) of tampering with the data regarding its Alzheimer's drug, and I warned: "Continue to avoid Cassava Sciences."
Sure enough, the company that day was forced to admit that there was no truth to the rumor, filing an 8-K that read:
As of September 22, 2022, the Company has not received any "termination letter" or the like from any government agency regarding any confidential requests for corporate information and documents. The Company is unable to establish the legitimacy of communications circulating on mass media, or elsewhere, purportedly sent from one such government agency following a request for public access to private records made under the Freedom of Information Act ("FOIA").
The stock tumbled 18% of Friday, and I confidently predict that it will continue to fall, as I believe it's worthless...
5) As you read this, Susan and I are flying home from our weekend in London, which was great fun.
The highlight (and what prompted our trip) was seeing tennis legend Roger Federer's last match on Friday night, in which he teamed up with fellow legend Rafael Nadal against Americans Frances Tiafoe and Jack Sock.
They split the first two sets, sending the contest to a deciding 10-point match tiebreaker, which was even until 8-8. Federer and Nadal won the next point to set up match point on Federer's serve, which would have been a brilliant end to his career, but Tiafoe and Sock won the next three points...
Here are highlights of the match and the aftermath from Eurosport Tennis (3:19), and I posted my 30-minute collection of clips from the match and the beautiful tribute to Federer afterward here.
Here are four of my pictures:
Another highlight of the weekend was going to the ABBA Voyage virtual concert that I went to in July (see my e-mail with pictures and videos about it here) – and it was just as much fun the second time! Here we are outside: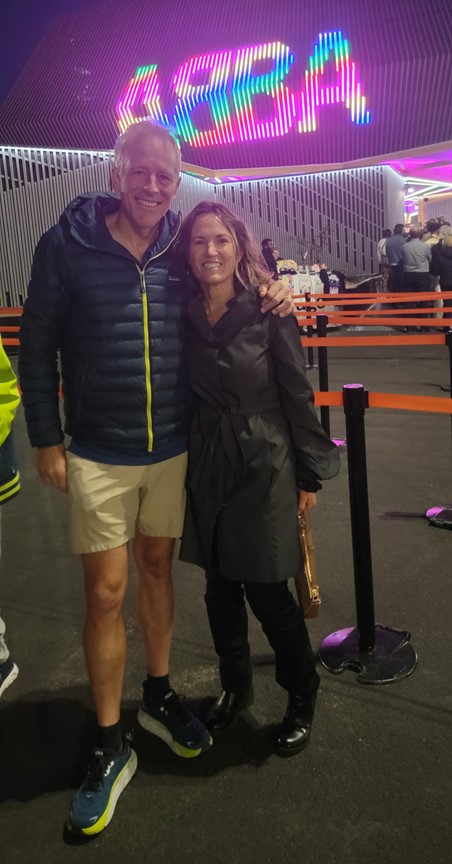 Best regards,
Whitney
P.S. I welcome your feedback at [email protected].