1) Yesterday, the Labor Department released its April inflation report and, overall, the news was good as inflation continues to ease.
Here's the front-page story in the Wall Street Journal: Inflation Eased in April but Remains Stubbornly High. Excerpt:
Inflation edged slightly lower in April, likely keeping the Federal Reserve on course to pause interest-rate increases at its next meeting.

The consumer-price index rose 4.9% in April from a year earlier, the Labor Department said Wednesday, down from March's 5% increase. The inflation reading has declined from a recent peak of 9.1% in June 2022, but remains historically high.

On a monthly basis, consumer prices rose a seasonally adjusted 0.4% in April, versus a 0.1% gain in March. April's increase was driven by housing costs, which economists expect to cool in the coming months. Gasoline and used-car prices also rose last month.
This Heard on the Street column has additional insight: Can Inflation Fall Fast Enough for the Fed? Here are the key lines:
When it raised rates last week, the Fed signaled it would hold off on raising rates again for now, and neither last Friday's strong employment report nor Wednesday's inflation report changes that.

There were some aspects of the inflation report that will please the Fed. It has been focusing on what has been termed supercore inflation – the change in services prices excluding energy and housing costs...

Omair Sharif, founder and president of the advisory firm Inflation Insights, calculates that in April, supercore inflation rose just 0.11% from a month earlier, after rising 0.4% in March, marking the slimmest monthly gain since last July.
Lastly, this front-page story in today's New York Times has an interesting chart: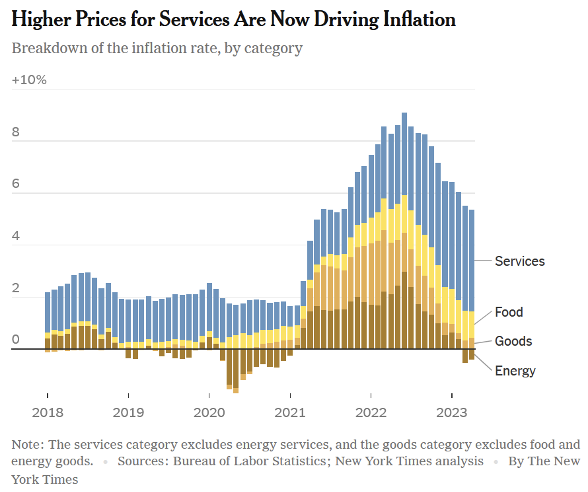 My view remains the same: Inflation is going to continue to fall and reach the 4% range by the end of the year. The credit crunch occurring in the banking sector will slow the economy substantially, which will lead the Fed to cut rates twice by year-end.
That – combined with a rapid and unexpected Ukrainian victory this summer, leading to a peace deal in the fall, lowering energy and food prices – will give stocks a lift over the rest of the year.
2) Nine days ago, one of the best-known activist short sellers, Nate Anderson of Hindenburg Research, released a report targeting Icahn Enterprises (IEP), the investment vehicle of legendary activist Carl Icahn: Icahn Enterprises: The Corporate Raider Throwing Stones From His Own Glass House.
So far, Anderson has been getting the best of this epic struggle, as IEP is down 38% since then. He got a boost yesterday when Icahn disclosed that his investment company is under investigation by federal prosecutors and went after Hindenburg: Icahn, Under Federal Investigation, Blasts Short Seller. Excerpt:
Activist investor Carl Icahn disclosed that his investment company is under investigation by federal prosecutors and went on the attack against the short seller that likely spurred the inquiry, accusing it of "wantonly destroying property and harming innocent civilians."

Icahn Enterprises, the publicly traded firm controlled by Mr. Icahn, was targeted by short seller Hindenburg Research early this month. The next day, the U.S. Attorney's Office for the Southern District of New York contacted Icahn Enterprises asking for information about the value of its assets, corporate governance, dividends and other topics, the firm said in a securities filing Wednesday.
Here is the entire press release from IEP yesterday, rebutting Hindenburg's report: Icahn Enterprises Responds to Self-Serving Short Seller Report. Excerpt:
Chairman of the Board, Carl C. Icahn, stated: "Hindenburg Research, founded by Nathan Anderson, would be more aptly named Blitzkrieg Research given its tactics of wantonly destroying property and harming innocent civilians. Mr. Anderson's modus operandi is to launch disinformation campaigns to distort companies' images, damage their reputations and bleed the hard-earned savings of individual investors. But, unlike many of its victims, we will not stand by idly. We intend to take all appropriate steps to protect our unitholders and fight back...

As we consider recent events, we are left asking why Mr. Anderson issued this inflammatory report, doing great harm to retail investors. He has admitted to shorting stock before issuing his report, believing that the stock price would temporarily decline. Was that his only goal? Whatever the motive, IEP intends to vigorously defend itself and its unitholders.
IEP also released first-quarter earnings yesterday, which showed a small 1% decline in net asset value ("NAV") to $5.58 billion (good news for the company), but a huge 81% drop in "adjusted EBITDA attributable to IEP," from $616 million to $116 million (bad news).
Interestingly, nowhere in the earnings release did IEP disclose NAV per share. It's easy to calculate: Simply divide $5.58 billion by 354 million diluted shares outstanding (up 18% from 299 million a year earlier), to arrive at $15.76 per share.
Hmmmm, do you think this might have something to do with the fact that the stock, even after its recent decline, is still trading for around $31, nearly double its NAV?
You don't have to believe IEP is a fraud or misvaluing its assets or will be sanctioned by regulators (all unlikely in my view).
When you can invest alongside equally brilliant investors like Third Point's Dan Loeb and Pershing Square's Bill Ackman in their publicly traded vehicles for a 14% and 35% discount, respectively, to their NAVs, why would you pay twice NAV to invest with Icahn?
3) After attending my buddy Guy Spier's wonderful VALUEx conference in Omaha last Friday (following the one I attended in Switzerland in February, which I covered in a few of my dailies), I'm looking forward to the next conference on my schedule, the Value Investing Seminar in Trani, Italy (attendees fly into the nearby Bari airport) on July 6 and July 7.
For the 19th time, my friend Ciccio Azzollini and I will once again be hosting it.
We limit it to 50 people, many of whom share their latest thinking on where the best opportunities lie and outline their current favorite investment idea(s). It's fun, educational, and a great addition to any European vacation! You can learn more and register here.
Here's a picture of Ciccio and me with the port of Trani in the background: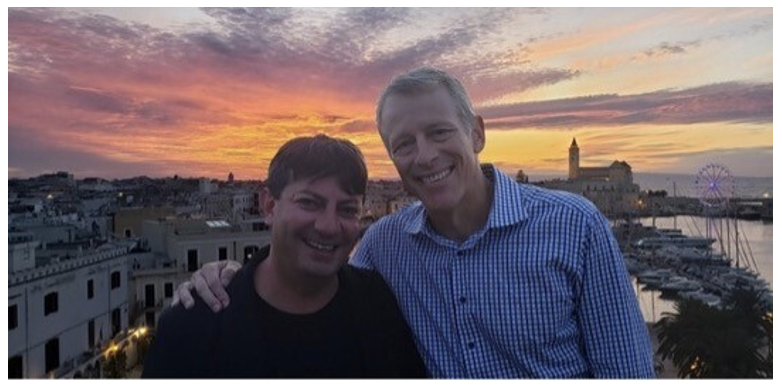 And this is what Guy posted about it last year: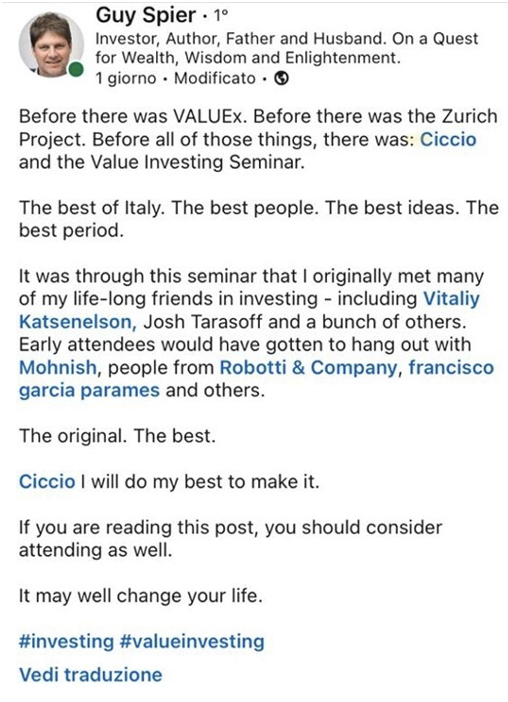 Best regards,
Whitney
P.S. I welcome your feedback at [email protected].