1) Another week, another conference… Empire Financial Research Senior Analyst Steve Culbertson and I flew to Orlando last night for the ICR Conference, where more than 100 publicly traded retail and consumer companies will be presenting today and tomorrow (here's the list and schedule).
I hope we can find as many good ideas as I found last year, such as…
In my January 13, 2019 e-mail, I wrote that the conference is "hosting an 'inaugural dedicated cannabis track' with a panel on 'Cannabis Investing: Capitalizing on a New Global Asset Class.' Oh please – sure sign of a bubble!" 
Since then, the largest cannabis exchange-traded fund ("ETF"), the ETFMG Alternative Harvest Fund (MJ), has fallen nearly 50%.
Likewise, Chico's FAS (CHS) – which I slammed in my January 18 e-mail – subsequently fell by more than 50%, though it has rebounded a bit, so it's now "only" down around 30%. 
If I were to pick one stock to pay up for, it would be Floor & Decor (FND). I first became aware of the company years ago when I was short Lumber Liquidators and saw that it was a formidable competitor with a far superior business model: 70,000 square foot superstores with a huge selection and inventory on hand. They have nearly 10% net margins, 30%+ returns on equity, consistent double digit comps, and are growth their store base 20% annually (currently 105 stores with plans to grow to 400). The stock has been cut in half in the last seven months, not due to any missteps by the company but rather concerns about the housing market. The stock, at 26x this year's estimates, isn't cheap, but if the company can sustain 20%+ EPS growth, which I think is likely, the stock will do well.
Since then, FND shares have jumped from less than $30 to nearly $50.
2) Another day, another major setback for a SoftBank-backed company… SoftBank-backed Zume is laying off half its staff and shuttering its pizza delivery business. Excerpt:
SoftBank-backed Zume is laying off 360 employees, representing about half its staff, and shuttering its robotic pizza-making and delivery business.
CEO Alex Garden said the company is creating 100 new positions in its food packaging unit.
It's another black eye for SoftBank's Vision Fund, which has seen several portfolio companies suffer through layoffs in recent months after a lackluster debut from Uber and an abandoned IPO from WeWork… 

SoftBank invested $375 million in Zume in 2018, giving the start-up a $1 billion valuation. Previously, Zume was valued at just $218 million and had risen $71 million in total.
3) Another observation from last week's Consumer Electronics Show (CES) in Las Vegas: I had trouble finding any 3D printing companies. As I wrote on Tuesday…
When I was at my first CES six years ago, it was during the peak of the 3D printing bubble. I was short all five publicly traded stocks in the sector, the largest of which were (and still are) 3D Systems (DDD) and Stratasys (SSYS). At CES, I gained even more conviction for my short thesis when I saw many Chinese competitors all selling knockoff printers at a fraction of the price of the market leaders, so I doubled down on my bet and went very public with my views. Here are two articles about it from Business Insider: Whitney Tilson Says 3D Printing Stock Is Going to Plunge 90% and Here's the Hilarious and Brutal Chart That Whitney Tilson Sent Out to Explain the Crash in a Big 3D Printing Company.

It paid off spectacularly, as every stock dropped roughly 90% in less than two years (and they have never really recovered).
There wasn't a single publicly traded 3D printing company at CES last week, nor did I see any private ones (though I'm sure there were a few)… This is what the aftermath of a burst bubble looks like.
I took a quick look at the stocks of 3D Systems and Stratasys and didn't find them interesting. Both have market caps of more than $1 billion despite being chronically unprofitable.
4) At the same CES in 2014, I was also short the stock of iRobot (IRBT) – the maker of the Roomba automatic vacuum cleaner – for reasons outlined well in this bearish report released a few months later by hedge fund Spruce Point Capital Management. At the time, IRBT shares were in the mid-$30s.
While there, I ran into famed short seller Andrew Left of Citron Research and shared my iRobot thesis with him. Here's what he told me:
Whitney, I know why you're short it – and you're right on the fundamentals. But what you're missing is that it's the only publicly traded company in a sexy, high-tech, emerging growth sector, plus it has a cute ticker, so there's a real chance that a bunch of know-nothing [I think he used a more colorful term] retail investors get excited about it and rip the stock up in your face.
These are the kinds of lessons that grizzled, veteran short sellers like Andrew teach less-grizzled ones like me. Fortunately, I was smart enough to listen to his wise advice and covered my position.
Sure enough, though it took a couple of years, exactly what Andrew warned me about happened… From early 2016 through early 2019, IRBT shares ripped from the $30s to a peak of $132.88.
In only nine months since then, the stock has crashed to today's level around $50 per share. So, at 1.2 times trailing revenue, 10.3 times EBITDA, and 16.1 times earnings, is it time to bottom fish this beaten-down stock that has a short interest equal to 64% of the float?
Not based on what I saw at CES, which was nearly identical to what I saw six years ago in the 3D printing sector: everywhere I turned, there was a Chinese company making a knockoff of iRobot's products. Here are some pictures of what I saw at the booths of no-name companies Roborock (China), Hobot (Taiwan), and iLife (China):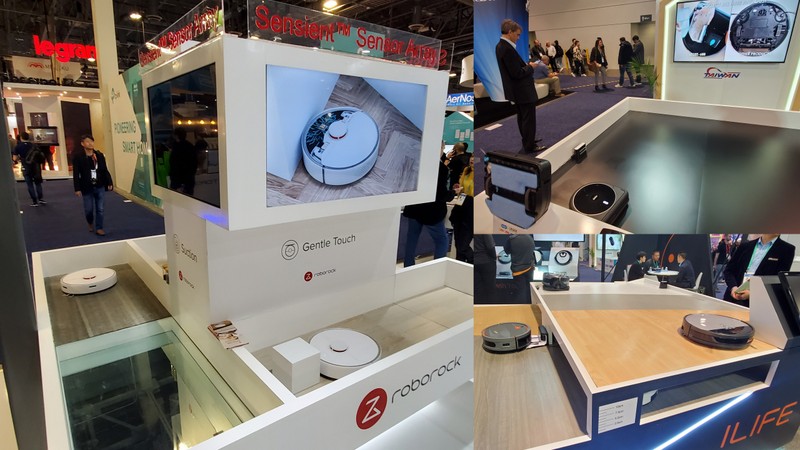 I'd bet my last dollar that they stole iRobot's intellectual property – not that there's anything the company can do about it…
5) Here's a fun quiz: see how many of these 52 politicians, athletes, and celebrities you can recognize. I got 43…
Best regards,
Whitney