1) Last week, my colleagues Enrique Abeyta and Gabe Marshank invited me on their Hard Money's Million Dollar Podcast, which follows them as they turn $10,000 into $1 million – or go bust trying. They've already doubled their money, so that's a good start!
Given that my investment style is pretty much the opposite of the balls-to-the-wall approach they're taking with this podcast, I wasn't sure we'd have much to talk about... but that didn't turn out to be a problem. We had a fun conversation – and they loved it when I revealed the most speculative holding in my personal account, which I've never talked about before... You can listen to it here.
2) My friend Chris Brown, who has put up one of the best track records in the entire hedge-fund industry since he launched Aristides Capital 13 years ago, was on the long-short panel with me on Friday at the Ben Graham VIII Annual Conference.
He gave an excellent presentation (here are the slides, and you can watch the video here), concluding with this: "Our No. 1 favorite short in this market, on a risk/reward basis, is Tesla (TSLA)."
I continue to believe that Tesla's stock is a bad long and a bad short, but I wouldn't quarrel too much with Chris...
P.S. Here's the video of my presentation on "The Art of Short Selling," and here are my slides.
3) Speaking of shorting, I recommend the annual Fraud Fest 2021, which is taking place all day Thursday and Friday. Here are the highlights:
From NPR's Planet Money, Mary Childs, and Alexi Horowitz will explore the potential for fraud and NFTs. Mary and Alexi are known for their coverage of the "Beeple" JPEG NFT [non-fungible token] that sold for $69 million.
Wall Street Journal reporters Maureen Farrell and Eliot Brown discuss their forthcoming book The Cult of We: WeWork, Adam Neumann, and the Great Startup Delusion
Legendary investor Jim Chanos explores the (wild) year in short-selling
A panel of experts, including Berkeley's very own Professor Abbye Atkinson, discuss race and financial fraud
The Great Debate – Investor Carson Block takes on the Deal Professor, Steven Davidoff Solomon, in a debate over SPACs [special purpose acquisition companies]
Fraud Fest Shark Tank – Watch (and vote) as our experts "pitch" the technologies and industries most vulnerable to fraud in 2021
Diana Henriques wraps up with a farewell to Bernie Madoff
We'll also explore the potential for fraud regulation, new frontiers in tax fraud and money laundering, the Caesars Palace coup, fraudulent fraud fighters, cutting-edge academic research, and host an interview with former LIBOR trader Tom Hayes!
Click here to see the full agenda and speaker line-up and to register (it's only $200).
4) You can't make this stuff up! Dogecoin-Branded NASCAR Crashes as Badly as DOGE. Excerpt:
A car emblazoned with the Dogecoin logo crashed in Saturday's NASCAR Xfinity Series Race in Nashville, perhaps a foreshadowing of what was to come for the price of DOGE. The driver was not hurt.
5) Speaking of crypto nonsense, I thought this video raised some good questions... Exposing Tether – Bitcoin's Biggest Secret (it's 36 minutes long, but only 18 if you watch/listen at 2 times speed!).
6) Some good advice here: What it's like to travel abroad right now. I think it's a fantastic time to visit European countries that are open to vaccinated Americans. Excerpt:
I've been to Spain a number of times before and, experience-wise, this trip did not feel markedly different. Virtually everything was open – restaurants (including dine-in), markets, the beach, shops. We even caught a flamenco show.

Masks were nominally required, even outdoors, but it was fairly common to chinstrap them when outside. All in all, COVID restrictions in Valencia and Madrid felt pretty similar to what it's felt like recently in big American cities.

What made this trip more special than past trips to Spain, though, was how the summer crowds were completely absent. Travel restrictions in the U.K. and Germany have significantly tamped down tourism. And even though Americans can travel to much of the world again, polling last month found only 15% of vaccinated Americans said they currently felt comfortable traveling abroad.

Far be it from me to pressure anyone to take a trip they're not comfortable taking. I will say this, though: There's a window of opportunity this summer to see Europe in a way you may never be able to see it again. Summer in Europe is amazing, but the downside has long been everyone simultaneously wanting to enjoy summer in Europe. I never thought I'd be able to take a summer trip to Valencia without throngs of tourist crowds, and by next summer visitor numbers will probably be fully rebounded. But right now, whether it's in Valencia or Venice or Paris or Barcelona, there's a chance to take that iconic European summer vacation in a way we may never see again.
7) After our Empire Financial Research retreat at my extended family's house on Lake Sunapee, New Hampshire, ended on Wednesday, four former students of my old seminar business, Kase Learning, drove up to visit over the weekend.
We had a great time climbing Mt. Sunapee, going out in our 1907 lake launch, and swimming off the dock, as you can see in these pictures and this five-second video: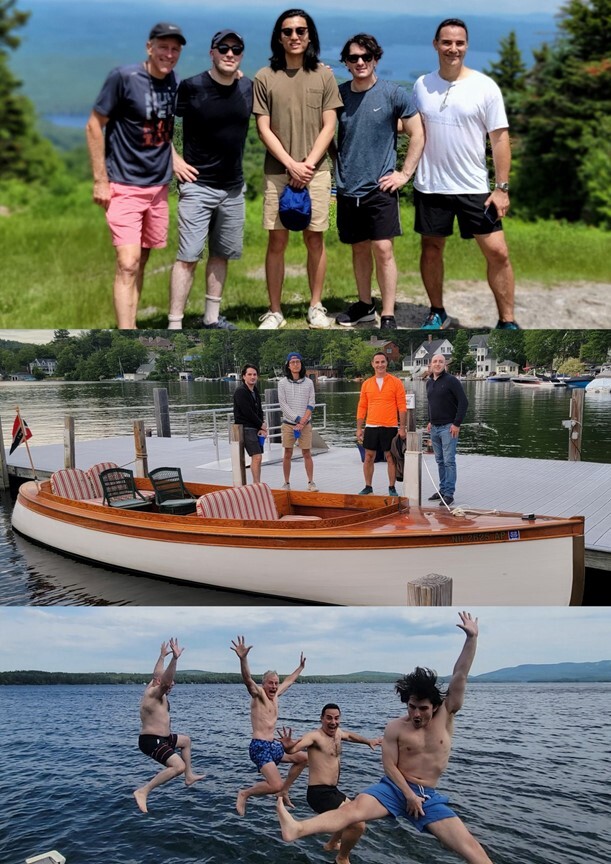 Best regards,
Whitney