1) My guide and I did an epic, arduous, and magnificently beautiful 54-mile trek, including 20 miles on the famed John Muir Trail in California's Sierra Nevada mountains on Thursday, Friday, and Saturday. (I posted pictures on Facebook here.)
I can't remember the last time I was off the grid for 48 hours. It felt good. Though it was pretty stressful when my phone finally got a signal and hundreds of e-mails came flooding in!
I used most of the 24 hours it took us to hike the loop to catch up on several podcasts, books, and YouTube videos, a few of which I'd like to share he...
2) I caught up on the last three episodes of Hard Money's Million Dollar Podcast, hosted by my colleagues Enrique Abeyta and Gabe Marshank, who have nearly a half-century of investing experience between them. They are taking insane risks – for example, 100-to-1-levered bets on bitcoin – that I wouldn't recommend to anyone (and they're careful to say the same regularly).
That said, it's highly entertaining – and also, surprisingly, quite educational – watching them try to turn $10,000 into $1 million.
And they're off to an amazing start... up 455%!
3) I really enjoyed this new book about WeWork, The Cult of We: WeWork, Adam Neumann, and the Great Startup Delusion. It's a good example of why I rarely read fiction – because the real world is so entertaining! If an author or screenwriter had made up a character as absurd and narcissistic as Adam Neumann, it would surely be dismissed as too over-the-top to be believe...
Here's a summary that appeared in The Wall Street Journal, The We That Didn't Work at WeWork:
WeWork underwent one of the most spectacular corporate meltdowns of the decade. It aborted an initial public offering, Mr. Neumann was ousted as chief executive, the company's valuation tumbled by nearly $40 billion and Mr. Son – having never completed the $20 billion deal – saw his tech-oracle image become fodder for jokes...

The high-profile immolation of the country's most valuable startup was caused by an array of factors including loose corporate governance, loose money and a financial sector thirsty for founders promising vision and innovation.

But playing a starring role in WeWork's rise and fall was the relationship between the two entrepreneurs, Mr. Son and Mr. Neumann. The pair often relied on erratic decision making as they made highly consequential decisions with billions of dollars – decisions that ultimately paved the way for WeWork's implosion.

It was a mix of mentor and disciple, competitive rivalry, and some father-and-son dynamics – resulting in a battle of one upmanship that left both men humiliated and furious with each other, said former and current employees of WeWork and SoftBank.

Today, the company is still grappling with the hangover. Now worth $8 billion, down from $47 billion, WeWork is on track to go public, this time through a merger with a special-purpose acquisition company. It exited some leases taken on by Mr. Neumann with SoftBank's money but must still absorb an enormous amount of office space. Occupancy is at a once unthinkable 53%.
4) Lastly, I finally had a chance to watch this interview that hedge fund managers Bill Ackman of Pershing Square and Paul Hilal of Mantle Ridge did with two current Harvard University students. While it was aimed at young folks, not investors, I loved it for two reasons...
First, it brought back great memories, as Bill and Paul are two of my oldest, closest friends, since we went to college together 35 years ago. Here is a picture of us from Bill's bachelor party in 1995 when we were river-rafting in Maine: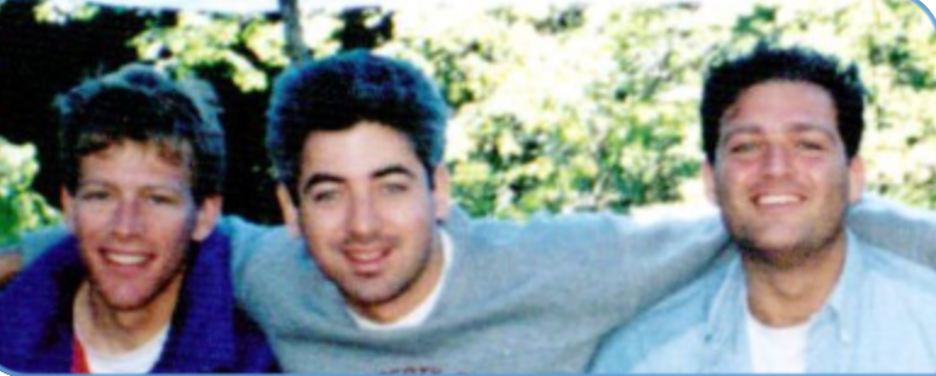 Their interview is laugh-out-loud funny as they bust on each other, with Bill taking credit for all of Paul's (enormous) success. Then Paul recounts how they met, they share what their first impressions were of each other, and Bill credits Paul with saving him when he was in danger of not finishing his senior thesis in time.
The second reason why I love the interview so much is that they impart some tremendously good advice, which I shared with my three daughters. If you don't have time to watch the entire 34 minutes (17 if you watch at 2x speed!), start at timecode 24:37, when they're asked about the advice they would give to their younger selves or any 20-year-old.
Paul starts with some humor: "My number one thing," he intones seriously, "would be to floss regularly!"
Bill laughs but turns serious, noting that most students at top schools like Harvard have achieved a long string of successes in life – but what defines successful people is how they deal with and overcome failure. Excerpt:
Experience is making mistakes and learning from them, so you have to come to learn to treasure mistakes. Also, you have to come to learn that you are going to experience a series of unfortunate events over the course of your life. It's a certainty. At some point, one or both of your parents are going to pass away. You may have your own health issue or someone close to you. Relationships work and some fail. Marriages work and some don't. You'll take a job – and maybe it's your first job out of school – and you'll f— up and maybe you'll get fired.

If you look at the list of successful people... I'm looking at my Bloomberg screen right now... Mike Bloomberg was fired from Salomon Brothers, and that firing catalyzed him to build his company.

Anytime something really bad happens, you have to figure out why it's good. It's always the case that bad turns into good. My first investment firm, ultimately, I had to shut it down, which was a fairly ignominious end to something that we were on a very, very good path on for a meaningful period of time. But that was good. Why? Because it allowed me to start Pershing Square, and with all the experience I had at my first fund, interestingly, investors were extremely interested in investing because I had made mistakes and because therefore, I had experience. And I think that's a really super-important lesson.

So don't be afraid of failure. America, in particular, loves second acts. In the venture-backed world, people really like entrepreneurs who've fallen, dusted themselves off, gotten up, figured it out...

I think the most successful people in the world have had to overcome...

Think about Reed Hastings [the founder of Netflix (NFLX)]. His business was mailing DVDs, competing against Blockbuster. He tried to sell his company to Blockbuster for $50 million, and they turned him down. Think about that. He was trying to make it work, he could barely make it work, and he was afraid of this multibillion-dollar competitor. But he failed to sell it to Blockbuster, and what's the business worth today? Hundreds of billions of dollars.

So just look at every failure as an opportunity. And if you do that and don't get discouraged, you're going to succeed.
Paul adds: "I think that's great advice – I mean, it's not as good as flossing..."
Bill continues:
Let me actually take Paul's very humorous comment and turn it into something serious. You cannot succeed unless you are healthy, and the time to start being healthy is when you are 22. The keys to healthiness are nutrition, exercise, sleep, and also not doing stupid s— that young people do like driving drunk, you know, just dumb stuff where the laws of probability occasionally mean you're going to die doing it, even if the chances of you dying are 'only' 1 in 20... whatever kind of stupid risks people take.
Paul, turning serious, adds:
One formulation of one of Bill's points was that the most successful people are the least accustomed to failure, so they're the least comfortable with it. So that creates a fragility because of the fear of failure that they have because they've just succeeded at everything they've ever tried. And that leads to a suboptimal risk aversion, right?

One of the things I've said to people is: show me someone who's succeeded at everything they've ever done – where people say, wow, what a winner – and I'll show you someone who hasn't reached far enough.

Because the only way you know what you're capable of is to reach for something that you don't know whether you can do. And sometimes you surprise yourself, and that's how you stretch and explore your boundaries...

Life is much more resilient and forgiving than you realize, provided that your failure isn't because of character. If your failure is because of character, it's a whole different world. If your failure is, hey, we tried something ambitious, it didn't work, so be it. But if you fail because you did something wrong, that's a hard one.
Bill added:
The interesting thing about character versus even business success is that everyone can have exemplary character – it's just a choice – whereas some of this other stuff requires some kind of acumen or hard work or whatever, but character is just a choice.
Best regards,
Whitney