► Broadway's shutdown is big business...
Last Friday, the Broadway League trade association announced a fourth extension to the shutdown of the Great White Way. The 31 productions that played their last performance on March 11 were originally scheduled to return on April 13 and were later pushed back to June 7... then September 6... and again to January 3, 2021. The most recent announcement extends the suspension through May 30, 2021.
Broadway has closed before, but never for this long. Strikes, power outages, weather events, and the 9/11 attack have shut down theaters in the past, but usually only for a few days. The longest shutdown prior to this one was a bit more than a month. The planned Broadway shutdown now stretches to fourteen months, and there's no guarantee that this will be the last extension.
While actors form the obvious face of the shutdown, the average Broadway show can employ hundreds of people, including the orchestra, stage managers and stage hands, lighting and sound workers, costumers, box office workers, ushers, marketing and PR pros, and other folks who come together to make a production happen.
Outside the walls of the theater, an entire infrastructure exists to support the productions: costume and musical instrument repair shops, agents and managers, casting agencies, vocal coaches, dance studios and retailers, and other niche businesses.
When you add it all up, nearly 97,000 workers are directly employed in the greater Broadway industry... and that doesn't include the many people who work in the restaurants, hotels, and retailers in the Times Square area and beyond that have been crushed by the shutdown.
It's a highly fragmented "ecosystem" of mostly small, independent businesses and freelancers that have been directly hit. But when you add it all up, it's anything but small business.
According to the Broadway League, the annual economic weight of Broadway is $14.8 billion on the New York City economy. A little less than $2 billion of that is in Broadway ticket receipts. The rest is in the infrastructure to support productions, and the local, domestic, and international tourism that's anchored by Broadway shows.
Even large businesses are taking a hit from the Broadway closure. When $13 billion-market cap Darden Restaurants (DRI) announced earnings for its fiscal first quarter that ended in August, it reported that sales at its Olive Garden restaurant in Times Square were down a massive 94%.
The Times Square Olive Garden is usually the chain's top-performing restaurant, taking in an astounding $15 million in a normal year. Darden also owns the high-end steakhouse chain Capital Grille and reported that its three Manhattan locations were losing millions of dollars per week in sales.
While sit-down restaurants across the country are almost all suffering, the average year-over-year sales decline for the Olive Garden chain was 28%... That's certainly not good, but a pittance compared to being down 94%.

Broadway's shutdown is just the highest-profile example of the overnight devastation of the $877 billion arts and culture industry...
Looking beyond Broadway, there's a national network of regional theaters, concert halls, clubs, bandshells, opera houses, comedy clubs, cabarets, dinner theaters, and other performing spaces that remain shuttered. According to the National Endowment for the Arts, consumers spent $17 billion on tickets to theater and opera in 2017. Another $4 billion was spent on musical entertainment, such as rock concerts and musical festivals. In total, $27 billion was spent on admissions to performing arts events in 2017.
Like any other industry, that direct ticket spend has a multiplier effect – reverberating through a whole ecosystem of supporting businesses, from tourism to advertising to construction and financial services.
Looking at arts and culture more broadly – everything from museums and historical sites to Hollywood studios to musical instrument manufacturing – the arts have a total gross domestic product ("GDP") of nearly $900 billion. That's on par in size with the airline industry, which has received $25 billion in bailouts so far and is expected to get more... but such relief has been absent for the arts, which have been granted no targeted federal support.
As you can see in this slightly dated chart from Bloomberg, arts and culture is a big business – more than 50% bigger than travel and tourism, and almost five times the size of agriculture...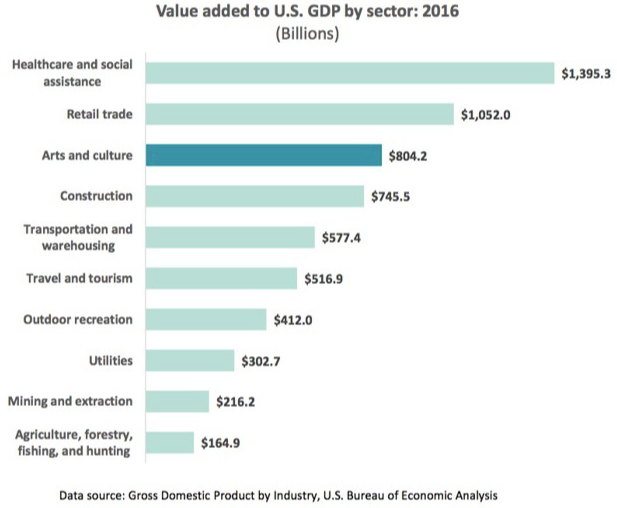 Source: Bloomberg
In recent years, arts and culture has also been a 4% grower in a 2% GDP growth world. And in an era of heightened scrutiny of trade imbalances, arts and culture remains an area in which the U.S. is still a net exporter.
In 2016, the trade surplus for artistic and cultural goods and services was $25 billion, which is up more than 10 times in 10 years, with the 2006 trade surplus for the arts standing at just $2 billion.

Within the giant aggregate numbers, we've heard countless personal stories of individual hardship...
I spoke with Broadway veteran Jessica Rush, who was playing Rhonda, the title character's manager, in Tina: The Tina Turner Musical at the time of the shutdown. Back in March, her husband, Eric Anderson, was starring as Hook in the Peter Pan-themed new musical Fly at the La Jolla Playhouse. Rush and her daughter have joined him in the cast housing the Playhouse had provided during the show's run, and which they have been allowed to stay in during the shutdown.
Rush told me she that she "feels blessed" to have savings, as she and her husband have "spent the last 12 years consistently working, one or the other, in a Broadway show the whole time." In addition to Tina, Rush has been seen in popular musicals such as Jersey Boys and the 2009 Guys and Dolls revival.
But she knows "working actors who are leaving the city or selling homes." The tales of financial stress that Rush relayed are numerous...
I can count on two hands the number of people who have gotten real estate licenses and left the city. A handful might not come back. I know Tony winners who have sold homes and left Broadway... People who have had children are thinking about a transition. It's hard to do eight shows per week, miss holidays, and not see your kids on weekends.
While Rush and her family will be back the second theaters have a date to reopen, and take comfort in the assurances her producers have given her that Tina will indeed return, the uncertain duration of the closure makes it hard to know how long her savings will need to stretch. While she waits, she continues to work on her Broadway and motherhood-themed podcast (@mamastalkinloud) as a creative outlet and stays busy homeschooling her six-year-old daughter.
As a consistently working actor, Rush didn't have a "survival job" on the side before the shutdowns. In the effort to bring in a little money, she has started a beaded jewelry business (@ivyandclarke) and says she will find a job in retail if the closures go longer than her finances can bear.
Of course, many actors had survival jobs before the shutdown... but many of the industries where people found decently paying survival jobs are either shut down as well or operating under reduced capacity. The ability to make money on the side as a waiter in a high-end restaurant, performing privately at weddings or galas, or teaching boutique fitness classes has been greatly impaired.
Health care has been a source of stress for Broadway performers, as well as so many other unemployed and underemployed Americans. Because the union-based health care plans covering performers determine eligibility based on a lookback of weeks worked, as the shutdown drags on, all performers will inevitably lose their health insurance. Even the industry's superstars won't meet eligibility requirements.
The unions explain that their hands are tied, as the health care plans are 85% funded by producer contributions for running shows, and the producers are losing money and can't afford to make contributions for employees of shuttered shows.
Tracey Grimaldi, a vocal coach who specializes in audition preparation, has been fortunate enough to move her business online, but told me there are "pit musicians busking in the street." She relayed that many of her students have found work nannying, teaching dance on Zoom, or doing personal assistant work. Some have left New York for financial reasons... but Grimaldi is confident that "they will be back the second auditions are back."
Tracey is frustrated there hasn't been more support for the people suffering in her community, and noted what a uniquely American industry Broadway is...
Broadway outsources nothing. Everything we use is sewed and built in New York, made with unionized American hands.
► The New York City economy can't recover without a Broadway recovery...
The city is reliant on tourism and has lost 200,000 jobs in the food and beverage sector since March. New York City hotels are operating at 40% occupancy, which is less than half of the average occupancy last year.
And Times Square is vital to the tourist economy. As the New York Times explained last week...
Officially, the Times Square area employs around 180,000 workers, provides 15% of the city's economic output and generates $2.5 billion in tax revenue, according to 2016 data collected by The Times Square Alliance, a local trade group. Before the pandemic, around 380,000 pedestrians would pass through the area per day, a number that reached 450,000 on peak days. During the city's lockdown, pedestrian counts in the square fell by over 90%, and now, despite an uptick, foot traffic is still down by 72% compared to the same period last year.
At least 26 of 46 Times Square hotels remain closed, and only half of area restaurants even tried opening for outdoor dining.
Every visitor that comes to New York City to see a performance of Hamilton or Wicked needs somewhere to stay and restaurant meals to eat. They take flights to get here. While in town, they shop at Macy's, the flagship Nike store, or Madison Avenue boutiques. A pair of show tickets that cost $300 is often the gateway to a weekend that could cost $3,000.

Live theater isn't just about money...
It's also about our healing... and its return will signal a giant step towards reclaiming normalcy.
You can never boil down artistic expression to the merely financial. As Henry Timms, President of New York's Lincoln Center for the Performing Arts, recently told the Washington Post...
We frame this conversation in terms of economic recovery... But actually the biggest question is about social recovery. The arts in general have a critical place in terms of recovering from the pandemic, and the really interesting challenge for the arts – when we are seeing some of the worst of ourselves – is that the arts represents the best of ourselves. The job of the arts is to be part of that human recovery.
That sentiment was echoed by actress Sarah Jessica Parker, who wrote in a recent Variety op-ed titled "We Must Save Broadway"...
The current crisis New York is living through is a purgatory that is very unfamiliar, one that lingers on with a painful uncertainty. Sept. 11 was unthinkable, but we could walk ourselves through the grief and, crucially, grieve collectively. Nothing before has stopped lives, jobs and the economy like this. And the one thing I keep forcing myself to remember is that I can't go to the theater to get through it.
The pre-vaccine path forward for live theater has been mired by election year politics and a constantly evolving medical understanding of COVID-19.
The less obvious factor in the extended shutdown is the extreme fragmentation of an industry made up primarily of freelancers and small businesses. Highly fragmented groups are difficult to coordinate when it comes to lobbying for financial rescue or regulatory accommodation.
The indomitable spirit of artists however is what will ultimately keep this most challenged of industries alive. As Jessica Rush tearfully explained to me, "what keeps me going is imagining the sound of that curtain going up that first time we get back on the stage."
Tomorrow, I'll get into some of the ideas floating around about how to save Broadway and the greater national performing arts industry, as well as the over 5 million jobs that go with it.

In today's mailbag, readers react to recent pieces on Hudson Yards and Halloween...
How has the shutdown of the performing arts affected your communities? Are there venues at risk of permanently closing or significant populations that are out of work? If in the past you have traveled to New York, or other cities, to see shows, concerts, or other performances, when do you anticipate being comfortable enough to do that again were they to reopen? Share your thoughts in an e-mail to [email protected].

"Berna- Here in Fort Myers, FL, we have nothing so grand as Hudson Yards, but we do have two types of building frenzies. The first is for life-care communities, many of which have been built, or are now partly built, over the last few years. At least some are now in a similar COVID-related financial problem, however. Ours is obviously not due to work from home, as almost all residents are retirees. However, because of almost all residents being in the at-risk age group, during the earlier phase of the pandemic, they were isolated to their (mostly small) units, with meals delivered to their doors, and allowed to go out of their suites or rooms only if leaving the building. As a result, few now want to move into these complexes, and be so restricted.
"Some of the older units are now seeing folks move out and having problems with maintenance as a result of reduced maintenance fees. We ourselves were considering moving into such a complex eventually, but now would choose a condo if we could no longer take proper care of a large house and yard, and if only one of us needs assisted living care, only that one would enter, and a life-care community for both is now out of the question for us.
"The other building frenzy is for single-family homes, which cannot be built fast enough for new residents seeking to escape winter weather and/or poorly governed and overtaxed communities and states more northward. The problem here is environmental. In our flat state with (essentially) a monsoon season from mid-May through mid-September, occasionally magnified by rain-laden tropical storm systems, we have less and less open land for excessive rainfall to sink into. Even the yards are reduced in size, as homes are built on smaller and smaller lots, to the point that they are built 'sideways', with the narrower side facing the street, and the longer side reaching back far enough to essentially eliminate a back yard. When the next big storm hits, and the water runs off in sheets over the land, instead of largely sinking into the earth, I'll be glad that our development is built on the highest area in the county." – Otto K.

"Berna, candy corn is [in] my candy dishes in the fall. Don't think I'll be trying the fake kinds. Spice drops during the holidays, otherwise, jellybeans the rest of the year. Ronald Reagan must be looking down upon me." – Tim L.
Regards,
Berna Barshay
October 13, 2020