Editor's note: Today, we're concluding our guest series as Empire Financial Daily editor Berna Barshay finishes attending the annual ICR Conference in search of investment ideas for our paid newsletters. In this essay, Brownstone Research founder Jeff Brown shares more details behind tonight's Pre-IPO Code Event…
---

You probably saw the news…
2020 was a big year for high-profile initial public offerings ("IPOs").
Popular companies – especially technology companies – finally made their move after years of being private.
Airbnb (ABNB) – the "Uber of lodging" – finally held its long-awaited IPO in December.
Palantir (PLTR), a bleeding-edge company that uses artificial intelligence ("AI") to extract insight from data, went public at the end of September.
Snowflake (SNOW), a data management software company, held another highly anticipated IPO. It ended up being the largest software IPO to date.
Lesser-known companies like Lemonade (LMND), ZoomInfo (ZI), and JFrog (FROG) also hit the public markets.
This is great to see. These companies were long overdue to go public. And at the right valuation, they would be great long-term investments.

But here's the bad news…
Airbnb, Snowflake, Palantir, and many of the other "hot" stocks being touted in the media are already mature, multibillion-dollar companies.
For instance, Airbnb is 12 years old and was valued at $31 billion during its Series F funding round in 2017.
As for Palantir? The company is 16 years old. It was recently valued at more than $50 billion. And Snowflake was founded back in 2012 and is already valued above $60 billion. They can still potentially be great investments. But their "early days" of exponential growth are behind them.
And because these companies stayed private, retail investors never had a chance to invest. Venture capitalists and private equity groups reaped all those early returns.
In many instances, regular investors get burned when they do buy these hyped stocks.

Why is it so hard to invest in exciting companies during their earliest stages of growth?
Why has it been so difficult to invest in the "next Amazon" when the company is still young and the best days of growth are still ahead?
It used to be that the world's best tech companies did go public early, allowing normal investors to buy shares of these exciting startups on public exchanges.
Amazon (AMZN) itself went public back in 1997 at a valuation of just $381 million. Everyday investors still had the chance to take a position in what was truly an exciting startup with an uncertain future.
And those who took a chance on Amazon's IPO got incredibly rich. The stock has gone on to deliver gains as high as 180,000%. That's enough to turn every $10,000 invested into $18 million. All on a publicly traded stock.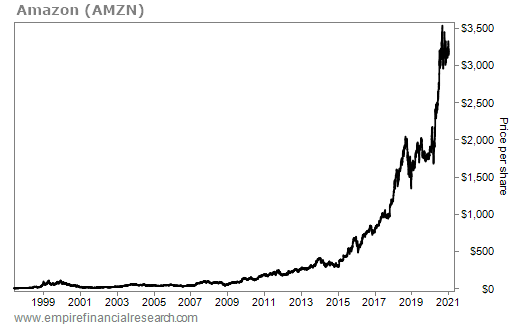 The sad fact is that this isn't remotely possible today…
Average retail investors have been locked out of the best tech companies. And by the time investors do have a chance to get in, it's often at absurd valuations.
Palantir is a great example. Palantir's business is to take in huge amounts of data, analyze it, and extract key insights. It uses artificial intelligence and machine learning to find patterns and key data points that human analysts would likely overlook. Basically, the company specializes in finding the needle in the haystack.
The technology is incredibly valuable. But Palantir went public at an enterprise-value-to-sales (EV/sales) ratio of about 22. And since its IPO in September, its EV/sales ratio has grown to 42.
That's just not rational for a company that lost $579 million in 2019 alone.
Snowflake is another perfect example. Like Palantir, it also went public in September. I really like Snowflake's technology – it's a bleeding-edge cloud-computing software company.
In fact, I'd like to recommend it… but I won't.
At its IPO, SNOW opened at $245, which was more than double the IPO price of $120. It also means that there was no way for normal investors to pick up shares anywhere between $120 and $245 a share.
And it has continued to run up since. Its current EV/sales ratio is at a mind-boggling 150. On any negative news or earnings miss, shares are likely to sell off. Investors are nearly guaranteed to lose money when investing at these levels.
I often tell my subscribers that we're investing in solid tech stocks that will let us "sleep well at night."
Do readers think they'd sleep well holding PLTR or SNOW right now? I wouldn't…

The problem is widespread…
Many recently public companies are trading at unreasonably high valuations…
And it's cutting retail investors out of some of the largest gains. Unless we were able to invest in pre-IPO shares along with the venture capitalists ("VCs") and hedge funds, regular investors simply had no window to get in.
I mentioned Palantir above. In December, its enterprise value was over $50 billion.
The CIA's venture capital arm, In-Q-Tel, invested $2 million into Palantir back in 2005 in its Series A round. Palantir was worth a mere $5 million at that time.
That means the CIA's early stake in Palantir (with some estimates accounting for dilution) made roughly 2,500 times its original investment, turning that $2 million into $5 billion.
It's a similar story with Snowflake. Early investors like Sutter Hill Ventures raked in as much as $12 billion after the IPO. Altimeter Capital brought in $4.4 billion. And Sequoia Capital had a $2.6 billion return.
Don't get me wrong. It's great these companies have finally reached the public markets.
And at the right valuation, they could still be good investments.
But it's frustrating to see the largest gains get eaten up before retail investors even have a chance.
And that's been my mission over the past few years. How can I bring pre-IPO gains like what VCs enjoy to my readers?

I've spent more than five years digging into this question…
I've looked into early stage biotechnology companies… Regulation Crowdfunding ("CF") opportunities… and unique small caps with incredible potential.
But recently, I discovered a whole new way for my subscribers to essentially position themselves in pre-IPO shares.
The best part? You don't need to be an accredited investor. There's no required amount of funds to take part. And it's possible to invest right from your brokerage account…
This might sound too good to be true… but it's real. And I'm excited to bring this newest idea to my readers.
That's why I'm putting together a special presentation for interested investors… I'm calling it the Pre-IPO Code Event.
It's going to air tonight at 8 p.m. Eastern time. I don't want anyone to miss out, so please save your seat tonight by clicking here. I hope to see you there.

In today's mailbag, more thoughts on investing in Chinese stocks. One reader offers an on-the-ground perspective, which is always valuable…
Did any readers buy shares of companies after any of those high-profile IPOs last year? If so, how are your positions looking so far? Send an e-mail to [email protected].

"Berna, I invested in BABA at the end of 2018 and added to the position early last year. I've seen most of my unrealized gains wiped away and am strongly considering dumping my whole position. I was looking at investing into Tencent last year also, but I am certainly not going to anymore. This is serious stuff that should cause grave concern for investors and people that care about the human rights of Chinese citizens.
"I only recently, right after the news broke of antitrust investigations into Alibaba, learned about the VIE structure that Chinese companies listed on American exchanges have. This poses an issue if the Chinese Communist Party ("CCP") does indeed decide to break up Alibaba. Part of me wants to believe that the CCP has enough interest in foreign investment that they won't do anything drastic, at least to the company itself. What they do to Jack Ma himself unfortunately is a different story. What do you think about current investments in BABA? The company has so much potential that dumping it now, and then potentially seeing it take off in the years to come would be painful." – Roland D.
Berna comment: Roland, I agree that Alibaba (BABA) is an excellent company with a bright future… as long as the government leaves it alone.
I leave assessing the risks here to the China experts. But if I wanted to own the stock, I would control my risk by either keeping the position size small or owning it via long-dated, in-the-money call options, with an investment no greater than what I could afford to lose. I would basically treat it the same way I treat any other risky – but potentially high-return – investment.

"Hi Berna, I've always enjoyed your and Whitney's writings. You guys are great, thank you.
"A little about me, I'm a Chinese citizen born in China, but I grew up in the U.S. I have practiced law in both jurisdictions, and now I serve as corporate counsel for a company in Hangzhou. I was able to meet Whitney once when he was in Shanghai a few years ago.
"I sent Whitney a message about Jack Ma a couple days ago, not sure if he got the chance to read it. Basically, I didn't think the recent development concerning Ma is as big of a deal as the media portrays. Not that he can't get into big trouble. He might, but from what I have seen, the U.S. media's comments about China's political environment have never been so reliable (to be fair, Chinese media's comments about the U.S., as I have been telling my friends and colleagues in China, should also be taken with a grain of salt), so I wouldn't worry about Ma just because Yahoo says it… Unless there is some clear and convincing evidence, in my opinion, the chances of Ma being jailed are very low, and outright 'vaporization' is beyond imagination.
"I see that you mentioned Lai Xiaomin. Coincidentally, I actually have two relatives who personally worked with Lai. On one occasion, I went on vacation with them, accompanied by some of my relatives' colleagues, who also worked with Lai. I stayed with them for several days, and one of the most popular dinner topics I heard was how unscrupulous and dishonest Lai was back in the days when they worked with him. While the death sentence surprised me a little (almost everyone nowadays gets a suspended death sentence, which will later be reduced to life imprisonment), I can hardly believe Lai's downfall is just politically motivated…
"All in all, I think China's environment is not nearly as bad as many westerners think. Yes, people get in trouble for political reasons more often than they do in the U.S., but far more often when they get in trouble, it is for more ordinary reasons.
"But if you ask me if it is a good environment for investment… I would say no. While there should be some good targets, fraudulent practices are so common in corporate China that I just don't bother to try to distinguish the good from the bad. I'm sure some people can do it, but for me, it's much easier to just invest in the U.S. without all these worries…" – Wuming J.
Berna comment: Thank you for writing in… You have a great perspective to share.
Regards,
Jeff Brown
January 13, 2021