1) In one of our webinars last fall, Glenn Tongue and I shared our thoughts on How to Develop a Variant Perception on Widely Followed Stocks (five minutes).
2) The idea that the Chinese government is going to allow any foreign company (much less a U.S. business in the midst of a trade war!) to come into its market and become successful in such a critical sector as electric vehicles strikes me as ludicrous. This just isn't how China operates.
Why, then, is China rolling out the red carpet for Tesla's (TSLA) new Gigafactory 3 in Shanghai, lending CEO Elon Musk's cash-burning company nearly all of the money for the plant, building it in record time, waiving any permitting issues, granting tax breaks, etc.?
I always thought it was because China wanted to steal Tesla's technology. But then a friend sent me this link to a Twitter thread, which raises the question whether the Chinese are grooming Musk to be an asset…
This very revealing seven-part Tweetstorm should be read by every senior CIA official.

Note who Elon Musk's case officer is in the Chinese government: Li Qiang, Party Secretary of Shanghai, member of the Politburo, trusted member of President Xi's inner circle, and seen as a possible successor. Is such a senior person an indication that the Chinese are seeking to gain leverage over Musk so they can eventually bend him to their will?

The U.S. government should ask: do we really want the person in charge of U.S. government contractor SpaceX to be in such a compromised position? 
3) From the moment I heard Musk boast about Tesla Insurance, I've thought the idea was preposterous. 
Tesla is going to enter an enormously difficult industry and successfully compete against well-run giants like Berkshire Hathaway's (BRK-B) GEICO and Progressive (PGR) – an industry in which companies need years of experience to have the data to set prices appropriately… where even a small mistake can lead to huge losses? What a joke!
I suppose Tesla bulls would argue that Musk has successfully disrupted other big, tough industries, so why not give him the benefit of the doubt. But this is a bridge way too far for me…
So what's really going on here? I think another friend of mine nailed it:
It's typical Tesla.

They have convinced everyone to focus on the gross margin they make selling autos. Meanwhile, they run a services business at a huge loss – for example, they under-accrue warranty cost and expense the extra losses through service. Also, they subsidize new car sales by overpaying for trade-ins and run the loss through services. Ditto for insurance – it's another way for them to subsidize the customer without affecting auto gross margin.

Insurance also won't be that big. Let's say they lose 10% of premium – which would be a horrible insurance result. That might be $400 per car per year. The Tesla fleet is 500,000 – globally. If they get 10% of that, it's a $20 million cost – a rounding error in the scheme of Tesla's already upside down P&L (or should I say just L?).

Plus they can reduce losses by giving insurance customers priority on service appointments and spare parts. Tesla won't care how this further irritates the rest of their customers, who already have to put up with an inconvenient repair situation.

Tesla's insurance partner, State National, is merely a "fronting" company. They take 4 or 5 points off the top, but don't assume the underwriting risk. No one knows who the money behind them is. My guess is that the losses one-way-or-another find their way back to Tesla.
If you'd like to be added to my Tesla e-mail list (roughly one e-mail per day), simply send a blank e-mail to: [email protected].
4) This is the first investor presentation I've ever seen for Berkshire Hathaway Energy.
Wow, what an impressive business! Check out this chart, which shows the remarkable, steady growth of the business over the past 17 years, while simultaneously reducing debt as a percentage of assets from 58% to 43%…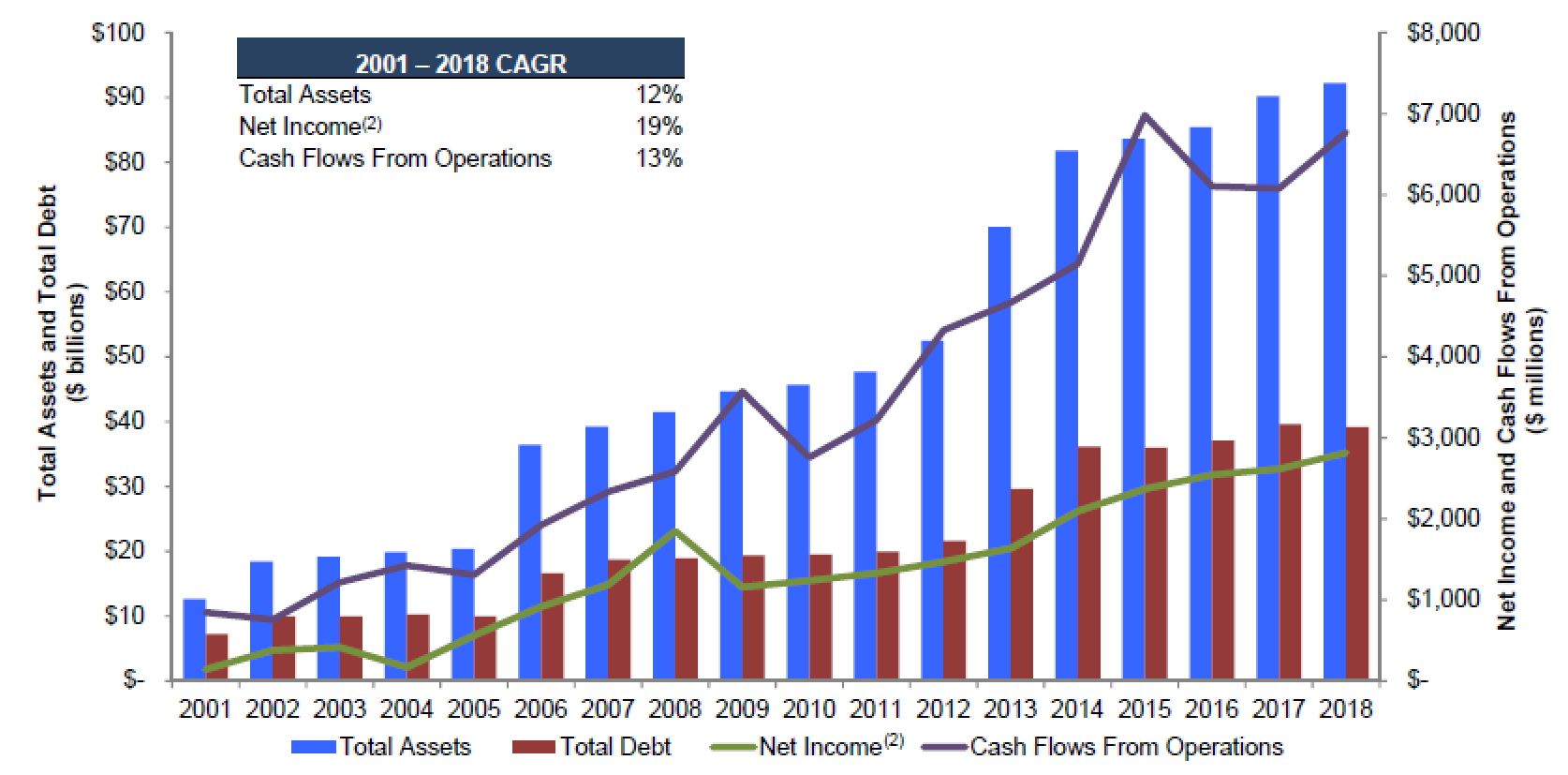 Another chart shows that Berkshire Hathaway Energy has "Adjusted Retained Earnings per day" of $7.7 million versus only $1.9 million for the average utility holding company. As one of my friends noted…
If you are a competitor, it's got to be demoralizing getting out of bed to go up against someone retaining $7.7 million in earnings per day! In a low-interest world, those regulated 10% returns look pretty darn good.
5) Returning to one of my favorite stories over the past year… Models, Musicians Face Lawsuits Over Fyre Festival Payments. Excerpt:
Models who promoted the Fyre Festival on social media and musicians who were booked to perform at the doomed music festival have been sued by a bankruptcy trustee who is attempting to recover payments they received from William "Billy" McFarland or companies he used to organize the event.

Models Kendall Jenner and Emily Ratajkowski and performers Migos, Pusha T and Lil Yachty are among the big names sued Wednesday in the U.S. Bankruptcy Court in New York by trustee Gregory Messer, who has been investigating who got paid in the lead-up to the 2017 event that was supposed to take place over two weekends on an island in the Bahamas.

The lawsuits seek to recover money paid to talent agencies, performers they represent and some vendors, including two companies that were paid to charter musicians to the festival on private jets and yachts. The litigation comes more than two years after investors who sank money into the event forced Fyre Festival LLC into bankruptcy in hopes of finding out where their money went.

Ms. Jenner was allegedly paid $250,000 to promote Fyre Festival months before the event through a since-deleted Instagram post. She was paid another $25,000 days after making the post, the trustee alleges in one of the lawsuits.

Mr. McFarland and his company, Fyre Media Inc., were also sued over $14 million allegedly transferred either to him, directly, or to Fyre Media from its bankrupt subsidiary formed to promote the festival. Mr. McFarland is serving a six-year prison sentence after pleading guilty to fraud charges.
Best regards,
Whitney