► As we stare down the coming end of the COVID-19 pandemic, investors are left wondering what the lasting effects will be…
As I wrote in yesterday's Empire Financial Daily, the crisis provided the consumer packaged goods ("CPG") industry with many tailwinds, as well as a few headwinds.
After years of cereal sales declining, shuttered offices and schools led to people eating breakfast at home and reaching for boxes of Cheerios once again.
Conversely, things weren't so good on the condom front as the pandemic took a bite out of dating, which you can see in this graphic from Trojan parent Church & Dwight's (CHD) CAGNY presentation last week…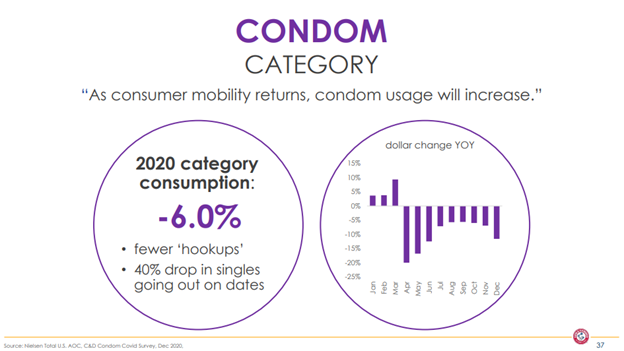 Source: Church & Dwight CAGNY presentation
Regardless of whether their businesses were helped or hurt by the pandemic, most managers have rose-colored glasses on right now about the future. As I said yesterday…
Of course, every company that got a tailwind from the pandemic thinks it received a lift that will prove sustainable… and every company that had a division that was felled by reduced mobility thinks that demand for its forgotten offerings will come roaring back as the pandemic comes to an end. Of course, these can't both be true in all instances.
Predicting the future is always hard… but I think it makes sense to try to parse some of the trends that emerged in 2020 in order to pick out which companies had their competitiveness permanently improved by the pandemic and which could see a rebound on the horizon.
It's also important to sort out which companies are over-earning, because of factors that might prove fleeting.

Looking at the categories that got a pandemic tailwind, one is a no-brainer to be sticky: pet products.
Stories of pet adoptions were plentiful last year. Shelters were cleared as people sought companionship during periods of staying at home. Potential adopters who were on the fence about bringing a pet into their home took the plunge as concerns about long hours at the office or travel-driven absences faded away.
An estimated 12.5 million pets were adopted since the beginning of the pandemic… That's one of the truly great consequences of an otherwise miserable period.
Given the average pet lives 10 to 15 years – and some can even live to 20 years – this uptick in the number of homes with pets and/or the average number of pets within a home will have demand consequences for more than a decade. And it could last a lot longer than that… Even when the current cohort of "COVID cats" and "pandemic puppies" are gone, it's likely that pet-owning households have been created for life. Companies with exposure to pet products include Colgate-Palmolive (CL), General Mills (GIS), Nestlé (NESN.SW), and Spectrum Brands (SPB).
The other big trend on everyone's mind was the effect of more time at home – the investments people have made in their homes over the last year and how sticky volume gains in home-related products will be.
The shift from dining out to eating at home has been a windfall for food and beverage companies, although not so much for those that have very large businesses selling through restaurants and bars, like some beverage companies – both alcoholic ones and non-alcoholic ones, such as Coca-Cola (KO). While consumption has picked up at home for beverages, it hasn't totally offset the loss of sales in bars, restaurants, offices, convenience stores, airports, arenas, and other public venues.
As we reach the end of the pandemic, demand for dining out will likely come roaring back. This should help the beverage companies and others affected by the pandemic, such as food distributor Sysco (SYY), which lost about a quarter of its topline and two-thirds of its earnings before interest, taxes, depreciation, and amortization ("EBITDA") during the crisis. The company noted "eat-at-home fatigue" and said we're "standing on the doorstep of a pending recovery."
I think Sysco is right… Smaller competitor Performance Food Group (PFGC) noted that its business distributing food to restaurants and other institutional buyers was actually already running up year over year in areas where the economy is fully reopened, such as Texas and Florida. Notably, Performance Food was comparing to a period before the pandemic reached the U.S.
This is strong evidence of a coming sales and earnings rebound for many of the companies that got hit hardest, including Sysco. Unfortunately, you can see the market has already figured much of this out – Sysco has recovered nearly all of its pandemic-driven price contraction, well in advance of results actually improving…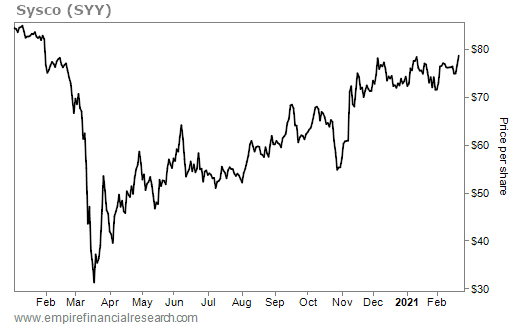 One corollary to the pending return of dining out is that we could start seeing menus that had been narrowed in terms of breadth of assortment start to expand again.
Simplifying the manufacturing process during COVID-19 was a big trend – whether you were a restaurant managing the health and safety of kitchen workers or a big global company like Mondelez (MDLZ) reducing the variety of Oreos offered to make plants run more efficiently and increase total output, thereby meeting rising demand.

A few other 2020 CPG trends merit a call-out…
Companies are making bigger bets in fewer new product innovations. Instead of throwing a ton of ideas at the market and seeing what catches fire, they're making bigger, more targeted bets. This was something discussed by Coca-Cola, Mondelez, PepsiCo (PEP) and others.
This is due in part to the surging demand in 2020 for more product, which in turn propelled the need for factory efficiency, as I mentioned earlier. The other big driver is that the digital transformation, which I discussed yesterday, is giving these companies a better consumer feedback loop… and they're more confident that they have the information they need to pick where to take their shots and concentrate resources.
Premiumization remains a big focus for all these companies, with L'Oréal (OR.PA) noting the continued strength in prestige brands. Premium skincare remains a focus for many companies in the space, including L'Oréal, Colgate-Palmolive, and Unilever (UL). As I've said previously, this has been a driving force in alcohol, and it remains one in other categories such as pet care and confectionary as well – with both Nestlé and Hershey (HSY) touting their successful efforts to "premiumize" the portfolio.
Environmental sustainability was a theme explored in nearly every presentation at CAGNY. Companies devoted more time than ever to their initiatives to reduce emissions and packaging waste and promote clean water and responsible farming.
Interestingly, the corporate environmental, social, and governance ("ESG") initiatives discussed seem inextricably intertwined with premiumization initiatives. A growing number of consumers demand environmental responsibility from the companies they shop with, and many are also looking to see what companies are doing in terms of diversity and inclusion as well. Consumers, especially younger ones, are voting with their dollars.
Finally, it would be irresponsible of me not to mention the higher inflation on the horizon… This was noted by nearly every company, with most looking for mid-single digit cost inflation driven by commodities, higher freight rates, and labor. Most companies believe they can offset this with pricing… CPG companies with strong brands have a history of being able to pass these increases on to retailers and ultimately consumers. On the other hand, third-tier players may find themselves squeezed.
I'm not too worried about inflation in terms of the effect on CPG earnings, but it's something to keep an eye on… because you know the U.S. Federal Reserve will do so as well. The biggest risk to the market remains rate hikes, although the Fed has already signaled that it will have more inflation tolerance than it has historically.

Coming back to where we started… What happens to the at-home tailwind that so many companies enjoyed this past year?
This is the million-dollar question, and I don't believe decades of a trend towards dining out will immediately reverse because of the pandemic. That change, to my mind, was temporary… not permanent.
But several companies made a credible argument for some of these changes being sticky. Over the past 11 months, Conagra Brands (CAG) explained that many millennials learned to cook for the first time… and many of them enjoy it and see how much money it can save. Many families also have adopted cooking as a collective hobby. So, while the current growth rate in some food categories is unsustainable, demand may be permanently bumped up in ingredient businesses and other food categories.
Credible arguments were also made about working from home – at least part-time – being sticky, which I agree with based on surveys and from talking to companies about their future plans. Several companies also mentioned the investments made in the last year in home theaters to enhance streaming entertainment, and food distributors expressed doubts about how robust the recovery would be at their movie-theater client locations.
It will likely be a mixed bag in terms of the nesting bump we've seen… I think the cereal makers will see their volume growth tail off as schools fully reopen and people go to the office more. On the other hand, everyone who bought a new grill last summer will probably use it quite a bit this summer too, which should benefit Clorox's (CLX) Kingsford charcoal.
If there's one business that intrigued me the most with its argument that its prospects have been permanently enhanced by the pandemic, it would be Clorox. The company made a case for a significantly heightened and lasting focus on health and hygiene after this pandemic experience.
As someone who never wiped down a plane or train tray until February 2020, that's a practice that may stick for me. I'm used to having wipes in my bag now… Why not?
Clorox also noted that it had received increasing business inquiries at its professional cleaning division, a small but steadily growing piece of the business.
Cleaning products make up 44% of Clorox's revenue in the U.S. Other categories that might have sustained benefits from the pandemic – such as cat litter, vitamins, and grilling products – make up another 22% of domestic revenues.
I joked last summer that Clorox (CLX) was starting to look like a tech stock…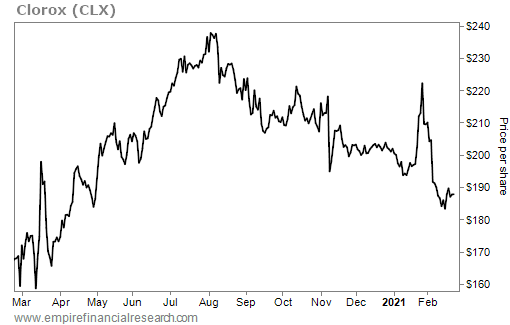 But with CLX shares down over 20% from their summer 2020 high, strong management, and a credible story about permanently improved business prospects, Clorox looks like a good bet as a less risky, long-term hold. It also offers a 2.4% dividend yield and a strong history of increases.

In the mailbag, readers respond to my colleague Alex Griese's guest essay on trends in bank earnings…
Do you think you'll eat out more, less, or the same as you did pre-pandemic once it's over? For those who have been working from home, do you think you will go back to the office full-time, part-time, or not at all? Are you spending a lot more on food or household products… and if so, do you think this will continue? Share your thoughts in an e-mail to [email protected].

"I try to refinance my first mortgage at Wells Fargo (WFC). Primary residence, loan to value 30%, credit rating north of 800, substantial cash to get an interest rate discount. They declined me. They would not include any income from real estate assets. Everything else I own is free and clear. How about that one!" – Donald H.

"I am self-employed and just want to combine a first and second mortgage to take advantage of the best rate and I have been trying for five months. No other debt, no late payments, have equity in the house at 100% of the loan sought. High 700 credit score. Savings more than loan, life insurance more than loan. I cannot qualify for lowest rate. It's not worth paying the front-loaded interest plus $5,000 in costs to refi, if after 10 years of on-time mortgage payments I cannot get a rate at least 1% lower than my current rate… and they say I don't qualify." – A.K.

"I am trying to secure a jumbo loan using RKT [Quicken loans]. I have liquid assets that are 9.3 times the size of the loan, and no other debt [two homes with no mortgage]. I was told to expect difficulty; this was an understatement. It's been about a month, and the close is 16 days away. Still no binding commitment to provide funds.
"My option at this point is to sell stock and pay cash. The 30-year rate with 30% down is 2.75%. I want the loan because I think I can do better, but 2.75% risk-free is the effective alternative." – Nick H.
Berna comment: Nick, I had the exact same experience as you did when trying to get a mortgage last summer, also with liquid assets in the bank (but unfortunately not 9 times the loan!). The bank eventually came through… but it was a painful experience that took months longer than expected and was like a second full-time job.
After my experience and hearing from you, Donald, and A.K. above, as well as others… I'm skeptical of the data that say mortgage credit availability is increasing, especially for jumbos. It certainly appears that banks are still playing by the tighter "COVID rules."
Regards,
Berna Barshay
February 23, 2021