Editor's note: The Empire Financial Research offices are closed on Monday in observance of Memorial Day. Look for your next issue of Empire Financial Daily on Tuesday, after the Weekend Edition.

Every year, thousands of designers gather for the Industrial Designers Society of America's annual conference...
In 2007, Joe Gebbia and Brian Chesky were two recent graduates from the Rhode Island School of Design who had just moved to San Francisco. They knew how popular the conference was – so much so, in fact, that they suspected attendees would have trouble finding hotel rooms.
Sure enough, when Joe and Brian checked, they couldn't find any available hotel rooms in San Francisco.
Sensing demand – and needing to raise money to pay their rent (they had moved to San Francisco without jobs lined up) – they had an epiphany: What if they charged conference attendees to stay in their apartment?
So, the entrepreneurial young men bought a few airbeds and quickly built a website that allowed designers to book a place to sleep plus breakfast for just $80 per night.

It was an immediate hit...
The duo ended up hosting three professional designers – which helped cover their rent – and the overwhelming interest by professionals to stay in airbeds on Joe and Brian's apartment floor led them to think that they were onto something much bigger...
So, they brought their friend Nathan Blecharczyk, a software engineer and recent Harvard grad, into the fold as the third co-founder to spruce up their website.
After six months of hard work developing the idea and website, they launched their apartment-sharing business with high hopes at the enormous South by Southwest film festival and conference in Austin, Texas in March 2008.
It was a disaster... They only had two bookings, one of which was from Brian.
Undeterred, the trio decided to try again at the Democratic National Convention ("DNC") in Denver in August.
To keep themselves and their company afloat until then, Joe, Brian, and Nathan applied for two dozen credit cards and maxed them out.
If they flopped again at the DNC, not only would their business go under, but they would all be faced with a lot of high-interest-rate personal debt.
To make sure this didn't happen, Joe and Brian put their design skills to work and came up with specially branded cereals for the convention: Obama O's and Cap'n McCain's.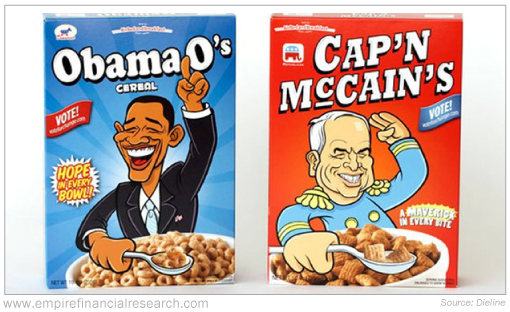 The political cereals, which they sold for $40 per box, weren't just a way to pay the youngsters' bills... They were also a brilliant marketing tactic, as each box had information about the airbed and breakfast business on the back.

The marketing ploy was a massive success...
Not only did it net Joe, Brian, and Nathan $30,000 – allowing them to pay off most of their credit-card debt – but it also generated national press coverage for their fledgling business, Airbnb (ABNB).
While bookings for the company declined after the DNC, the trio's success enabled them to raise $20,000 from Y Combinator, a well-respected startup incubator that provides both funding and access to mentors.
Using the Y Combinator funds, Joe, Brian, and Nathan flew to New York City, where most of their users resided.

They soon realized that they had stumbled onto one of the rarest, most powerful business dynamics in the world...
Airbnb was soon benefitting from what's known as a "flywheel."
Flywheels occur when each interaction between a customer and the business reinforces the customer's desire to return to the business, allowing it to grow naturally with each interaction. E-commerce giant Amazon's (AMZN) Prime and its two-day delivery is a great example of this dynamic.
In Airbnb's case, as users enjoyed each stay, they were more likely to book again. And the more they did so, the more money hosts would make.
When hosts made more money, they would tell their friends about the new way they were making money, which would lead to more listings. And with more listings, more users signed up...
The discovery meant that Joe, Brian, and Nathan had been right all along.
The trip to New York City kickstarted that flywheel, as the founders personally stayed with each host, took professional photos of their apartments, and helped them to make their listings more professional. This attracted more users and further accelerated the flywheel.
Just two years later, Airbnb had booked more than 1 million nights. By the mid-2010s, the company became a global giant – disrupting the entire lodging industry and sporting a private market valuation of more than $25 billion.

Today, you can book an Airbnb in more than 220 countries and more than 100,000 cities around the world...
Airbnb is now worth nearly $70 billion. What the company's founders and its 6,800 employees have accomplished in about 15 years is nothing short of remarkable.
Now, let's compare that with hotel chains Hilton (HLT) and Marriott (MAR). Hilton is worth more than $36 billion today and has 159,000 employees, while Marriott has a $51 billion market cap and 140,000 employees.
In other words, using incredibly simplistic, back-of-the-napkin math, each one of Marriott's employees is valued by investors at $364,000... For Hilton, it's about $226,000. And for Airbnb, an astonishing $10 million!

The key to Airbnb's rapid success is a theme we've been hitting on a lot lately...
That is, its business model allowed it to achieve "hyperscalability." Airbnb's growth looks like a hockey stick on virtually every metric.
As more people signed up for the site – from 6 million in 2012 to 150 million by 2018 – more people began listing their apartments and houses for rent. Over the same period, Airbnb's listings grew from 120,000 to 6 million. That's a 4,900% increase in just six years. Take a look...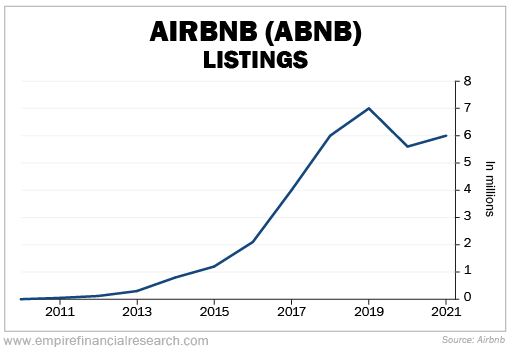 Which, in turn, sent revenues soaring (save for a one-time blip during the pandemic lockdowns)...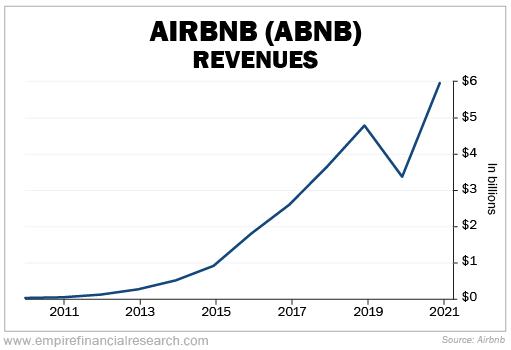 Airbnb is a textbook example of how technology can disrupt age-old industries, crowning brand-new winners and threatening to put "old fashioned" companies out of business.

The sell-off we saw last year has created an incredible opportunity for savvy investors...
Hyperscalable businesses like Airbnb, Amazon, PayPal (PYPL), Meta Platforms (META), Netflix (NFLX), fell between 49% and 64% last year.
While investors panic about the debt ceiling nonsense, the ongoing conflict between Russia and Ukraine, and the "banking crisis," I've been licking my chops at the bargains I'm seeing pop up in the market.
My friend and colleague Louis Navellier and I just sat down on camera to explain why certain hyperscalable stocks, at today's prices, could make you 5 to 10 times your money.
Before it goes offline, you can watch a replay right here and learn the name and ticker symbol of one of our favorite stocks to buy today... the exact date we believe a turning point is coming to the market... which stocks will be hit the hardest... and more.
Click here to watch it before it goes offline for good.
Regards,
Whitney Tilson
May 27, 2023