► The highest-profile new mall to be built in years is teetering on the edge…
The American Dream Mall in East Rutherford, New Jersey sits in the Meadowlands Sports Complex, where the NFL's Giants and Jets play. It's a project 25 years in the making – first delayed by nearly a decade by environmental considerations, and then derailed during the global financial crisis of 2008 as capital dried up in the wake of the Lehman Brothers bankruptcy.
In 2011, real estate conglomerate Triple Five Group – which owns and operates the Mall of America in Minnesota – stepped in to lead the development.
By the time Triple Five had all its permits and financing in place around 2016, mall traffic was in decline and e-commerce growth was exploding. Malls were now about experiences and entertainment as much as shopping.
While the American Dream will feature 450 stores – second only to the Mall of America – the lion's share of its space will be devoted to non-retail. Of its massive 3 million square feet, 70% is allocated to entertainment.
American Dream's entertainment attractions include a Nickelodeon-branded indoor amusement park, North America's first indoor ski slope, and a DreamWorks Animation-themed indoor water park that features the world's largest indoor wave pool. One hundred dining options, a 38,000-square-foot gourmet food court, a bowling alley, a Lego center, an aquarium, a concert venue, and a 26-screen movie theater hope to add to the appeal… and the foot traffic.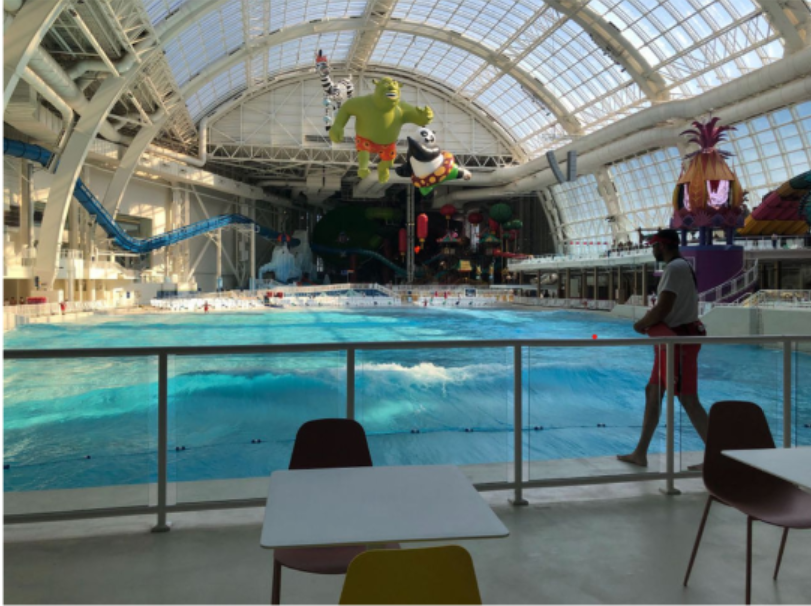 Source: NJ.com
Located less than 10 miles from Manhattan – and drawing on the 20 million inhabitants of the greater New York City metro area, plus more than 60 million annual visitors – the American Dream was supposed to be the mall of the future… designed for the "experience over things" era and built to be bulletproof from e-commerce.
The developers clearly aspire for this to be a world-famous property. Talking to the New York Times, Don Ghermezian – president of Triple Five and chief executive of American Dream – said the development "absolutely" planned to compete with theme parks like those from Disney (DIS)… and would put the area "on the map" as a destination for international tourists.
In fact, my colleagues Whitney Tilson and his analyst Steve Culbertson checked it out for themselves in early February. As Whitney joked, "If you have kids, do not take them to this mall… because they'll never want to come home!"

But the Dream quickly ran into trouble…
After 15 years of planning its current incarnation and $5 billion of expenditures, the first so-called "chapter" – the amusement park, ski slope, and ice rink – opened in the fourth quarter of 2019.
Retail shops, dining, and the highly anticipated water park were scheduled to debut in March, which obviously didn't happen because of the coronavirus pandemic. While other malls in New Jersey have started to reopen, the Dream remains closed without a reopening date announced. Talk about bad timing…
Things went from bad to worse as Triple Five missed April and May payments on its $1.4 billion mortgage on the Mall of America, which the firm used as collateral on debt it took out to build the American Dream. Like all mall operators, the Mall of America was suffering as many of its retail tenants weren't paying rent. Even solvent companies in relatively good shape like Starbucks (SBUX) and Chipotle Mexican Grill (CMG) asked for rent breaks during closures.

While the developers worked hard to 'Amazon proof' the American Dream, they clearly didn't 'pandemic proof' it…
Though the retail space was 90% leased ahead of the now-delayed March opening, chances are good that some of those tenants don't stick around… and those that do stay could demand a rent decrease to reflect current conditions.
Some tenants have clearly already backed out. Before the coronavirus, developers said the space would be allocated 55% entertainment and 45% retail, yet now that ratio is 70% to 30%.
It's a ton of uncertainty, with $5 billion on the line – including $1.2 billion in incentives from New Jersey taxpayers.
And while the pandemic came out of nowhere, some of the problems at the American Dream seem self-inflicted…
Opening in phases took away some of the excitement, and probably robbed the property of PR. Even more perplexing, Triple Five rushed to get the amusement park open by the holidays… Yet when I was there in its early weeks, many of the marquee rides weren't yet operational and the food options looked like a third-tier airport.
If you only have one chance to make a first impression, Triple Five blew it. The amusement park was definitely no Disney, as I haven't experienced nagging to go back. If the water park and restaurants had been open in December, it might have been a different story. It makes me wonder if the mall partially opened last year more for debtholders to see progress than to woo early customers.

Things aren't much better across the river at Hudson Yards…
The massive complex on Manhattan's far West Side makes the American Dream look like a starter house. With a budget of $25 billion (including $6 billion in tax breaks and incentives), it's the most expensive real estate development in U.S. history.
The 28-acre project includes office towers, high-rise luxury condos, an upscale mall, the first Equinox-branded hotel, a movie theater, the highest observation deck in the Western Hemisphere, a climbable multistory outdoor sculpture, and plenty of public space.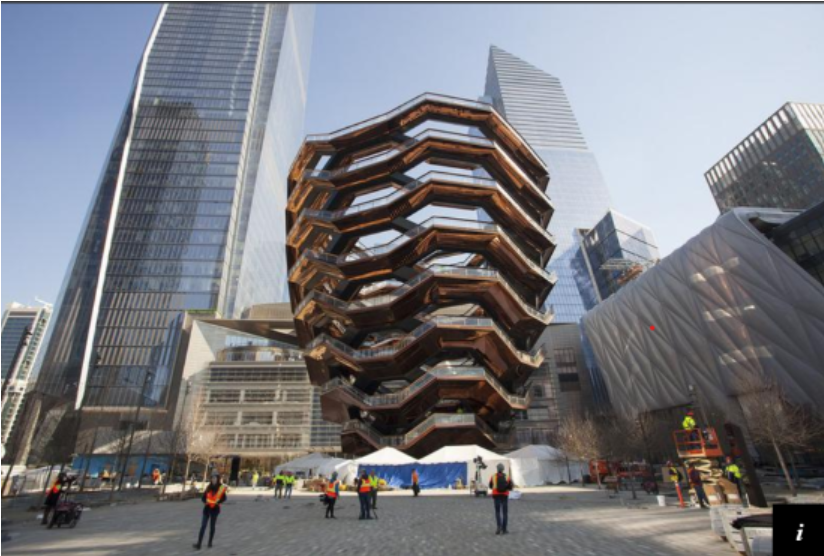 Source: wnyc.org
The property has attracted mixed reviews from New Yorkers. While some residents are bowled over by its scale, cutting-edge architecture, and the novelty of having a mall in Manhattan, others find it a cold, soulless embodiment of corporatism and gentrification. (I found it something in between the two… and perfectly designed to appeal to a tourist looking for the grandeur and sterility that one might associate with Singapore.)
But empty office towers, a closed mall, anchor tenant Neiman Marcus in bankruptcy, and zero foreign arrivals prompted the New York Times to ask, "How Will Hudson Yards Survive the Pandemic?"
With throngs of well-heeled people leaving New York in the wake of the coronavirus, it's probably not the best time to own a portfolio of multimillion-dollar condos in the city. One-bedroom units at Hudson Yards start at more than $2 million and the average two-bedroom is listed for around $5 million.
Neiman Marcus is likely to vacate the mall in restructuring, which will likely open a window for remaining retailers to renegotiate their leases. Shuttered restaurants could go under. Even the office space – at 93% pre-leased – could ultimately become a problem. According to the Times…
Companies are reconsidering office space in Manhattan, while commercial rents are collapsing. Facebook, which has pledged to lease 1.5 million square feet at 55 Hudson Yards, will allow many employees to work from home permanently.
But experts remain optimistic the project can right itself. More from the Times…
Most of the two dozen people interviewed for this article, ranging from real estate professionals to city officials and academics, said that even if Neiman Marcus and other retailers go under, and condo sales for the unbuilt towers over the unbuilt platform stagnate, Hudson Yards is essentially too big to fail.

This may be true, but the road to recovery could be long…
After attracting a burst of curious, gawking New Yorkers in its early days post opening, traffic from locals largely dried up. As one resident noted in the comments to the Times article, "The stores and restaurants in Hudson Yards were empty before the pandemic."
The consensus among in-the-know New Yorkers is that Hudson Yards – at least its retail, condos, and hotel – were built for Asian tourists. And for the next several years, we may not see those tourism numbers rebound.
But New York has been down and out before… and it has always come back. As former (scandal-prone) New York Governor Eliot Spitzer, now a real estate developer, told the Times…
Nobody knows what will happen. We don't know how it's going to end up. As an optimist, I never bet against New York City. We've been through this before – recessions, 9/11.
Indeed, New York always does come back. But for investors in both Hudson Yards and the American Dream, the multibillion-dollar question is whether they come back fast enough to stay current on debt payments.

Dislocations will lead to opportunity…
While both the American Dream and Hudson Yards could turn out to be financial failures for their developers, that doesn't mean no one will make money on them. After all, 28 acres in Manhattan is still 28 acres in Manhattan – there's a floor value on Hudson Yards.
Should the sponsors of these two highly leveraged projects find themselves unable to service their debt, the distress in these and other commercial properties will create moneymaking opportunities for those willing to be a vulture investor, swoop in, and take advantage of the bargains that result from someone else's misfortune.
Many people who bought distressed Sun Belt homes in the wake of the housing bubble bursting have made great returns on the residential real estate bounce back. During this cycle, the distress may be more concentrated in commercial properties.
When the dust settles on the boom in working from home, the retail apocalypse, and plunging hotel occupancy, buildings will still be standing… and still have residual value.

If your real estate investing experience is limited to buying a home, make sure to clear your calendar…
On Wednesday at 8 p.m. Eastern time, Dr. Steve Sjuggerud is appearing on camera to reveal the strategies he's personally used to make millions in real estate for himself and his family. Steve is an accomplished equity investor and an even better real estate investor, so I'm personally planning to tune in for this must-see event… and I suggest you do, too. Save your seat here.

People have strong feelings about AT&T as the telecom giant continues to dominate the mailbag…
Have you returned to your office yet? What about the mall? How is foot traffic shaping up in your area? Does the American Dream sound like a place you'd want to visit? Share your thoughts at [email protected].

"Berna, maybe this [AT&T] would be a stock to consider shorting with all the problems and the debt? Amazing how the CEOs make their exit when times are tough!!
"Thanks for all your updates." – Brad F.
Berna comment: There's a high cost of carry to shorting AT&T, as you must pay out the 7% dividend. Given this cost, I reached out to my colleague Enrique Abeyta – whose idea this was – to get his sense of timing. His response: "Would be perma short it as a portfolio hedge. Then one day you will wake up and get lucky!"

"I dropped AT&T wireless and will drop DirecTV and AT&T internet when my contract is up. Its customer service stinks! They could not understand what I was trying to explain to them. I had to ask for a supervisor and even she managed to mess it up too (she did get part right). About 20 years ago, AT&T lied to me and I had refused to do business with it. However, when I moved into a new neighborhood 3 years ago, I was stuck with AT&T because that was the only service that the builder allowed in." – Suzanne S.

"Hey Berna, this [the June 19 Empire Financial Daily about collateralized loan obligations ("CLOs")] is great reading and writing because it is a very important and worrisome topic. Honestly, long articles on retail chains are a little less interesting to me. But what's really going on through the economy, and its consequences gets my attention. So… where is the money safe? Where will it flow to? What is the timeline? When will the fed 'run dry,' and the consequences just overwhelm their money printing magic?
"On another note, we have been an AT&T customer for years. The signal is good, but their customer service is terrible. Principally because you can't trust them. My wife must have caught over charge errors, or frank dishonesty, a dozen times over the last few years and spent hours on the phone getting it right. As soon as we are out of this contract, we are breaking up and finding someone else. I'd like to know who you think would best be." – Kurt A.
Berna comment: Hi Kurt, that's a great question about "when will the Fed 'run dry'"… and there may be no more important question in the market today. I wish I knew the answer. It's notable that the pace of U.S. Federal Reserve action has dramatically slowed. Last week was the first drop in the Fed's balance sheet since February. It was miniscule compared with the amount it has expanded in the last three months. One week doesn't make a trend, but these weekly balances are something to watch.
To your other point, I think that cell coverage quality by carrier varies greatly by region. Some carriers have dead spots in one geography where another service is great. With the merger between T-Mobile and Sprint completed, your choices are down to the new T-Mobile and Verizon. I would ask your local friends which service they like.
Regards,
Berna Barshay
June 22, 2020