► The coronavirus pandemic caused many people to leave city life…
As the New York Times reported last month, approximately 5% of New York City residents left the city between March 1 and May 1. In wealthy neighborhoods such as the Upper East Side and Brooklyn Heights, cell phone data shows that up to 40% of residents departed during the period, implying that changes to the population were more modest in middle- and low-income neighborhoods.
While the migration out of New York City – the epicenter for the coronavirus – isn't surprising, we've seen a similar migration out of other large, dense cities as well, including San Francisco, where cases and deaths have been much lower.
It's understandable that people who could afford to leave the most expensive cities would do so, given that most people live in tiny spaces there. I know few people who would willingly opt to stay in a 1,000-square-foot apartment with both parents working from home while simultaneously homeschooling their kids.
The lack of private outdoor space has been a problem for people in many cities as well, New York in particular. From the vantage point of my small apartment, I admit to envy while looking at pictures of friends in the South enjoying their pools and big backyards during the quarantine.
After making it through the worst of the pandemic in New York City with three homebound people plus three dogs sharing less than 1,500 square feet, I did something this summer I thought I would never do… I (temporarily) moved back to Bergen County, New Jersey, where I grew up. We're only 18 miles from our apartment… but moving into 7,000 square feet plus a yard has made it so much easier for me and my husband to work, as well as homeschool our daughter and entertain her (and the dogs). And I got my pool!
On top of the inconvenience of being stuck in small spaces, many city-dwellers – especially those in Seattle and New York, which were first and worst, respectively, in the pandemic – feel their safety is at risk. Density undoubtedly plays a role in spreading COVID-19, and residents of skyscraper-heavy and public transportation-dependent cities like New York and Chicago must face the risks of using heavily trafficked elevators and trains daily.

Those who left these cities went to a variety of places…
Some went to summer homes at the beach or lake, others sought warm weather and headed south. An article in the Wall Street Journal yesterday identified Florida as a popular destination for people leaving New York, Chicago, and Atlanta. Others ended up back with their parents, often living in the suburbs for the first time as an adult.
The big question is how many of these temporary relocations will become permanent. Apartment-dwellers in dense, expensive urban environments are rediscovering the advantages of having space, something that seemed less important when more of life was spent in the office or socializing at restaurants, bars, gyms, clubs, and theaters… all of which remain closed in many big Northern cities.
With the likelihood that work from home becomes a permanent option for many white-collar office workers – as we're already seeing at tech companies like Twitter (TWTR) and Facebook (FB) – the Journal asked the same existential question many people in big cities are asking themselves right now: "When Workers Can Live Anywhere… Why Do I Live Here?"
Given the choice, many may opt to permanently work from home because it saves time and money on commuting and allows for more time with family. Other lures to leaving big cities can include lower taxes, lower costs for more space, and often, better public schools.
Job losses and reductions in income are also prompting people to reevaluate their housing. City residents who see their income go down may be forced to leave expensive rentals and private schools.
Some jobs will take many months or even years to return. The service sector employs a huge portion of people in cities. Some occupations – like everything related to Broadway in New York, for instance – are likely not returning until 2021. Other jobs, like servers and cooks in shuttered restaurants – will trickle back slowly over time.
For the legions of restaurant workers, performers and musicians, trainers and group fitness instructors, and hair and makeup artists that populate big cities, staying might not be a choice.

Are the suburbs calling?
Many young city-dwellers who enjoy the liveliness of urban life decide to depart when they start a family. For this cohort, the pandemic is accelerating moves that might have happened within the next few years.
Yale economist and Nobel laureate Robert Schiller, known for his studies of the housing market, told Barron's earlier this month that he expects strength in suburban pricing versus urban housing in the coming years…
Home prices will probably do better in the suburbs than in the center city in coming years…It isn't only Covid-19, which makes people want to avoid crowds, but it's also protests that sometimes get violent, which makes downtown look unattractive.
Brokers are already seeing a notable tick higher in activity. Barron's spoke with Glenn Kelman, the CEO of online real estate brokerage Redfin (RDFN). From the article…
Kelman says traffic growth for his online listings for houses in suburbs and small towns has outpaced that for in big cities by 164% over the past two months. That backs up agents' anecdotal evidence that buyers are moving from cities out to the country.
Realtor Magazine confirms this trend, citing a Harris Poll that found…
Nearly a third of Americans are considering moving to less densely populated areas due to the coronavirus… Further, nearly four in 10 respondents – 39% – are urbanites who say the health crisis has prompted them to consider moving to the suburbs.
The pandemic may have revived interest in the suburbs, but America's largest cities have been bleeding residents for years.

Large Northern cities were already losing population to the South…
People leaving America's largest cities is not a new phenomenon. The top 10 fastest-growing metro areas over the last decade have all been in the South. Except for Dallas and Houston, they're all smaller cities. The cities gaining population have also generally been lower cost, except for Austin. Take a look…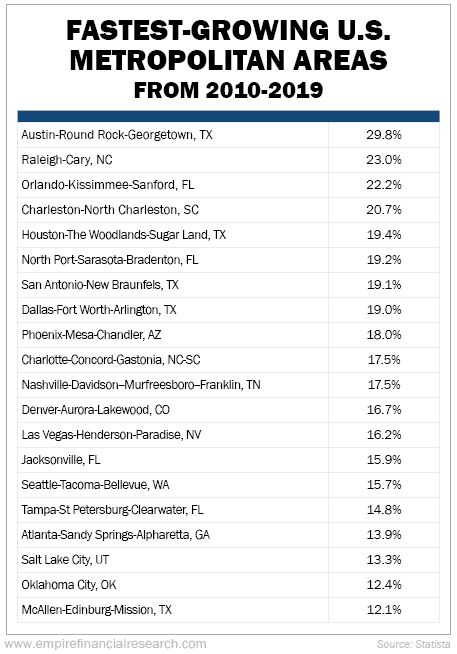 Large cities like New York, Los Angeles, and Chicago lost population in the same period, largely due to cost. The Midwest has generally seen a falling population due to job losses.
In the last recession, jobs came back quicker in the city, which slowed the suburban flight. But once other areas caught up, the urban exodus resumed. According to magazine The Week, there may be historical precedent for urban flight due to the pandemic's economic shock…
The United States has become steadily more urbanized for most of our history. Per U.S. Census data, each decade from 1840 to 1990 saw an urbanization increase averaging about 5%, followed by a leveling off around 80% for the past 30 years. (These figures use an expansive definition of "urban" which includes areas that other metrics label suburban.)

There was, however, one notable exception: Between 1930 and 1940, the decade of the Great Depression, urbanization increased by less than half a percent as city industry jobs disappeared. In the Northeast, urbanization actually declined.

For those who want to move, low interest rates make this a great time to buy…
Interest rates – including mortgages – have never been lower.
Despite sluggishness in the economy elsewhere, the housing market is hot. Mortgage purchase applications were up yesterday for the ninth straight week and just hit an 11-year high.
Low rates and demand from relocating buyers have propped up housing prices, which would normally fall with high unemployment. But supply reductions from the coronavirus shutting down homebuilders has led to shortages. As Barron's explained…
Single-family housing starts plunged in March and April, with the most recent report showing a 25% year-over-year tumble. Part of this decline is because construction in some states shutdown, and much more so in some regions than others. Single-family starts fell 73% in the Northeast but only 13% in the South. Even where construction continued, the pace slowed as builders adopted social distancing and other health measures to prevent the spread of the coronavirus.
Other factors reducing supply include forbearance programs at mega-lenders Fannie Mae and Freddie Mac, which were structured much more aggressively for the coronavirus shock than they were for the housing crisis of 2008/2009. Also, the heightened risk of COVID-19 for seniors is likely keeping them in their current homes, interrupting the pace of generational transfer from boomers to millennials that would normally occur as seniors downsize. As Redfin's Kelman told Barron's…
We're set up this summer for the mother of all bidding-war seasons, at least in these outlying areas. There's nothing to sell, and there are so many people who want to buy. They're emboldened by the stock market and the low rates.
Even the restrictions on showings and open houses in much of the Northeast have failed to deter housing stock turnover. Earlier this week, the New York Times reported on bidding wars for homes in the Catskills that motivated New Yorkers were often buying sight unseen.
Some of the reported fervor for housing purchases in the suburbs and exurbs of New York and Boston may be related to a suddenly increased appetite for second homes. After all, many people who work from home now will eventually have to go back… But they may be returning to a permanent three- or four-day workweek in the office. Reduced time in the office and the desire for an escape from the city may buoy housing appetite for some time.

Urban migration will set up some compelling investment opportunities…
My initial gut reaction was to look at some of the public apartment REITs, thinking that fleeing urbanites might look to rent in new areas before committing to buying.
But the purchase market is clearly hot because of record-low mortgage rates, so on further reflection, homebuilders or online real estate companies like Redfin or Zillow (Z) may be a better way to play this thesis.
Folks looking to cash in on the coming boom in real estate are in luck. Next Wednesday, June 24, my colleague Dr. Steve Sjuggerud is sharing the "playbook" he's personally used to make himself and his family millions in real estate.
He'll show you how he has invested – including homes he and his wife bought and flipped… tax certificates that paid him 18%… raw timberland, and more. Plus, you'll even hear about a brand-new kind of investment opportunity that has been off-limits to ordinary investors until recently.
To save your seat for this must-see event, simply click here.

Today's mailbag was filled to the brim with readers offering reviews of AT&T, most of them not so good…
I loved the feedback on AT&T and was overwhelmed by so many great emails…if space allows, I will share more later.
Are you a city dweller considering a relocation or buying a second home? Are you someone who has already fled the city for the 'burbs or a different area with better weather or lower costs? I'd love to hear your experiences and your views on how the housing markets will develop. Share your thoughts at [email protected].

"Good evening. I'm a retired professional bond analyst. I could not agree with you more completely. Paying out a massive dividend (100% of net income) with an even more massive debt load is foolish beyond belief. The media and telecommunications business is no longer your Dad's telephone utility with guaranteed cash flow. I'm stunned that Stephenson wasn't fired years ago." – Philip S.

"Good afternoon, I have been an AT&T cell service customer for over 25 years. I really began to notice how poor their cell service had become about 5 to 6 years ago. In the last two years it's become unusable on way too many occasions. Since the beginning of this year I have been telling myself it's time to make a change, However, I've kept from making the switch to another cell company because of all the regular excuses. Too much work to make a change in service, dealing with another cell company's over promises and under delivery. However, I need to do something, this isn't the same AT&T I remember many years ago.
"I am also an AT&T stockholder. Yea… another disappointment. I just moved AT&T's stock symbol into my sell soon stockpile." – Bill G.

"My internet provider goes out a minimum of twice a day for 5-10 minutes. AT&T sends new modems out. Same exact model of the previous modem. The next day I have the same problem. In my area of Michigan, Sprint is my only other option.
"We are going to Sprint next week! Enough of AT&T lousy service! AT&T is on the way to going broke!" – John R.

"We have had AT&T U-verse cable TV, but this week that will end. We will still have internet with AT&T, but are moving to online TV, and it's not AT&T Now. Their cable TV has got to be the worst as you can't even stream it to your computer. They are stuck in the Stone Age." – Brad R

"Yes, I'm an AT&T customer and absolutely want a way out. The biggest thing keeping me from leaving all these years is because we live in the Southeast but are from the North and my husband cannot see his Pittsburgh Steelers in action during football season. So, we've continued to pay the outrageous bill every month. I've searched the web up and down looking for an outright NFL Sunday ticket channel – it's not available, so this is what holds us hostage as a paying customer. My husband has a large TV and after a long week at work refuses to watch his football games on a computer. We know other people in the same situation. We have the following services:
"Fiber Optics Internet – good, but don't really know the difference between this and anything else on the market. Been a customer since the late 90s DSL service.
"Direct TV – feel robbed every month. NFL Sunday ticket keeps us as customers.
"Mobile Service – I've upgraded my handset twice and they changed my plans on me to something not as good and the plan they changed, can't be reversed. Been thinking about going to Verizon for a while.
"In closing, I did not like going to the retail store and ended up processing my last phone upgrade 3 weeks at Best Buy. So, there you have it. I'm a stuck consumer due to NFL Sunday ticket." – Christina W.

"I'm a wireless ATT customer and glad of it. This part of the country has no other providers and ATT even has dead zones. As for Direct TV, it works well but is more costly than I care for. There are no real streaming options in this area." – Steve J.
Regards,
Berna Barshay
June 18, 2020