► To say the economy has been volatile this year would be an understatement…
After falling more than 30% in the second quarter, real gross domestic product ("GDP") is expected to rise by more than 30% during the third quarter. (We'll get a first look at third-quarter GDP on October 29).
With financials exposed to just about every corner of the economy, these companies' earnings can offer a great window into its overall health. The big money center banks – Bank of America (BAC), Citigroup (C), JPMorgan Chase (JPM), and Wells Fargo (WFC) – give us a comprehensive, wide-sweeping look at the economy as they serve consumers and businesses across the country. The investment banks – Goldman Sachs (GS) and Morgan Stanley (MS) – can in turn give us a sense of CEO confidence based on deal-making activity levels.
Some of the more specialized financial companies can tell us about the health of specific sectors. For example, with its big travel and corporate businesses, credit-card provider American Express (AXP) offers clues into the state of travel as well as corporate spending. Meanwhile, a specialty lender like Ally Financial (ALLY) – which focuses on car loans – can tell us a lot about consumers and their propensity to spend money.
Today – due to recent changes in accounting standards – we can get an even better look at the banks' expectations for the economy. New accounting regulation means that the banks' earnings now rely heavily on their economic estimates for the next several years. Nearly all large banks have chosen to share these predictions for the last three quarters since the accounting change went into effect.
After GDP projections initially fell off a cliff earlier in the year as the COVID-19 crisis took hold, the economy's improving fundamentals in the third quarter have led every bank to improve their economic outlooks. Wells Fargo CEO Charlie Scharf offered a current and forward view of the state of the economy during the bank's third-quarter earnings call last week…
The economy has materially improved due to the gradual reopening but also the significant monetary and fiscal stimulus as well as the significant accommodations made by financial institutions and other businesses. Labor markets clearly reflect momentum with the third-quarter average jobless rate improving to 8.8% after posting a 13% rate during the second quarter.

However, there's still a long way to go, and there remains significant risk to the recovery. The pace of job growth and the rebound in consumer spending have slowed, and the diminished pace of reopening and the end of some stimulus programs are presenting headwinds.

The powerful rebound in the third quarter still leaves the economy well below its pre-COVID peak, including restaurant sales 15% lower; real GDP 4% lower and unemployment 7% below pre-COVID levels. Clearly, the recovery is in process. And while the gains we've seen this quarter are important, the path to full recovery for all remains uncertain.

Consumers were in much better shape this year compared with the last time the economy took a rapid tumble…
While people taking on huge amounts of debt for homes was a giant contributing factor to the 2008 financial crisis, the overall consumer's debt-to-income ratio going into the COVID-19 crisis was 20 percentage points lower this year than it was in 2008.
Despite many consumers being in relatively good shape to withstand the latest financial shock, nearly every bank gave customers the option to defer payments on auto, credit-card, and mortgage loans when the pandemic was peaking in April. The relative health of the consumer this time around has shined through, as JPMorgan recently reported that 92% of consumers that deferred payments earlier in the year are now current on their loans. Both Wells Fargo and Bank of America posted similar improvements in performing loan ratios within their consumer loan books.
Surprisingly, the consumer's credit profile has improved since the start of the year. In its recent earnings report, JPMorgan highlighted that consumers over the course of 2020 have built savings and lowered their debt balances versus before the pandemic. One driver of these consumer leverage improvements is that the earnings power of white-collar workers has largely been unaffected by the pandemic, while blue-collar workers in the services industries have been decimated. Take a look…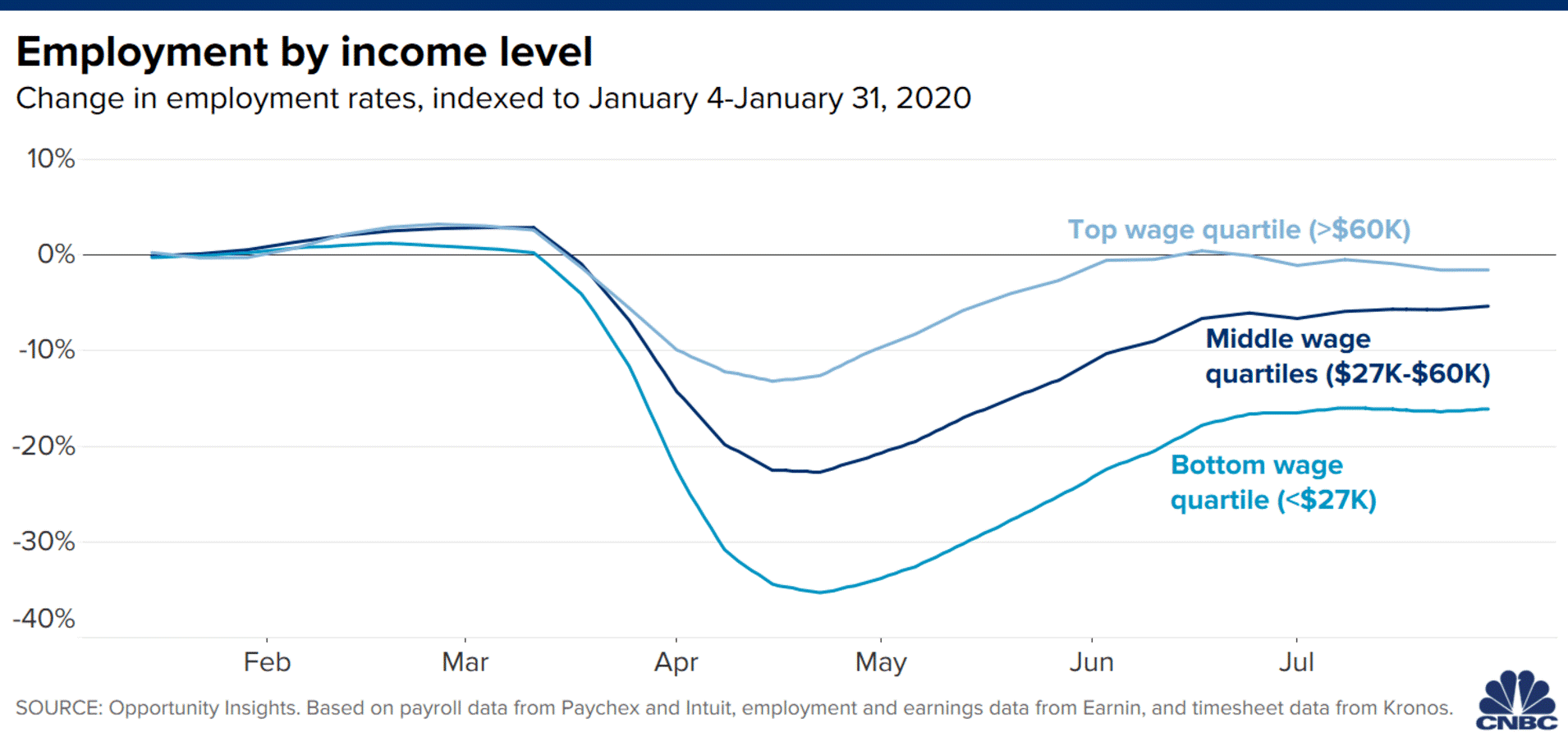 Source: CNBC
The consumer has been so strong that we have actually seen a strengthening of demand in both the consumer mortgage and auto loan markets. (My colleague Berna Barshay highlighted this possibility back in June.)
With consumer balance sheets in great shape, cities locked down, and the U.S. Federal Reserve keeping interest rates at record lows, a flight to the suburbs and exurbs has begun. Homebuilder confidence continues to rocket to new all-time highs, JPMorgan consumer mortgage volumes are up 46% year over year, and Wells Fargo sees similar trends as it can't keep up with the demand for mortgages… and that's causing processing delays.
The consumer auto market has likely been just as strong. With many people leaving cities or choosing not to travel by public transportation for fear of getting sick, consumers have raced to buy cars. Ally originated nearly $10 billion in car loans in the third quarter – its highest loan origination volume in five years.
In fact, Ally also noted that the rebound in auto sales that has occurred in the past five months took five years to happen after the last crisis. And over at JPMorgan, auto originations were up 25% year over year in the third quarter.

Credit- and debit-card spending has also moved higher…
The amount of money spent on Bank of America cards in the third quarter was higher than in the first quarter of 2019… and early October spending on Bank of America cards is now up 10% over last year's levels.
JPMorgan has seen similar trends and singled out retail spending, which is up more than 10% in the third quarter – driven by card-not-present (typically online) transactions.
But even with a relatively healthy consumer, it's not universally great news for all consumer-focused sectors. While housing and autos have been strong of late, travel and entertainment spending – as well as fuel expenditures – are down substantially year over year.

Turning to the corporate customers, the big banks emphasized improvements at most large corporates (except for travel and hospitality)…
With big business back to a "new" normal, Goldman Sachs noted that the mergers and acquisitions (M&A) pipeline had grown significantly during the third quarter – driven by rising CEO confidence. However, Goldman made sure to note that M&A isn't yet back to pre-COVID levels… and Morgan Stanley and JPMorgan both echoed these sentiments.
Rising CEO confidence can be seen in the high number of corporate revolvers that have been paid down. Goldman reported that the total dollar amount drawn on corporate revolvers had returned to pre-COVID levels by the end of the third quarter.
And yet, forward loan demand may not be as healthy… The money center banks reported weak demand for loans, with average loans declining sequentially at most big banks. The good news is that Bank of America went so far as to call a potential bottom in loan demand in September.
Bank of America likely did this because it expects M&A and capital investment to eventually spur a demand for loans… So if CEOs stay confident with the forward outlook and keep doing deals, then corporate loan demand should eventually improve.
While Bank of America CEO Brian Moynihan called out improving fundamentals for businesses under $50 million per year in revenues, business is by no means "good" at most smaller businesses, as Berna explained in the September 15 Empire Financial Daily…
Looking at review site Yelp (YELP) data can give us a good idea of the carnage.

By July 10, 55% of the 132,580 business closures tracked by Yelp had become permanent versus temporary. This was a significant rise from June 15, when 41% of 140,000 businesses characterized their closures as permanent. The number of permanently closed businesses had increased by nearly 16,000 in less than a month.
Despite most large corporations being "back to business," the banks have confirmed that small businesses will need a lot of help to get through the pandemic. Small businesses employ nearly 50% of Americans, which would argue for more comprehensive federal aid. Without a small business recovery, the consumer – and the economy – will be in far worse shape.
While banks were forthright that many small businesses were underperforming, they remained stingy with details that would put the problem in context.

Banks were even cagier when it came to addressing the rumored difficulties in their commercial real estate holdings…
The banks tried to skirt around questions regarding the health of their commercial real estate ("CRE") portfolios. While this morning's weekly jobless claims reached their lowest point since the start of the pandemic, 54% of CRE is related to office, retail, sports, and hospitality… All of these sectors are clearly struggling today, which raises questions about the future. (My colleague Whitney Tilson is bearish on CRE for these exact reasons, as he discussed late last month.)
Despite serious concerns in certain niches of the economy, overall, the takeaway from bank earnings is that the economy is in surprisingly good shape. On Bank of America's third-quarter conference call, Moynihan emphasized that the economy is at more than 90% of its pre-COVID levels and unemployment has improved by nearly five percentage points from the lows in April.

The banks have communicated that the economy is much better than we would have guessed early in the pandemic, but that doesn't mean we're totally out of the woods…
Most of the dramatic labor market gains that we've witnessed are due to temporary layoffs being reversed. And unfortunately, we've seen 4 million permanent job losses since the crisis started.
Even worse, COVID-19 hospitalizations are ticking back up… And Congress remains gridlocked over a next wave of stimulus. As a result, most banks are forecasting that unemployment will rise, not fall, in the fourth quarter.
Small businesses are running on fumes, as are many of the poorest households in the country. The precarious position of many small businesses – which together add up to big employment numbers – remains a threat to the economy's recovery.
The growing number of long-term unemployed is another factor dragging on the economy – which renders the outlook for future, continued economic recovery highly uncertain.
You can see this high level of uncertainty in how the banks are reserving for non-performing loans… Last week, JPMorgan told investors that by its estimates, the bank is $10 billion over reserved for its base-case scenario. But if the worst-case scenario for the economy materializes, JPMorgan confesses it could be $20 billion under reserved.
With a vaccine or other resolution to the pandemic unlikely in the short to immediate term, we need more stimulus. And given the dire straits for many small businesses and working households, we need stimulus specifically targeting these groups. An increased allocation for
Paycheck Protection Program ("PPP") loans, directed federal aid for severely hit small business sectors like restaurants and hospitality, as well as another round of direct consumer stimulus checks would make sense right now.
The future of the American economy hinges on Congress and the White House passing another targeted CARES Act as quickly as possible.

In the mailbag, readers react to the series on the resale economy and one more comment on the Broadway series…
Do you feel like the economy is largely out of the woods, or do you think further improvements are starting to stall out? Do you support another targeted round of stimulus? Share your thoughts in an e-mail to [email protected].

"I've never seen this trend covered in any of the many investing news sources that I consume. While I avoid yard sales and thrift shops like the plague and haven't bought anything on eBay (EBAY) in years, I've become a regular customer on Poshmark. The quality and pricing have hooked me in. By the way, I am a 73-year old woman with a comfortable income. The thrill is in 'the deal' I feel that I get.
"When I've mentioned it to friends my age though, they are not really open to the idea – even though they scour TJ Maxx (TJX) and outlet stores as if their lives depend on it. I am hoping that a resale source like this for quality used furniture and other home goods will soon come down the pike. Now that I know that the Resale Economy is officially a growing trend, I will also be looking out for the Poshmark IPO." – Cheryl S.
Berna comment: I agree that so much of the fun of resale shopping is in the thrill of the hunt… and the excitement of getting a great deal!
For resale furniture, check out the Home section on The RealReal (REAL). Also, I know there's a startup called Kaiyo doing furniture resale, but I haven't tried it myself. The Local Vault is another furniture consignment site, focusing on luxury items. AptDeco is great for furniture resale but is only in the New York/New Jersey/Connecticut area right now.

"My daughters were buying clothing at the Salvation Army 40 years ago for the flair at high school. I've bought jackets secondhand when caught far from home when a cold spell hit. Used khakis are best for work clothing. But I owned RealReal stock after the IPO and sold it when it didn't move." – Robert P.

"Yes, I would buy used anything if it's the right price or if I need or want the item. Some people's trash is other people's treasures!!" – Lynn J.

"The 1968 pandemic also coincided with Woodstock. If you can have Woodstock, then you can have Broadway." – O.P.
Berna comment: Perhaps… but depends on the type of pandemic, I think. I've read that COVID-19 is forty times as contagious indoors versus outdoors. If this is true, then a huge event like Woodstock wouldn't necessarily be a super spreader event (especially with masks), even with hundreds of thousands of people attending. But 2,000 people indoors could be a bigger problem if a few of them are sick. And yet, it's interesting how Broadway didn't close in these prior health events, though, especially in 1918 with the Spanish flu.
Regards,
Alex Griese
with Berna Barshay
October 22, 2020