► Streaming giant Netflix's (NFLX) latest hit has gone viral and inspired reams of social media content...
Even if you haven't watched it yet, you've likely heard of Squid Game, which has sat atop the streamer's "most watched" list for a couple of weeks now. Without giving too much away (and I've only seen two episodes so far myself – so no big spoilers here), it's a violent, battle-to-the-death show in which regular people compete in adult versions of children's games. The last man standing will win a pile of money.
If the plot sounds familiar... that's because it is. Squid Game is the latest entry into the "Battle Royale" genre, named for the 2000 Japanese film in which a group of junior high students fight to the death, forced into the game by a malevolent and totalitarian government. Other works in this genre include American films The Purge, The Hunt, and the Hunger Games series.
One interesting aspect to Squid Game is that it isn't set in some dystopian future... It's set in the present-day real world, and the participants who opt into the game are a collection of desperate, deeply in debt souls.
The contemporary setting renders the show more than a horror series, but also an incisive piece of social commentary in this age of great income disparity, where the middle class has eroded and the poorest in developed nations struggle with an existence more like what you would expect to find in the developing world.
I'm not sure if it was this social commentary or the violence and plot twists that drew them in, but this show has clearly struck a chord with younger people around the world. Squid Game has inspired a mountain of user-generated content like videos and memes, and the SquidGame hashtag has about 37.6 billion views right now on social media app TikTok.
In addition to its cliffhangers, social commentary, and extreme violence... there's another notable aspect of Squid Game: It's a South Korean production, filmed with local actors in the local language, available dubbed into English (as well as Spanish, French, and German) or in the original Korean with English, Chinese, or Spanish subtitles.
► None of the actors in Squid Game are well-known outside of South Korea...
But neither unknown actors nor being filmed in a language not widely spoken in the West could derail Squid Game from being a global hit. The show isn't only the No. 1 most watched on Netflix in the U.S. right now, but according to the website whats-on-netflix.com, it's currently the top-ranked show on Netflix in Australia, Brazil, Canada, France, Germany, India, Mexico, the Netherlands, New Zealand, Spain, and the U.K.
And just yesterday, Netflix posted on social media sites that Squid Game had reached 111 million viewers in the 3.5 weeks since its September 17 release...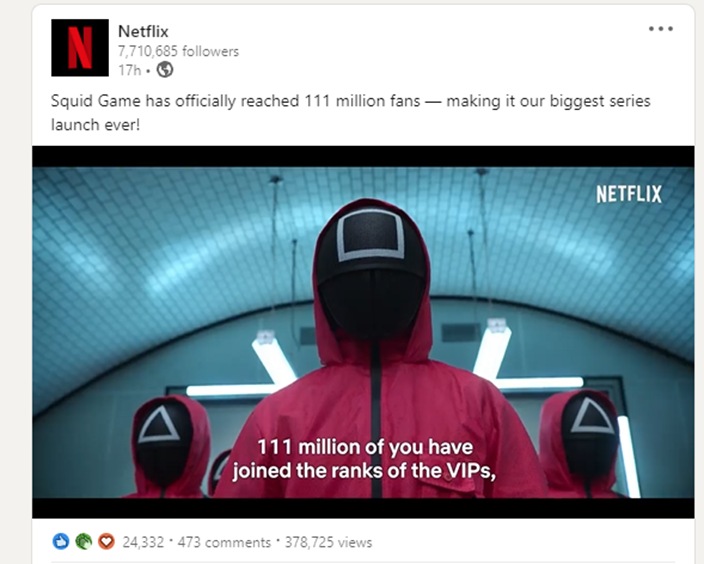 Source: LinkedIn/Netflix
Squid Game steals the title of "biggest series launch" ever on Netflix from Bridgerton, which drew in 82 million households during its first 28 days back when it debuted on Christmas 2020. Not only did Squid Game smash this record, but it did so during a time period when the world is less locked down and there are more options to spend time out of the home, it's not a big time to be on holiday from work, and the weather outside is much nicer than it is in December most places.
Simply put, this show has crushed it.
► Netflix's global success with a non-English language show is an overnight success a decade in the making...
Netflix has been investing in non-English language content for years. The company produces content all over the world – Mexico, India, Germany, France – to name just a few places. Netflix also has a Spanish-language production hub in Madrid, and another hub for developing international content in London.
When asked what the first original series to air on Netflix was, many people might respond with the 2013 political thriller House of Cards. But that would be wrong...
Netflix's first original was actually Lilyhammer, about a Mafia boss relocated to Norway under the witness protection program, starring the E-Street Band's Steven Van Zandt, best known on the small screen as Silvio in HBO's classic mob show, The Sopranos.
Lilyhammer was produced in Norway and is largely in Norwegian. The story of how it serendipitously ended up the first original series on Netflix is well-told on the episode of the Smartless podcast in which hosts Jason Bateman, Will Arnett, and Sean Hayes interview the then-Chief Content Officer, now co-CEO, Ted Sarandos. The episode is a must-listen for anyone interested in Netflix or the history and future of streaming.
In the nine years between Lilyhammer and Squid Game, Netflix has racked up a list of non-English language hits, including Lupin and Call My Agent from France, and Money Heist from Spain.
As far back as 2018, Netflix executives were on the record saying they were targeting 100 non-English original series – noting that only 5% of the world's population lives in the U.S. or the U.K., yet content from those two countries dominates what programs get exported to TV screens around the world.
► In its early embrace of international, non-English language content, Netflix truly embodied the spirit of a slogan that belongs to a different tech titan...
"Think different."
That was the advertising pitch from tech giant Apple (AAPL) from 1997 to 2002.
We all know that Netflix had thought differently about going full force into streaming content at a time when retailer Blockbuster (rest in peace) still ruled when it came to at-home movie watching.
When Netflix launched its streaming service in 2007, it had a healthy business mailing DVDs to customers, and the U.S. DVD market was just a touch off its 2005 peak...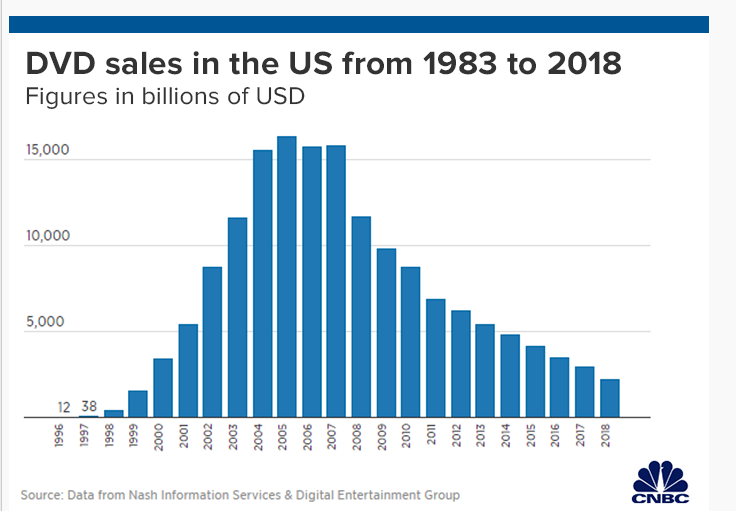 Source: CNBC
But Netflix didn't only "think different" about how you would get your content, it also thought different about what that content could be.
From the beginning, Netflix acted with conviction that Americans and Brits do not have a monopoly on good storytelling. By casting its net wider, the company opened itself up to a broader array of talent by looking globally, and not restricting its search to just a couple of countries.
Netflix also turned its back on one of those entertainment industry truisms that turned out to actually not be true: the myth that Americans won't read subtitles.
Netflix developed relationships with producers, directors, and actors around the world, and made investments that make delivering global content possible, like establishing relationships with more than 150 dubbing studios around the world.
► This isn't just about creating great art and content...
It's about making money.
Going global with content has been good business for Netflix. With two-thirds of its subscribers and more than half of its revenue now derived from international operations, Netflix realized early that having compelling, local-language content would be critical to growing its subscriber base outside of the U.S. and Canada.
With the North American market maturing, net paid subscriber growth will need to come from international regions. I remember during the early days of Netflix's streaming service, the big debate was whether the company could reach the 30 million subscribers that HBO had attained through its cable channel.
Netflix hit that 30 million and kept running... Total paid subscribers in the U.S. and Canada now total 74 million. It's an amazing accomplishment... but also represents 60% penetration of the addressable market. The ceiling is within sight in the home market, and facing tough comps, Netflix actually experienced the unthinkable in the U.S. and Canada last quarter: subscriber growth was actually negative.
With the law of large numbers at play, it's no surprise that net subscriber additions in international are regularly 8 times (or more) what they are in the U.S. and Canada. Continued momentum in international will be key to the future performance of Netflix and its shares... which is why the tremendous investment in producing content globally is so important. And when the company can land on a hit that not only works locally but can be marketed across the world, like Squid Game, the international investment pays off even more.
► Netflix's early bet in international capabilities has left the competition scrambling to catch up...
Like Netflix, Disney+ – the flagship streamer from legacy media powerhouse Disney (DIS) – gets two-thirds of its subscribers from outside the U.S.
Disney has had the advantage of getting traction quickly in foreign markets because so much of its library of content travels so well. When I was in Cyprus last week at a hotel with almost no Americans, more than half the small children at the pool were wearing swimsuits themed with Disney characters. For the adults, Marvel and Star Wars are obviously global brands. Also in its corner, Disney has three theme parks in Asia and one park in Europe that serve as permanent billboards for advertising its streaming service.
Despite these inherent advantages when selling into the global market, Disney is nevertheless investing significant sums in trying to play Netflix's game and develop more local content in non-English languages. Disney+ is targeting 50 original series in non-English languages to launch by 2024.
Internet giant Amazon (AMZN) is also trying to ratchet up its international muscle. On Monday, Amazon Studios announced a reorganization of senior management responsibilities and attributed the moves to the need to manage an increasingly global operation. Amazon plans to have twice as many local originals in 2022 as it did in 2021 and is looking to expand into new countries in Europe, Africa, and Southeast Asia.
As in most things streaming wars-related, smaller players like Comcast's (CMCSA) Peacock and ViacomCBS' (VIAC) Paramount+ are at a disadvantage... partly because of fewer franchises that are truly global, but also because throwing money at so many regions at once is expensive, and they are more cash-constrained than their larger peers.
The globalization of content is just one more factor that should drive consolidation in the streaming space.
I've been on the sidelines on NFLX shares because of tough comps, especially in North America, and what I view as a very full valuation. That was the right call for about a year, but has been a bad call over the past two months.
Writing this essay was an excellent reminder of just how visionary Netflix has been, and how excellent their execution is. I would never be interested in shorting – or betting against – the company, but I remain on the NFLX sidelines for the reasons cited above.
I continue to prefer DIS shares as my horse in the streaming wars.
While Disney+ is also fighting some tough comps, I think the Parks business will come roaring back, aided by the 50th Anniversary celebration at Disney World in Orlando, the COVID-19 pandemic fading into the background as a safety issue over the coming quarters, new pricing structures at the U.S. parks (Genie Pass), and the general health of the U.S. consumer and a shift back to people wanting to spend on experiences over things.
► In the mailbag, more on media as an industry pro offers a deep-dive response to my essay on the interpolation trend...
Have you watched Squid Game... or do you plan to? Do you worry about such deeply violent content being damaging to young people, or is the violence redeemed by the shrewd sociological commentary? Are there other international shows that you would recommend from Netflix or any of the other streamers? Let me know in an e-mail to [email protected].
► "First, I must say I love all the emails, info, and education I get with my subscription. Thank You.
"I am definitely atypical compared to what I expect most subscribers are. I am a Hip-Hop DJ/Producer and Graffiti Artist from Queens, NY. I have been doing this since the 80's, I am a member of the world-famous Rock Steady Crew and have worked with a plethora of artists over the years.
"I have DJ'd on MTV several times, BET, in Tony Hawk Video Games, taught Regis and Kelly how to scratch records, toured in over 60 countries, as well as being a well-known graffiti artist. I was even on CNBC's The Profit doing graffiti for Marcus Lemonis.
"My love for investing came from my love of numbers and data, but mainly out of necessity, knowing I wouldn't have a pension or 401K. I was able to take my touring money and profits from record sales and dump it all in the market after the '08 crash. It has changed my life and allowed me to stay home with my son who has special needs. Your advice, picks, and guidance are also helping my family.
"As far as music sampling, there is something we call 'looping' which is what Vanilla Ice's 'Ice Ice Baby' was. Taking 2 to 4 bars of a song, simply repeating them, and adding some more hip-hop sounding drums on top of it. While many classic hip-hop songs were made this way (see Rob Base's 'It Takes Two' sampling of Lynn Collins' 'Think'), it can be a 'lazy' way to sample and truly relies on the original music that is being sampled. The end product might sound good, but it opened the door for several lawsuits.
"I remember Jazzy Jeff and DJs Muggs of Cypress Hill telling me how many countless lawsuits they had to deal with because of sample clearance. De La Soul, who recently made a deal with Reservoir Media, was famous for the amount of sample clearance lawsuits they faced.
"As the years went on, the 90's gave way to what we call 'chopping' samples where we would take very small snippets of a song, sometimes from different parts of the record, many times unrecognizable, and use them to create an entirely new sound. It is not easy, and certainly an artform.
"Producers like Dj Premier (Notorious BIG, NAS, JAY-Z) has made some of the best hip-hop records using this style. It is the prevalent form of sampling today in the non-commercial genres of hip-hop music.
"Interpolations were also always used in hip-hop from the original days of rapping in the park. The original groups like The Cold Crush Brothers and Treacherous Three would do routines that were interpolations of melodies from popular songs. It was popular in hip-hop, where we say we didn't invent anything, but we re-invented everything!
"Today pop music has really gone wild with interpolations, and after reading about that 'hit-making camp,' it makes more sense to me. I wasn't thinking about specific catalogs being encouraged to sample from. In hip-hop, it was always more respected to find rare or unknown samples and try to avoid sample clearance lawsuits. I was once in a lawsuit along with Kanye, Q-Tip from A Tribe Called Quest, and several other artists for using a sample from Bumpin' Bus Stop by Thunder and Lightning.
"Not a fun feeling but they needed to go after everyone who used that sample to justify them going after Kanye, who was clearly the big fish in that suit.
"Like all musical genres, there are ways to be lazy when creating, but the true art of sampling is not one of the ways hip-hop music has been lethargic. Interpolations in pop music have been a much lazier way to write hit songs in recent years. I feel like we live in bizarro world, and a lot of artists are making songs that sound like Weird Al would have made as a parody.
"Sorry for the lengthy email, I always wanted to reply but have not. This one is in my wheelhouse, so I had to.
"Once again, thank you. Sincerely," – William
Berna comment: William, thank you so much for writing in. I love old school hip-hop, so reading your letter was truly a delight for me. That Rob Base song is deeply engrained in the soundtrack of my life, and I never knew the song it was sampling from... so that is indeed a valued revelation!
I commend you for both following your passion in life while at the same time planning for your future. When you aren't part of the corporate world, it isn't so easy to plan for retirement and invest wisely. When you are self-employed and work on gigs and projects, there is no 401(k) and no HR department to guide you in retirement planning. It's hard... and has always been a challenge for people in the arts. With the growing gig economy, more people are finding it necessary to plan their financial future on their own... and sadly, our schools don't really teach us how to do that.
Congratulations on figuring it all out. It makes me happy to think that I can help out in any way. One of the best results of successful investing is allowing people to live life on their own terms.
Rock on.
Regards,
Berna Barshay
October 13, 2021