---
Recommended Link:
| More than 100 countries around the world are rolling out a system called "SWaB" that could have a bigger impact than the Internet in the days ahead. Here in the U.S., it's already being implemented in 38 states and counting. This year, massive investments are pouring into this innovation from some of the richest people in the world – like Elon Musk, Jeff Bezos, and Warren Buffett. Even the world's most powerful companies, like Apple, Microsoft, and Google, are spending billions to onboard it. That's because every single modern technology – 5G, artificial intelligence, blockchain technology, IoT, robotics, quantum computes, and EVs will have to switch over to SWaB to stay relevant. Get the details here. | |
| --- | --- |
---
1) One of the biggest Chinese stock scams in recent years was Luckin Coffee (LKNCY).
The company's market cap briefly exceeded $12 billion in early 2020 before activist short seller Carson Block of Muddy Waters Research publicized a report by an anonymous researcher that exposed the company as a fraud (see this Wall Street Journal article about it: Coffee's for Closers: How a Short Seller's Warning Helped Take Down Luckin Coffee).
Luckin filed for bankruptcy and the Nasdaq delisted it, though the shares have continued to trade on the pink sheets, giving the company a market cap of $5 billion today.
The stock has nearly doubled this year as some investors – including the anonymous researcher whose report took down the company! – believe that Luckin has fixed its problems and has a bright future, as this article in Tuesday's WSJ notes: Hedge-Fund Manager Who Helped Expose Luckin Coffee's Fraud Bets on Chinese Chain's Comeback. Excerpt:
A hedge-fund manager who secretly wrote a scathing report in 2020 that accused Luckin Coffee of accounting fraud is now backing the Chinese chain, calling it "a miracle in China's business history."

Snow Lake Capital, a Beijing-based hedge fund founded and run by Sean Ma, has bought a minority stake in Luckin and is betting that the formerly Nasdaq-listed company's valuation will surge, the investor said in an interview with the Wall Street Journal on Monday.

"I never would have thought the company could come back. Many nearly impossible things happened," Mr. Ma said. His firm on Monday released a slide presentation and 81-page report making a bullish investment case for five-year-old Luckin, which has revamped its business and corporate governance over the past two-plus years...

"I'm buying Luckin because I think it is only a matter of time that the company overtakes Starbucks (SBUX) in China," Mr. Ma said.

He added that Luckin now represents about 15% of the assets managed by Snow Lake.
I asked Carson Block for his thoughts on Ma's change of heart on Luckin and he replied:
It's hard to understand where Ma's desire to re-ingratiate himself with the powers that be in China ends, and his belief that it's actually a good and reformed company begins.

Considering that his report on Luckin played a large part in reigniting the China auditor controversy, Ma probably has to work hard to win back political capital in China.
Along these lines, Carson also posted a 49-second spoof hostage video: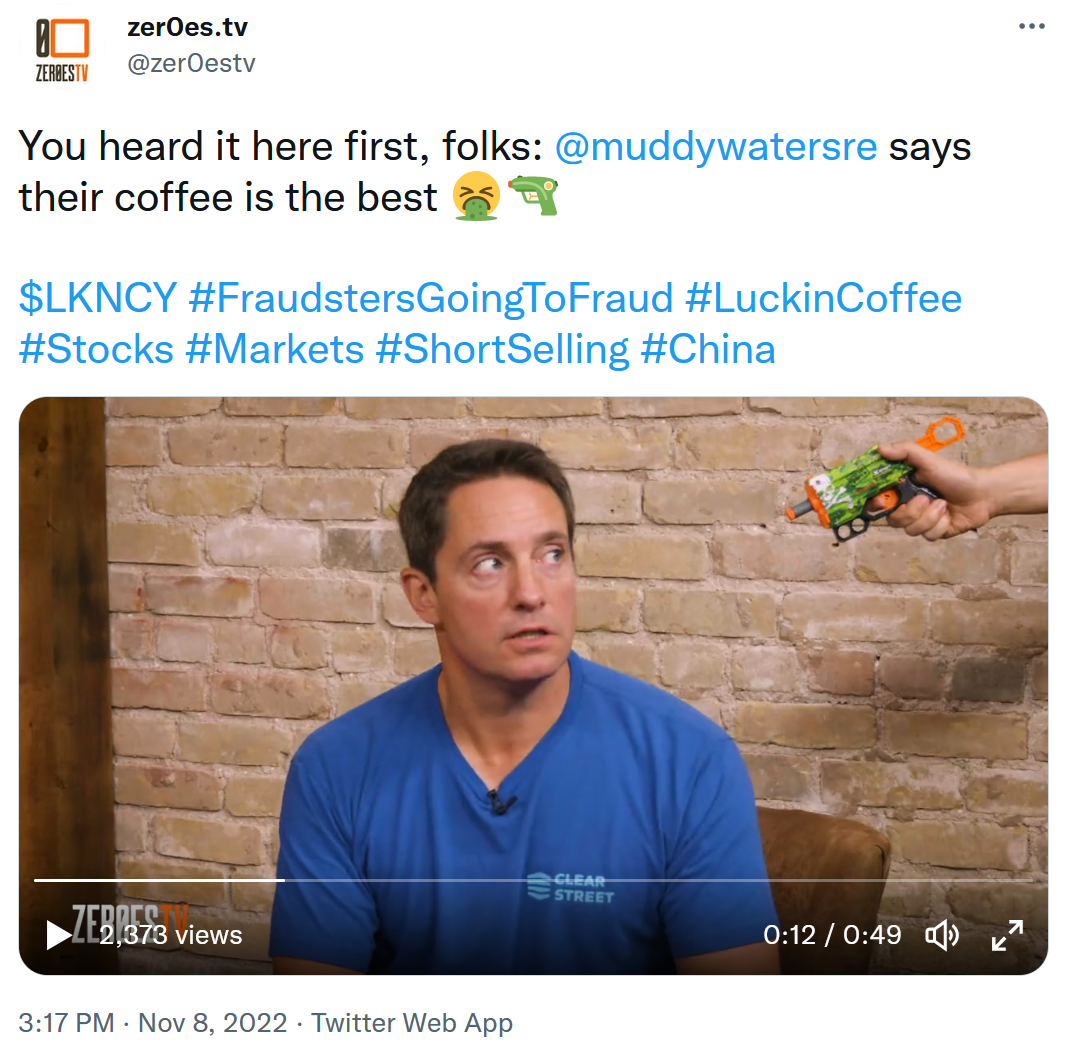 2) Speaking of Chinese stock scams that fleece American investors, Nate Anderson of Hindenburg Research recently tweeted about one: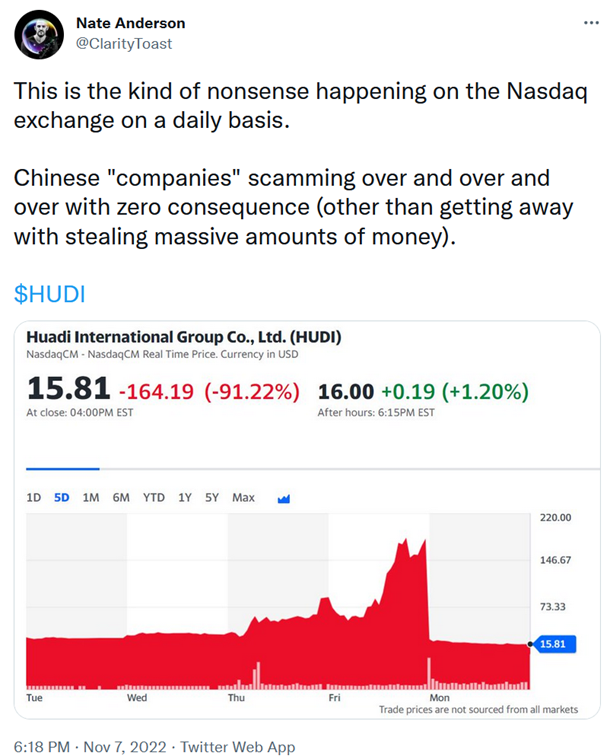 I repeat: Regulation is not the answer. Instead, every Chinese company should be banned from U.S. markets (including the pink sheets) and no future listings should be allowed.
3) Speaking of scams, a much broader and bigger one is the blowup of crypto exchange FTX, which filed for bankruptcy this morning. Here are the latest articles I've been reading about it:
My predictions...
Sam Bankman-Fried is bankrupt and will go to prison for misappropriating customers' funds (see first article above).
FTX is a zero and its customers will be lucky to get back half their money, likely far less.
FTX's crypto token (FTT) is a zero.
And there will be significant contagion effects, which I'll discuss next week – but in the meantime, sell all crypto assets, especially "stablecoin" Tether.
4) I've found PredictIt to be exceptionally useful and insightful, so I think it's madness that the Commodity Futures Trading Commission has ordered the site to shut down by mid-February. New York Times columnist Jeff Sommer feels similarly: Forecasting the Future of Election Prediction Markets. Excerpt:
I've used prediction markets for years, never for trading but rather as a source of information, an interesting adjunct to polls, economic and political models, and traditional reporting, especially when elections grow near.

But the U.S. prediction markets that allow people to place legal bets on American elections have run into regulatory problems.

PredictIt, the larger of the two prediction markets operating in the United States, has emerged over the last several years as a go-to source for journalists and academics seeking to harness the "wisdom of crowds" for a sense of where the elections are heading...

From the standpoint of many economists, the prediction markets, for all their flaws, have been spectacularly successful.

"There's tremendous social utility to having these markets operate, and having this information available," said Eric Zitzewitz, a Dartmouth professor who has studied prediction markets extensively. "There's a lot of demand for them – people enjoy participating in them and consuming the information they provide."

Betting on elections won't go away, no matter what the regulators decide. Such betting could migrate to overseas markets or to unregulated markets in cyberspace that are outside U.S. regulatory control.

Far better, I think, would be to allow them to operate within U.S. borders as transparent, robust – and carefully regulated – operations. Until now, both the Iowa market and PredictIt have been small enough to be fairly innocuous in terms of their effects on elections themselves. When big money flows into prediction markets – as I suspect it one day will – the potential for real trouble will be far greater. Markets can be manipulated and corruption [can] flourish, so smart and active regulators are needed to keep markets honest.
As long as the bets are limited (maximum of $800), the benefits of such markets far outweigh the potential harms.
5) I'm flying to Pensacola, Florida this afternoon and driving an hour to Atmore, Alabama to compete in the World's Toughest Mudder, which starts at noon tomorrow and finishes at noon on Sunday.
The goal is to run as many five-mile laps as possible, each with 20 obstacles – including water, electric shocks, monkey bars, walls, etc.
This is my sixth time doing it. From 2016 to 2019, I competed as an individual and twice won the 50-plus age group and set the all-time age-group record (since tied but never broken) of 75 miles. Then last year I did it as part of a four-person relay team and we finished second overall. You can read about those races here, and below are some pictures from them: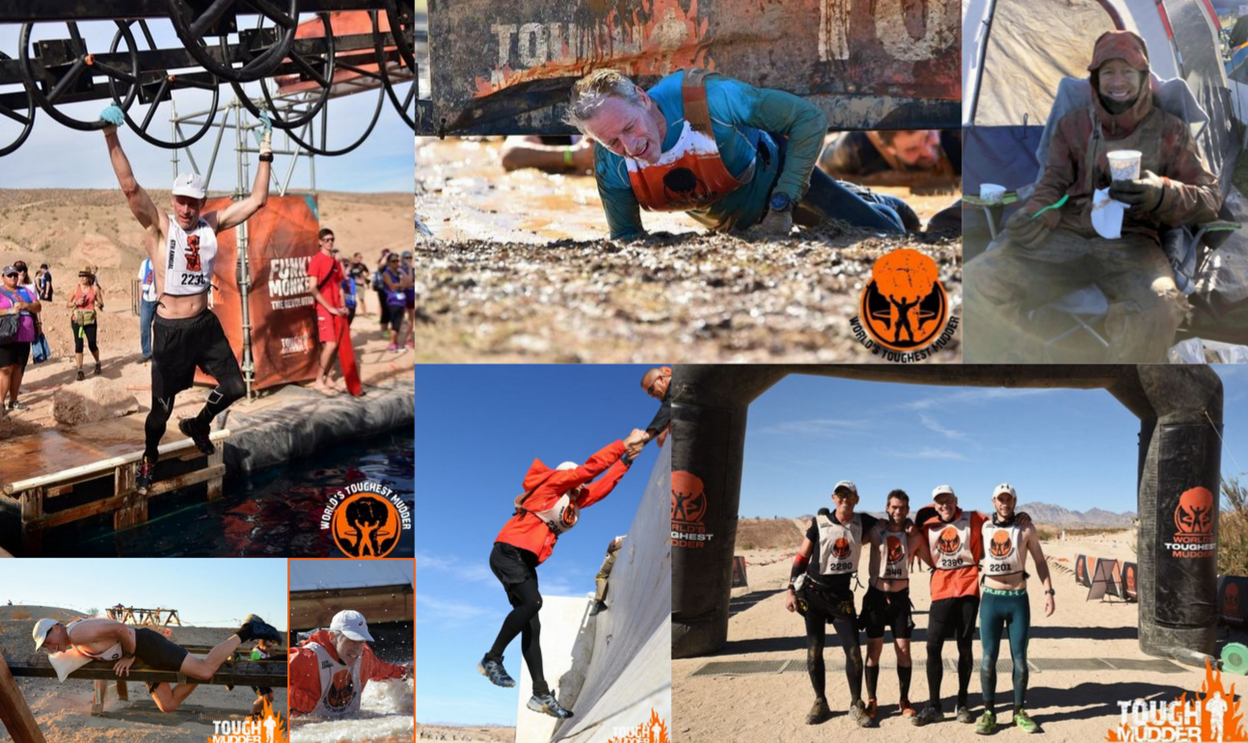 This weekend I'll be running it again as an individual. My expectations are low as my upper body is fine, so I should nail the obstacles, but this is mostly a running race – and in this area, I'm in lousy shape, having eased up on my training because of plantar fasciitis that flared up a couple of months ago, so I'm probably going to walk most of the race. I should be able to get 60 miles anyway...
It looks like it's going to be a sufferfest, as the weather forecast is for a low of 36 degrees and 5 to 10 mph winds on Saturday night. That won't be as bad as the infamous Atlanta race in 2018, when the nighttime low was 27 degrees, which knocked out nearly half the field due to hypothermia, but it'll still be physically and mentally draining.
Wish me luck!
Best regards,
Whitney
P.S. I welcome your feedback at [email protected].