1) My friend Julia La Roche interviewed my old friend Guy Spier of Aquamarine Capital late last month.
In it, they covered the inauspicious start to his career (3:00), learning about Warren Buffett (6:13) and making his first pilgrimage to Omaha (9:47), how the lunch with Buffett was "transformational" (22:30), why he changed his mind about not talking to company management (44:26), his new investment process checklist items (49:20), and more.
You can stream it on your favorite podcast app or watch it on YouTube here: Guy Spier On How Lunch With Warren Buffett Changed His Life.
2) This Wall Street Journal article shows how a handful of big tech stocks have been driving the entire market this year to an unprecedented degree: This Rally Is All About a Few Star Stocks – and Some Investors Are Worried. Excerpt:
The past few years have been periodically marked by U.S. technology-stock dominance. But that grip has tightened recently. Eight of the largest tech and growth companies in the U.S. – Alphabet, Amazon, Apple, Meta, Microsoft, Netflix, Tesla and Nvidia – now account for 30% of the S&P 500's market capitalization. That is up from about 22% at the start of the year.

One sign of narrowing breadth can be seen in how the S&P 500 has fared this year compared with its equally weighted counterpart, which gives equal sway to every company in the index. Compared with the traditional index's 12% gain, the equally weighted version has added 1.8%. That is the largest-ever outperformance by the S&P 500 on a year-to-date basis, according to a Dow Jones Market Data analysis through June 6, based on data starting in 1990.

Other indicators of market breadth have also flashed warning signs. The share of S&P 500 stocks closing above 200-day moving averages fell as low as 38% last week.
I agree that the lack of market breadth in the recent rally is a warning flag – but, by itself, it's not enough to change my bullish outlook for the rest of the year.
3) Yesterday, Nate Anderson of Hindenburg Research exposed another obvious fraud, New Jersey-based Tingo Group (TIO), which claims to be operating a wide range of businesses in Nigeria, most of which, Hindenburg claims, don't even exist.
The stock was cut in half yesterday in the aftermath of this report: Tingo Group: Fake Farmers, Phones, and Financials – The Nigerian Empire That Isn't. Excerpt:
We are short Tingo Group Inc (Nasdaq: TIO) because we believe the company is an exceptionally obvious scam with completely fabricated financials.
Tingo was founded and is spearheaded by "Dozy" Mmobuosi, CEO of the key holding company entity. Dozy is regularly described by the media as a billionaire and made waves earlier this year when he attempted to acquire the now-Premier League soccer team Sheffield United.
We've identified major red flags with Dozy's background. For starters, he appears to have fabricated his biographical claim to have developed the first mobile payment app in Nigeria. We contacted the app's actual creator, who called Dozy's claims "a pure lie".
Dozy claimed to have received a PhD in rural advancement from a Malaysian university in 2007. We contacted the school to verify the degree. They wrote back saying no one by his name was found in their verification system.
In 2017, Dozy was arrested and faced an 8-count indictment over issuance of bad checks, according to the Nigerian Economic and Financial Crimes Commission. He later settled the case in arbitration...
Tingo's food division is 7 months old, yet claimed to generate $577.2 million in revenue last quarter alone, representing 68% of total reported revenue. If accurate, its claimed 24.8% operating margins would exceed those of every major comparable food company.
Yet, Tingo has no food processing facility of its own. Rather, it claims its explosive revenue and profitability is derived from acting as a middleman between Nigerian farmers and an unnamed third-party food processor.
In February 2023, the company held a groundbreaking ceremony for a planned $1.6 billion Nigerian food processing facility of its own, attended by the country's agriculture minister and other political luminaries.
We found that the rendering of the planned facility, featured in Tingo's investor materials and on a billboard at the ceremony, is actually a rendering of an oil refinery from a stock photo website.
Following its groundbreaking, Tingo reported in a May 2023 SEC filing that it made "significant progress" on the facility, including laying "the foundations of its numerous buildings".
We visited the site a week later and found zero signs of progress; it was empty except for the plaque and billboard commemorating the groundbreaking ceremony, surrounded by weeds.
Subsequent to the "groundbreaking", Tingo announced a $150 million agreement with a UK entity called Evtec Energy to build solar panels for its non-existent food processing facility. Funding for the deal is slated to be provided through Evtec, but UK filings show that Evtec was "Dormant" as of its most recent annual report and held zero cash in the bank.
Tingo Group bought Tingo Foods from Dozy in February 2023 for $204 million, a price "approximately equal to the cost value of the inventory held by Tingo Foods".
The inventory, which was reported in year-end financials, completely vanished from Tingo's Q1 2023 accounts without explanation. In our experience, $204 million in inventory doesn't just disappear at companies with internal controls and genuine financial reporting.
Tingo claimed in its reverse merger press release that members of 2 unnamed farming cooperatives supply the majority of its then-9.3 million userbase, consisting of local Nigerian farmers. These farmers supposedly form the core of the company's phone customers and provide the agricultural products used in Tingo's food processing and trading businesses.
A local media outlet identified and contacted the cooperatives. Both said they had never heard of Tingo and had fewer than 100 farmers in each cooperative.
We were able to make contact with one of the cooperatives. Its owner reiterated having no relationship with Tingo and flat out told us "they are scammers".
This is one of the most egregious frauds I've ever seen, and the SEC should immediately suspend trading in the stock.
By the way, Hindenburg has an exceptional track record, which it documents here.
4) In my May 24 e-mail, I shared a Wall Street Journal story about How Bud Light Blew It by doing a promotion with transgender influencer Dylan Mulvaney, which led to a boycott and a nearly 30% collapse in sales.
I commented that "we'll be feeling the shockwaves from what's happened here from years to come."
Sure enough, as this story in yesterday's WSJ notes, corporations are indeed running scared: Companies That Embraced Social Issues Have Second Thoughts. Excerpt:
CEOs spent the past few years adjusting to a world in which investors, customers and employees expected corporate leaders to align themselves with social causes. Today, that has made companies targets in the U.S. culture wars, where one step can turn a social-media storm into a corporate crisis that cripples businesses and wrecks careers.

Some CEOs are rethinking how – or whether – to weigh in on sensitive political or social matters, with trans and other LGBT issues particularly in the spotlight...

Executives are finding out how easy it is to leave everyone unhappy...

Over the past decade, companies have become more vocal on causes such as immigration, voting access, abortion, gay rights and racial equity, often taking stances shared by progressives. Many executives said they felt pushed by employees or customers to express an opinion on issues rippling through society.

What is changing now, executives and corporate advisers said, is that conservative groups and political leaders are pushing back against companies more forcefully. Consumers are also more openly expressing frustration that companies are airing views in ways some don't welcome.
There are no easy answers here, but I tend to agree with Buffett and Charlie Munger, who keep their personal political views separate from their management of Berkshire Hathaway (BRK-B).
5) For the 19th time, my friend Ciccio Azzollini and I will once again be the Value Investing Seminar in Trani, Italy on July 6 and July 7.
We limit it to 50 people, many of whom share their latest thinking on where the best opportunities lie and outline their current favorite investment idea(s). It's fun, educational, and a great addition to any European vacation! You can learn more and register here.
Here's a picture of Ciccio and me with the port of Trani in the background: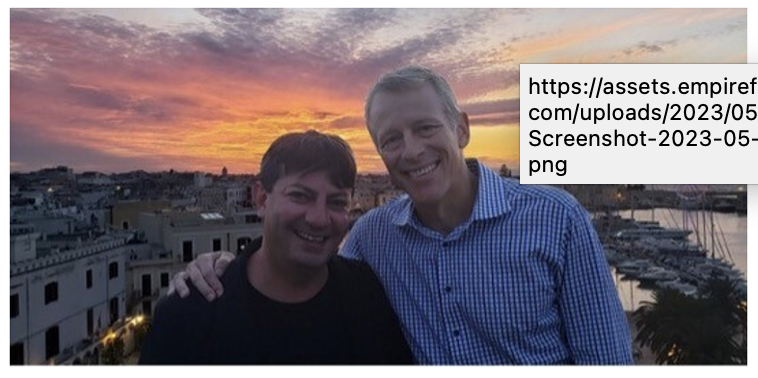 This is what Guy Spier posted about it last year: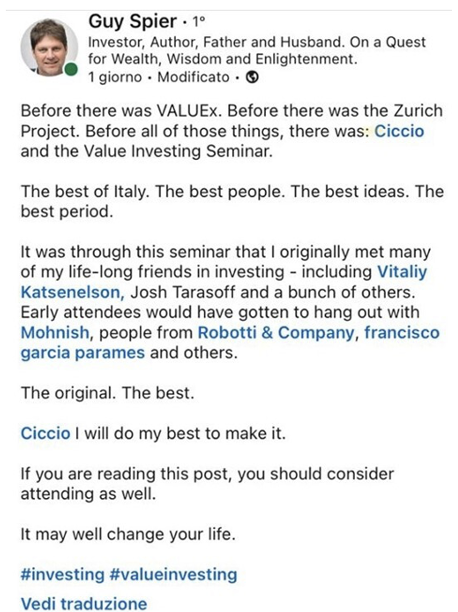 Best regards,
Whitney
P.S. I welcome your feedback at [email protected].